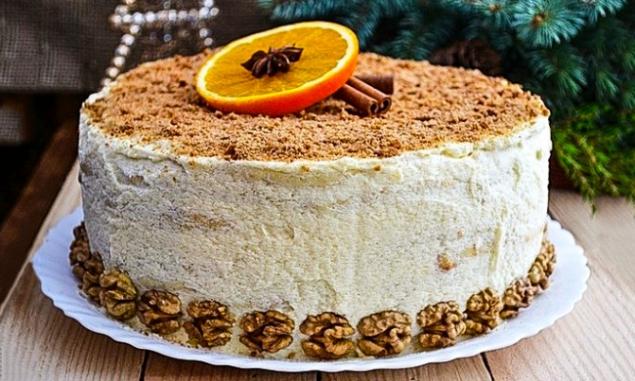 This dessert is made from the simplest ingredients, and the result is simply unbelievably delicious.
Website sure: this cake will leave nobody indifferent.



You will need:

400 g of cottage cheese 2 cups sugar 4 eggs 2 hours. l. soda 3 cups flour 1 tbsp. l. cornstarch 900 ml milk 300 g butter at room temperature 2 bags of vanilla sugar 1 tbsp. l. lemon juice 150-200 g walnuts Preparation:

Cottage cheese good rub with 1 cup of sugar. If the cheese rather dry, it is desirable to rub it through a sieve. Add to the curd egg yolks, baking soda (to pay off with lemon juice). Weight left at room temperature for 20-30 minutes so that it has increased by about 2-3 times. Pour the flour in small quantities to the curd, stirring each time a qualitatively. Add flour until the dough is not be obedient, then there is a good slide into the ball, do not stick to your hands. Put the dough on a floured surface podpylennuyu, divided into 10-12 equal parts, each part of the roll out of thin round cakes. Bake cakes in a preheated 180 degree oven. Will not waste: thin cakes and baked just a few minutes! Prepare the cream. Proteins good mix with 1 cup sugar and vanilla sugar. Add 2 tbsp. l. a spoonful of flour and starch (pre-stir in a small amount of cold milk, to avoid lumps). Milk to boil, stirring, add the protein and cook the custard. Cool. (The more flour or starch - get the thicker cream). Then in a large bowl, beat butter with a mixer at room temperature until fluffy. While continuing to whisk, gradually add the cooled cream spoon in whipped butter. Whip the cream until smooth. Ready fluff cream cakes. Top decorate the cake with crushed cookies or nuts. And for New Year's mood can add cinnamon sticks, orange and star anise.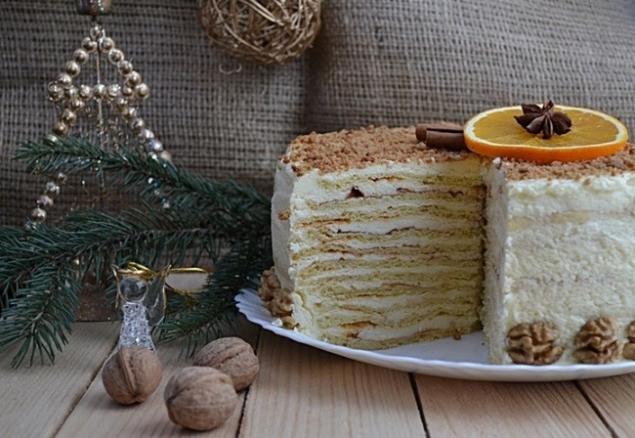 via food.ua/recipes/36986