Some famous women with age only slimmer and prettier. They were lucky to genes or plastic surgeons? Such questions we asked Jan Laputina leading program "Time of Beauty" on the channel «Home».
Ian, daughter of a famous plastic surgeon Eugene Laputina, well versed in all the latest methods of grooming. But do not pretend to absolute accuracy of their "diagnosis". What do you think about the successful or unsuccessful "plastic" celebrities?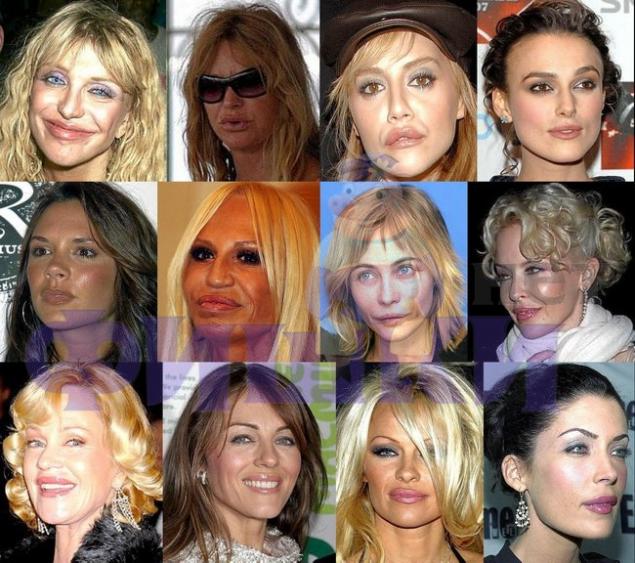 Courtney Love
Changes seen. Lips become chubbier: it seems they put filler or gel. Filler - a substance that dissolves over time, gel - remains forever. I rarely see good results of such operations. And then it did not work in the best way, too much.
Goldie Hawn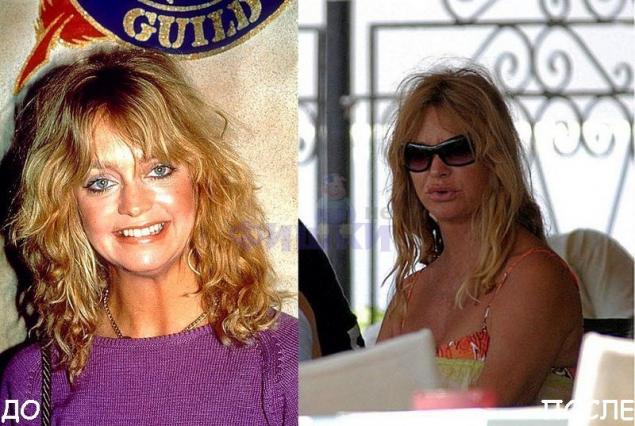 Here it can be assumed unless the contour plastic. No more serious intervention is not noticeable. Noticeable ptosis, ie omission of soft tissues. Perhaps it makes Restylane injections. Nothing more serious is not noticeable.
Brittany Murphy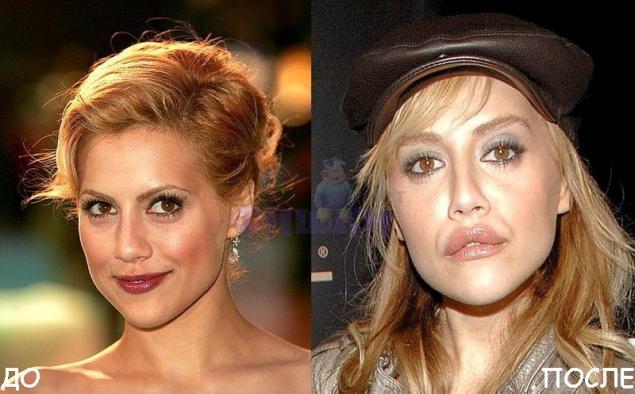 Obviously, she has increased her lips. And I can not say that turned out beautifully. Perhaps, however, photo taken shortly after the procedure, and it just has not slept swelling. Swelling seen in the area of ​​the nasolabial sweet. Maybe so spread edema when administered filler on the lips, and maybe it's in some kind of injections made not the best way. In the skin of the forehead, likely to do Botox injections: eyebrows raised high unnatural skin perfectly smooth. In its natural form Brittany likes me a lot more.
Keira Knightley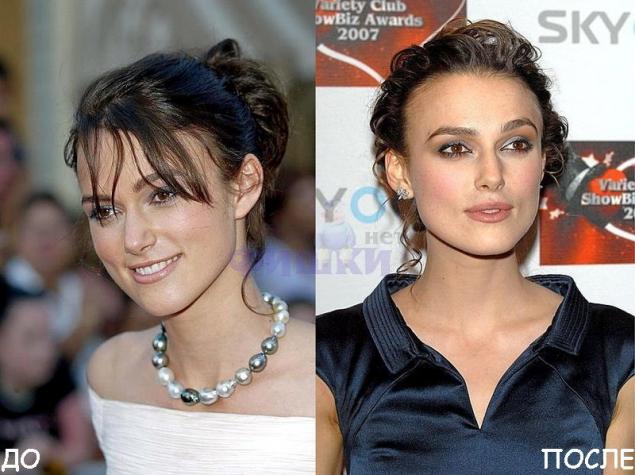 Cyrus is not much different in these two photos. It can be assumed unless a slight correction of the nose. When she was done, it is very harmonious, natural beauty is not spoiled.
The upper lip is the second photo plumper, but I would say, the fact that the smiles on different images, different stretched lips. If there was a slight increase made upper lip - that very well, looks organically and naturally.
Victoria Beckham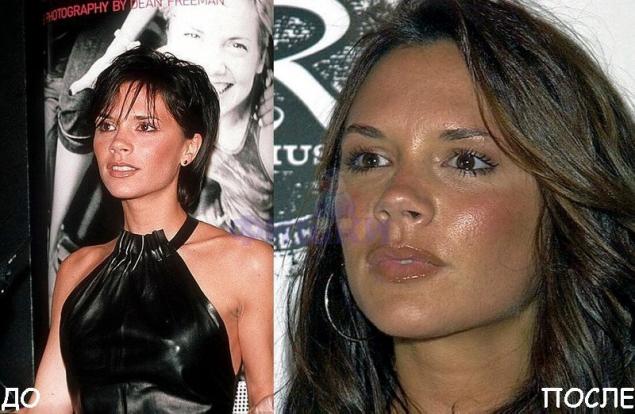 Victoria - a girl who carefully looks after itself. I assume that she did contour plastic: very smooth oval face, very good color, smooth. But she was already over thirty, she a mother of three children, a few years ago, she was a popular singer, toured, it means lack of sleep, it was applied daily makeup. This all can not affect the appearance, and, meanwhile, the skin on the second photo is very good. So, most likely, was contoured plastic.
In the second photo the upper lip plumper. This seems to be a trend from abroad stars adjust the shape of the lips. Here everything is done very well.
Oval cheeks a little different, but we can assume that one of the pictures she is more thin.
Donatella Versace
Was clearly made lip shape correction. Rhinoplasty can not see. Had Botox injections in the forehead, it is perfectly smooth. Nasolabial folds, but they are not pronounced for her age. It can be assumed injections of Restylane. Omission of soft tissue is not: perhaps she was doing circular lift.
Emmanuelle Beart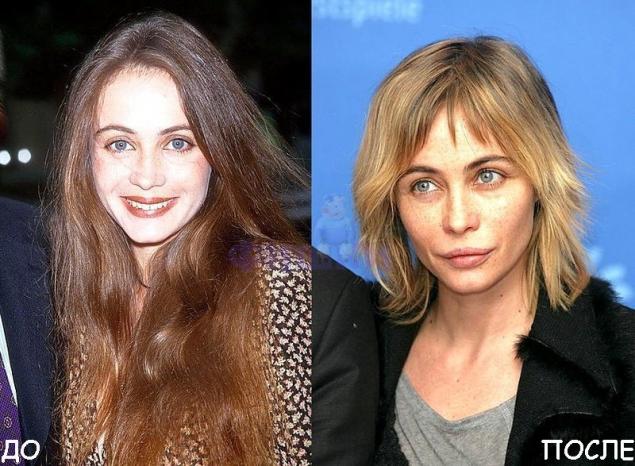 I do not notice any traces of operations. It naturally grows old. Surely regularly goes to the beautician, it is seen that does not run itself. Blepharoplasty just did not do - eyelid omitted. No wrinkles on the forehead, and, most likely, to blame Botox.
Kylie Minogue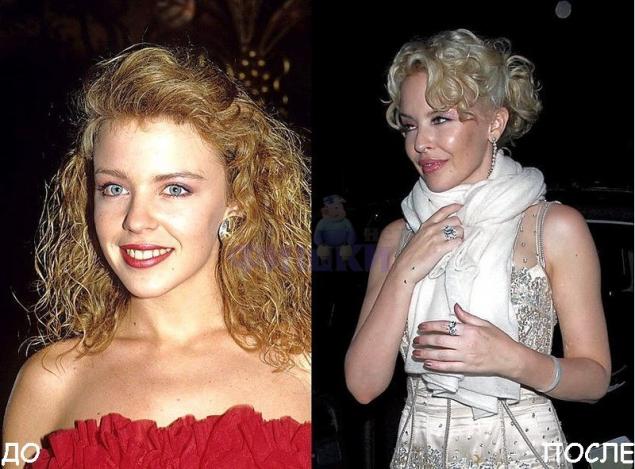 I admired her as a strong woman who beat cancer. And no matter what she does with her appearance.
It is difficult to judge: a very different age. Was clearly the correction of the upper lip. Rather, it uses Botox. Contour of the face is flat, blepharoplasty was not well-groomed face. I think there a classic set of mesotherapy, Restylane and Botox.
Melanie Griffith
Melanie does not hide what she was doing plastic. The second photo is bad, it is difficult to draw conclusions. But it definitely increased his upper lip. Was rhinoplasty. Circular plastic face here is not particularly noticeable. Otherwise it looks its age.
Elizabeth Hurley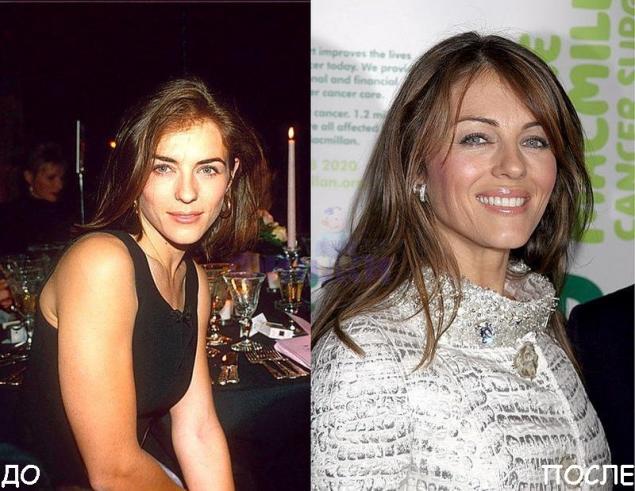 The nose is the same in both photos. Corrective procedures are not noticeable. Oval face becomes wider with age, it is normal. Lips slightly increased, they became larger. It seems that Elizabeth fights aging by the same Restylane, Botox. Without global operations.
Pamela Anderson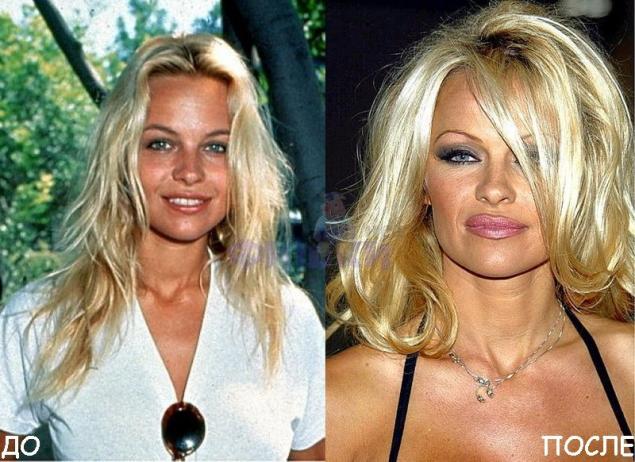 Was a correction of the nose, lip shape correction. Botox injections in the forehead obvious.
Cheeks in the second photograph seem more sunken - perhaps Pamela removed teeth to achieve this effect. But maybe the fact that the first picture her cheeks are covered with hair. Circular plastic it is, in my opinion, did not. Obvious signs can not be traced.
Lara Flynn Boyle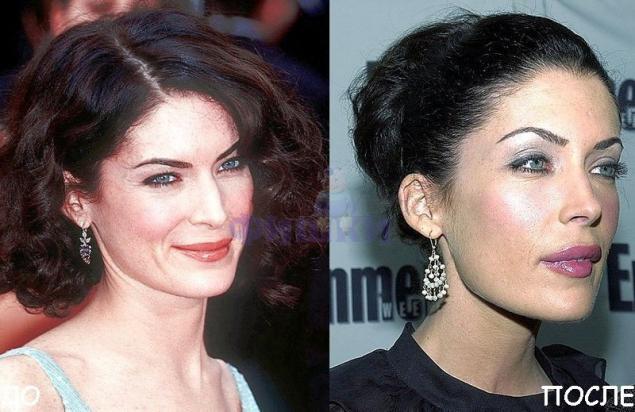 This actress has done rhinoplasty, on one of the photos hump on the nose there, the other does not. Certainly makes Botox injections, as eyebrows snub. Was plastic upper eyelid: the first picture eyelids heavy, the second is not. Also made an increase of the upper lip. I assume a circular plastic, but it is open to question. Very clear contour, good fit.