The most famous in the world of fast-food chain McDonald's will not give preference to a certain style in its advertising - too wide audience, to handle always about the same tonom.U they have advertising, which affects especially on awakening the appetite, there is a funny and stupid there is absolutely crazy, there are very serious. Dwell on something one simply does not make sense.
But it is possible to state with absolute certainty that McDonald's prefers a very unusual outdoor advertising (Russia does not count).
Almost every Cannes Lions another creative solution into an outdoor gets a well-deserved award, and does not always work the same agency. Luxury findings in outdoor advertising for McDonald's doing in the States, Canada, Sweden, New Zealand and several other countries.
Big Teysti
New burger layered billboard advertises.
Delicious bilbord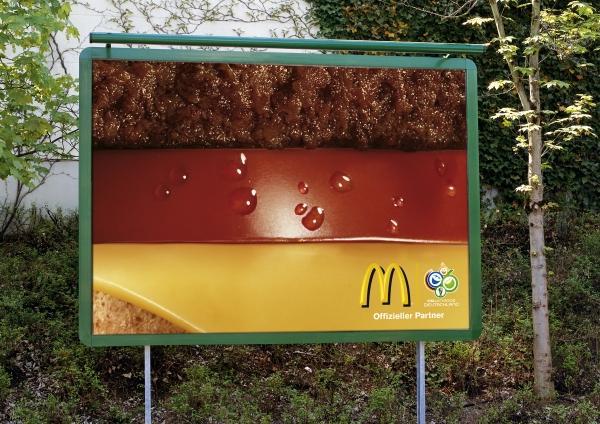 Milk kokteyl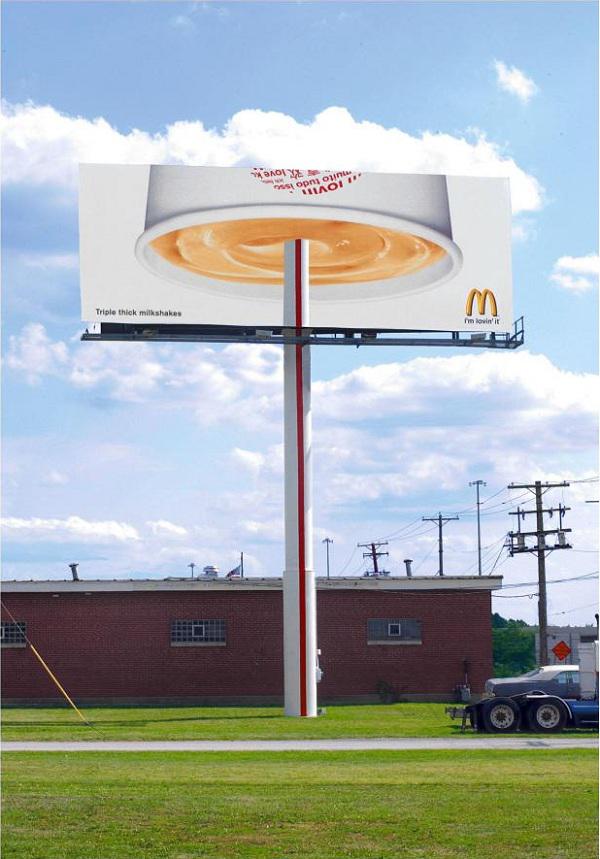 Now three times thicker.
Fresh salaty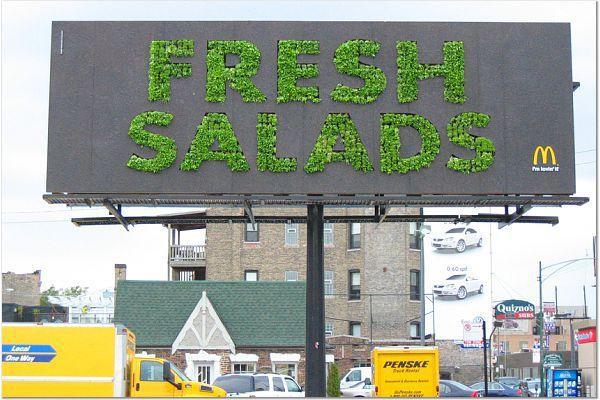 Billboard from this fresh salad.
Big Teysti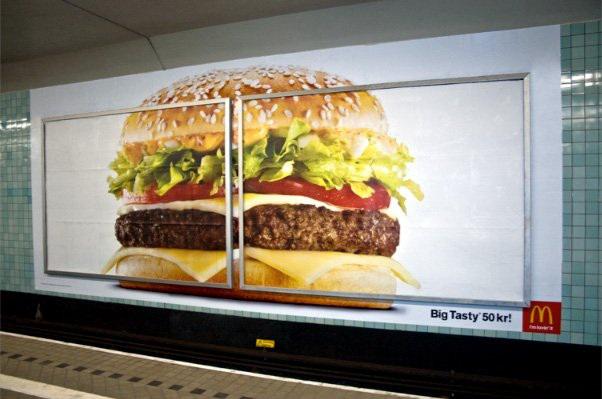 Huge Big Tasty simply do not fit on a billboard.
Golden arki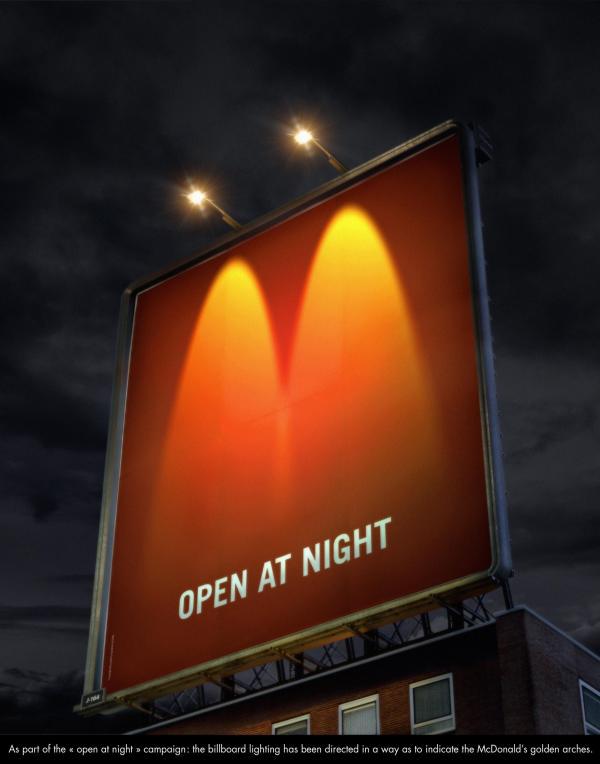 Caption: Opening night.
Free kofe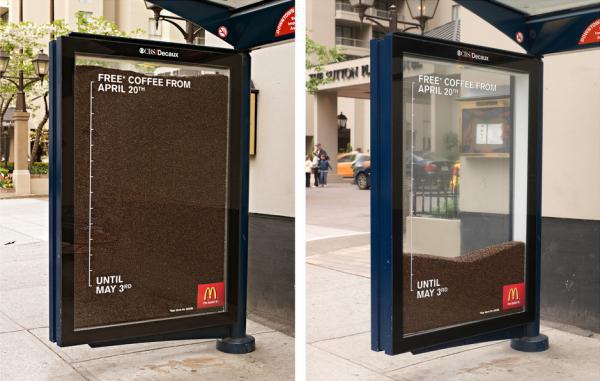 From April 20 to May 3, the restaurant offers free coffee stocks in the billboard every day diminished in front of passers-by.
Fresh ovoschi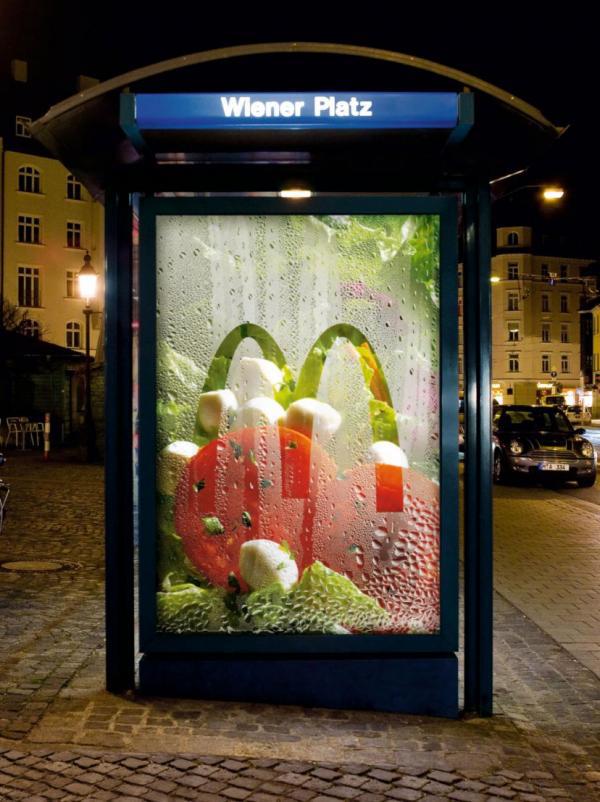 Working nochyu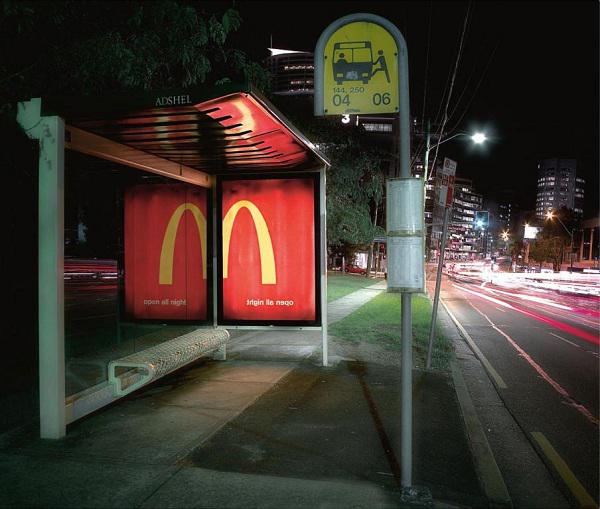 In order for people to remember the night of the McDonald's, at the stops were placed half of the logo, which became the logo of the whole night, bouncing off the wall stops.
Ukazatel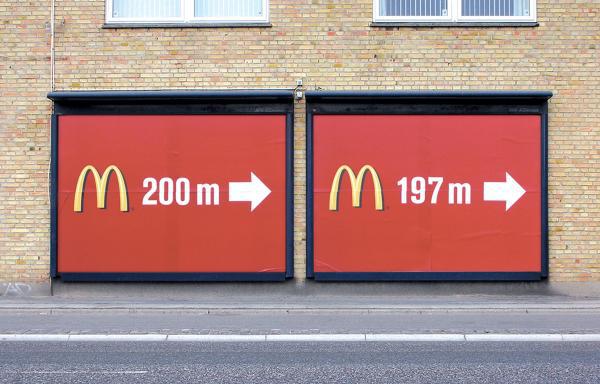 McDonald's billboards indicate the remaining distance to the nearest restaurant.
Morkov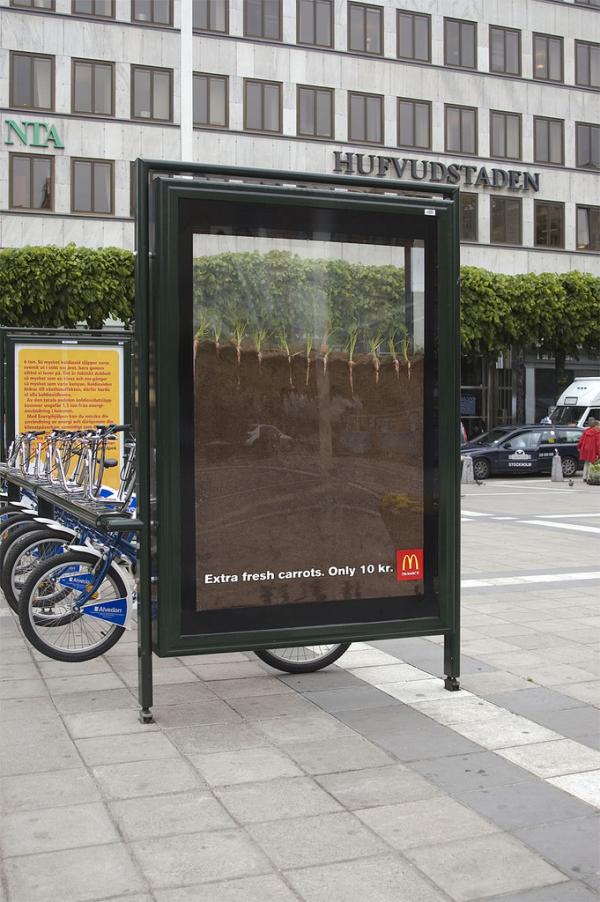 Super-fresh carrots. Only 10 crowns.
Time for burgera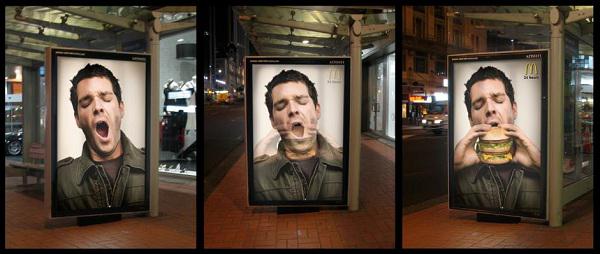 Yawn? Time to eat a hamburger.
Giant paket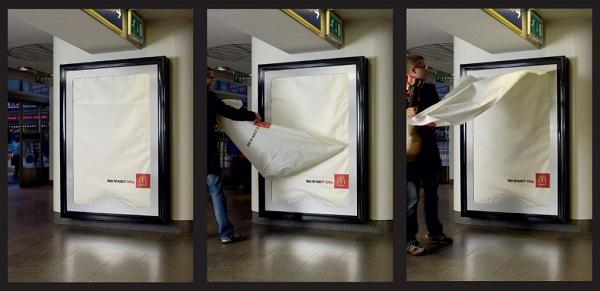 Announcing the biggest burger in the restaurant's menu, McDonald's was handing out posters in the subway with a huge paper bags.
Pazl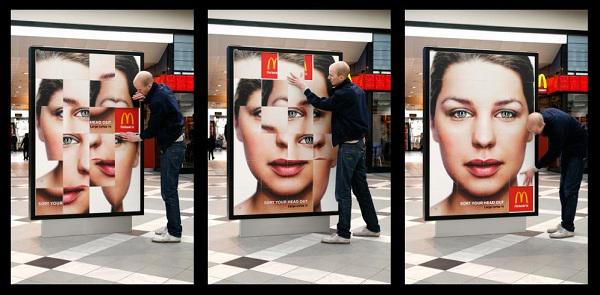 Interactive Puzzle posters advertise coffee at McDonald's slogan "Bring your head in order».
Videoekran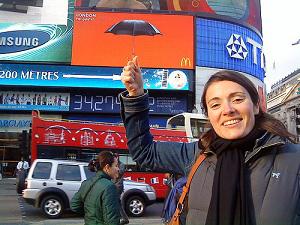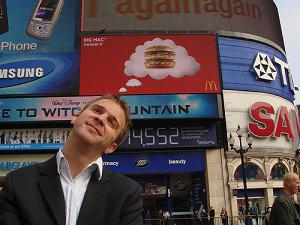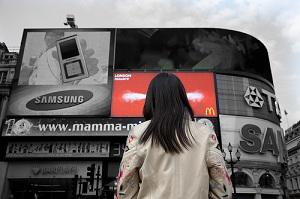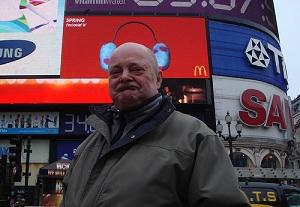 Photographed against the backdrop of interactive billboards McDonald's could try on the classic British hat, fluffy headphones, blow out, "Hi, Mom," to reflect on the burger or ice cream from McDonald's.
Free kofe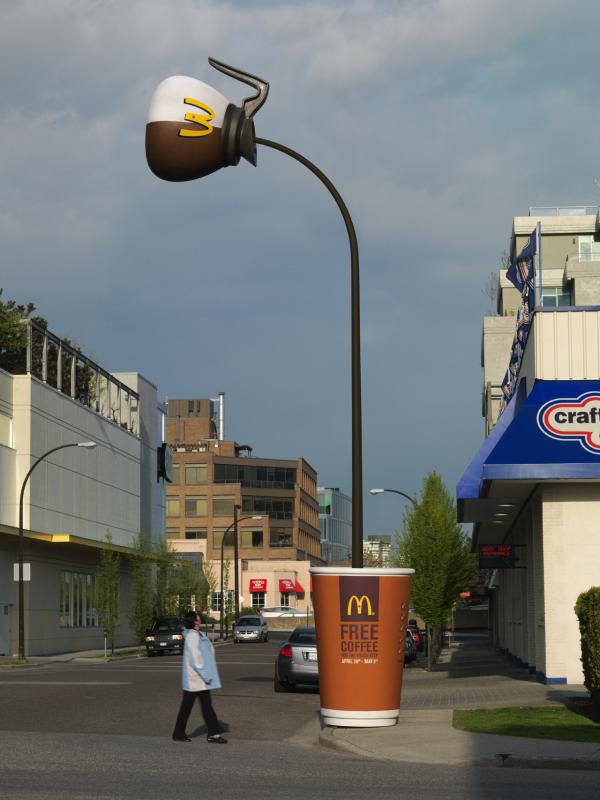 Zavtraki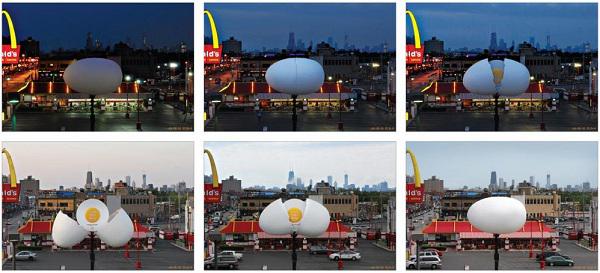 A huge egg opens with the first rays of the sun, announcing breakfast at McDonald's.
Laser potatoes fri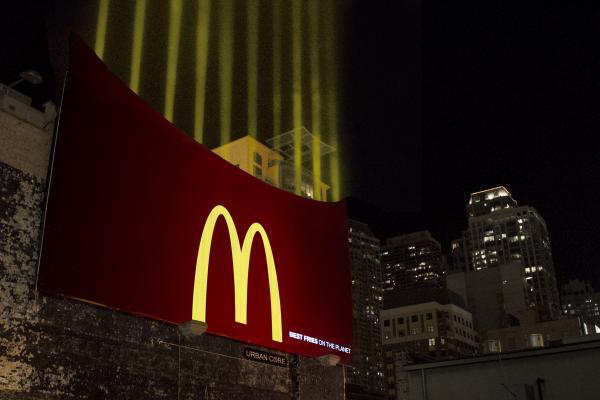 Red Shield is in the form of a pack of French fries. A yellow light rays simulate the advertised product.
Drink for dollar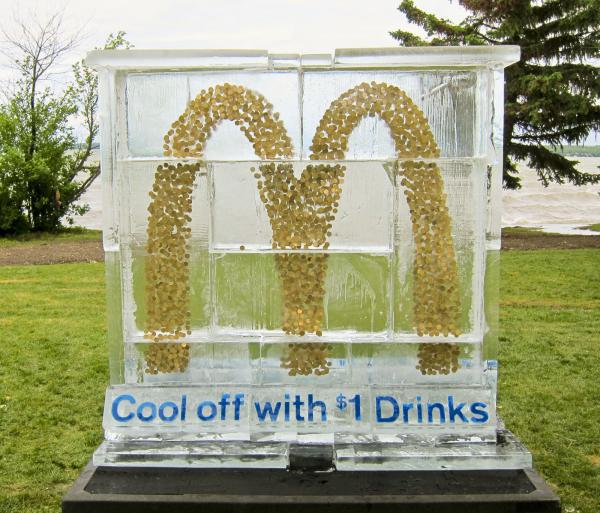 Lay them in the form of the famous Golden Arches, McDonald's immured in the ice sculpture of 4000 coins in denominations of 1 Canadian dollar, which could get and spend on drink at McDonald's.
Golod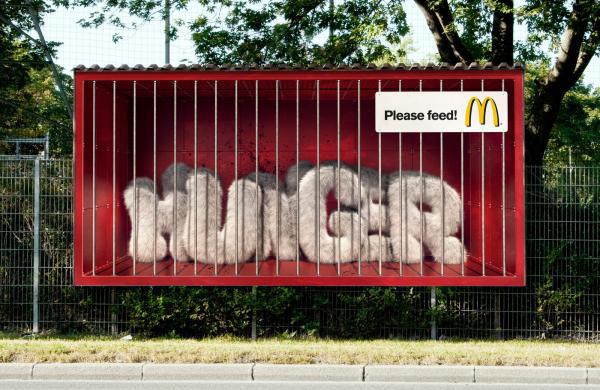 Please Soothe!
Clover sheyk
Every year in the St. Patrick's Day water in Chicago and Calumet rivers emerald colored with pigment, and McDonald's will not miss the opportunity to advertise your shake Clover (Shamrock Shake).
Billboard-chasy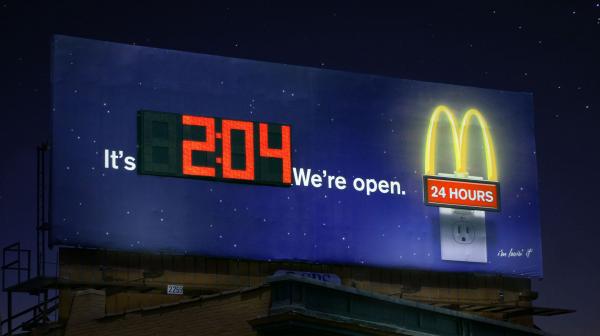 Now 2am and we are open.
Games ploschadka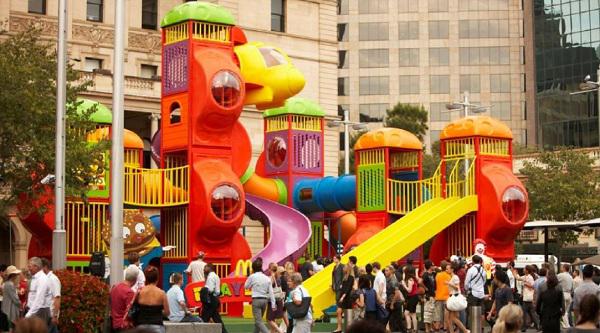 In Australia, McDonald's has built a playground for adults.
Zebra-kartofel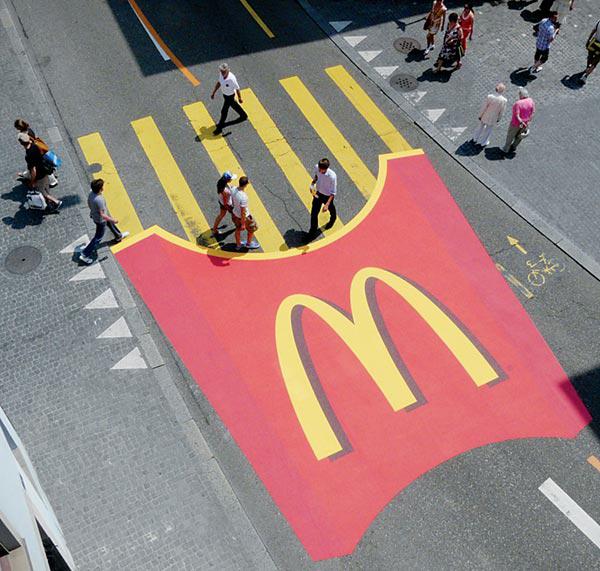 McDonald's zebra repainted in yellow and pririsoval her a box of potatoes.
Solar chasy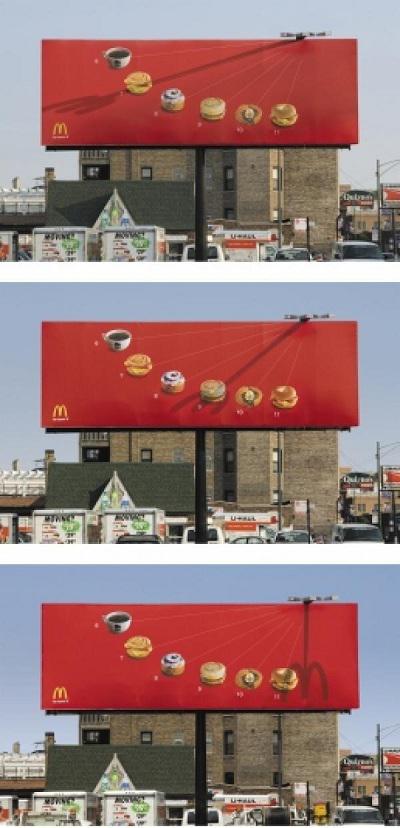 In 2007, the fast-food giant posted a sundial in Chicago, who worked from 8 am to 11 am, and shows that the time has come to have a McDonald's.
Makmobil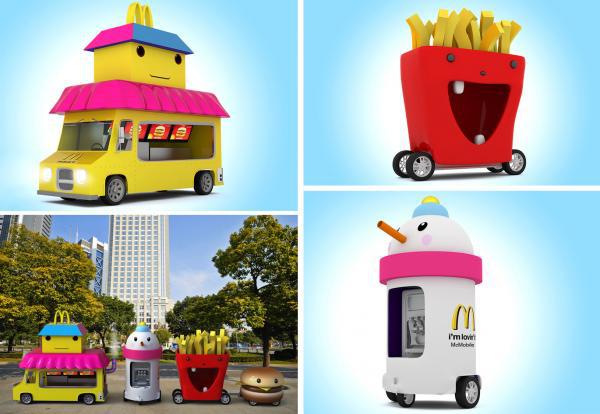 US Agency Access prompts concept brendomobilya McDonald's.
See also: Secrets of McDonald's
via
www.adme.ru/articles/sekrety-mcdonalds-263605/