Roll from lavash - easy to prepare and tasty snack. Fillings for this dish, you can choose absolutely any, as pita bread goes well with meat, fish, vegetables and even salads. This roll can be served as both cold snacks and hot dishes.
.cc offers you 20 options the most delicious fillings for rolls of pita.

1. Crab sticks, a few cloves of garlic, boiled egg, grated cheese and herbs. Season with mayonnaise is all you need.

2. Cottage cheese, a few cloves of garlic, herbs, salt to taste, mayonnaise.

3. Cottage cheese, hard cheese, fresh cucumber, a few cloves of garlic, herbs, salt to taste.

4. Mushrooms, fried with onions, herbs, processed cheese.

5. Red fish, cucumber and herbs.

6. Adygei cheese, Korean carrot and greens. Mayonnaise.

7. Canned fish in oil, cheese, greens.

8. Boiled rice, boiled eggs, herbs, mayonnaise.

9. ham, cheese, fresh cucumber, a clove of garlic, mayonnaise.

10. Boiled eggs, Korean carrots, smoked sausage, mayonnaise.

11. Fresh cucumber, carrots, smoked sausage or meat, herbs, mayonnaise.

12. passaged onions and bell pepper, smoked meat or sausage, herbs, mayonnaise.

13. Roast beef, cheese, fried onion and bell pepper.

14. Carrots, beets, garlic clove, walnuts, mayonnaise.

15. Mushrooms fried with onions, cheese, boiled eggs, greens.

16. Processed cheese, onion, garlic and black pepper.

17. fried chicken liver, fatty cream, salt and pepper. Grind the ingredients in a blender and put on a few minutes in the microwave.

18. Fried onion, garlic, bell pepper, eggplant, tomatoes. Turn into a homogeneous mass in a blender.

19. Boiled shrimp, garlic clove and butter.

20. Herring, cucumber, egg, mayonnaise.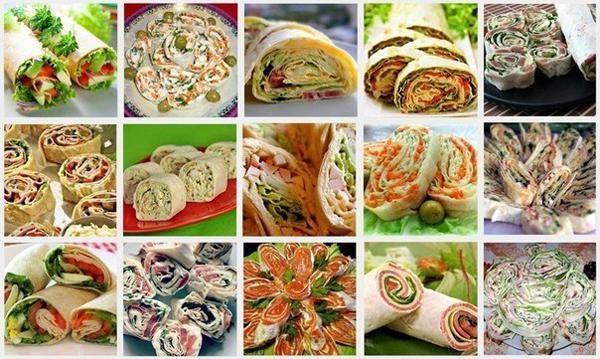 These snacks are perfect for ordinary picnic, and for the holiday table. With so many toppings, you can always surprise your guests with new variations of pita bread roll. This dish is cooked very quickly and always turns out very tasty!

Tell your friends about the options for filling rolls of pita!

via takprosto cc