To make this fabulously delicious chocolate cake, you need a minimum of time and a minimum of product. Bake it also bases any problems. Pie gets wet inside and outside - covered with a light crispy crust. This is a godsend for lovers of chocolate.
Ingredients:

1, 5, Art. wheat flour 4 tbsp cocoa powder 1 tsp baking soda 1 tbsp lemon juice 1/4 Art. vegetable oil 200 g sugar 0, 5 bags of vanilla sugar 1 pinch of salt 0, 5 tsp . Coffee Preparation:

1. In a bowl, mix all the dry ingredients: flour, salt, baking soda, cocoa powder. In another a bowl mix the oil with the sugar, then add the instant coffee, lemon juice and water. Vzbey mixer until sugar is dissolved. Pour the liquid mixture into the dry part of the dough and mix thoroughly with a mixer or a halo.

2. You can substitute cocoa dark chocolate tiles. To do this, it will need to melt and add to the finished batter.

3. Preheat the oven to 180 °. Brush the baking dish with butter and lightly flour priporoshit. Pour batter into a form prepared and put in the oven for 40 - 45 minutes.

4. Cool the finished cake.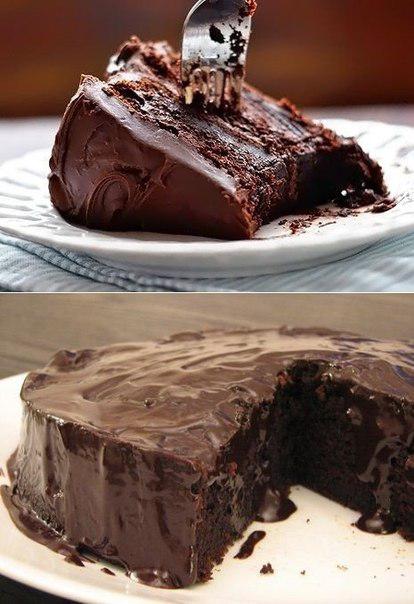 Bon appetit!

You can sandwiched it in any cream, sprinkle with powdered sugar and grated chocolate. Pie served with unsweetened tea, as the sugar in the cake is enough.

If you liked the chocolate cake, be sure to share them with your friends!

via takprosto cc