Potato dishes are very diverse. It would seem that such a simple product that has all the houses, and it can turn into a real culinary masterpiece.
.cc has prepared for you an unusual recipe for cooking potatoes. To make this uncomplicated dishes you'll need a minimum of ingredients and very little imagination!

Ingredients:

4 potatoes; 100 g smoked (or salted) fat; 100 g of hard cheese; 1 clove garlic; 1-2 Art. l. mayonnaise or sour cream; a few sprigs of parsley. Preparation:

1. Thoroughly wash the potatoes with a sponge for dishes.

2. dry it on a towel and make cuts across, but not until the end, 3-4 mm. If you happen otrezhesh slice potatoes, you can fix it with a toothpick.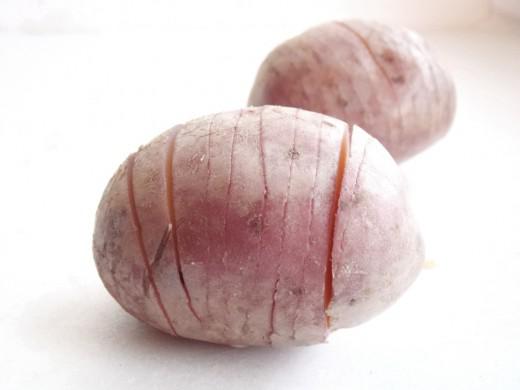 3. Salo and half the cheese we shall cut slices as thin as possible, the width of the size of potatoes.

4. The cuts are investing a slice of bacon. You can alternate between bacon and cheese.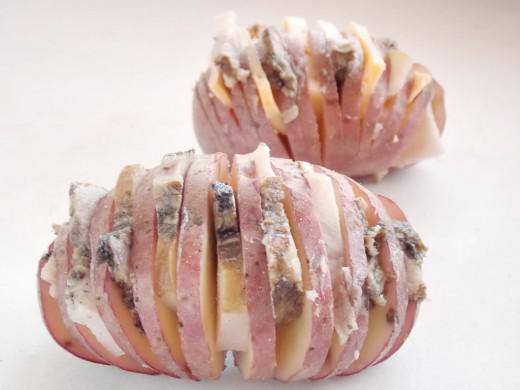 5. Cover the baking sheet with parchment paper, put on his potatoes and bake in the oven. Bake at 180-200 ° C 40-45 minutes, until the potatoes are tender.

6. When you get at the potatoes from the oven, the fields of his sour cream or mayonnaise, sprinkle with garlic and cheese, grated on a fine grater and put back in the oven for a few minutes to melt the cheese.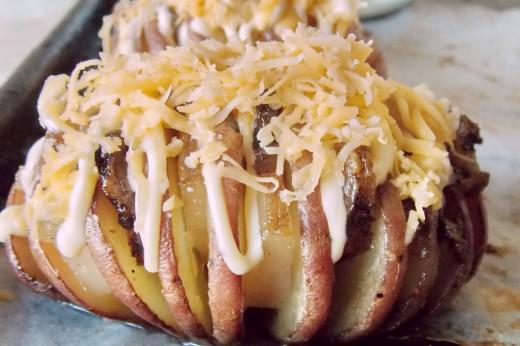 7. Decorate potato greens and serve.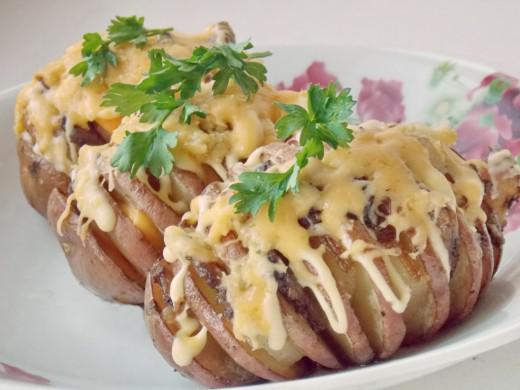 Potato-accordion - a holiday not only for your stomach, but also for your eyes. This dish looks just gorgeous and very appetizing. I already drools. I'll be sure to cook today a baked potato.

via takprosto cc