Few can resist the delicious chocolate cake. Even if you're not hungry, it's a treat and asks to you on a plate. We offer to your attention the 3 best cake recipe that will be a wonderful treat for any holiday or customary tea. The most popular of them is the Viennese "Sacher". It's worth a try at least once in life. Already knowing his incredible taste, you want to cook this yummy time. If real quality chocolate you hard to get, choose a recipe with cocoa powder. Bake cake and invite your friends to visit!
1. Cake "melting miracle»
Ingredients:

5 Art. +2 Art. l. sour cream; 2 eggs; 3 tbsp. +2 Art. l. sugar; 1, 5 hours. l. soda; 2 tbsp. flour; 4 tbsp. l. cocoa powder; 1/2 lemon (juice); 2 tbsp. l. butter.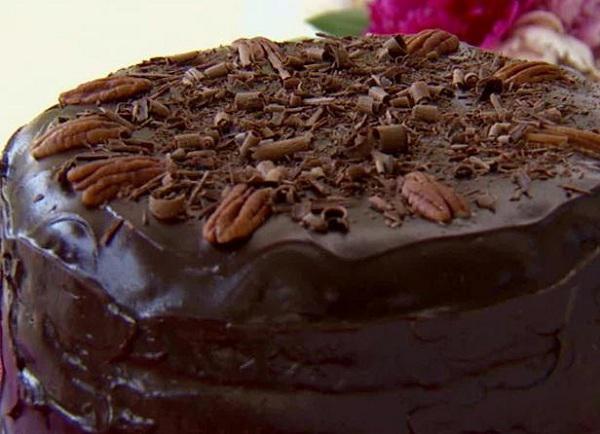 How to prepare:
1. Prepare the biscuits. In Article 2. Stir sour cream eggs, 2 tbsp. sugar, hydrated soda and 2 tablespoons. flour. Then pour the resulting batter into two forms, pre-laid out every baking paper. In one of them, add 2 tbsp. l. cocoa powder. Bake at 190-200 ° C about 20-25 minutes. Optionally add to the dough or fruit or walnuts.
2. Prepare the cream. Properly vzbey 3 tbsp. sour cream, 1 tbsp. sugar and lemon juice.
3. Prepare the chocolate icing. 2 tbsp. l. sour cream, 2 tbsp. l. cocoa butter and 2 tbsp. l. Melt the sugar over low heat, stirring constantly. Do not bring to a boil.
4. Cooled biscuits promazh cream and covered with chocolate glaze.

2. Viennese chocolate cake "Sacher»
Ingredients:


230 g of dark chocolate; 180 g butter; 6 eggs; 130 g flour; < 225 g of powdered sugar; 3 tbsp. l. apricot jam; 2 tbsp. l. water.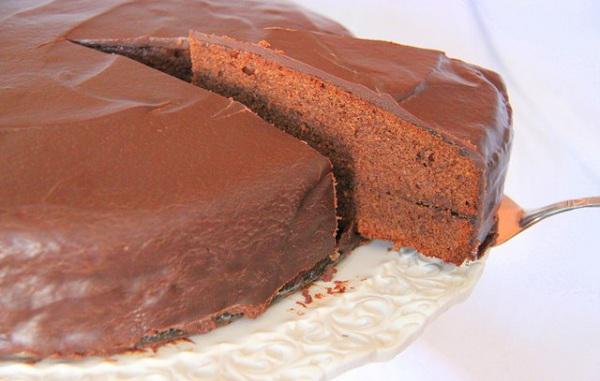 How to prepare:
1. Preheat oven to 180 ° C.
2. Melt 130 g of natural chocolate with a high content of cocoa butter and 130 g of oil in a water bath. Mix and let cool slightly. Then gradually interfere in the mass of 100 g of powdered sugar and egg yolks.
3. In a separate bowl vzbey egg whites until thick foam. Gradually add the remaining powdered sugar, still beating.
4. shift the chocolate mass in a large container and add 1 tbsp. l. protein foam. Shift the rest of the protein foam, alternating with the addition of flour.
5. Brush the butter a baking dish and prisyp its flour. Put the dough and bake for 10 minutes with the oven door open.
6. then reduce the oven temperature to 150 ° C and bake for approximately 50 minutes until tender. Get the cake from the oven, cover it with a clean towel and leave for a day.
7. Get the cake from the baking dish. Put it in a small pot of apricot jam and heated it. Distribute the jam by Korzh.
8. Melt the remaining chocolate and butter to glaze in a water bath, add water and sugar. Mix well. Leave for 5-7 minutes before icing to cover the cake.

3. Chocolate cake with nuts "Belkin happiness»
Ingredients:

For the dough:


4 eggs; 4 tbsp. l. sour cream; 200 g sugar; 200 g flour; 1 h. liter. baking powder; 4 hours. l. cocoa powder. For the cream:


180 g butter; 1 can of condensed milk; 4 hours. l. cocoa powder; impregnation (to taste); walnuts (to taste).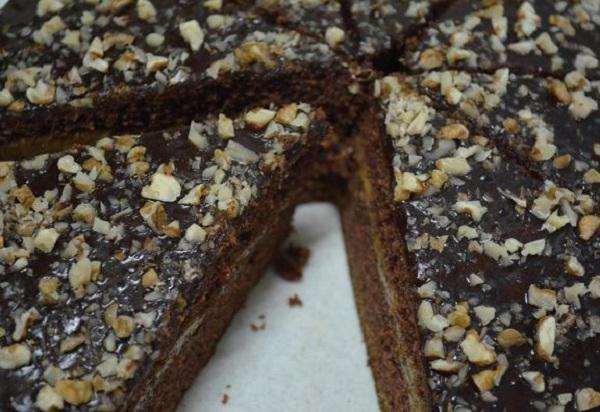 How to prepare:
Mix flour with baking powder and cocoa. Vzbey eggs with sugar until foaming, add the sour cream. Vzbey again. Millet flour mixture to the batter. Mix well. Brush the bottom of the mold (diameter 20 cm) with butter or lay a parchment. Pour batter. Bake at 170 ° C for about 40-45 minutes.
For cream vzbey slightly softened butter with cocoa and a little sguschenkoy.Orehi fry in a frying pan and chop. Get Ready cake from the mold, cool slightly, cut the cake at 2-3. Saturate any impregnation can jam with water or your favorite liqueur, cream and smazh sprinkle each cake with nuts and sides of cake. Let soak for at least 3-4 hours.

These cakes are obtained not only great to look at, but also very tasty. Share recipes with your friends, let them try to cook too!

via takprosto cc