German poppy seed cheesecake - it's incredibly delicious dessert that is worth a try at least once in life. First, the ingredients such as cottage cheese and poppy, very useful for the organism. Second, preparing cheesecake is so simple that even a novice mistress may surprise them to your loved one, children or guests unexpectedly appeared. Cooking time of the dessert - a half hour. But we are confident that he will eat a lot faster!
Dough:
300 g flour;
130 g butter;
100 g of sugar. filling: strong >


750 ml milk;
150 g sugar; 100 g unsalted butter; 250 g of cottage cheese; < 1 egg; 150 g ground poppy; 150 g semolina. How to prepare:

1 pound into crumbs flour, cold butter and sugar.
2. Take 2/3 of the crumbs and place on the bottom of the split mold of 24 cm, Ram hands and take away in the fridge.
3. In a large saucepan, mix the milk, sugar and butter for the filling, bring to a boil.
4. Add the boiled milk and poppy semolina, stir and let stand for 10 minutes. You should get a thick as sour cream, Mass.
5. Vzbey blender cheese with egg.
6. Add cheese in poppy mass and mix.
7. Lay the filling on the dough chilled, sprinkle on top the rest of the dough crumbs.
8. Send in the oven for 1 hour at 180 ° C.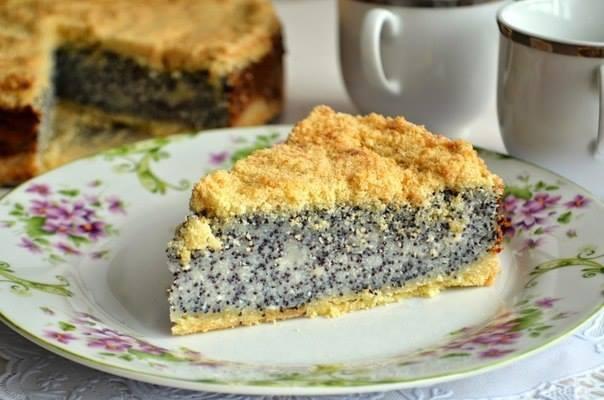 German poppy seed cheesecake ready. Bon appetit!

If the traditional dumplings with cottage cheese you tired - try to cook the cheesecake. Sure, it will be enjoyed by all family members. Share this simple recipe with your friends, maybe they will invite you to visit, you have to taste this delicious and healthy dessert!

via takprosto cc