Surely there will be no man in the world who would not like to barbecue. Meat, vegetables, fish, seafood ... Kebab famous not only for excellent taste and appetizing aroma, but also the fact that you can cook almost any ingredients. Perhaps no one dish does not cause so much controversy: from which the meat is better to cook, what part of the carcass to use a prepared marinade ... To dot the i, offer the best, in our opinion, recipes barbecue, where everyone will find something of their own .
1. Pork

Buy for barbecue pork neck or neck of pork should be - a barbecue is the most soft and juicy. However, great as loin, brisket or lumbar portion. Do not buy meat for barbecue blades or ham - a dish can turn out dry and harsh. The fat in meat should be slightly, but it must be present, that the meat does not get too dry.

Ingredients:

2 kg pork (neck); 1 kg of onions; 6 pcs. bay leaf; salt; spices to taste (dried dill, parsley, oregano, basil, freshly ground black pepper). How to prepare :

Marinate skewers onions must be only in the evening! If you do not have much time to wait so long, then you should select a different recipe for the marinade.

1. Bow to clean, rinse, Cut into four pieces and mince.
2. The meat cut into medium pieces across fibers.
3. meat add spices to taste. Attention, salt at this stage not to put!
4. Pour milled onion into the meat and mix by hand. Leave overnight.
5. Two hours before cooking the whole onion and bay leaf Get out of meat. The future ambassador of good barbecue.
Delicious, juicy and incredibly flavorful meat is ready! Bon appetit!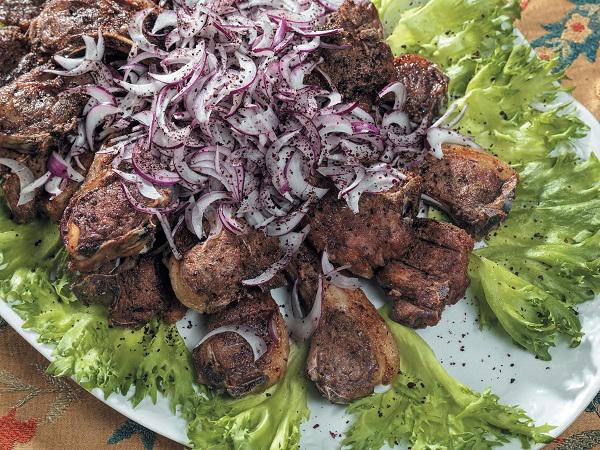 2. Skewers of carp

For those who are trying to eat healthy and helpful, grilled carp can be an excellent alternative to the Pork or lamb. Due to the fact that fish, especially big, very fat, very tasty kebab is obtained.

Ingredients:


1, 5 kg of silver carp; spices for fish (to taste); salt (to taste); 1 lemon. How to prepare:

1. Clean the fish and cut into portions.
2. carp marinate with spices, salt and lemon and leave to marinate for 2 hours.
3. After that, you can safely prepare the coals and fry the fish on the grill on both sides for approximately 10 minutes.
4. Serve with vegetables and herbs.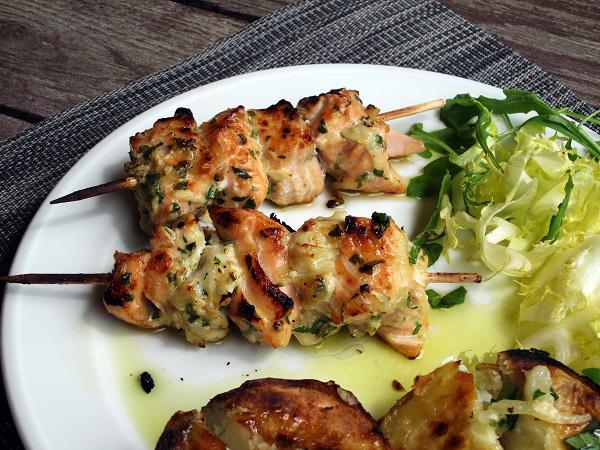 3. Vegetable Skewers

A very tasty dish that is suitable will enjoy not only vegetarians, but also lovers of vegetables!

Ingredients:


courgettes; small tomatoes; pepper; salt. the ingredients are taken in equal proportions, then the barbecue will taste better.

How to prepare:

1. Courgettes can cut thin slices, pepper - squares. All vegetables should get roughly the same size.
2. To barbecue is not burned in the cooking process, you can pour a little vegetable oil.
5. strung on a skewer alternately zucchini, tomatoes and peppers in any order.
6. Ambassador on all sides, and fire away 30 minutes over the fire. When the zucchini are tender - skewers ready!

For vegetable kebab can be used mushrooms, eggplant, cheese of different varieties. Experiment - it's very tasty!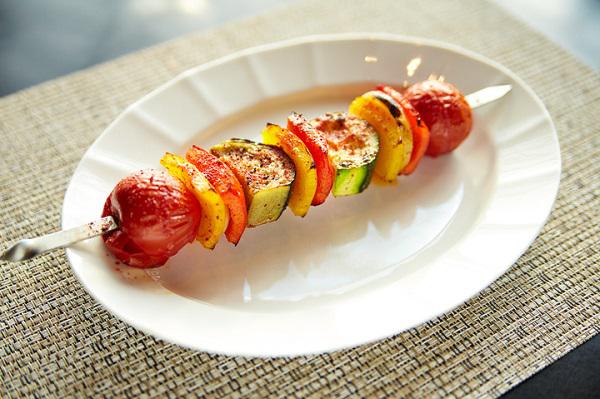 Kebab - a real summer dish, the mere mention of which start to flow salivating and wakes up the appetite. Tell a friend about such a simple recipe for kebab, and perhaps you are thinking of trying out each of them this weekend. Bon appetit!

via takprosto cc