Pear fruit is often called the Queen, not only because it is very tasty, but also because of its beneficial effects on the body. Even given the fact that this is much sweeter fruit apple, sugar there is less fiber but greater. So as of now the season, you enjoy plenty of pear and treat yourself and your family dishes out of it. We have prepared for you three wonderful summer recipe that are worth paying attention to.
1. Delicious cottage cheese casserole

You will need:

450 g of cottage cheese; 1 pear; 3 eggs; 70 g sugar; 50 g cornstarch; 12 g vanilla sugar; 2 hours. l. honey; 2 hours. l. butter.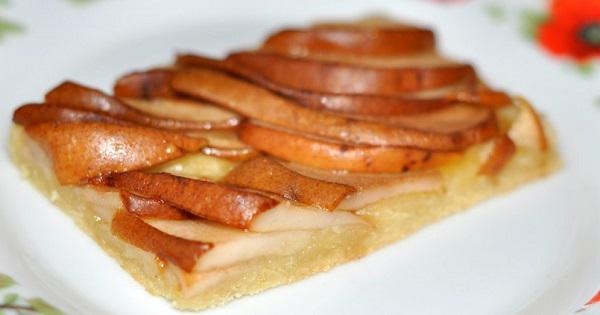 Vzbey in a bowl the yolks with sugar until the increase in the volume and weight of whitening. Add cottage cheese, starch and vanilla, mix well. Vzbey proteins with salt to form a wet and white foam, which will take the shape of rounded peaks. Add carefully proteins in the curd mixture. Lay out the dough into a mold, pre-lubricated with oil and sprinkle with flour.

We will cut the pear cubes. Put the butter, honey and pears in the pan and place on a small fire. Stir. Prepare as long as the fruit does not become a little soft.

Put the dough on a pear. Send to a dish in a preheated 180 degree oven. Baking time - 1 hour.

Cool dessert. Sprinkle with powdered sugar, decorate with mint and serve.

2. Tasty dessert of pears and apples

You will need:


3 pears; 2 apples; 2 tbsp. l. sugar; 1/4 ch. l. Melen allspice; 1/3 cup caramel. Topping:


1/4 Art. oatmeal; 1/4 Art. brown (or white) sugar; 2 hours. l. flour; 3 tbsp. l. low-fat butter; 1/4 Art. walnuts; in a large bowl, peeled and diced pears, apples, sugar, and allspice. Place them on a baking sheet, greased with butter. Fields caramel on top.

For a taste of our dishes and decorations mix the oatmeal, sugar and flour. Add the cold butter, sprinkle chopped nuts and apples and pears.

Dessert Bake at 180 degrees for 45 minutes. Topping should be brownish in color and soft fruit. Let them cool down a little dessert. Before serving the dish fields juice, which is isolated from the fruit.

3. Petite Pie "Duchess»

You need to test:


300 g flour; 200 g butter; 50 g sugar; 1 egg. ul > You will need for the filling:


900 g pears; 3 tbsp. l. sugar. the sifted flour, egg, sliced ​​slices butter, sugar and knead shortcrust pastry.

The dough should be wrapped in plastic wrap. Then put it in the fridge for two hours.

We shall cut cleaned pear slices, removing seeds.

Lay pre-roll the dough bottom and walls form. Puncture the dough with a fork in several places. Laid out on a pear slices, sprinkled with sugar. Send in a preheated 200 ° C oven for half an hour.

For those who loves to bake, these recipes will become indispensable. Share with your friends these delicious ideas for cooking pears.

via takprosto cc