Seventy eight million nine hundred twenty nine thousand four hundred fifteen
Before the winter holidays a few weeks, but to recharge your Christmas mood right now, for example to watch a Christmas episode of your favorite series.
The website
selected 20 special series that will help you to spend these December nights waiting for the most magical holiday of the year.
Friends season 7, episode 10: the episode with the Christmas Armadillo
Friends — season 7, episode 10: The One with the Holiday Armadillo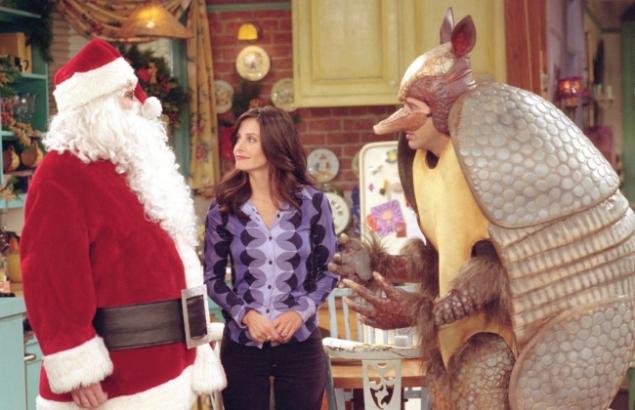 Ross wants Ben to explain what Hanukkah is. However, in the wardrobe have only a suit of Armadillo. Later come to Chandler in a Santa suit, and Joey in a Superman costume. Phoebe's apartment is repaired, and she's afraid that Rachel doesn't want to live with her, so does everything in order to spoil the life of Rachel, Joey gives drums and tarantula.
House MD season 5 episode 11: joy to the world
House — season 5, episode 11: Joy to the World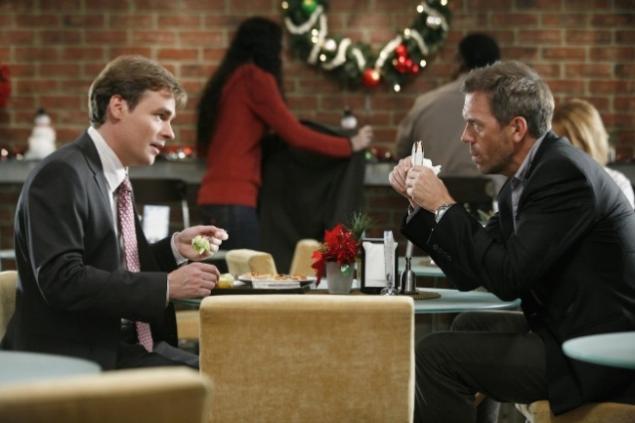 House together with the team take the case of a teenage girl that becomes ill during a Christmas program at school. House gives the patient an incredible Christmas gift, and causes your team to guess over who were a surprise to him. Meanwhile, Cuddy receives an unexpected gift.
Mr. Bean season 1, episode 7: merry Christmas, Mr. Bean
Mr. Bean — season 1, episode 7: Merry Christmas, Mr. Bean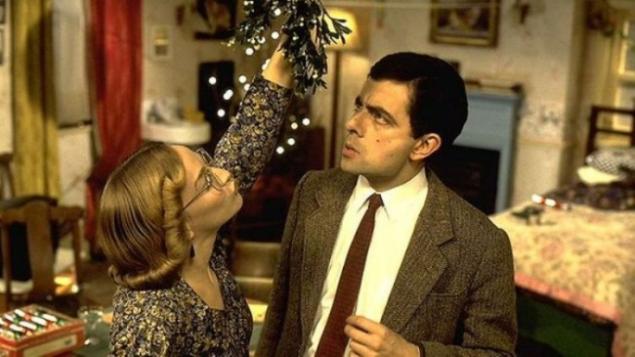 When shopping for Christmas, Mr. Bean's suit at the toy store. Irma Gobb, Mr. Bean which was invited to dinner, thinks he will finally give her the ring. But instead she gets the hook from the frame and the poster of a jewelry store.
The Big Bang theory season 7, episode 11: the Cooper Extraction
The Big Bang Theory — season 7, episode 11: The Cooper Extraction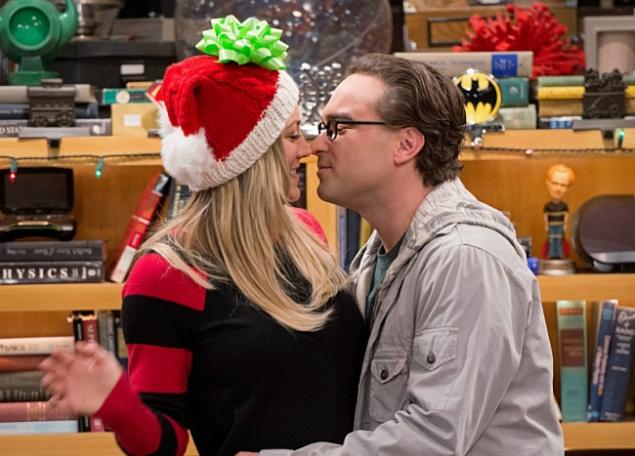 While Sheldon is in Texas, all decorated with a Christmas tree and imagine what it would be like their life if they never met Sheldon.
Married... with children season 2, episode 13: you Better watch out
Married... with Children — season 2, episode 13: You Better Watch Out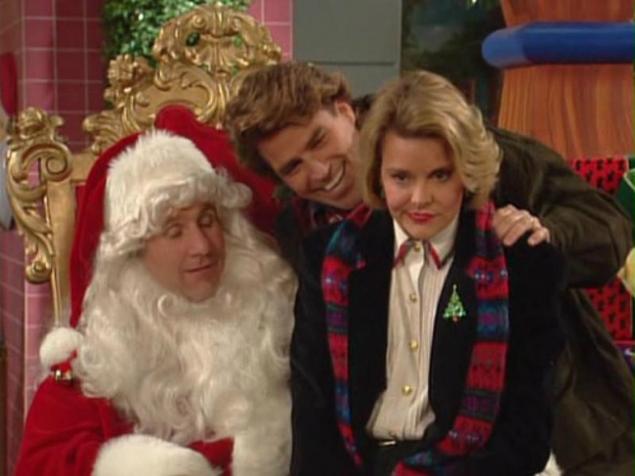 Christmas episode tells about Santa Claus, which was a little late and fell off the sled right to the possession of Bundy.
Downton Abbey season 2, episode 9 (special issue): Christmas at Downton Abbey
Downton Abbey — season 2, episode 9: Christmas at Downton Abbey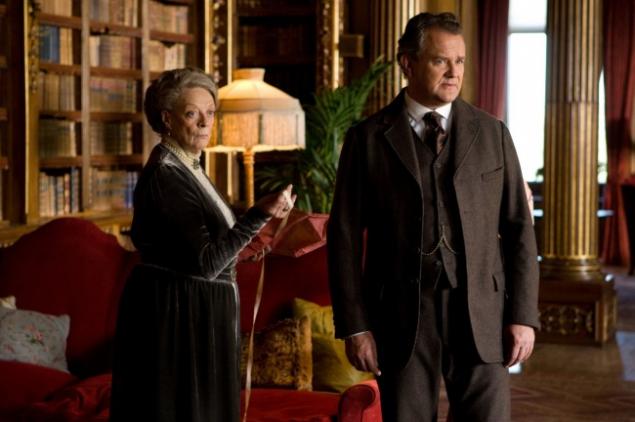 Sybil married Branson, and is expecting a child. Bates was convicted of killing his ex-wife Vera despite testimony to the Earl of Grantham. The relationship between Matthew and lady Mary make another turn. She breaks up with her fiancé, sir Richard Carlisle, despite his threats to reveal her secret about Mr. Pamuk.
Doctor Who season 6, episode zero (special edition): a Christmas Carol
Doctor Who — season 6, episode 0: A Christmas Carol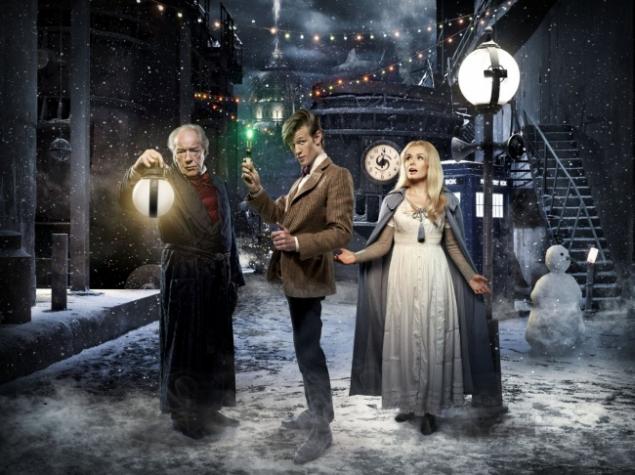 Amy and Rory during the honeymoon fly on a space ship who begins to fall on an unfamiliar planet and the Doctor has only hours to rescue them. The doctor descends to the planet and meets Kazran, having the ability to control the sky. Kazran refuses to help. Then the Doctor decides to interfere in his past to make him kinder.
How I met your mother season 2, episode 11: How Lily stole Christmas
How I Met Your Mother — season 2, episode 11: How Lily Stole Christmas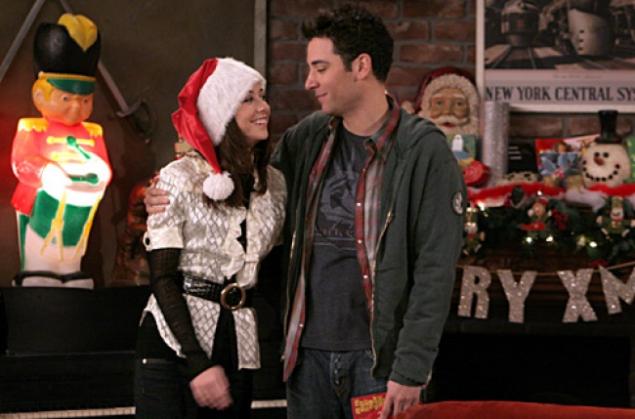 Lily accidentally finds out that during her breakup with Marshall and Ted rude comments about her. In retaliation for this Lily-takes-all Christmas decorations from the apartment Ted and Marshall. Ted needs to save the celebration of Christmas is threatened.
Agatha Christie's Poirot season 6, episode 1: Hercule Poirot Christmas
Agatha Christie's Poirot — season 6, episode 1: Hercule Poirot's Christmas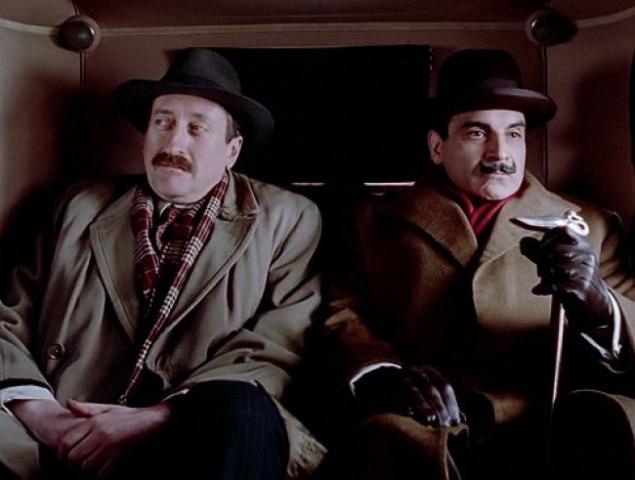 Simeon Lee, the rich and influential head of a large family invites numerous offspring to his estate in Kent for Christmas. However, he hires Hercule Poirot, but does not give a detailed explanation of the purposes of his presence at the family reunion.
Secret files season 6, episode 6: How the ghosts stole Christmas
The X-Files — season 6, episode 6: How the Ghosts Stole Christmas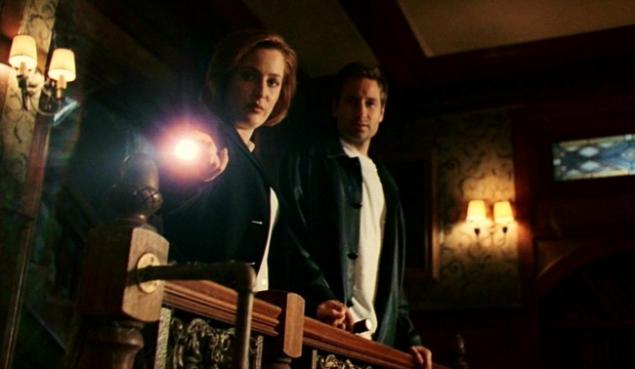 On Christmas eve, Mulder and Scully find themselves trapped in a house with two ghosts who are determined to prove that a holiday can be very lonely.
Futurama season 2, episode 8: Christmas story
Futurama — season 2, episode 8: Xmas Story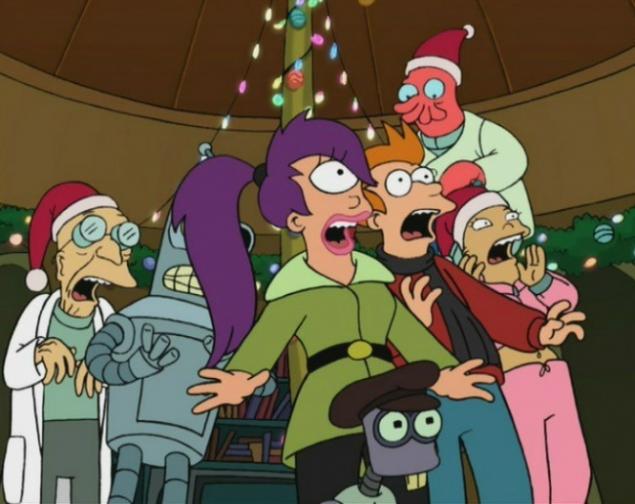 Ski trip makes fry to remember about Christmas and on the twentieth century. To distract him from these thoughts, team planet Express is taken to spend Christmas as it is customary in the year 3000.
Two and a half men season 3, episode 11: the Cursed Santa's village
Two and a Half Men — season 3, episode 11: Santa's Village of the Damned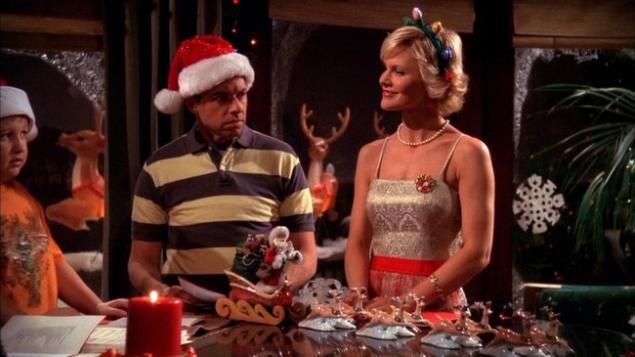 Alan starts Dating a girl named sandy, who is an excellent cook. Soon Alan and Charlie gain weight, but it's not the only problem associated with the emergence of sandy in their lives.
Black mirror season 2, episode 4: White Christmas
Black Mirror — season 2, episode 4: White Christmas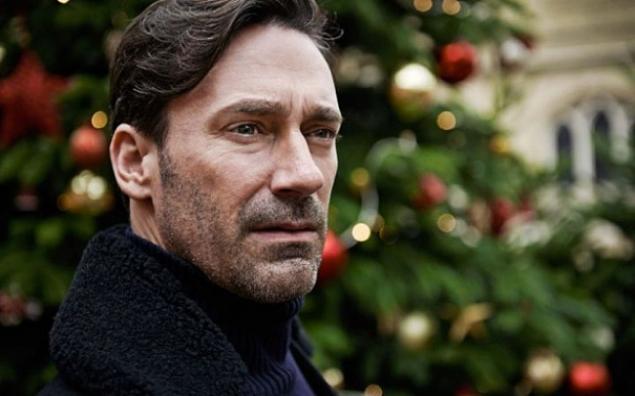 Somewhere in the middle of a snowy desert is a lonely Outpost. Matt and Joe have been working together for 5 years but hardly talk to. For Christmas dinner they start talking and they share three strange stories about her life and not only.
The mentalist season 3, episode 10: Blue Christmas elf
The Mentalist — season 3, episode 10: Jolly Red Elf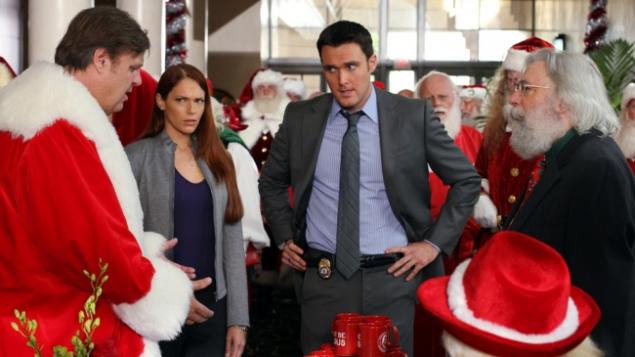 On the eve of the new year holiday killed one of the Santa clauses. The investigation leads the team in rehabilitation center for alcoholics. Patrick first appears the advantage over the Bloody John.
Eureka season 4, episode 21: do You see what I mean?
Eureka — season 4, episode 21: Do You See What I See?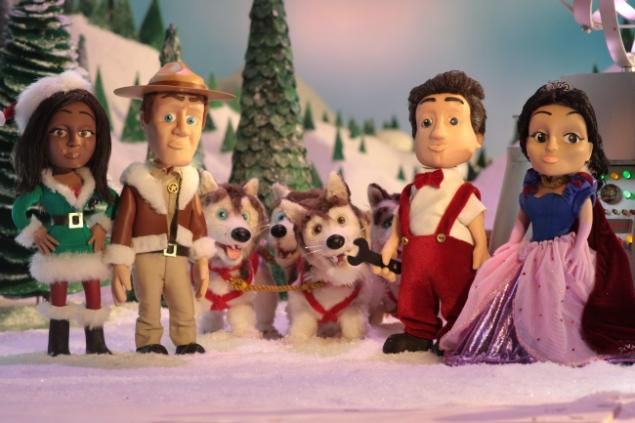 Sheriff Carter and Allison Blake are preparing a holiday surprise for their children, but the city suddenly falls upon the mysterious coloured wave, causing all its inhabitants turn into... cartoon characters.
Grey's anatomy season 2, episode 12: Grandma moved reindeer
Grey's Anatomy — season 2, episode 12: Grandma Got Run Over By a Reindeer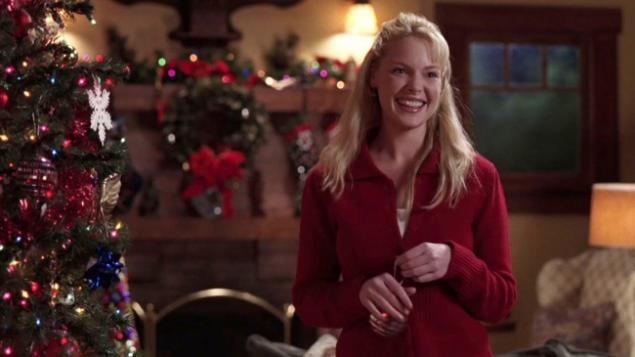 Starts the holiday season, but no one has a good mood. It's the last day of Alex in the hospital unless he passes the exam at the practice the next day, but then come to the aid of friends and everything came out.
Sherlock season 4, episode zero (special edition): the Ugly bride
Sherlock — season 4, episode 0: The Abominable Bride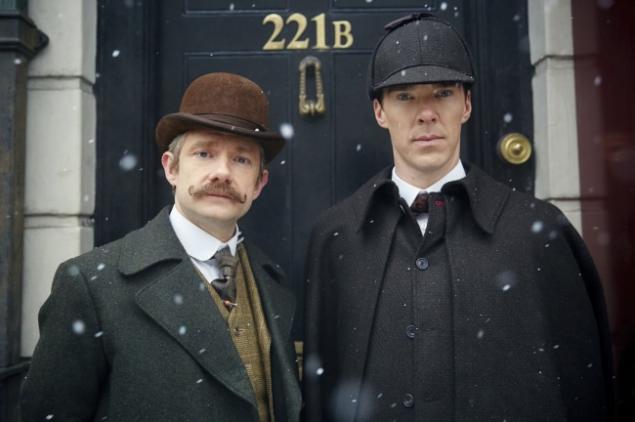 To Sherlock for help turns a Thomas Nicoletti. He saw his wife's old wedding dress and was very surprised, but soon learned that she committed suicide a few hours before this meeting. Holmes, Watson and their friends need to show their best qualities in the battle with otherworldly at first glance, the power to know the truth about the bride.
The choir season 3, episode 9: Incredibly happy Christmas
Glee — season 3, episode 9: Extraordinary Merry Christmas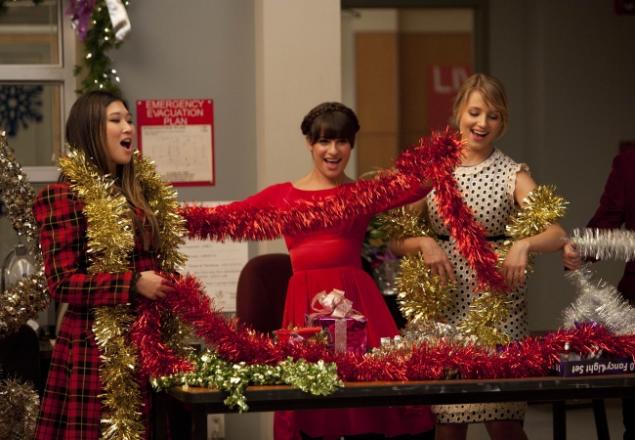 The choir celebrates Christmas, faces a dilemma when the opportunity to speak at two events in one day. Irish student, Rory Flanagan misses home and finds a friend in the person of Sam Evans, who is also away from his family.
American family season 1 episode 10: Record garlands
Modern Family — season 1, episode 10: Undeck the Halls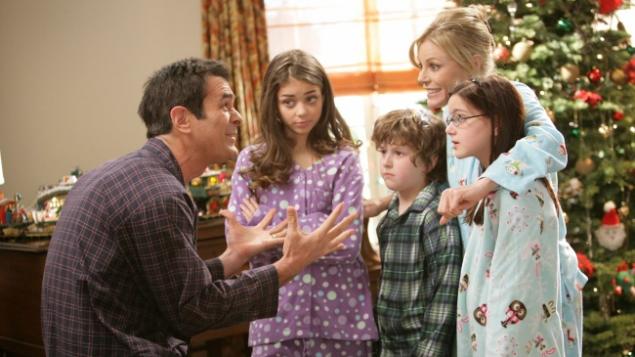 It's Christmas and everyone celebrate it in different ways. J. inclined to the traditional celebration, while Manny really misses Colombian customs.
The simpsons season 1, episode 1: Simpsons cooking on an open fire
The Simpsons — season 1, episode 1: Simpsons Roasting on an Open Fire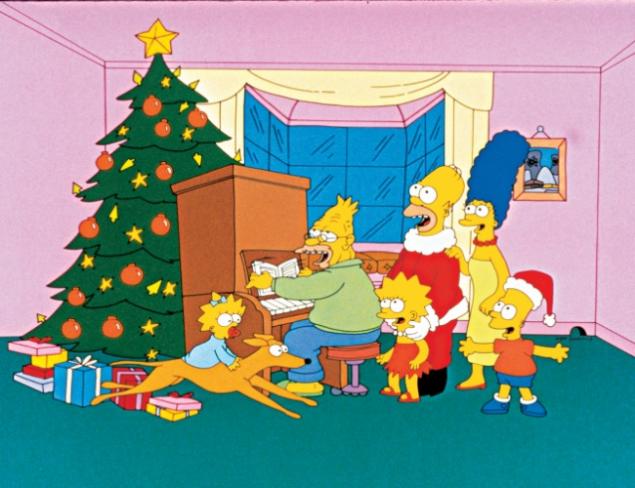 At school, where children of the Simpsons is a Christmas party. Homer and Marge sitting in the audience, watching performances of children. Lisa Simpson in a very revealing outfit and mask, armed with two burning sticks, performing a dance of Santa Claus of the South seas. The fourth grade choir performed Christmas songs, but Bart deliberately muddles the words, and expel him from the stage.
Photo on preview BBC One
See also
15 great movies for the evening after work
20 best TV shows according to the audience, not critics
15 enchanting minoricensis for those who have no time for all these movies
via www.adme.ru/tvorchestvo-kino/15-feerichnyh-kinorecenzij-dlya-teh-u-kogo-net-vremeni-na-vse-eti-filmy-1398565/