The busiest airport in the Indian state of Kerala on the domestic and international passenger traffic switched to solar energy. Cochin Airport became the world's first of its kind, which is provided exclusively by means of this alternative energy source.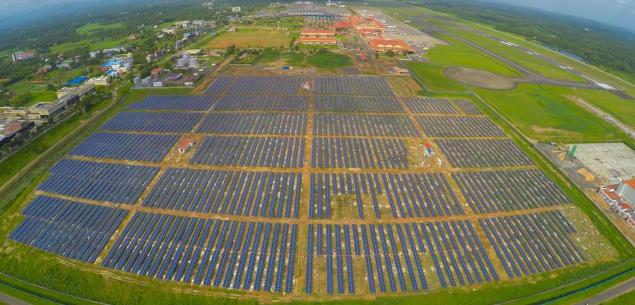 In March 2013 on the roof of the airport terminal Cochin established a system of four hundred panels of two hundred and fifty watts of total power of one hundred kilowatts. Later on the roof and on the ground have set another farm - with a capacity of one megawatt. Due to the success of these projects at the airport we have established a new farm, which eventually allowed him to completely switch to solar energy.
Most of the energy the airport provides a farm of more than forty-six thousand panels, placed in an area of ​​eighteen hectares (45 acres), the power system - twelve megawatts,
According to the press service of the airport
. Over the next twenty-five years the airport will be able to avoid the emission of three hundred thousand tons of carbon dioxide due to the transition to alternative energy sources.
For India, the transition to the use of solar energy is natural: the country about three hundred days of sunshine a year. In July
India launched a test train
, using solar energy: Minister of Science and Technology of the country explained that the idea of ​​installing solar panels on the train came him after he learned about the
Solar Impulse
.
The problem of air pollution is acute in China:
breathe in Beijing - anyway that smoke forty cigarettes a day
. Smog over the capital of China is half emission transport smoke from burnt coal and fumes when cooking. The air of the city contained a hazardous amount of particles with a diameter of up to 2, 5 microns. In India, the number of PM2.5 is thirty-two micrograms per cubic meter, is two times less than in China (in China this figure - seventy-three micrograms per cubic meter), but most of the established norms of the World Health Organization in the twenty-five micrograms.
Source:
geektimes.ru/post/260696/