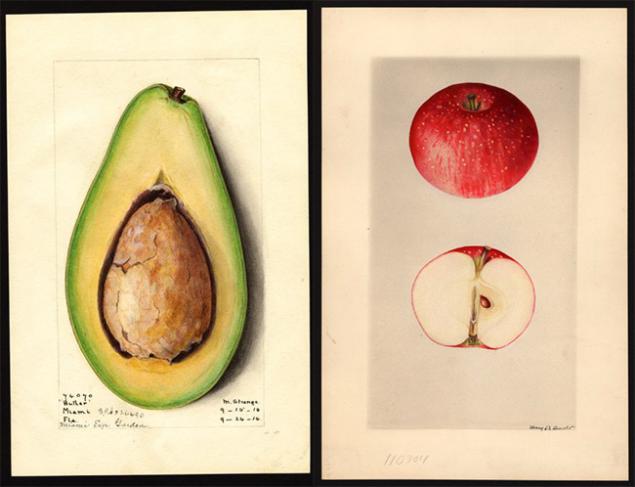 A very valuable addition to public domain according to the law should be a unique collection of
Pomological Watercolor
, which the US government for many years kept under lock and key and then began to sell digital copies at $ 10 apiece.
Collection with works of 1886-1942 years is a unique combination of artistic and scientific value. On the one hand, painted watercolor drawings themselves resemble works of art. On the other hand, this research work for the cataloging of fruits and nuts. In particular, it contains pictures of thousands of varieties of apples,
исчезнувших with the face of the earth
.
Drawings created in 1886-1942 years, but most dates from the 1894-1916 biennium. In addition to watercolors, lithographs and there are pencil drawings. The paintings come from 29 countries, of the 51 states and the United States. The richest collection - a collection of apples (3807 images).
The works painted by about 21 artists who worked for the Ministry of Agriculture. Actually, they have now and a collection of originals. The Ministry received a grant to digitize the collection of non-profit environmental fund. The idea is that the authorities should have to lay out in the open access digital copies. But they did slyly. In the public domain there were only low resolution copies and the originals started selling.
Since 2011, when the collection has appeared online, activists
сражаются
for the liberation of scanned originals. Managed to obtain financial records of the Ministry. It was found that in 2011 it managed to sell on its website 81 image, received income of $ 565 (for some reason). Thus the cost of digitization was $ 288 442.
If the ministry hopes to recoup the project, it is unlikely to succeed. At the same time, under the law pattern should be in the public domain. They can be an excellent illustrative material for textbooks, scientific books, Wikipedia.
Separate conscious shoppers files
добровольно
spread in open access drawings from the collection of fruit Pomological Watercolor.
Source:
geektimes.ru/post/249688/