The elephants, chimpanzees, dogs and other creators, not related to the human race, can earn thousands of dollars in his paintings.
Painting our smaller brethren, are in great demand. Collectors give them hundreds of thousands of dollars, willing to spend large-scale gallery exhibition Van Gogh Bobikov and Meow. In the ranking of Forbes - 10 artists who have to hold the brush is not in hand, and leg or in the teeth.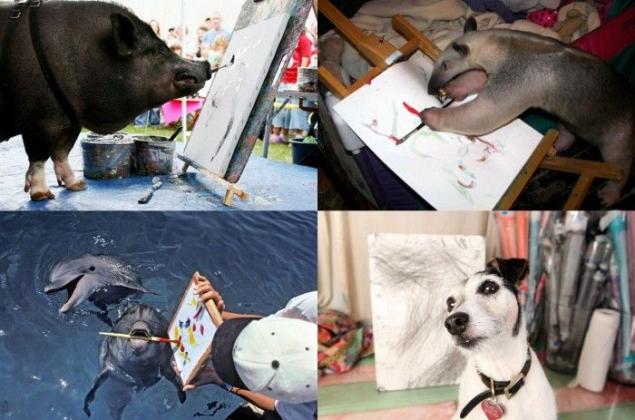 1. Chimpanzee Congo.
The cost of paintings: $ 900-8500
Chimpanzee Congo - perhaps the most famous artists from the world of animals. In 2005 at Bonhams auction three of his paintings were sold for a total of £ 14, 400. Even though this triumph of the Congo itself is not found - he died of tuberculosis at age 10 in 1964 - thank found him still alive. Among the admirers of the talented artists chimpanzees were Pablo Picasso and Joan Miró.
Creativity Congo found British zoologist Desmond Morris. He first proposed a chimpanzee pencil and a sheet of paper. It soon turned out that the Congo is able to draw a circle, and even owns the base composition. With the colors of the Congo has made friends at once: at first he just sprayed them on paper. However, after two years of enhanced training, he learned how to hold a brush and mix colors. Congo drew exclusively within the canvas, do not intercede for its borders. He seemed keenly aware of when you need to make the last stroke and complete work on another painting.
The first exhibition was held in the Congo in 1957 and caused a great public outcry. During his lifetime, the chimpanzee has created more than 400 paintings and drawings, and in recent years he had become addicted to painting that could make a real tantrum when Morris was carrying a brush and paint.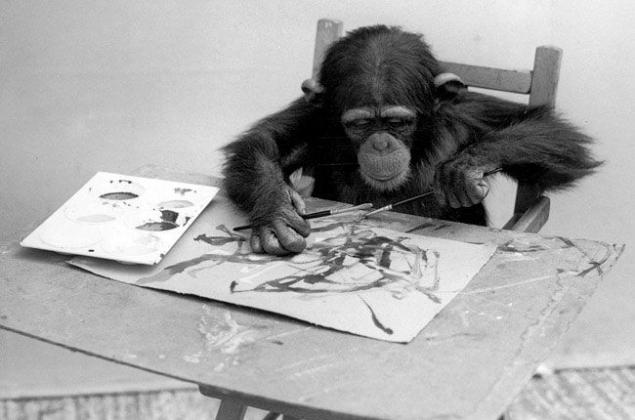 2. Asian elephants (Thailand)
The cost of paintings: $ 200-12000
The project for the development of creativity and the protection of Asian elephants (AEACP, The Asian Elephant Art & Conservation Project) was launched in the late 1990s. In its origins was a creative artist "Komar and Melamid» (Komar & Melamid). American artists of Russian origin, Vitaly Komar and Alexander Melamid have developed a unique system of training elephants painting and went to Thailand to give the animals a new job, was out of work after the introduction of restrictions on deforestation.
AEACP expanded rapidly: today its divisions exist not only in Thailand but also in Indonesia and Cambodia, as well as in Sri Lanka. Elephants live in large camps, as a rule, in the woods or in the immediate vicinity. They prefer different styles of painting: one creates abstract paintings, one can fairly reliably depict a tree or a bunch of flowers, and some of the strength to write a self-portrait. Animal output even in the open air, and taught to draw from life. Work elephants artists can be purchased through the official website of the project. Together with the picture of the buyer receives a certificate of authenticity and biographical information about the author of the work.