FTC offers open access to military frequencies for civilian use Bashny.Net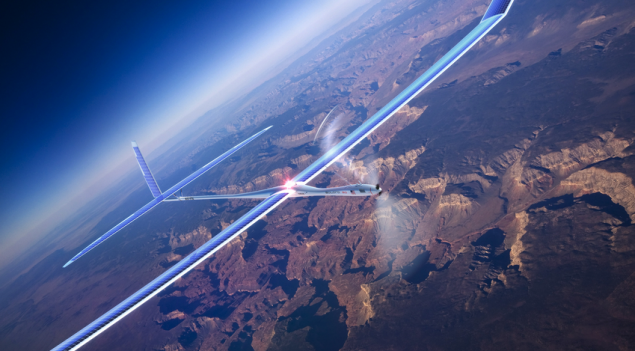 Art drone Google Solar handing out Wi-Fi i>

The question of granting access to civic organizations to military frequencies range 3550-3700 MHz, will be discussed at the Federal Telecommunications Commission US next month, on April 17, reports recode.net . Such a decision would allow companies such as Google and other civil society organizations to develop projects, the essence of which is to deploy global Wi-Fi network using the aircrafts.

This step - another attempt by the FTC to legalize the use of frequencies that were previously in the use of the military. The last few years, the Commission worked on the study of consumer demand and the release of the frequency band for use by civilian organizations and, consequently, the creation of conditions for the construction of the new Wi-Fi networks. This decision will open up for the frequency that was previously used by the military radar systems.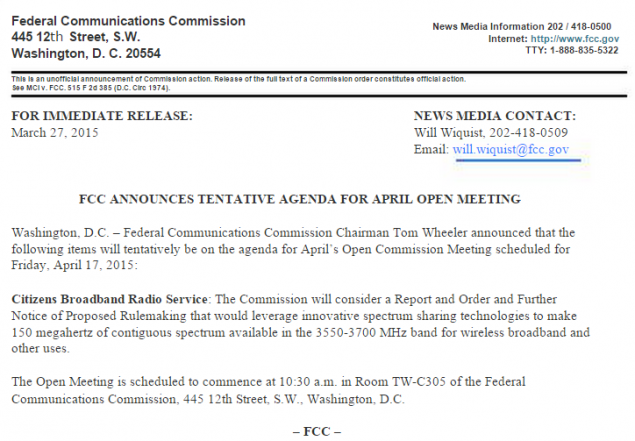 Screenshot digital copy of the document on the meeting of the committee, fcc.gov

It may take several years before the changes will affect end users in the US, however, this step can make a lot more mobile in the future than just provide new frequencies. Radio frequencies are not well suited for the creation of large-scale data networks, so now in a city broadband wireless networks are short range.

Quoting пятничную Blog Entry Tom Wheeler , Chairman of the FTC: "The project provides the opportunity to try to bring innovation in the field of licensing wavelength range and access to it, it is necessary to simultaneously meet the communication needs of a large number of users."

In fact, the government has developed a plan for joint access to a specific range of frequencies, both military and civilian organizations. It implies preservation protection range near military bases and radar stations, but you can use it on the rest of the country. Also part of the webcast will be allocated for free use by anyone, provided you use a certified PTC device may not cause interference.

Federal Commission proposed plan sharinga ether last spring, and industry network communications and some technology companies have long been discussing the details of such a step. Corporation Google, as well as other interested companies, оспаривают proposed technical regulations , first of all, the size of the protected areas around military bases and facilities.

A further stumbling block is the fact that some other technology other than Wi-Fi can be operated in the range rassharivat government. For example, some mobile operators are more interested in moving to the new frequencies use the format «LTE-U», which will enable them to deploy its 4G-based network, as the new range will be available for everyone. Their opponents are more interested in using the technology of Wi-Fi.

Expert Commission of the «New America Foundation» and other community groups expressed their concern regarding the use of standard LTE-U a > and asked the FTC clearly regulate the activities of companies in the new frequencies. This action was carried out in order to avoid disputes that could block the development of Wi-Fi networks.

According to one of ordinary employees FTC, on Friday CTIA, an association of sellers of cellular services, the Federal Commission that the latter should remain neutral in this matter and create a legal framework that "will allow different technologies to work together."

Source: geektimes.ru/post/248006/
Tags
See also
New and interesting
New and interesting