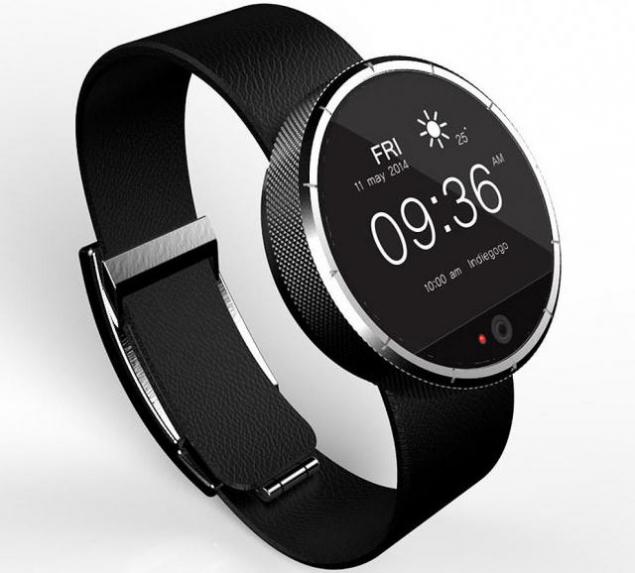 Smart watches became even more: the other day it was reported
FiDELYS
, interesting devices that differ from the presence of some unique, really unique features.
This clock, as can be understood from the description given developers can be used as a security / authentication technology with built Iris Verification. Plus, FiDELYS can be recharged using the wireless charging.
Appearance h4>
 In principle, this watch can be described as very similar to the Moto 360. Roughly the same size round display, such as "dead zone" at the bottom of the screen. However, in Moto 360 there is nothing at all, and here is a spy laser - destructor reader iris.

Metal bezel - ribbed, this is done not for beauty (or rather, not only for beauty) and to facilitate its rotation. Rim - the main element of the control system, the function keys is not there.




Among other things, water and watch pylezaschischeny (standard IP-67, which means protection against strong jets of water from all directions).


What are able to watch? H4>

Identification by iris h5>
 The most interesting feature - a system of user authentication iris. At the bottom of the display is installed scanner, Iris Verification, which allows us to identify a person by the unique structure of the iris of his eyes. They say it is more reliable than a fingerprint scanner.

Near the scanner has a infrared LED that lets you work with Iris Verification and in dark / low light.

According to the developers, the system Iris Verification solves three problems:

1. Need a password



2. Privacy policy



3. Authentication





Fitness Tracker h5>
 Actually, the standard already function for smart watches. Promote this tracker can not be named. There are only a heart rate monitor and a pedometer, which, in principle, be sufficient for the average person.


Wireless charging h5>
 Supports both inductive and magnetic resonance type of charging, so that problems with the completion of the battery should not be. Of course, wireless charging still not very common, but the situation is slowly changing.


Notifications / communications h5>
 Watch on Bluetooth LE connected to the mobile device, and the display shows all of the notifications that appear on the device. SMS, organizer, phone number of the caller - all of this can be seen in the display of hours.


NFC h5>
 To synchronize with all sorts of devices, implementation of bank payments, interaction with social networks use technology Near Field Communication (NFC).




Price and order h5>
July 9, launched a campaign to raise funds to start mass production of devices at the site Indiegogo. The first pre-orders can be made at a price of $ 200. Complete the price of the device is $ 350.

If all goes well, the beginning of the sales will start in April 2015.

// player.vimeo.com/video/99018397 video>

Official site of the device: FiDELYS .

Source: habrahabr.ru/company/medgadgets/blog/228897/