Almost a year ago I published my first story of the development of the game, which, despite its apparent simplicity, has caused quite pleasant emotions YaPovtsev. Thank you all, who then praised my work.
Too lazy to read, in brief: decided to make a game from scratch, without programming knowledge, no special preparations. Took so I did. True to the graphics I have not, but, rather, absolutely nothing.
Well, the earth does not stand still, and I do not stand. Igrodely for me was to occupy an important place in life. Let ka I will first show the picture to the seed as the current new game looks, and then, and tell the story of its creation.
(there will be some pictures, please do not break, I will inform you at the end)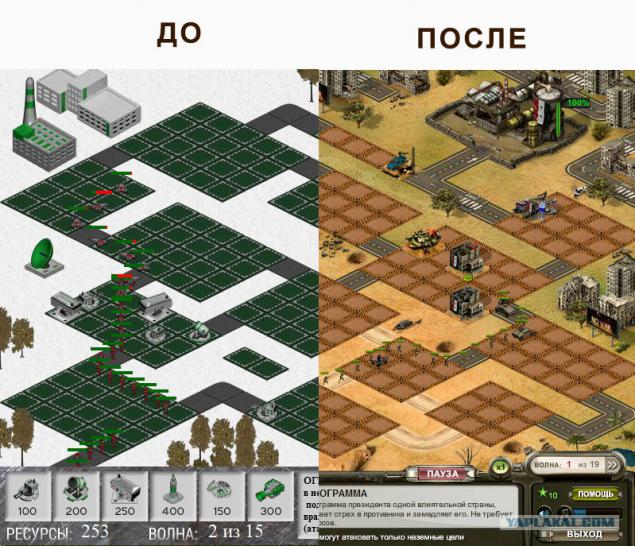 And the history of this. Following the publication of the post on the main page "YaPlakal" into my game I went to the people. In one day, 2,500 people. I know it's not too much for this game, but for my first development - it was quite an impressive number.
Sprinkle reviews. They wrote all sorts of people. There were real programmers and those who are encouraged to develop the game in the style of "robbing Korowai." There were serverniki and designers, and just those who have nothing to do and want. By the time I tried to promote the game in the catalog of the VC, but it was rejected with the words "To pass moderation needs substantial revision of the graphics." I even had time to be upset, but not for long. As a pleasant coincidence, I wrote one YaPovets that interested me with his passion for games. Do not I know when a person's eyes are burning! What is important is that it - the designer. Sanya is his name, and here CUBICK
And so, having discussed all the details, we decided to start with the fact that my first game remake. We decided on the idea. The plot is as follows:
Syria. year 2014. The US Air Force introduced its troops into the territory of a weakened country, to finally establish its world domination and take possession of the richest reserves of resources. The Russian government decides to act in defense of the captured state.
P.S. No association with any real world powers in the game are random, and the fruit of fantasy authors.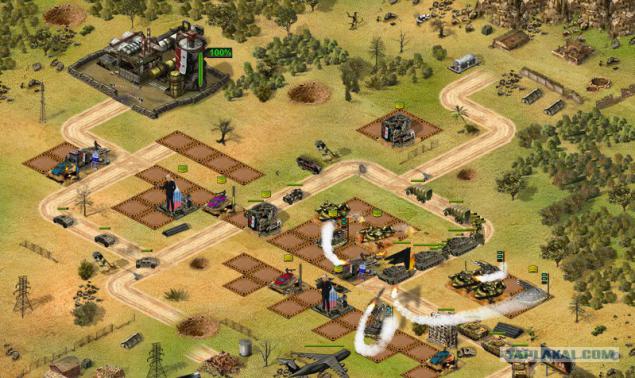 As a joke, we call it "software and hardware complex of strategic planning in the proposed military action in alternative Syrian conflict." Note that the "alternative." In the game there is no mention of the country involved in the conflict. With the exception of Syria - the defending side. Yes, the game has a political connotation, but for Ukraine too, a word.
Work has begun to boil, that's already the first results. Map Missions (taken with a real map of Syria):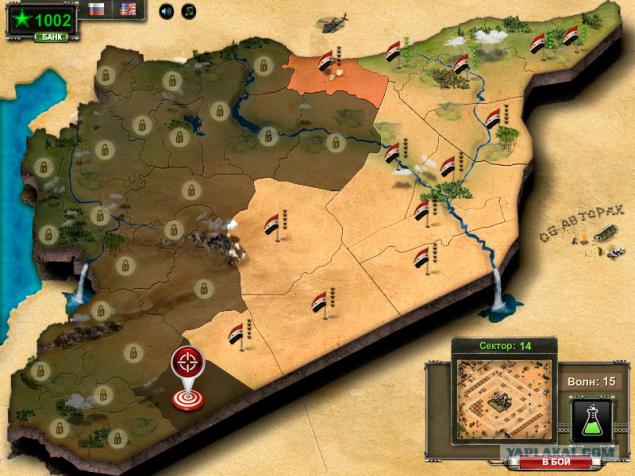 In fact, simply overwrite the game did not work too much in the game is not enough. I had to write a game from scratch, well, basic functions supplement and change. Rewrite the engine completely. The game has changed fundamentally weapons. Here, for example basic:
Siege House - is interesting because at the beginning of the game is rather weak instrument in it sit and soldiers only fired from rifles, but as it passes, it becomes almost the very strong - the soldiers appear grenades and then RPGpulemet - a very powerful tool, especially since continuous burst shooting. But there is one "but" - it was too fast peregrevaetsyasistema air defense - attack only the enemy air force. At the beginning of a set of one missile, and as you progress through a set of increases to trёhosadny tank - a weapon of incredible destructive power, it affects multiple opponents in raduise explosion of his shell. That's just not recharged bystroavtozapravochnaya station - or, simply, a flamethrower. Burns enemies, and they burn for some time. It is a powerful tool, but with a limited radius deystviyagologramma - hologram president of one powerful country. It may not only slow down the enemies by making them fear, but also makes petrify them in horror. Interestingly, guess what kind of an influential country, we have in mind?

We also made a map editor. It made for yourself to make it easier to make beautiful cards, so here it is not embellished: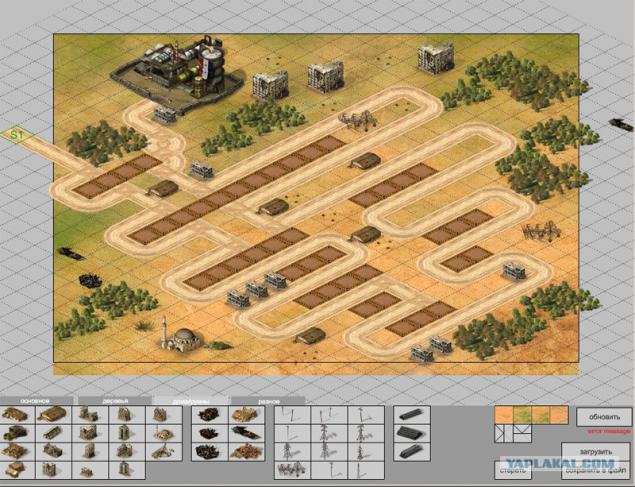 At first glance, it may seem that it is functionally very similar to the previous one, but still it is not so. Starting from the engine, finding ways of movement of enemies, display layers, ending with new cool improvements, super strikes, the enemy - all completely new. Now for the graphics, you can not be ashamed of.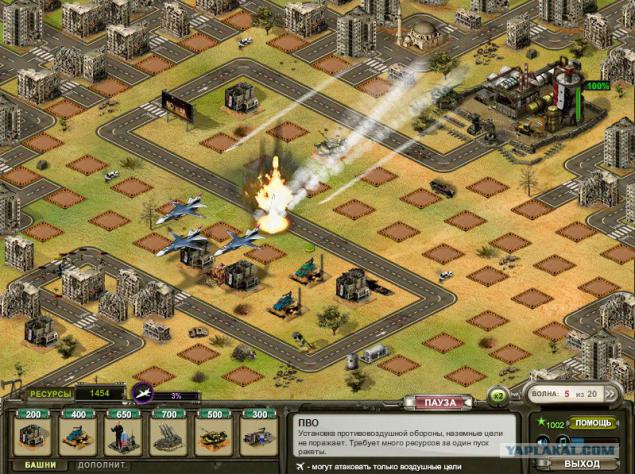 We also have additional buildings: radar, oil derricks, the super-hit "Topol-M", mines, etc. etc. There are additional improvements Base: protection Jets strikes, self-healing, the flow of resources. Total and will not tell. The main feature of the game can be considered more and the fact that all the instruments absorb the cumulative resources (other than the President of the hologram - it is not necessary to take away the resources!). After all, they, too, want to eat. But life is earned by a destruction of the enemy, setting oil rigs. It turns out sort of economy.
Present in the game different aircraft, helicopters, aircraft stealth, and even parachutists there. Sioux shki arrive when you call an airstrike. There are bosses - are quite large and deliver a lot of hassle. There are modes of acceleration time, start the next wave, and other goodies that are so asked YaPovtsy. All this is seasoned with a system of global improvement of each instrument separately.
So, the new game is ready. I took the old scheme and published it on VK (kick, kick me). She was quickly approved. We assume portation to other platforms, such as mobile, and other social networks. Now the game has a system of ratings, top players, top friends, and everything assumed a normal game.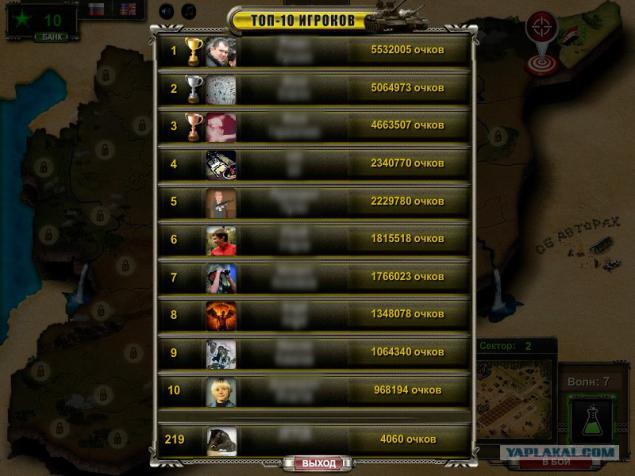 In a new development it took a little more than 4 months, but it was a very exciting process. Probably, many could do faster and without doubt. For me personally, it was a very interesting way, from a complete misunderstanding of the issue to complete a full game. Nothing is impossible, now I know. Go ahead and never stop!
link to the game
vk.com/syriatd
I have everything =)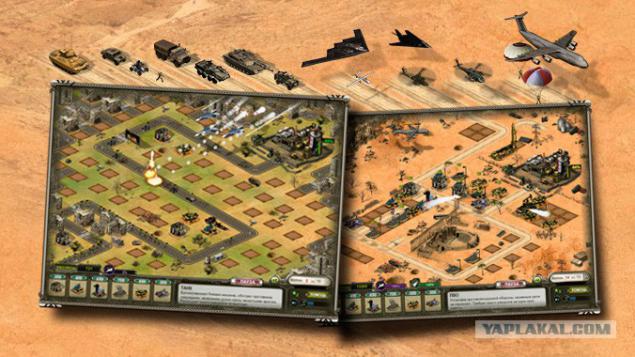 Source: