Manute Bol was born October 16, 1962 in Sudan. His father, the leader of the Dinka tribe,
Manute gave him the name, which means "special blessing." Anthropometric data of this
extraordinary player makes you wonder. With the growth of 231 cm. It has a weight of 100 kg. He came to the US in 18 years,
when he was seen by representatives of universities Farleigh Dickinson and Bridgeport. Continued inside.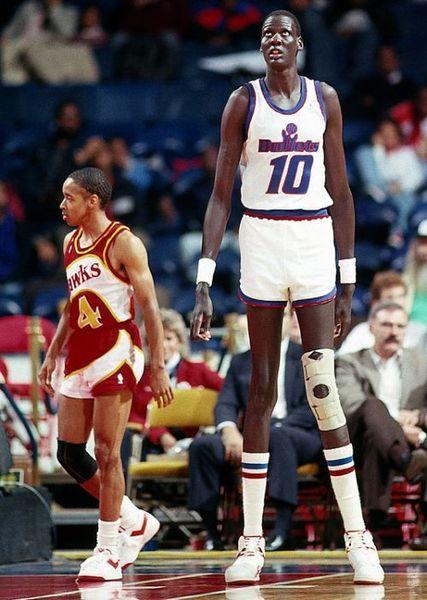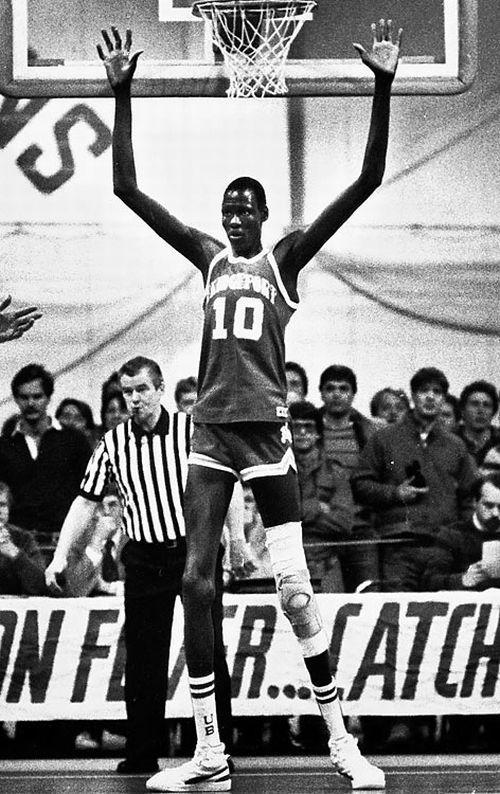 On a draft of its 1983 vibrat San Diego Clippers for the fifth peak, but the league announced the election invalid and ruled that Bol is not suitable for the draft. After playing a season at the University of Bridgeport in 1985, he was selected in the second round of the Washington Bullets team. Over a ten-year career in the NBA, Manute spent four seasons in Vashigtone, three seasons played for the Golden State Warriors, Philadelphia 76 for four and one in the Miami Heat. An interesting story happened in 1987. Washington Bullets in the NBA Draft selected Magsi Boggs (his height is 160 cm.). Thus the team from the capital played the highest league player and smallest.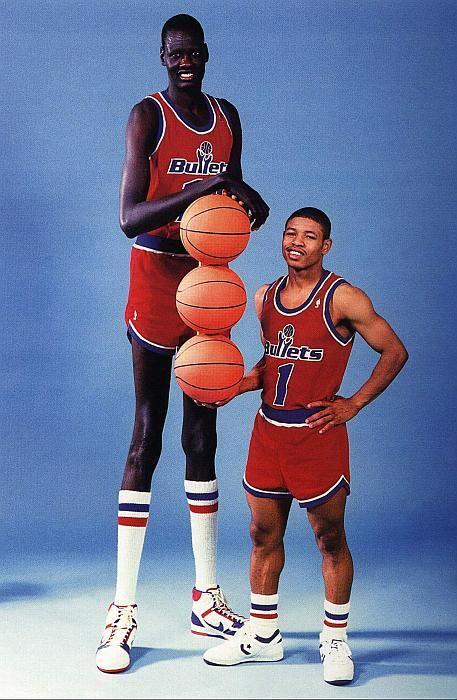 With the longest legs, he represented a hitherto unprecedented threat to the three-second zone. In the first season he was in the asset 397 block shots. He owns the NBA record for the number of units for half (11) and fourth (8, twice). Manute did vsrednem 0 176 unit per minute on the court. In the game against Orlando, he managed to cover one by one, four shots per possession. But his other basketball skills left much to be desired. Not having almost no physical data, it was very hard to fight for position with physically developed and heavy pivot forwards.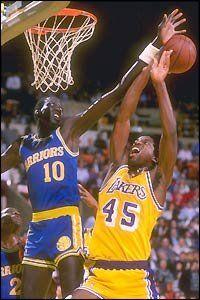 A notable fact is that Manute Bol in his career made a successful throws less than blocks. Something like this could not be anyone else. His average in his career are: 2, 6 points; 4, 2 rebounds; 0 3 transmission; 3, three blocks. This is despite the fact that Bol vsrednem was on the court 18, 7 minutes. Manute played 624 games over 10 seasons, gaining for this time 1599 points and 2647 rebounds and making the 2086 block shots. According to statistics blocks / game is second only to Mark Eaton (3, 34 blocks / game). At sunset, a career-man hammock played little in the USBL, played in Italy and Qatar, while his finally tortured rheumatism. Another interesting fact from the biography of Bol, already poslebasketbolnoy. Manute opened in Cairo basketball school graduates is the son of former minister of Sudan, British subjects to now Chicago Bulls player, Luol Deng.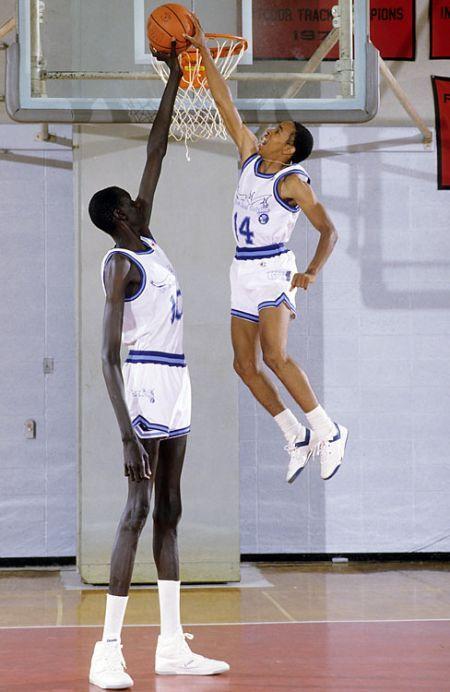 A notable fact is that Manute Bol in his career made a successful throws less than blocks. Something like this could not be anyone else. His average in his career are: 2, 6 points; 4, 2 rebounds; 0 3 transmission; 3, three blocks. This is despite the fact that Bol vsrednem was on the court 18, 7 minutes. Manute played 624 games over 10 seasons, gaining for this time 1599 points and 2647 rebounds and making the 2086 block shots. According to statistics blocks / game is second only to Mark Eaton (3, 34 blocks / game). At sunset, a career-man hammock played little in the USBL, played in Italy and Qatar, while his finally tortured rheumatism. Another interesting fact from the biography of Bol, already poslebasketbolnoy. Manute opened in Cairo basketball school graduates is the son of former minister of Sudan, British subjects to now Chicago Bulls player, Luol Deng. & Quot; title = «A notable fact is that Manute Bol in his career made a successful throws less than blocks. Something like this could not be anyone else. His average in his career are: 2, 6 points; 4, 2 rebounds; 0 3 transmission; 3, three blocks. This is despite the fact that Bol vsrednem was on the court 18, 7 minutes. Manute played 624 games over 10 seasons, gaining for this time 1599 points and 2647 rebounds and making the 2086 block shots. According to statistics blocks / game is second only to Mark Eaton (3, 34 blocks / game). At sunset, a career-man hammock played little in the USBL, played in Italy and Qatar, while his finally tortured rheumatism. Another interesting fact from the biography of Bol, already poslebasketbolnoy. Manute opened in Cairo basketball school graduates is the son of former minister of Sudan, British subjects to now Chicago Bulls player, Luol Deng. »& Gt;