So, we already have: 5 most horrible monsters, 30 coolest characters, 30 of the coolest shooters, 30 coolest strategies 30 coolest PRG, 30 coolest quests.
Today I want to introduce you to 30 coolest MMORPG of all time.
Multiplayer online role-playing game, or MMORPG (Eng. Massively multiplayer online role-playing game, MMORPG) - a genre of online computer role-playing games, in which a large number of players interact with one another in a virtual world (mainly in the fantasy genre).
As with most RPG, the player is offered the role of a fictional character and the ability to control his actions. MMORPG different from single-user or small networked multi-player role-playing games, as well as the virtual world, which continues to exist in the absence of a player. The virtual world is supported by the publisher of the game after its release.
Everything underwritten is my IMHO, of course everything and everyone I have not been able to take into account, as always, I hope for your help, together we remember all worthy MMOPRG during the existence of the video game!
Ultima Online
The developer Origin Systems, Electronic Arts
Publisher Electronic Arts
Release date 25 September 1997
Ultima Online - the world's first massively multiplayer online role-playing game (MMORPG), created by Origin Systems. The founding father of the game - Richard Garriott.
Alpha version was released on April 2, 1996. The final version was released on 25 September 1997.
Not what a multiplayer online role-play even today has reached such a game variety as Ultima. Despite her age, the game is still a lot of fans and admirers. The game takes place in the Middle Ages, after the appearance of life on the ruins (shard) of the planet, the once-powerful. By our standards, there reigns the Middle Ages.
The game world is large enough. Maybe a character comparable to real life - weight. That there is only the ability to prepare and plant fires (you can build your house, go on different mounts, a walk in the caves and in the street, killing players, monsters).
It is extremely difficult in the sphere of Ultima weapons and protection from weapons, especially the part relating to the balance sheet. Basic weapons bit - Bladed (swords, knives, axes), Mace (maces, clubs), Fencing - Fencing (spears, forks, two-handed fighting forks - warfork), Archery (bows, crossbows). All of them are generally may have bonuses inherent in their manufacture and also magic bonuses. For example sword made from a rare metal master will deal additional magic damage or be more resistant to damage.
© Thief, via ru.wikipedia.org Images © et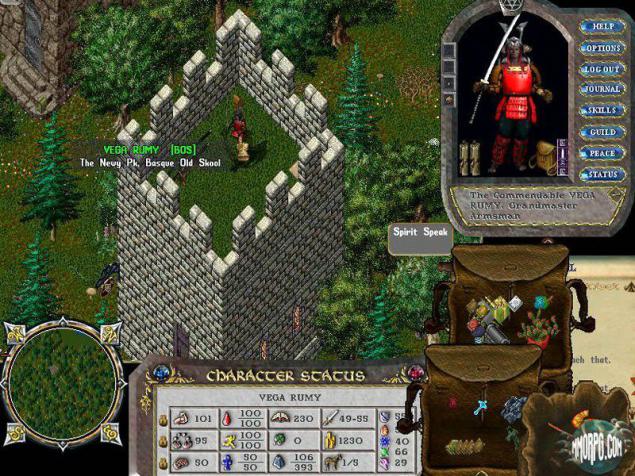 RuneScape
Developer Jagex Ltd.
Publisher Jagex Ltd.
Release date 2001
Runescape - massively multiplayer online role-playing game (MMORPG), developed by Jagex Ltd ... The game received widespread among fans of adventure games of all ages in the United States, the United Kingdom and Western Europe. Made in the form of Java-based applications, it provides players with a full three-dimensional virtual world. It does not require installation, you need to have a browser installed virtual machine Java. The game has low speed Internet connection, and low graphics settings accessible from virtually any computer.
The game is divided into free and paid version. In the paid version - more areas to explore, more skills, monsters, armor and weapons. In fact, the free version - no more than a demonstration and those who seriously carried away by the game is eventually to move to a paid subscription.
In the game a half hundreds of servers in different countries. They called in RuneScape worlds, and when you enter the game you can choose any. Your character with all the acquired property is free to move from world to world and talk to your friends in other worlds.
The game takes place in the fictional kingdom Gielinor, is divided into several regions and cities. The player has the opportunity to move around the map - on foot or by using various modes of transportation. Each player can choose their own path of development and leveling, as well as many other games of the genre MMORPG, RuneScape different non-linear plot. Role system is built on the skills (English. Skills): developing a particular skill, you raise your level - a separate one for each skill. When you look at other players, you can see their overall combat level, which is calculated from the levels of power, attack, defense, health, fire, magic, prayers and invocations skill creatures. Other skills - peace, such as fishing, cooking, stealing, making potions, and so on. D.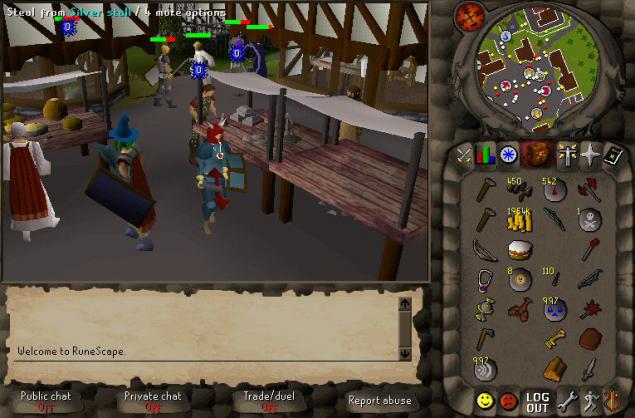 Dark Age of Camelot
Developer Mythic Entertainment, EA
Published Mythic Entertainment, Wanadoo
Release date 10 October 2001
Dark Age of Camelot (DAoC) - dimensional multiplayer online game in the medieval surroundings. Includes how to play against monsters controlled by artificial intelligence («PvE»), and the war between the kingdoms («realm versus realm», RvR). The announcement of the start of the development of Dark Age of Camelot has been made in late 1999. The game was released in October 2001.
Players can go it alone or join in battle groups with others, to achieve greater success in battles against monsters and battles between the kingdoms. RvR, when there is an opportunity to engage in battle with other characters controlled by real players, is permitted only in limited areas. They range from fighting battles to massive battles alone. By killing enemy players get the characters 'Points' (points), which are used to purchase additional features. Participation in RvR is voluntary.
PvE-regime aimed at the destruction of monsters, dungeons and adventures exploring the world. Killing monsters, characters gain experience and grow in levels, which in turn provides new combat skills and abilities. Level 50 yavletsya maximum.