Outdoor advertising, which is large enough for its audience large, medium and very small, but unusual performances. Boring billboards have long been in the past. Today the ball is ruled interactive, event and viral success. Come to the aid of high technology to make the advertising media as interactive as possible and great ideas that turn placing a single billboard in a real event.
At the heart of all of the following campaign is a simple mechanical action that makes the advertising message is much more interesting for the audience.
Exploding billboard courier Deadline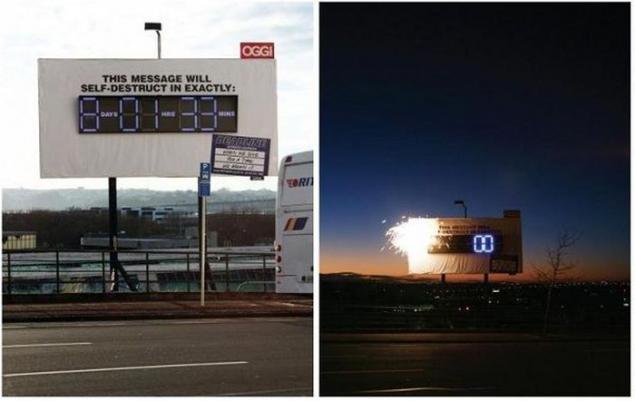 In the summer of 2007 in the heart of Auckland appeared a single billboard, promising that in the evening on July 22 this message will self-destruct. Electronic clock on the shield in the reverse order counting the seconds until emergency, which occurred at exactly the appointed time. During the explosion could be seen in the vicinity of neposredsvenno advertising and online network of couriers. Deadline Couriers has gained a reputation for knowing exactly the price of a rush order and deadline.
Candy Pascall «When the fruit explodes»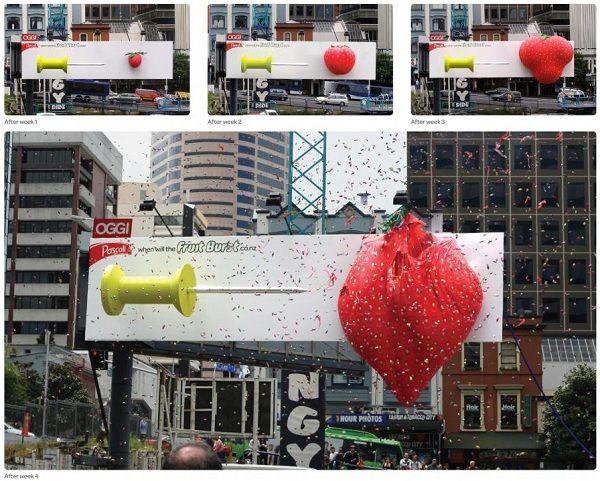 Brand fruit candies Pascall set billboard with an awl and inflatable strawberries. Fruit gradually grew and grew in size, and all comers are invited to guess the "meeting" sewed and strawberries and the consequent explosion. Strawberry burst November 15, 2008, and the winner will receive $ 5,000.
Means for stomach Pepto-bismol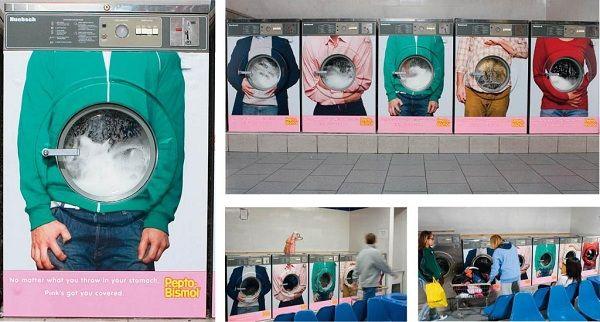 Those who periodically "cool" stomach can compare this feeling to work the washing machine, and noticed that the advertising means Pepto Bismol.
Chainsaws Stihl «Coupon»