The famous picture of Peter Leybinga - GDR Army soldiers running from the eastern to the western sector of Berlin.
August 15, 1961, on the third day after the start of construction of the Berlin Wall, at 16:00 near the Bernauer Straße 19-year-old serviceman of Border Troops Conrad Schumann leapt over the coils of barbed wire, a line indicating the future wall and ran to the police car in West Berlin, which I stood nearby. Conrad was lucky - while in the Army of the GDR there was no order to shoot at fugitives.
He later received permission to move to the territory of West Germany and stayed in Bavaria. In 1998, suffering from severe mental illness, Schumann committed suicide.
2 photos via drugoi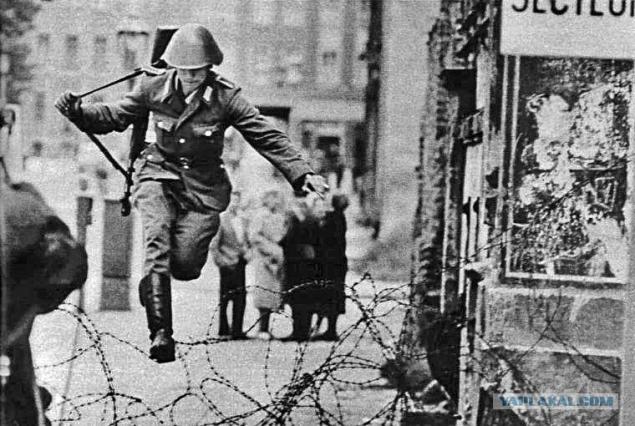 That leap from one world to another, which became one of the symbols of the "cold war" has gained real form
Now, in Berlin, at the same location street Bernauer Straße, where the wall used to be, there is a sculpture «Mauerspringer» (Jumping over the wall) works Florian and Michael Brower and Edward Anders.
Shoots through the wall
Prepare an escape over the wall - about 70 thousand. Man
Brought to criminal responsibility for the preparation of escape - about 60 thousand. Man
Successfully overcome the wall of 5043 persons, including 574 soldiers
Arrested near walls - 3221 people
Killed while trying to overcome the wall - 160-938 people *
Wounded in an attempt to overcome the wall - 120-260 people *
Killed soldiers and police guarding the wall - 27 people
Cases of assault on a wall in an attempt to damage it - 35
* According to different sources; Statistics shoots and victims falsified by the GDR authorities.
May 5, 1962 through a tunnel dug in the Groß-Glienicke West passed a group of 12 people. The tunnel is 32 meters long and with a bayonet shovels World War managed to dig for 16 days. When asked why the tunnel had a height of 1 meter 75 centimeters, one of the fugitives said: "We wanted to go free with his head."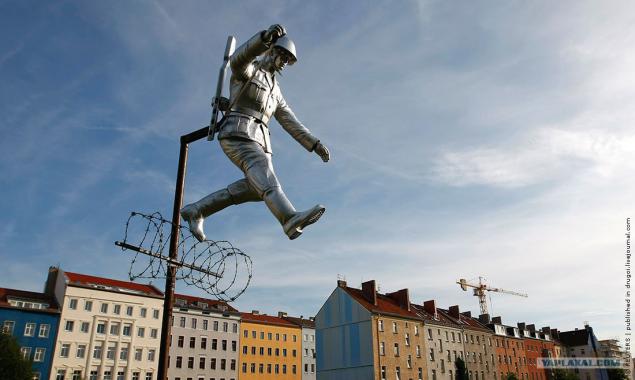 Source: