During the next two days, the 16-year-old Jessica Watson, an Australian moreplavatelnitsa from Buder, finishes his world tour, which she began October 18, 2009, and until today performs alone, without port calls.
Jessica Watson Blog
© nnm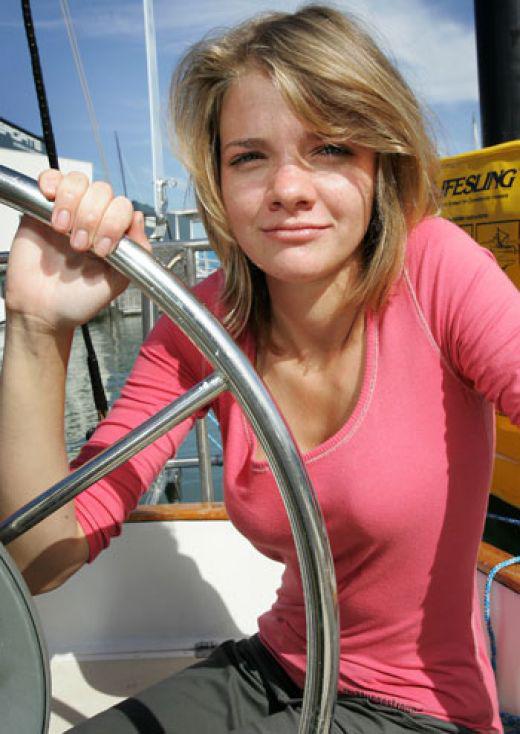 She is in a hurry to finish his trip before his semnadtsatiletiya.Zavershiv this journey, it will become the youngest sailor committed a single round trip without calling at ports.
To understand how difficult this journey, a clipping from her journal:
Lucky Not Lonely!
Sunday, December 13, 2009
"For the first time in the last two weeks I saw the traces of humanity, but his own yacht, (drum roll, please). It was a small piece of white plastic, which sailed past in a short period of calm. Not that this is somehow impressed me, it's just a minor event made me think about how far I am from the world and how each mile farther, I'm going to the desert expanses of the boundless ocean. I still strange to realize that I am hundreds of miles from the nearest human. In fact, I have not seen a living person for almost two months. Of course, I could see other ships, but none of them came close enough that I could see it ekipazh.Navernoe, it's weird, but I can honestly say I have never felt alone here. Of course, I miss everything from the moment when she left Sydney, but I'm not alone. Loneliness is when there is no place to go on a Friday night, you sit at home and feel sorry for yourself. The difference is that it was my choice to go to sea. For some strange reason, I, I prefer to be on their small boat in the midst of a vast ocean. Perhaps Dictionary explains it better than I, (yeah, I really quote Dictionary!). "Loneliness - feeling depressed as a result of privacy." I seem to be alone physically, as you know, but I do not dwell depressed about it. How can I feel lonely when so many people around the world think of me, talking about me (my nose does not stop itching!), Someone may still hotly debated - can I do to be where I am now. And with my family and friends who are waiting for me back home. Solitude - it's not about me. I feel very fortunate in the world! Another news of the day - I'm the first time in four days, saw the sun and clear sky. I had no idea how I missed him. While living on the East Coast of Australia, with its endless periods of clear weather good, I loved the days when the pouring rain and strong wind simply because they dilute the monotony. But here, nothing makes me smile faster than the light of the sun. I even saw a few stars tonight. What I'm lucky?
Despite the band calm this morning, which has left the boat rocking unpleasantly at long wavelengths, we were able to be nice to move to the East, even in such a snail's pace »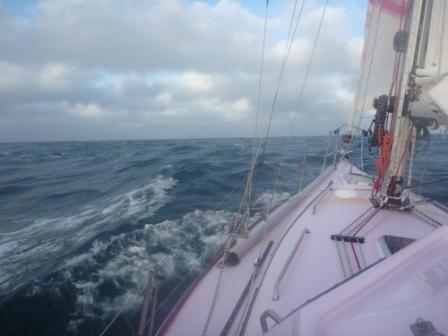 Wednesday, December 30, 2009 / Translation Dixichi /
I'm sorry I did not write yesterday. I had to get some sleep. The last few days have been very interesting. The wind began to grow rapidly as soon as I sent the report on Tuesday and reached 44 knots yesterday morning. This meant my first storm in the Southern Ocean.
And I and the boat came out of it with honor, and I still learned a lot about how to behave on a yacht big waves. More likely we will have to face the storm stronger this route, but this time everything went well, except for surfing too fast, which reduces comfort. Then the wave began to hit us, but I was just a little annoying. But best of all was the fact that Parker is excellent at his job and kept us up to date!
And the waves themselves - it was something. In my opinion they have reached a height of at least 5m. and were much more surprising than in photographs or in my imagination! At such moments, the ocean is a really exciting show, but perhaps it should be tested on their own experience - I can hardly describe it and pictures do not give a presentation; for it is impossible to judge.
But the most surprising was the fact that the dolphin accompanied the yacht for six hours in the strongest winds, as though looking after us. Every time I looked out the window, I saw a splash of the caudal fin, as if speaking to me - do not worry, I'm here. I did not see the dolphins a few weeks, and now I was particularly pleased to look at it, accompanying us through this storm.
And today, the wind slowly dies down and the wave poubilas, so we are going good with 15-20 knots of wind and a 3-meter wave. It's the middle of the night, but you can not say that because the dark for the first time in a long time at me the sky full of stars and a magnificent full moon! It is so unusual that I spent several hours wrapped up warmly and seated in the cockpit, absorbing it all.
In the last days of hectic New Year sneaked up to me unexpectedly quickly, so I think I'll defer to the celebration tomorrow, my time zone. Nevertheless, I want to congratulate all celebrate the New Year at night.
It looks like I will miss Salute SALUTE more so for me!
Jess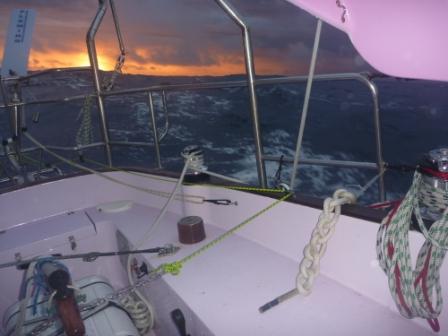 Friday, January 15, 2010 / Translation Dixichi /
I apologize in advance for the abuse of exclamation marks (!), But it's really been an amazing couple of days! Forgive me all that is not informed earlier about the events on board, but after I had lived a good 4 days almost the same adrenaline, I wanted only one thing - to sleep!
So much has happened lately. So many events. I probably will start from the beginning from Tuesday, when the Cape was up 60 miles. Squalls, waves do everything steeper as the release of the shallows, the wind increased to 40 knots overnight - a pretty interesting life turns out. Miles to Cape quickly disappeared, and in the afternoon when there was land (island of Diego Ramirez), I was overwhelmed by emotion and I was ready to jump with delight! See land after so many days of sailing - it's incredible.
I do not even remember this excitement, but when I think about it, it was rather too violent reaction, taking into consideration that I have not seen anything but the contour of some gray rock, which is also often disappear when we went down in the trough between waves. For me, then, this piece of rock was the most beautiful and incredible of all that I have seen so far. It's amazing how experienced deprivation do something a million times more. I think I feel something like that at home, when you first take a real hot shower!
That night I did not sleep as you get closer to the Cape. To avoid accidentally slip into the dark past, I tried to slow down a little boat, and when dawn broke - this is the characteristic silhouette of Cape Horn! Against the background of the gray sky and the albatross that were so, as I always imagined. In a nutshell: the mysterious and amazing! Poor visibility is not allowed to call the weather is suitable for excursions, but if we just drifted by in a beautiful sunny day, he probably was not in half so beautiful. In between taking pictures and answer the phone there were moments of extreme pride.
And then the flight mom and dad, too, was an adventure in itself. In such a bad weather it is only at the third attempt managed to find the EPL. You can imagine what kind of emotions washed over me, not to mention my father and mother. At first I was told that they just took off and be me in a few hours. Then came the bad news that they were forced to go back! When the plane found us in the end, those 45 minutes of flight at me flashed instantly. I watched how they were circling over my head until my head is spinning and I'm not totally tangled in the rigging. Still, it's good that I could not discern in the window mom or dad, because if that were to happen, I'm not sure that would be able to remain calm. I am very grateful to those who made this flight possible.
The last two days the wind was mostly favorable, and we are already very close to the Falklands. But intensive shipping in the area and side effects of excess adrenaline did not allow me to sleep quite up until yesterday. This afternoon I enjoyed a clear sky and the stars at night, what I have not seen!
But not only I had to sacrifice their sleep lately.
Mom, dad, Bruce and Andrew, they probably izmuchal of these hours, but they are only a few of a long list of people who have played a huge role in how to track both EPL and I go around the Cape. A million thanks, in !!!
With love Jesse.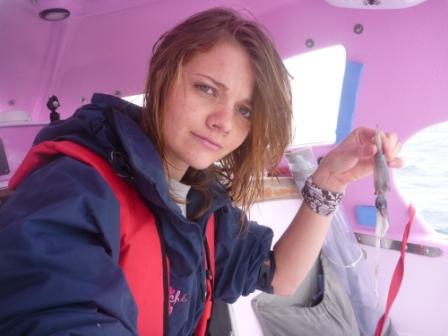 Thursday, May 06, 2010 / Translation Dixichi /
NASLADZHAYUS every second
I usually do not react strongly to the criticism, because there will still someone who says something, no matter what I say or I will. I thought, I have two arguments against the allegations that I have not officially made a circumnavigation.
Call me immature, but I take all this with a bit of humor. If I do not sailed around the world, then there is a question about what I was doing here all this time! Of course it is a pity that some organizations do not recognize my diving because of the fact that I do not have 18, but it is not too worried about me.
I mean that there are millions, can be billions of people who still do not believe in global warming, so I am pleased to join the few who are swimming against the tide and claim that my voyage round the world is not official. Well, it seems to me that we've spent a lot of time on petty disputes - so go on!
The last few days we had just a little bit in terms of the weather. A little sun, a little strong winds and even a thunderstorm last night when lightning struck the water near the EPL. And in the field of repair mainsail pulled some stitches. But despite this, the pain in his hands and a small problem with the engine, I'm trying to decide now, my mood is excellent.
I enjoy life slowly moving along the coast, and not too straining EPL and look forward to the arrival of the 15th. I enjoy the benefits of a single voyage, and look forward to when just a few days will see family and friends.
Now, perhaps I can say with confidence that I feel excitement from closer to home! I guess it's good that I'm alone here, and then I'd exhausted all his hyperactivity!
Jesse.
Monday, May 10, 2010 / Translation Dixichi /
Earn!
"A little Yanmar engine is running again! A little caution, but the water pump had to replace the fuel pump, which is broken. It's pretty insecure all hoses unsuitable in size, but will come down. Besides the joy of what I was able to fix something, I felt more and a great relief because in the last two days there was almost no wind at all, and the batteries were discharged more than I thought.
Thanks to Jim, Jan and dad for ideas and for the support of Bruce (threat!). Bruce knew exactly what to say to make me podzadorilo and repair the engine. One thing I realized that everything can be fixed if you persevere, even if you have to disassemble for this part of the boat! »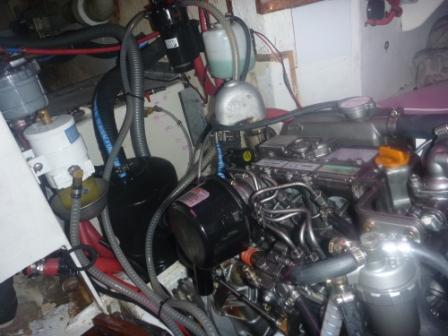 "Besides uymy time spent by me on trial with the engine and being covered with diesel fuel itself, I still enjoyed the sunshine and extra efforts on cleaning the house \ boat to a mother not had a heart attack when she looks in the cabin. But my mother is not the same as in the cabin still quite bearable (cough, cough!)
Then yesterday I saw my first blue whale of a campaign (I know, I also can not believe it). Then I was forced to crawl out something seriously big, jump out of the water all around us in the dark last night when the water smoothed. It was probably a marlin, but I would prefer it to be something more substantial such as the great white chasing his dinner! »
"And of course yesterday was Mother's Day. I could not make her breakfast in bed or a postcard, which she earned a million times, so I saved more arms to the meeting. What did mom to let me go and help me to go to the starting line at the same time take care of all the rest, in my opinion it is much more difficult than anything, what I experienced there in the sea. Thanks Mom!
The problem with the beautiful weather and the amazing starry nights donated to me that I'm not sure what I want the end of the voyage! I could live like this forever. One calm day follows another, and I do things in a measured, solve problems, and I do not get bored. Except, of course, so many things that I can not wait to remake when I get home! »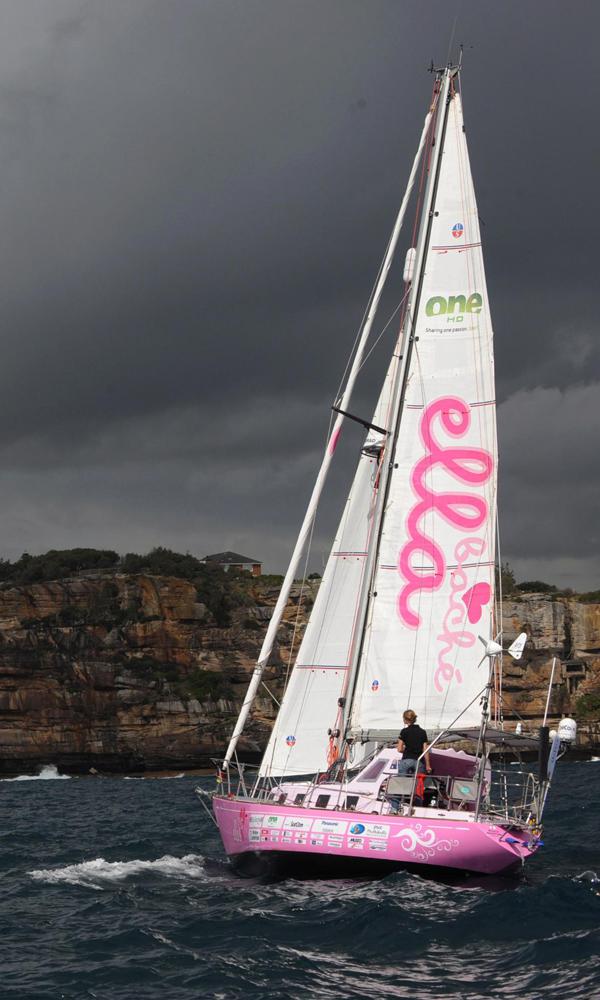 "In a sense, a return through Sydney Heads will be as difficult as the departure. I was told that the situation is for me, too, has changed a lot, so I'm a little bit scary. But I'm not worried, because I know that once I've found a reason for laughter among the huge waves in the dark after tipping, then I'll be able to smile in all circumstances.
Oh god, I'm getting too sentimental, so it's best to finish.
You're more sleep five nights and four days!
Jesse »
Her arrival of the estimated 15 th May 2010.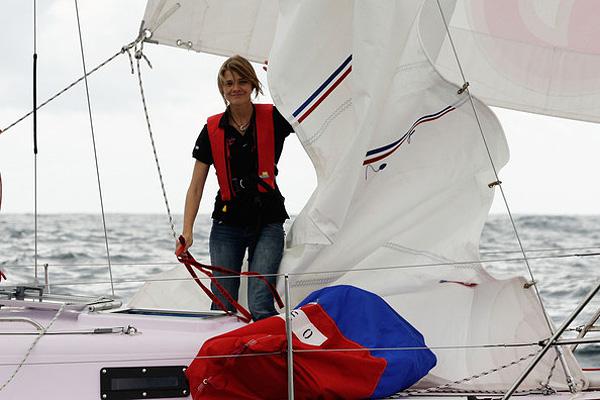 Source: