This is an interesting question will help us to answer such famous relatives, Luke, Chris and Liam Hemsworth, Arkady and Boris Strugatsky, five Marx brothers Wright and Van Goga.
One HOLES
Brothers Luke, Chris and Liam Hemsvorty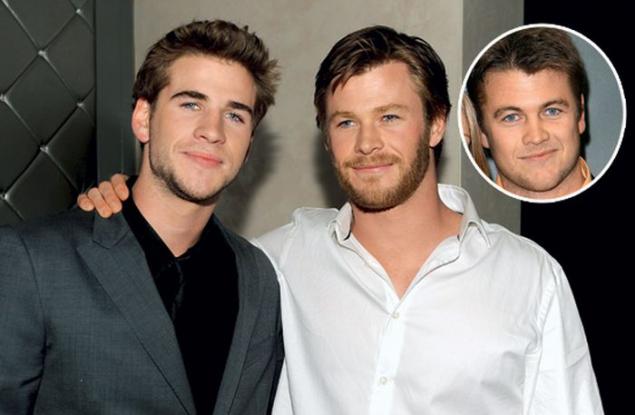 Not only that these three were born to put it mildly, not in the center of the world - in Melbourne, Australia, the southern city of millionaires on the planet. So parents and that did not stop after moving further away from civilization - at Phillip Island, an island south of Melbourne. Fortunately older brother Luke and Chris were average old enough to think of an independent life, but Liam Hemsworth while he studied only in 8th grade and anything like never dreamed. In such a situation, especially when you are the son of a teacher and social worker, somehow presumptuous threaten to rapid film career - especially in the career of a Hollywood star. However, they have threatened. Luke and Chris, as they say, a child drawn to the screen. Luc quite quickly went from being an unknown to teleaktera big TV star. Any Australian said about the series "Neighbours" - so he immediately think about Luke Hemsworth. Telekarera Chris started with a small hitch: he came to the casting in the TV series "Home and Away", but the role is not given to him. However, then they called back and asked to play another character - so Chris was 171-hardened serial on television. In general, a senior was a clever fellow, middle son this way and that, the junior did was stupid. Liam went to work in a team of repairmen, and the stele floors in homes, while older brothers did not take him by the scruff of the neck and not in the movie business perevolokli - on the set first "Home and Away" and then "neighbors". In 2009, Chris agent has hinted that in Hollywood a larger capacity. Chris packed up and gone, but the youngest, too, brought with him, and even to dwell in his flat - somebody has to look after the young star. From that moment on, Luke was the sole representative of the dynasty Hemsworth on Australian television (what seems to be quite happy with). And Chris Liam a few years become perhaps the most striking new to Los Angeles, and on the silver screen. "Star Trek," "A Perfect Getaway," "Thor", "The Avengers," "Snow White and the Huntsman" - a brief filmography Chris. Ahead - "Red Dawn," "Thor 2" and "Race", where Chris will play the pilot of "Formula 1" James Hunt. Portfolio Liam modest (romance "The Last Song", "The Hunger Games"). But in mid-August release of "The Expendables 2", where the 22-year-old Hemsvort divides the screen with these monsters of the genre ekshen, and all at once. By the way, "Thor" got a curious story that says that Liam can be grateful for the fraternal assistance. First, the sample was invited to the junior, but he did not get the role. And then I called Chris. "Of course, I first of all to his brother: damn, Liam, tell me what it was like everything goes, what works, what does not? - Recalls Chris. - He gave me a couple of practical advice, well, here I am Thor. " "Between you and me have always been rivalries - in the best sense of the word, - said, in turn, Liam. - We are brothers, and do something steeper Chris is always nice. And it's a great incentive in life that makes us both to move forward and achieve something. But most importantly - we are able to truly enjoy each other ».
FANTASTIC PAIR
The brothers Arkady and Boris Strugatsky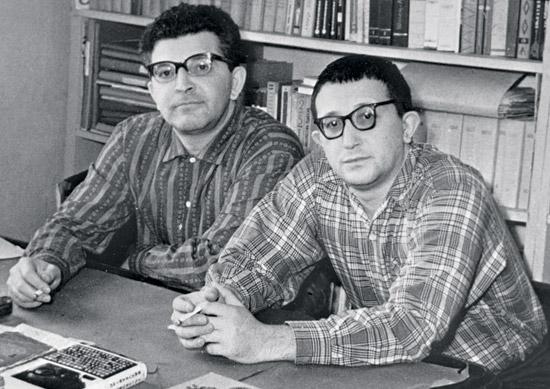 The complementarity of the two creative people - a great success for each of them. And saying that one head is good, but two - better is the best describes the case of the Strugatsky brothers. And their writers puzzle converged perfectly, despite the seemingly incompatible aspects. Firstly, it is quite a significant difference in age: Boris eight years younger. Secondly, the different temperaments: Arkady was more emotional depended on the mood, annoyed easily. Third, they had different areas of interest: Arkady profession - a military translator from English and Japanese, Boris - an astrophysicist. Nevertheless, these irregularities perfectly got used to each other. In an interview with "Izvestiya" Boris described the method of co-creation, "the story we always come up together - usually in the evening, while walking. The texts also wrote together, although at the very beginning and tried to write separately, but it was wasted, too slow, and somehow not interested. Usually one sat at the typewriter, the other immediately wandered around the room, and comes up with lyrics and discussed gradually - phrase by phrase, paragraph by paragraph, page by page. It was like a verbal editing - the most efficient way of working together. " And this despite the fact that the brothers lived in different cities - in Moscow, Arkady and Boris in Leningrad. To write a new chapter, one of them sat on the train and went to the collaborator. Of course, their books, you can see two different people: the cosmic reality, a purely scientific retreat - is Boris. Unexpected references to the Japanese language - is Arkady. But still they were a creative unit - ABS. In 1991, Arkady died. Boris issued after the death of his brother two separate books. According to him, in his life there was nothing harder than this is a single voyage: "I Peel thick log literature two-handed saw, but without a partner».
ATTENTION, the air!
Brothers: Wilbur and Orville Wright