Gilot, was Novoryazanskoye highway. It is also the M5, it is the same FT "Ural".
This road, as the name implies, connects Moscow to the eastern regions. Yes, gardeners, of course.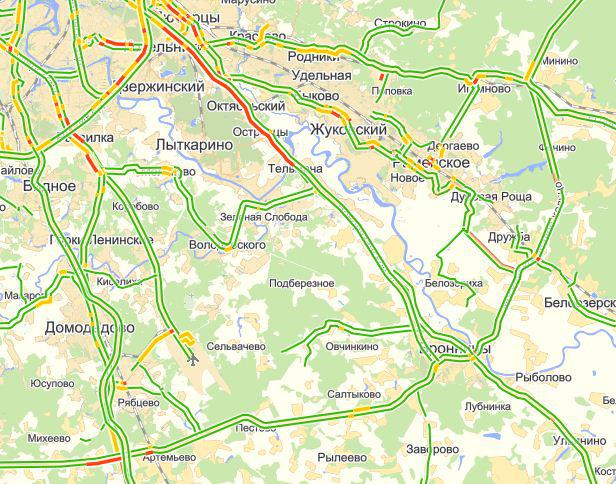 There are several "bottlenecks»:
 - "Zhulebinsky traffic light" - the one who saved here at the roundabout, it is necessary to hammer a nail into his head
 - "Lytkarinsky Pier" - emergency dtsat years already. To call her and squeeze on Egoryevskoe highway and the A-102 is necessary to defend the place a couple of kilometers. Gifted, however, call in at her from the leftmost row. What is there to do? If the rules, then all it would stand by Kuzminok.
 - "Settlement. The October-Ostrovtsy "- well clear - 4 traffic lights and" mix with "machines from Lyubertsy.
But in general you can go. Something you can drive around through Dzerzhinsk on the road, something through Lytkarino.
All is good, but started again in 2 years the exhibition MAKS in Zhukovsky.
Everything was going so-so, while during the last exhibition road from Moscow to the village. Ostrovtsy continue to Zhukovsky just did not get up.
Everyone wanted to see. The desire is legitimate and even laudable. The people must see that the budget money not only on pullbacks go.
And here at MAKS 2009 collapse happened. The road rose from Moscow to n. Ostrovtsy continue to Zhukovsky.
Putin wrinkled his brain and said something like, "Shaw for nah?" The road made a horse face and said, "Boo done!»
Work started. First, in the quiet of CB and then in the open air.
For the time being the road did not respond to attempts to master the rink and asphalt, although they started evil.
Then he drove began to notice an incomprehensible activity near the bridge across the Moskva river (Zaozerskii aka Chulkovsky Bridge).
Chulkovsky bridge.
Fifteen lanes in each direction. From the field of traffic. From the region come 4 series (official) after the bridge is 2.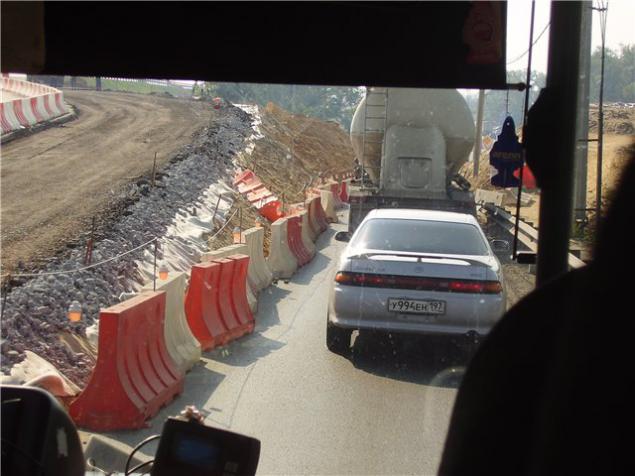 More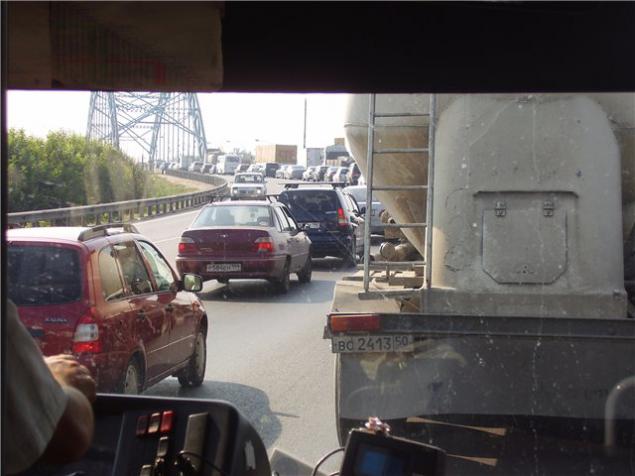 even "Come!" - reassured the drivers themselves - "Well, just something people without brains can not be to build interchange at Zhukovsky extending first bridge!»
But no! Can! This is the schedule of the builders and selected. At first interchange, then maybe everything else.
Thunder 2 weeks ago. Of the fifteen strips left, one in each direction. And it is not the "official" one, but "physical»
Cork got from Moscow to Zaozerskii bridge - 17 km. People Friday scratching his bald head rushed to seek detours.
The result stood: Moscow (from Nosovihinskoe highway to the M4 "Don"), Domodeovskoe highway (all along), Volodarskoe highway in both directions, Egoreskoe and A-102 Whole southeast painted in orange and red tones.
Personally, I crossed the river 3.07.2011 2, 5:00 (know the "secret" of the field-side roads) - the people soared 4-6 hours.
I now wonder, after all, builders - they are without a brain?
Posted in [mergetime] 1310381288 [/ mergetime]
Sorry, boiling.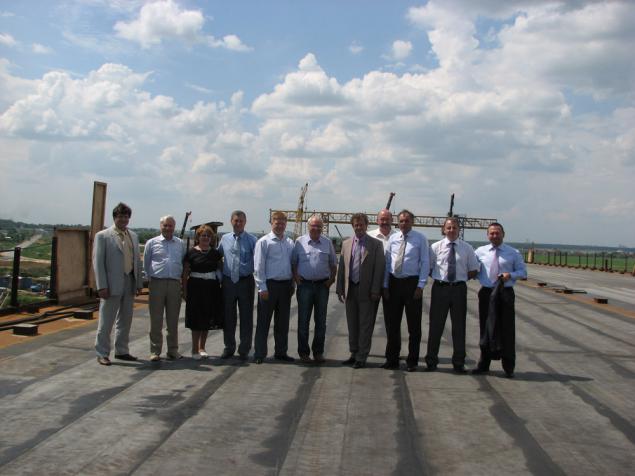 Source: