Continuing the theme of basic secrets of restaurants
All the reasons for the general public to love the usual online stores.
Starbucks name on the world coffee market appeared in 1971 - it was a shop selling its own coffee roasting, open three friends and the fans of good coffee. Buyers have been a little bit, so they are happy to spend a lot of time on each of them, talking about coffee, sharing secrets and literally preaching love for this drink.
Thanks to the stubbornness of Howard Schultz of Starbucks is now - a network of 2,000 coffee shops worldwide. The company has changed everything except the love for coffee and attention to the visitors. And the coffee beans there is still selling.
Kindly do not interrupt and wait for the end of the post! I'll let you know when you can throw tomatoes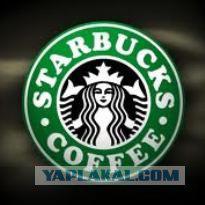 No coffee main
Starbucks Coffee - very good, you can not argue with that. But, according to the company, when they were asked to name five visitors reasons why they choose is their network in the first place was a social experience.
At Starbucks come to talk, to work and even just to look at people. And it did not happen by accident, the atmosphere of dialogue created in coffee shops deliberately because the co-owner of the company and its chief executive Howard Schultz was convinced that not only the coffee leads people to places, but also personal experience. And all the work of Schultz and his team in building the brand is aimed at creating the necessary experience for such situation. Comfortable sofas, fireplaces, gently curved lines cafes, creating seemingly open, but comfortable space, free internet (which, like sockets, plan to restrict because people sit too long, leaving no room for other clients), etc. .
Howard Schultz stressed that his business is not to fill the stomach, and to fill the soul. He also coined the term "third place" - a balance between work and home.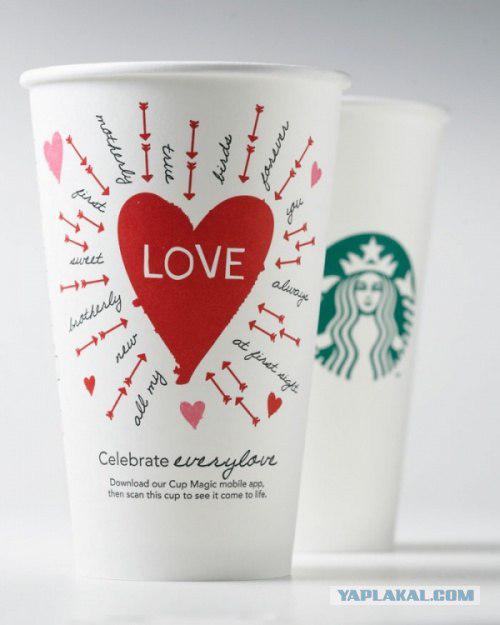 But coffee is also important
In 1971, when the English teacher Jerry Baldwin, history teacher Zev ridge and writer Gordon Bowker opened his first shop selling high-quality coffee beans, they did not know what in the end will result in their company came in 80th Howard Schultz. But completely changing the concept of Starbucks coffee from the sale of coffee in the atmospheric, Schulz was always trying to save the company's commitment to high-quality coffee roasting your own. What were related to many difficulties, decided in a very peculiar.
For example, expensive and rare coffee varieties are supplied in coffee shops, as well as all other varieties in dvuhkilogrammovy bags, quickly ran out of steam - it just did not have time to sell. Starbucks had to create their own technology for the production of powdered coffee. Keep in mind, if you take a expensive coffee in Starbucks, it may well be, though a very high quality, but nevertheless soluble product.
And in the case of decaffeinated coffee and skim milk, which required buyers concerned about their health, the company had to just give up and start selling coffee, tasteless coffee, milk, deprived of the taste of milk.
Starbucks constantly focuses on social responsibility. Ecology, only adult labor, the principles of "Fair Trade". As of 2006, of the nearly half a million kilograms of coffee sold by 6% was certified as Fair Trade. Not so much about the total volume of Starbucks, but decent compared to other manufacturers.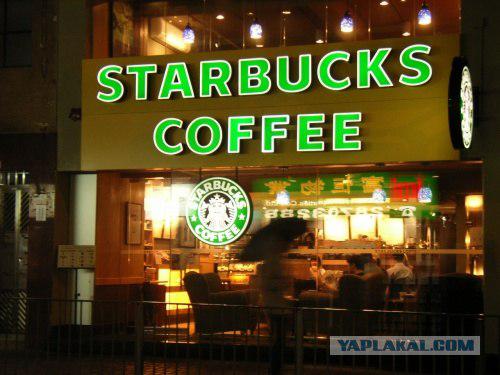 Personalization
"Frappuccino for Irina!" Is heard in the coffee shop. Irina certain that baristas can hardly remember ever coming to the bar and takes a glass of coffee, where the marker with her name. Something for nothing. This famous trifle largely created the iconic image of Starbucks - captivates people's personal attitude of the brand, even such a simple and unsophisticated.
Open communication with the visitors perhaps spelled out in job descriptions barista. Uncommunicative, whether they are at least three hundred times by professionals, Starbucks will not take.
A serious problem began in the mid-2000s, a new coffee machine. They were too large and obstruct the barista from visitors. Under them was necessary to alter the rack to lower the coffee machine is lower.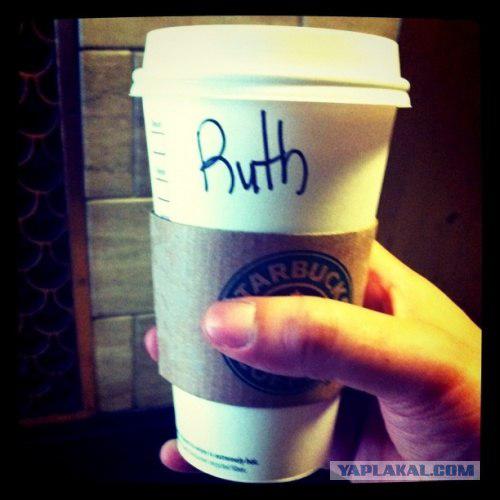 Windows and doors
The company is very meticulously relate to the selection room. Their main demand is not so much a "red line development" as the orientation of windows and doors on the sides of the world. If the front door will look to the north, Starbucks will never rent, whether it is in the most convenient location in the city and straight.
Entrance group should be focused only on the east or south. And this is not some kind of superstition there - "Just when you drink coffee, you want to enjoy the natural light, but it is not necessary that the sun was shining in his face," the company says.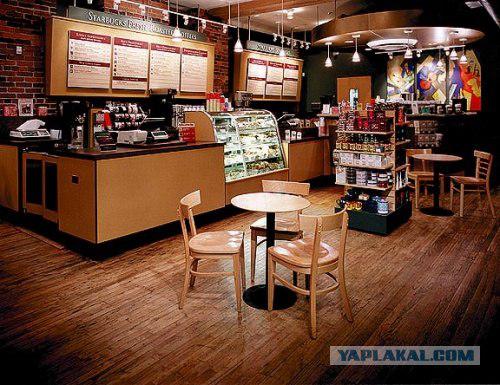 One dollar per year
One of the pieces of the company - in its many coffee shops they pay to landlords exactly one dollar a year, and the landlord is not left for nothing. They no one breaks out of hands, no one threatened with a blowtorch - a Starbucks knows that the customer will come. For atmosphere, over coffee, with the name written on the glass, so even the place would be almost hopeless Globe.
Starbucks has not been invited to open a coffee shop in disadvantaged areas, and Starbucks agreed. On the crime of course, they were not able to compete, but the flow of people organized. In exchange for the extremely humane conditions rent - $ 1 per year.
Cunning ring
Do not think that everything that makes Starbucks, made of humanity. Marketers and brand managers know their business and come up with many interesting tricks to promote the brand even further.
For example, the ring on the glass to avoid burning your hands.
Paper cups with hot coffee and he very quickly becomes hot, despite the low thermal conductivity of the paper. And so many years ago, Starbucks began to wear glasses on top of an additional ring of corrugated cardboard. And then their corporate position of "all for the sake of the environment" prompted them interesting solution, which also works against its competitors.
When buying coffee, you can choose: a free corrugated cardboard ring or pay a little extra and get a nice polyurethane logo Starbucks. And do not throw it together with a glass, and carry to next purchase coffee. No matter, will be bought coffee at Starbucks or not, on the glass will be the logo of the iconic network. And caring for people and the environment, and good competitive move.
Thermocup, more than a year sold in coffee shops, the decision of the same opera. People use "tumblers" with the word Starbucks is not just coffee from Starbucks, and it means more communication.
By the way, reusable mugs and cups or utensils completely recyclable - it is something that Starbucks is committed as part of its impressive program for the protection of the environment. They say that by 2015, we will become bearers of reusable advertising iconic coffee houses.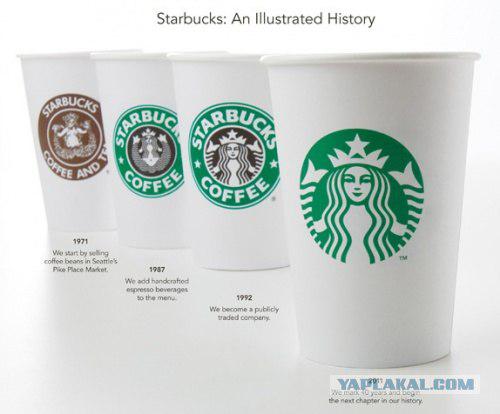 Keeping traditions
The first Starbucks was opened in Seattle in 1971, since it does not change anything. Repair certainly do, but only to bring the room in order, and not to update the interior. Restaurant completely preserved its original appearance, and it is called the "Museum of Starbucks», although it is not as such.
Music
At Starbucks, you can always buy a CD with a good, carefully selected music. The same music will play at a coffee shop at the time of purchase. Moreover, the same music that day will play at Starbucks in Seattle, New York, Milan and Tokyo. And if the visitor is aware of this fact, it probably will bind to the company even more. From a touching sense of ownership around the globe, at least for those countries, to what Starbucks has reached.
I have everything!
Source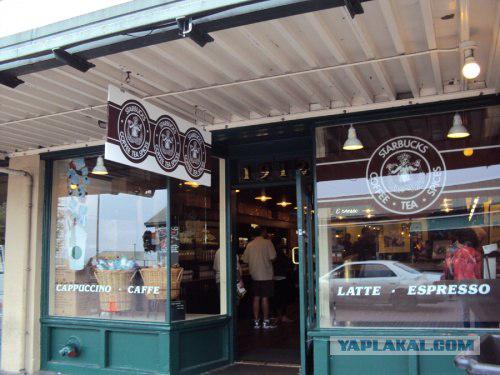 Source: