Cherkizovsky plant - one of Russia's largest producers.
Blogger Artyom Friars visited the production and provided an Internet community photo essay
26 Photo © Artem Monks / Ridus.ru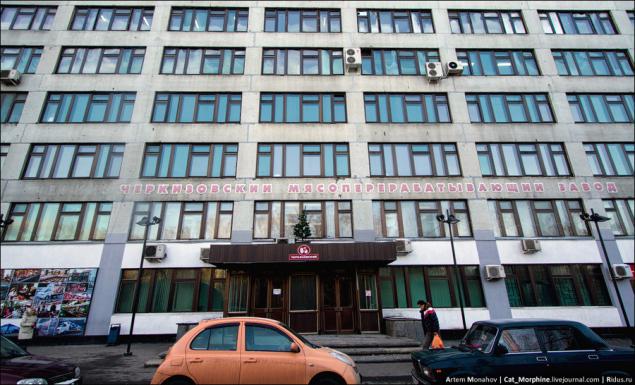 Let's start with the freezer, unfortunately, here I met only one worker that their appearance is more like a janitor.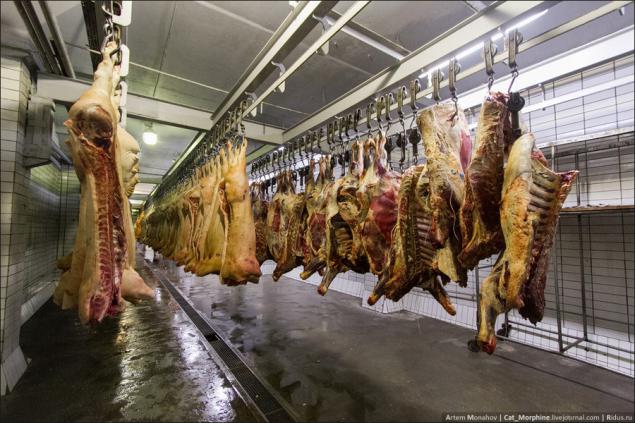 Communicate with me refused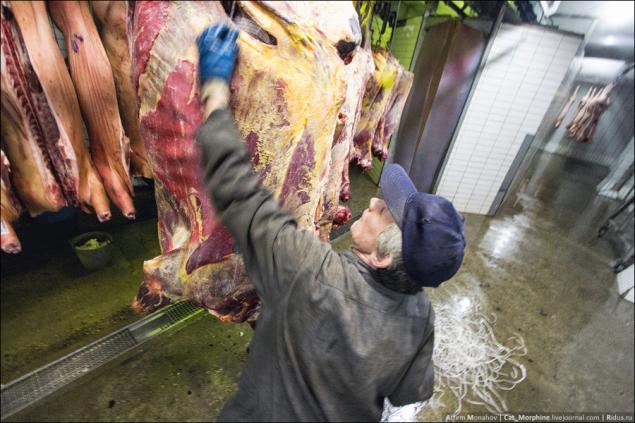 In the freezer, which led me to be very empty, especially for the largest manufacturer of meat products in Russia. Hanging just one long series of half-carcasses, but could hold several times more. All the rest, about fifty carcasses hung in three rows were left in a room with a "janitor."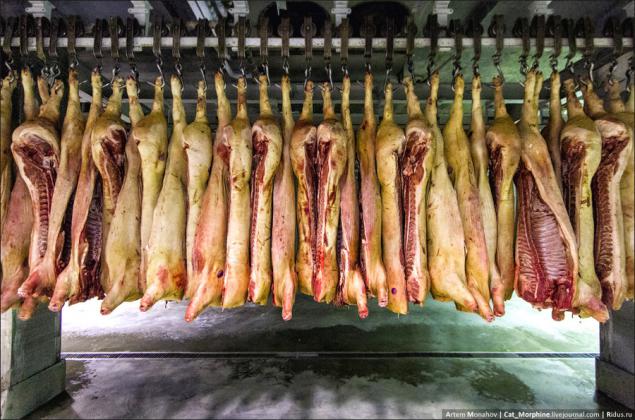 From freezer carcasses enter the sorting plant. Here, half-carcasses sawed and split into parts.
After freezing chamber lens was bad and photo quality is significantly reduced.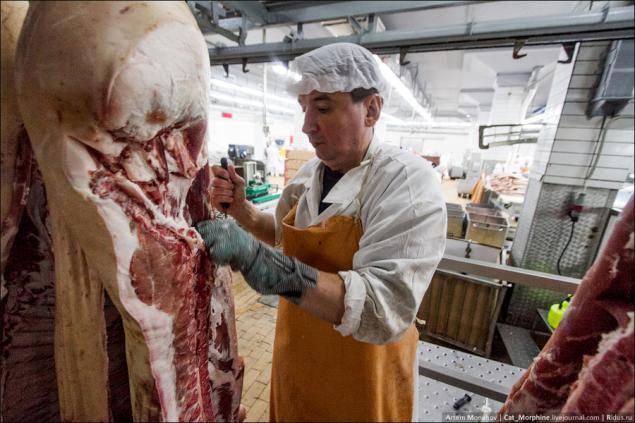 It prepares the work of half-carcasses in cutting and cutting, all polotushi divided into three parts, this is the best version of the production. These pieces go down the pipeline.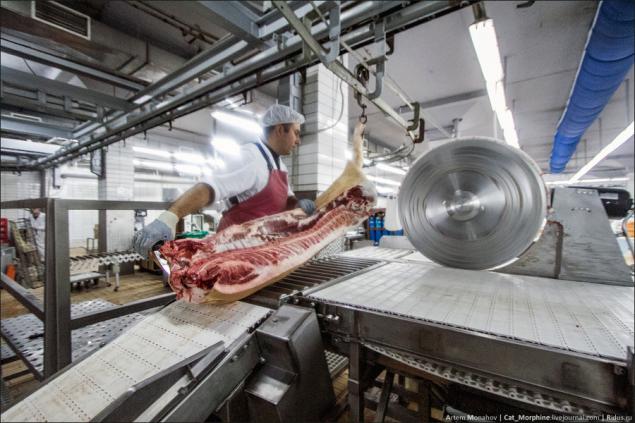 Only about 5 conveyors in one workshop, each of which employs about ten people.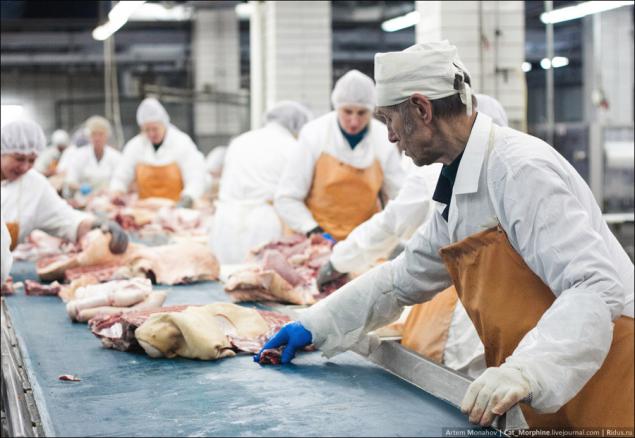 On this route the meat over, moved into the sausage shop.
Raw. Here is a little meat and a lot of different components of our beloved sausage.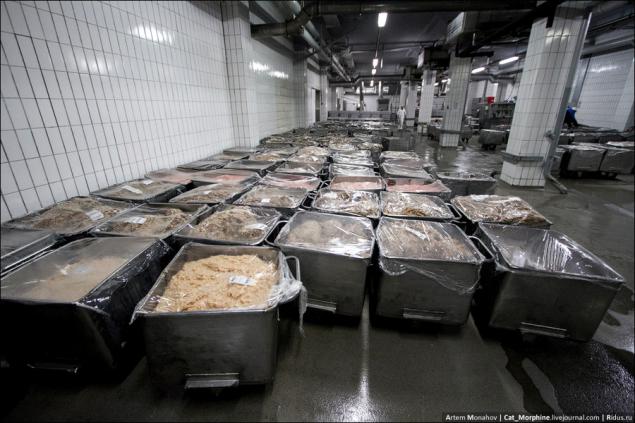 The nearby shop, are made of minced meat preparations and mixes ingredients to prepare familiar to everyone's taste, sight and smell of sausage products.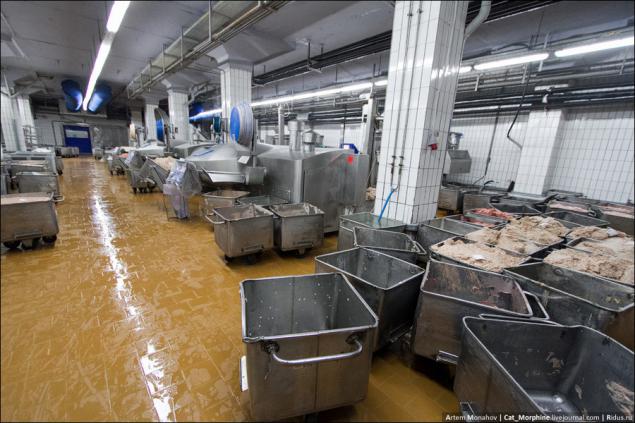 Mixing of ingredients. So far, only natural products here, but after a few minutes, they are mixed with starch, dyes and other additives, which are unknown to me. In an effort to learn the secret composition of cheap sausages, persistently asked me to pass on.
When asked about the addition of dyes, I still had a chance to get a reasonable and honest answer: "dye is added, because the gray sausage nobody will not buy ..»
Now, remember, the more pink or red color on the sausage, the more it additives and dyes.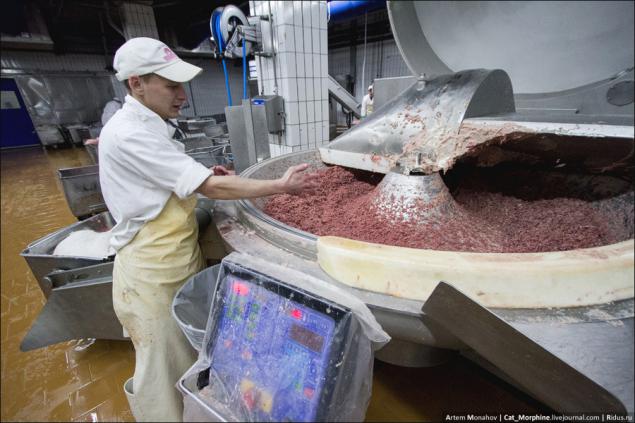 After all the ingredients are loaded, the "blender" is left for a while until the contents reached not smooth.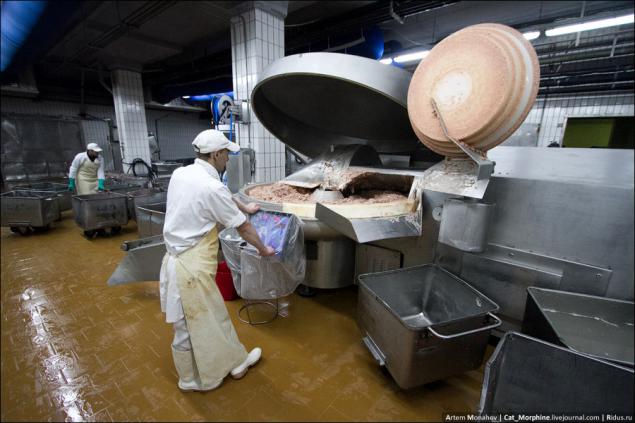 While the contents of the cheap sausages acquires mass, look at a nearby shop. There are more than quality products. Future boiled sausages shaped.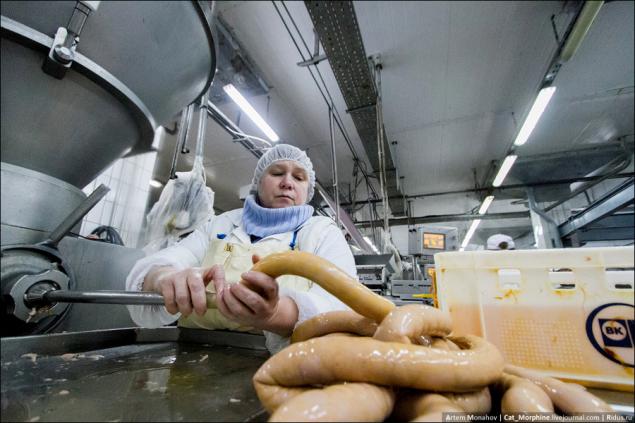 13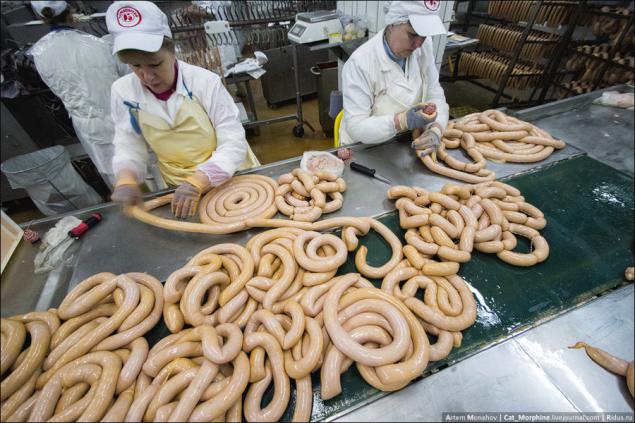 After several stages of processing, we can see all the usual hot dogs and sausages.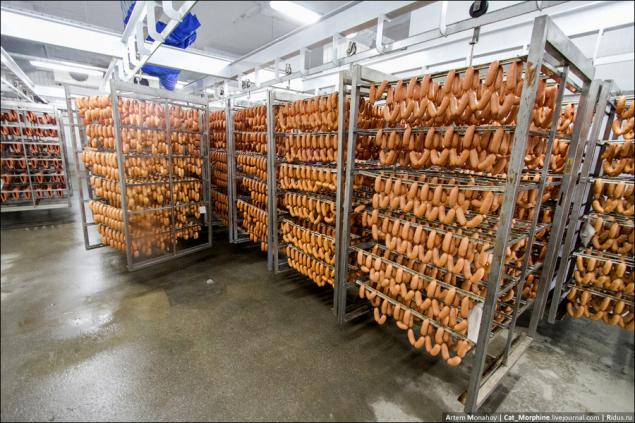 Dry sausage, is already out of the oven, processed and ready for packaging. Packing takes place in the factory several prehistoric method.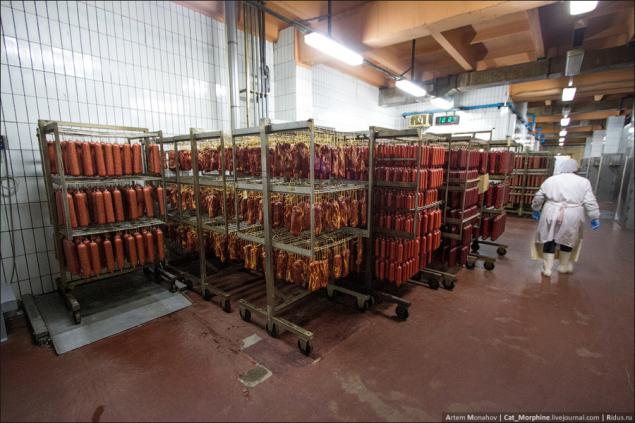 One of the shops in the sausage immediately and paste labels and packaged in shrink-wrapping, and all this is done by hand.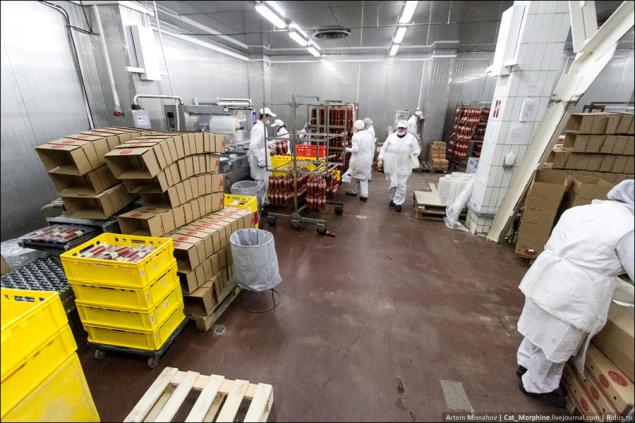 ...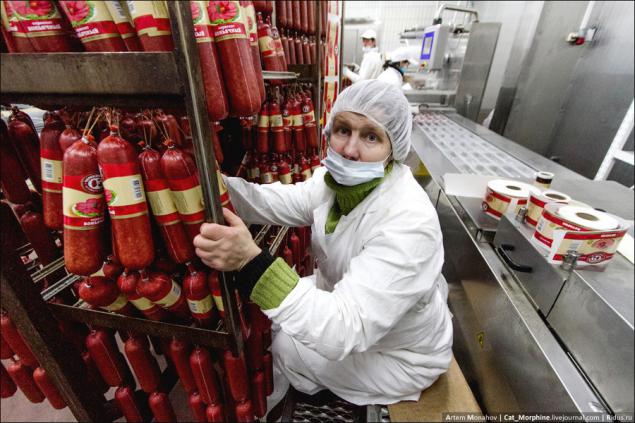 In neighboring shop situation is a little better, there are a few cars and 4 workers. Packaging is much faster. One pours received sausages on the conveyor, the other two are folded and packed in packages ready-made sausage and fourth packs in boxes ...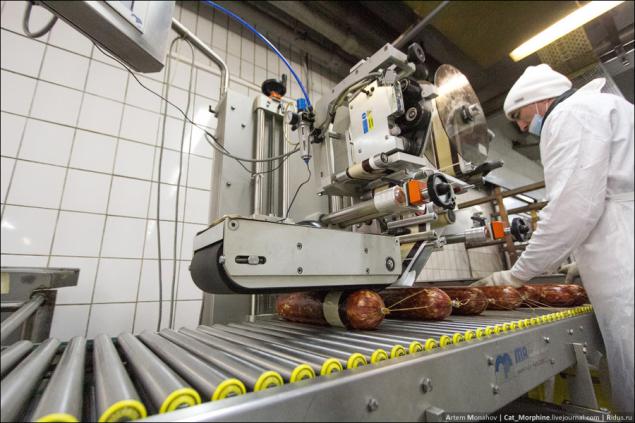 ...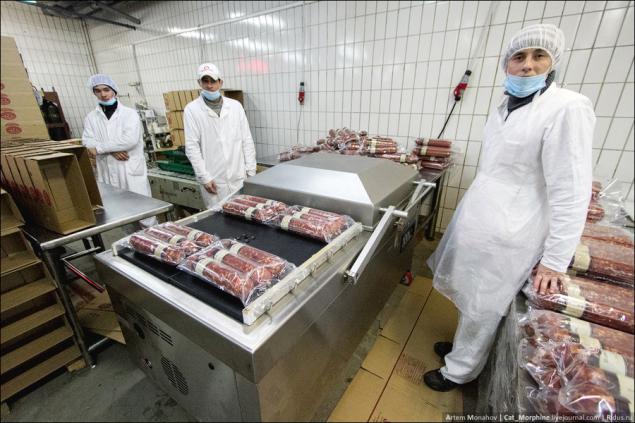 Meats also put hand, and judging by the number of different pieces of stable and exact number is not in the package. Maybe nine pieces, or maybe five.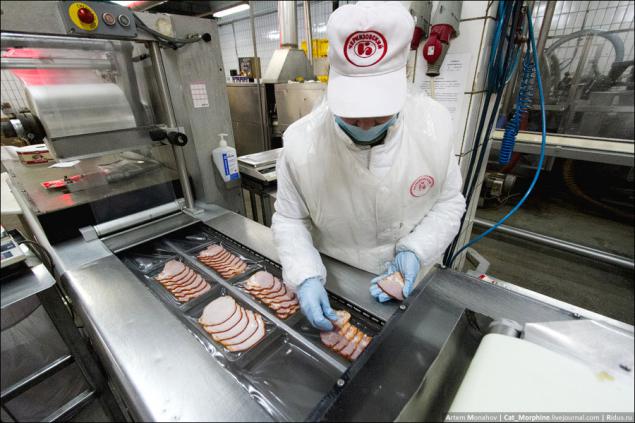 With all sausage meats is much better, everything is automated, cutting, packing and distribution.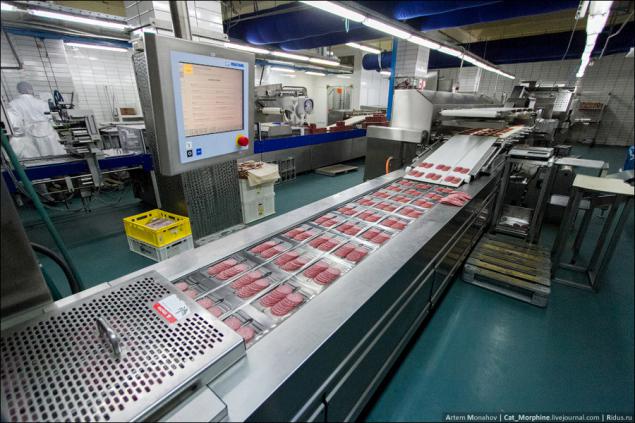 Before entering the narezochnuyu tape loaves of sausage are laser control to detect metal and foreign objects.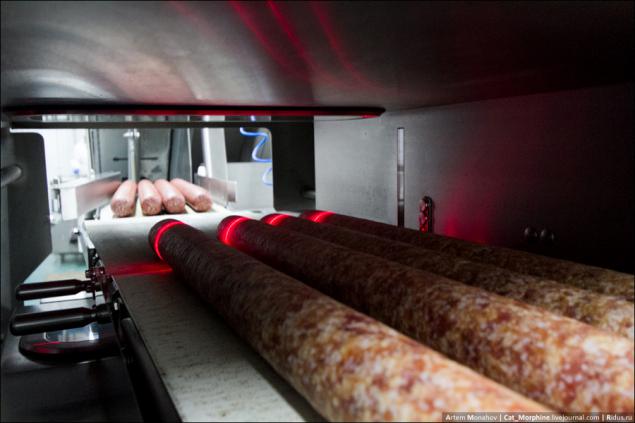 All is well, but in the last stage there was a bad luck. The two women could not cope with the breakdown of the machine. I hope they were able to solve this problem.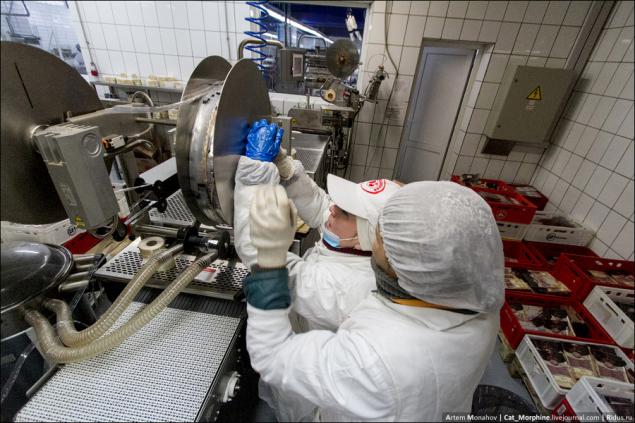 Sealed and packed, you can take up for sale.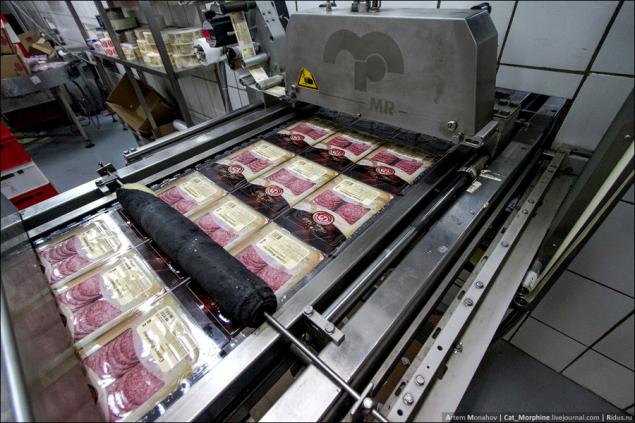 Now that you know what you eat. Bon appetit!
Finito!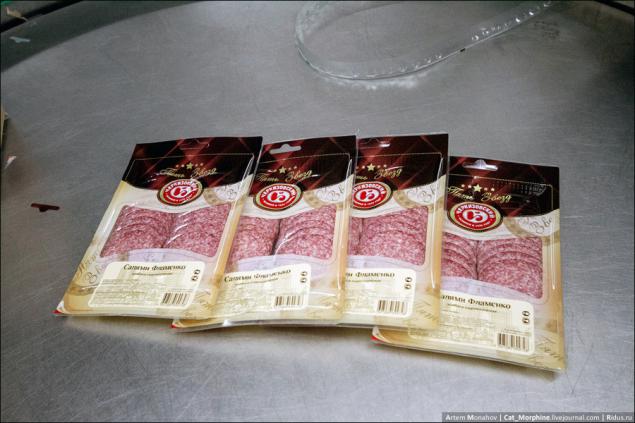 Source: