Look, there is a woman - Hedda Bolgar. She is very successful psychoanalyst, takes about 25 patients a week, writes books, does yoga, lives alone and does not miss, holds dinners for the psychoanalytic community of the city of Los Angeles, where he lives.
It is, in general, this classic American businesswoman. With one exception - her 103 years! She received her diploma in 1934, the psychoanalyst. Almost from Jung. So, when she was in my current age, she lived only half of his life. This means that the period of its fulfillment and flowering lasts 30 years, as is commonly believed in our society - it's huge!
I shot Hedda, she told me something, joked her fantastic mind, we talked for about four hours. She flirted - this is their something 103 years. "Hedda - I say - what wellness practices do you do?" And then she says: "You know, Vladimir, the last 80 years I've been doing a little exercise." Then I finally realized that the key to health in this age not only in physical exercise, as is commonly believed.
8 images and text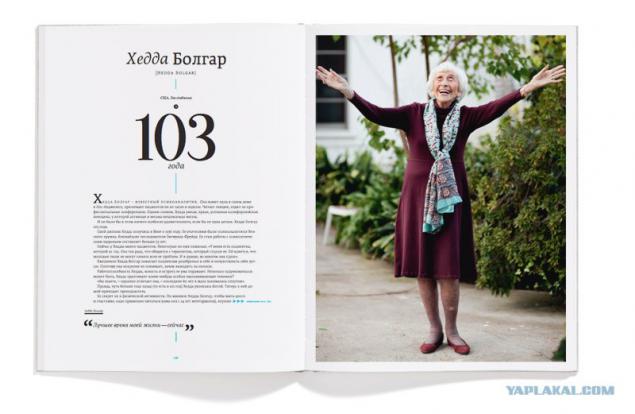 Finally, I am sure that the secret may be not only in a healthy way of life, after meeting with Buster Martin. Every day he drank a few beers and a couple of dozen of cigarettes smoked.
That's for shooting Buster arrived with his favorite black beer with a slice of orange, and immediately tried to seduce my assistant, right off. Buster, when we met, it has been 104 years.
In 101 years Buster Martin ran the 40-kilometer marathon, dancing and drinking beer instead of water.
02.

Jacque Fresco scientific discoveries global scale 75 years: the body found in the specific mechanisms of self-destruction of DNA, that is inherent in every cell of the program of aging, death, serious illness.
Of course, Jacques arrived. And I had three hours to get him to talk and find something that identifies it to the shooting. I asked him: "Jacques, what you love?" - "I love to listen to music and play the violin." I say: "It's great, let's put your favorite records." He says, "You know, they long to find, they are somewhere in the attic ..." I say, "Okay, let's you play the violin?" He takes a long time finally comes back with a dirty holster, took out a quite dusty violin and starts to publish with the help Ghastlier sounds. I understand that it's not. We go out into the street, I see a rusty lawn mower, I ask maybe Jacques likes to mow the grass? Jacques says that close and it is not suitable. I see a bunch of soccer balls, about forty, I ask if he played football. Jack replies that it is grandchildren. I see a hammock - Jacques says that he does not like. And suddenly he offers to call him at the office. Reluctantly, I agree, not realizing that there may be interesting.
We come to Princeton University, the office of Jacques, and I see the computers, books, photos, mountains of paper and realize that all of life Jacques held here in this room. Both the Jacques in the office is transformed and becomes like a little bit of the mad scientist. I can not stand and ask what you need to to 84, and Jacques was so many years, to maintain the brain in such excellent condition. Jack thinks for a moment: "Yes, I'm not doing anything special. I just use them. " You can not stop living just because you're older. You can grow old because you have ceased to live.
03.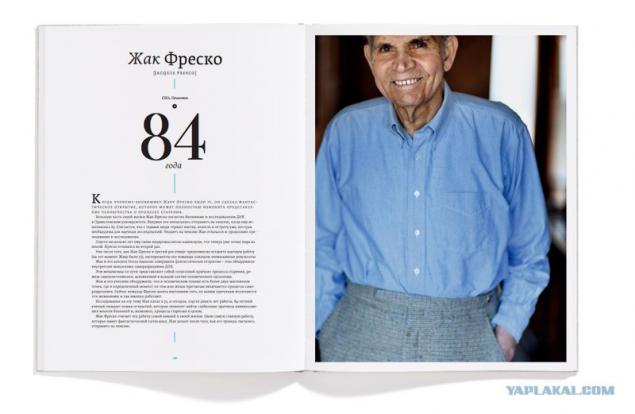 Generally, the first people I photographed and wrote their stories for themselves, it was a hobby. Just then someone of your friends saw the selection and advised to make a book. I think it was after I photographed Nina Antonova. She belongs to the brilliant phrase: "The friendly people live longer. Evil people have shorter life. " And that, in general, is not such a simple phrase, given that Nina - a pathologist with 50 years of experience.
04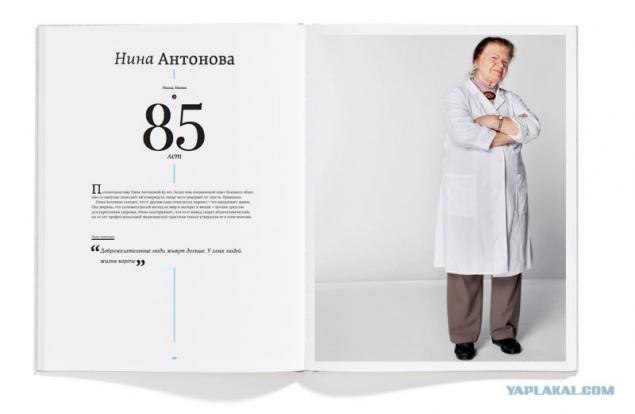 And to the question of good people: I had a chance to meet with sweeping monk Chinese - Yuan Tyantszenom. He was 79 years old, he lives in his own home near Beijing, chickens bred there - not for food, but for a reason. He did not just do not kill any animals, but also for the possibility of their feeds.
Yuan makes four dozen people who come to him for all kinds of advice. I'm waiting for Yuan to shoot, and suddenly calls me his friend and explained that the Yuan could not come. I ask to call back to find out what was wrong. And it turns out that he is ready to shoot in only one particular festive robes. But he can not come to it because it ate the rat! He did not kill anyone and did not even try to drive out of the house.
05.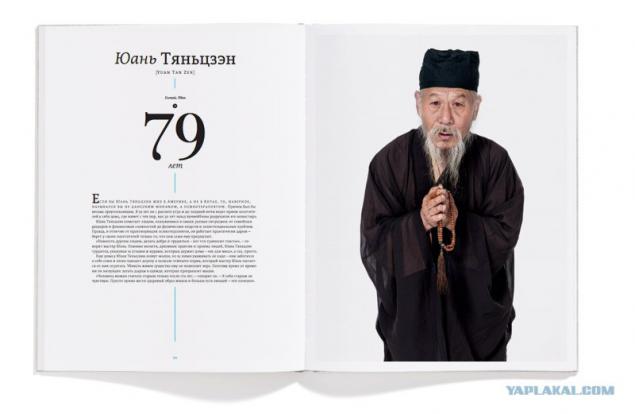 Lynn Ruth Miller at age 71 began her career in show business: started performing in the genre of stand-up comedy. And achieved a fairly high popularity in London and Edinburgh: it recognized on the streets. So I rented it, we have to say something. And then she suddenly said: "In 71 I started comedy, but only 77 finally came to striptease. Let's show? "And although it was a comic strip, she did not undress completely, there are pictures that I for what would not publish.
Lynn Ruth Miller belongs to a completely brilliant phrase: "I'm glad I'm getting old. Many of my friends did not succeed. " I shot her in her same house, and she refused to act until I brought her salad "Caesar". That is in contrast to the majority of people from show business, and despite his age, she eats whatever she wants! By the way, as most of the heroes of my book. The main thing - do not overeat: that's the secret of longevity diet.
06.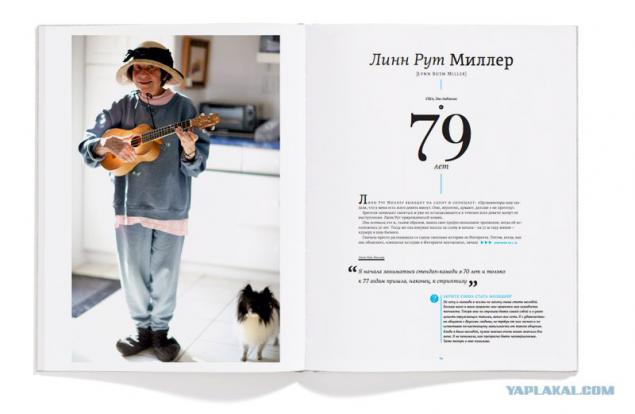 Valentin Badich 75 dances shake, twist, rock and roll, boogie woogie, and much more. And I was a little nervous when he went to his shooting. Just imagine: I'm going to shoot my grandfather, who dances the cervix and, most likely, is not good. And I have to pretend that I like it.
Terribly awkward situation. But he danced three hours that lasted for shooting, so fantastic, that by the end I danced with him, my assistants, lighting and even two random pattern, looked into the studio!
07.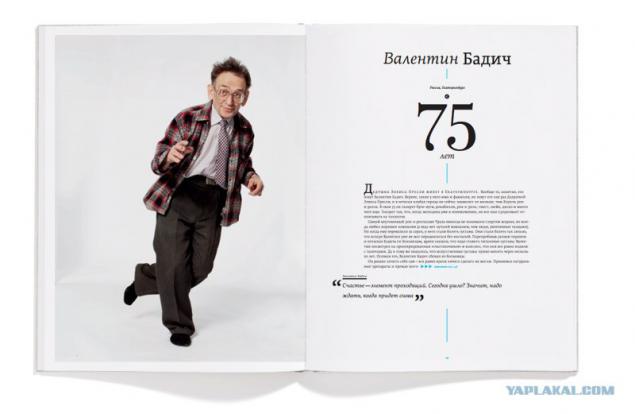 Tao Poshon-Lynch, s 94, I had to shoot in New York. I came to her in a dance studio, where some 50-60 years tetechki stand. It is evident that they had just finished to do.
I'm one of them to go up, saying that he came to shoot Tao. We got to talking. I already know that much late, I ask: "Where is the Tao can be found?" And then Auntie replied: "This is me." It is quite amazing. She wakes up three hours this morning engaged in yoga. Then her lunch, then she danced for two hours. It has two partners: one 23, the second - 24.
It is their utantsovyvaet vusmert. When I went to the dance hall, I saw a classic false ceiling tiles, one of which is stamped. "What, - I say - you happened here?" - "Yes, you know, - replied administrator - yesterday Tao again danced, jumped and knocked the leg».
Of course, at 60, and even more impossible to live in the 90 as well as 30 or 40 years old, physically or socially, it's true. But most importantly, I realized - you can always find an alternative to the stereotypical notions of age. Never too late to make a choice and live differently.

author of the text book: the founder of the "Kommersant" Vladimir Yakovlev
© source publication date December 20, 2012.
08.na photo Tao Poshon-Lynch (last picture)

thank you did not break the post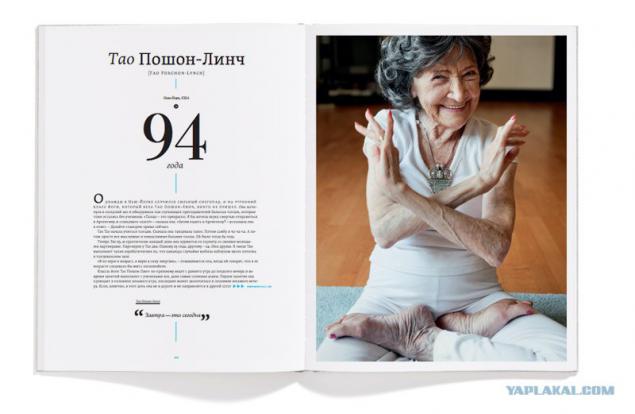 Source: