In this photo, leafless whole world, the patient named Penny after a successful transplant is holding its previous heart. She is wearing a mask, but it is clear that the girl is smiling. ))
This is a photo posted on the site imgur.com her friend Kelsey. She and signed picture: "This is my friend Penny. She holds my heart. She survived cancer and heart failure, but never lost hope. She - my hero ».
Photo taken at the hospital where the operation was carried out by transplantation, has already received over 300,000 views. New Heart Penny successfully perform all appropriate functions to him, said Kelsey. Doctors allowed the girl to pose with her old heart, before the body had to be cremated.
via onevao.com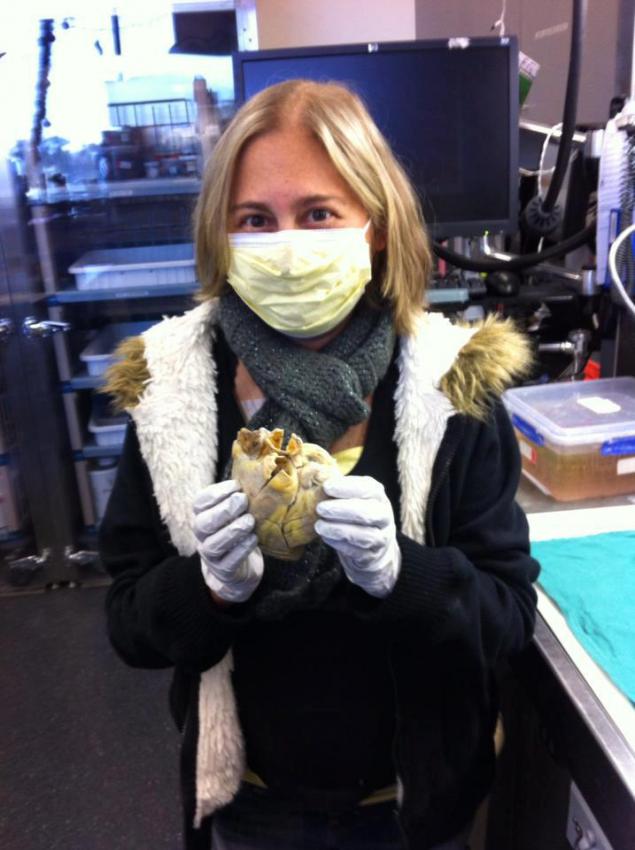 at first asked surgeons to give it to her memory, shared with the media Kelsey, but they refused. "Doctors are not allowed to take home her heart to save it. I would have done in their place as well. It needs to be cremated, but the ash can and pick up a souvenir ».
In the world annually about 3,500 heart transplants. Today in the UK waiting for a new heart is 207 people. Over the last two years, a chance for a second life received 139 patients, but 26 died without waiting for the promised body.
Under the photo Penny users imgur.com leave and leave comments. For example, one of them under the name philtaz wrote: "It is quite a rare opportunity - to hold in your hands ... own heart. Hats off to the surgeon who did the operation. " Another user - marie197408 - commented on the picture: "Keep it up! Penny, I wish you all the best and thanks thrice donor and his family ».
User lukecampbell added: "This is the most incredible thing I've ever seen in my life. It is very touching ».
Heart for Penny, like many other organs to other patients, was obtained from a recently deceased donor. In accordance with the rules of the girl had to go to transplant center as soon as she made the call. The new heart transplanted within four hours after the body has been removed from the donor. During a heart transplant blood circulation occurs by means of a special device that connects to the patient. Transplantation usually takes three to five hours. Most patients spend in the hospital after surgery for another two weeks under medical supervision.
Source: