It all started back in 1979 when my father was 16 years old. On his birthday, he set a condition: or motorcycle, or give up school. My grandfather had no choice but to dig and go to the store for a new Jawa-350 634. I will not talk about the features of driving his father for all his years, but I will say one thing: this bike in 34 years of operation not been in any accidents. But here it is and my time! Money to buy second-hand Japanese motorcycle was not, besides, I thought that you should always start small. Know whether this Jawa, that in a few decades after the assembly line in Czechoslovakia, it will still carry someone on the hero-city Minsk?
After lengthy persuasion father has agreed to bring the bike in Minsk. That's what I saw it for the first time.
10 photos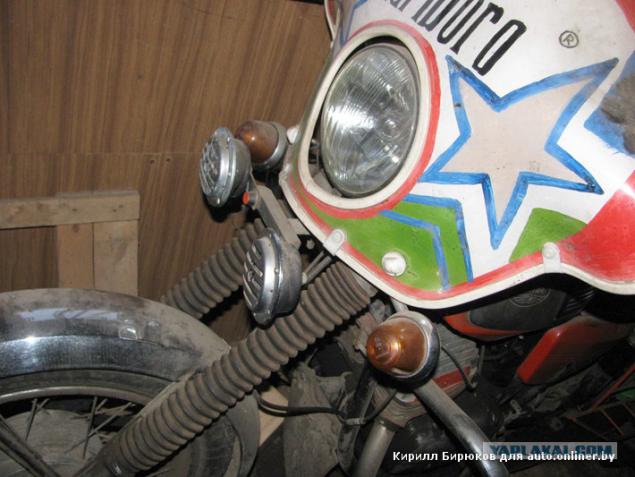 I knew that had a lot of work, because this bike to be honest, I would be ashamed to appear in public in the city center. In the late fall of 2011 Jawa was already in our garage in Minsk. And then work started, from that moment I forgot what free time and leisure. The desire to bring to mind prevailed over common sense.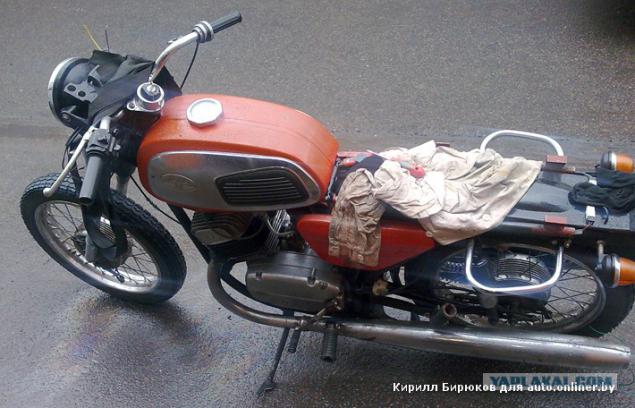 It all started with technology in order to bring it demanded it. When laundered and removed all unnecessary, in my head was born a plan: to put the trim Jawa-350 638. In the future, so I did. Dark winter evenings, when all my friends were sitting in a warm and cozy cafes with my girls, I was sitting in a cold damp garage and groomed his "iron horse" for the season.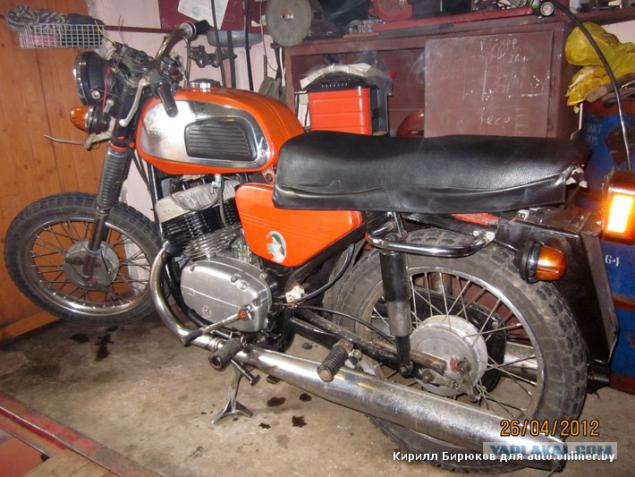 Cheaply bought trim Jawa-350,638 from his good friend. Painted in bright red acrylic and polished. It turned out even better than I imagined. Once engaged in the seat - alter Polish kozhzamom (material proved stout). Paint the frame and weld on a new mount for the seat, took hold of the front fork: went through it completely, from the spring and ending glands. Rubber decided not to touch it, because did not want to put sports in general. Changing the pads and install the new motor chain and sprockets, I gradually moved to mufflers. Disassembled and cleaned them, I realized that I was in them did not: the sound I was completely satisfied, but otherwise there were no problems. Polished them with felt and set back.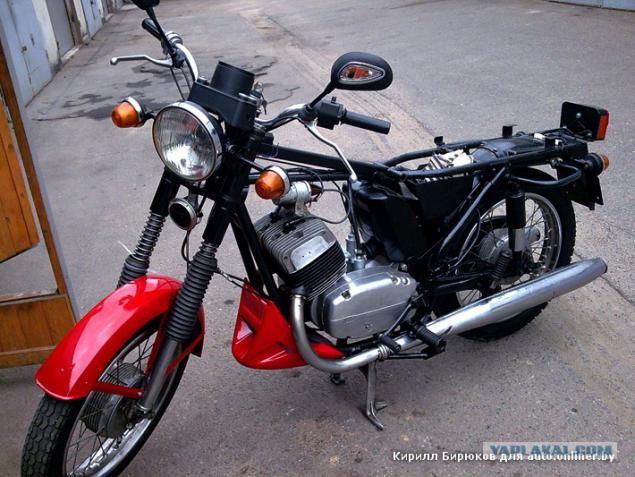 As time passed, I realized that many of the details need to be replaced - though the Chinese, but the new ones. Bought handle clutch and front brake, and wires NGK spark to them, the signal from the motorcycle "Minsk" (as set by the ignition MMVZ generator signal is not pulled from Jawa), the corrugations on a fork, chain cover, mirrors and new cables. Put all of this, and finally it came to the most important thing - the engine.
Looking ahead, I will note that during the season, when I dashed over 3,000 km, out of order on the crankshaft bearings, for the first time had to "chop" the engine. Crankshaft repaired famous master in Minsk, 100 y. e. he was perepressovan with the replacement of all three rods and bearings. I also received a guarantee for a 10 000 km.
Now back to the engine. Had to replace the pistons (otzhalel money and bought a Czech), also bought the ring, separators and fingers. Replacing all of this, I decided to change and at the same time have the cylinders, leaving only the old "head".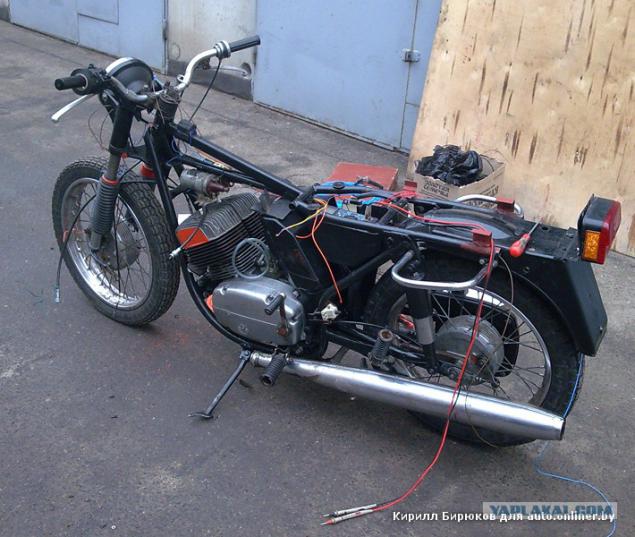 It came to electricians. Bought a new generator of the motorcycle "Minsk" with "ketami" did not want to leave the 6-volt contact ignition system. Shifting your entire wiring, I breathed a sigh of relief, as almost everything was ready. Also, replace the air filter, and set a new carburetor, and this is my repair was completed. Could only put svezhepokrashennuyu trim, and could begin to pull the foot.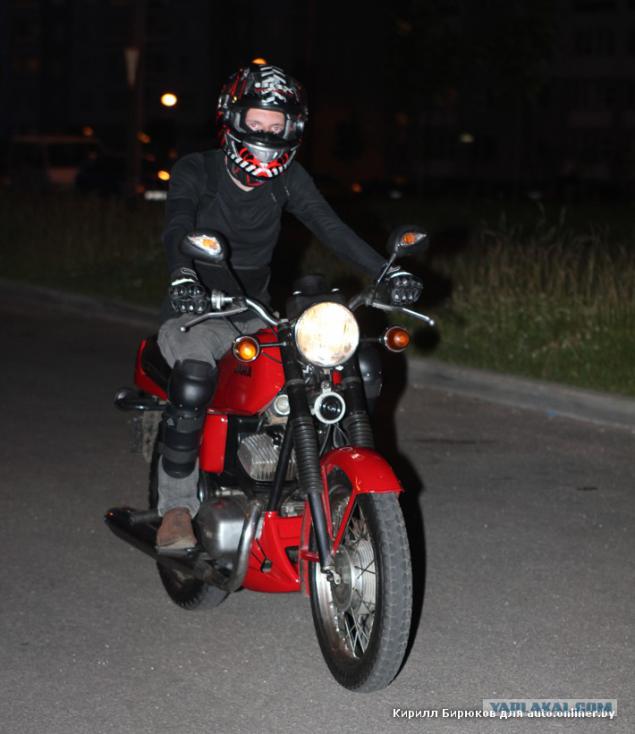 Here in this state Jawa rolled out of the garage. And I started running in. The first time the bike is difficult to start, did not hold a "dummy" and basked every 2-3 km. Two weeks later, I finally set up the carburetor and accurately exposed ignition (though it was very difficult for me), but it still has traveled only at night, because the bike warmed very quickly.
A month later, I went full speed to almost break in the engine. At that time, my personal mileage totaled about 2,500 km. The maximum rate at which went once, was 110 km / h. I just wondered whether go? For Jawa speed of 80-90 km / h - cruising. Consumption in the city was equal to 4, 8 liters per hundred.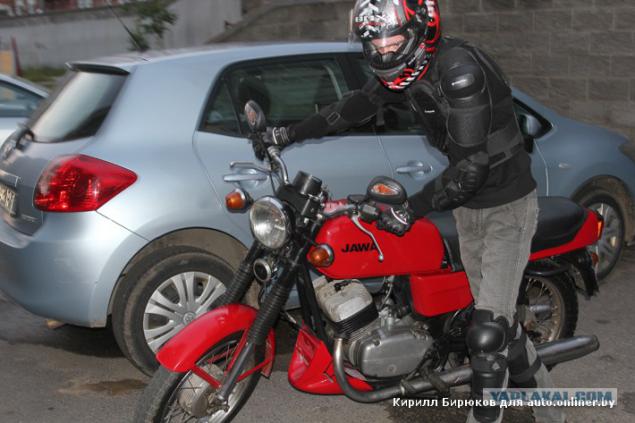 I was not ashamed to drive to a crowded place. It was already not the same Jawa, which I saw for the first time, almost fainting.
Every day I was approached by a minimum of 2-3 people - either in the city or at the gas station. Typically, these were the ones who in his youth he went to Jawa, or young people my age, who now wanted to buy it. Often heard a stupid question: is that the "zero"? In response, I replied with a smile: Jawa are no longer available.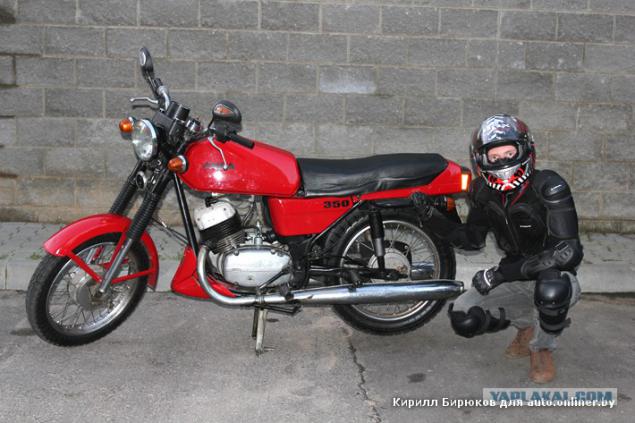 During the last season, I drove 6500 km. During this time changed: 1) oil in the box; 2) the clutch cable; 3) turn the bulb. I still wonder what motorcycle did before.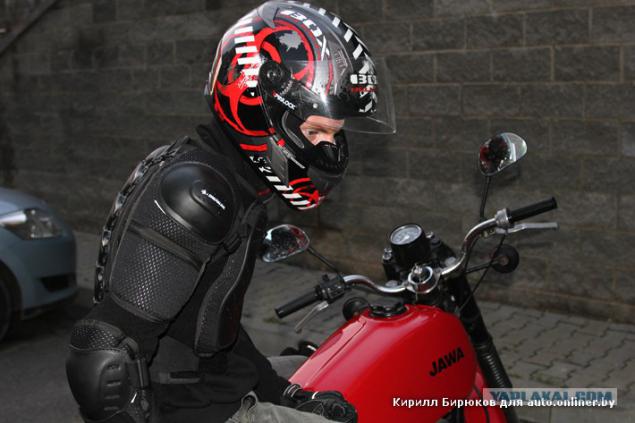 Motorcycle is very soft, with a comfortable fit. For a new driver it lacks more than a second passenger as comfortable as you. What is missing is the fifth gear. In total, the work has been invested about $ 700 and several thousand nerve cells. I can not say that this bike is better than the Japanese, sport, with the volume as the car, but I will note one thing: I never for a moment regretted that he had contacted the Jawa-350 634.
Posted in [mergetime] 1367266073 [/ mergetime]
Kirill Biryukov auto.onliner.by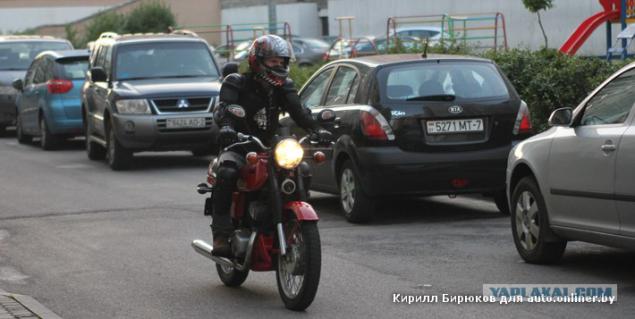 Source: