We not when advance do not know what we have to face in life, I have until recently did not know what I will write an article in a magazine, where many of my friends, and then, for what reason I will do so for many years I'll do that repaired motorcycles, started it, like many a repair their Soviet More then motorcycles, then hobby turned into a profession, I had grown diplomas from manufacturers new is almost impossible for the device to motorcycles and snowmobiles, but did not think that happen to again go back to where to start. It all started with the fact that my great friend collected literally bit by bit vintage motorcycle, we went with him for the Moscow region and with the permission of the grandfathers, the owners of scrap metal from the ground pulled out the remaining details of the gardens where the famous motorcycle TIZ AM 600.
36 photos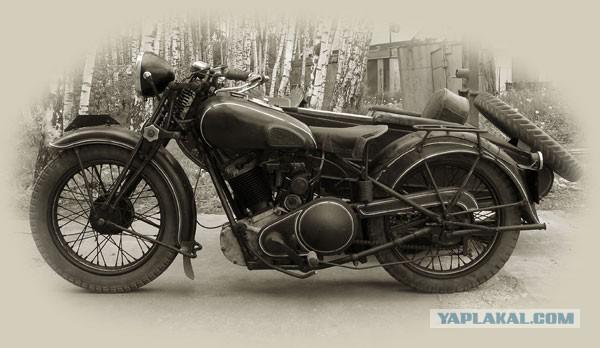 I do not even know how Alex found all these grandparents, the Internet then you can say absolutely not, but then the long winter evenings now Alexey Yurevich collected after the bike '38 release, interest on 98% as now they say in authentic completeness and here roll it out on the street the first time I rode on this miracle of Soviet technology, the bike is very brutal, and it began my mototsiklizm- diagnosis. I can still remember every detail and the charisma that had this undeservedly forgotten bike. I specifically did not scan the image that would be seen that did not exist even digital cameras and photographed everything on tape and do not make thousands of photos and now they look like part of a bygone history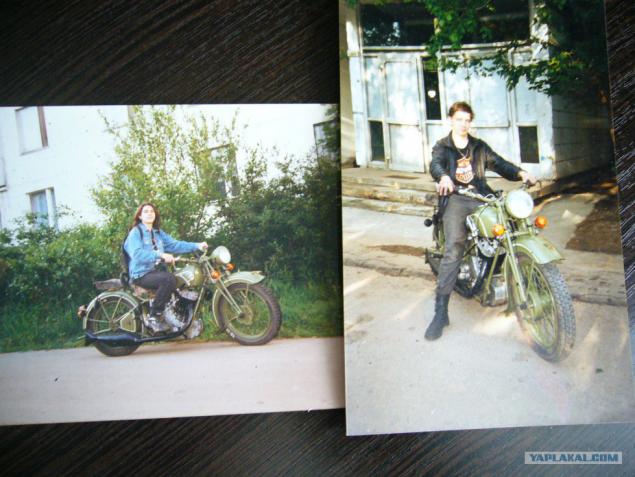 But TIZu had become one of the major motorcycle used during the Great Patriotic War, but it goes about it, but you understand what I said. As it happens suddenly, it happened that my good friend asked me to help him with a "minor repairs", which he bought a motorcycle.
Namely a direct opponent to TIZa voyne- German motorcycle BMW R12, as they say here I do not know where to meet.
Online users can find a lot of photos and even a video of the BMW some even go, and when it was the most mass motorcycle in Germany that is 36,008 pieces, but as it turns out at the moment in the world of registered collectors at less the bundled condition as I thought total 161 pcs.
And so it all began November evening, when a friend of mine brought me to the garage on the trailer purchased from the public-restorers baryg motorcycle with a sidecar. As usual sellers sang the bike rides and is not wound up, "because there is something to the magneto, and you just will likely adjust the ignition" but the first cranking the engine Kick brought upon vague suspicions that sellers forget to give compressions with the motorcycle, sorry I photographed everything during disassembly, as it is not thought that it will take, but the assembly reacted to this more carefully.
In the light of the day it became clear that the bike painted entirely the wrong paint, and much of what is said by dipping because such fasteners rudder was painted with the wheel in such a layer that was not visible boundaries of the wheel / bracket, and nuts and bolts are not suitable wrenches , 13 (the one that should be already does not fit, and 14 chipping paint that fell off a significant layer, exposing a thick layer of soil, or metal. Speaking of fasteners, the whole bike has been assembled so that the unwinding of any bolts required force is not more than 0, 5kg / m was enough to touch the outside of the paint filled fasteners how it unwinds hands. Unplug the carriage and drove to lift the motorcycle, measure compression - 2kgs / cm must be exposed,
I removed the cylinders and cylinder oh longitudinal ditches were nearly half a millimeter deep, it was decided - to do everything as it should be. That's the way to see if that request, and began a complete restoration,
Having examined the engine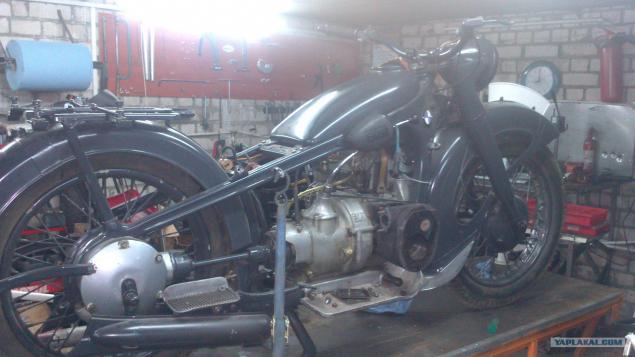 it became clear that the pistons there are not native, but from the K750, the crankshaft was killed probably more, in the 56m and who had a terrible backlash, too, had to be done, took him to the office engaged in restoration of such things, but to make out he was not able to, the Germans were quite cunning and used a tapered fit, a trip to the other two plants on one of them tried to apply a 50 ton press were not successful, I had to afford to buy a 20 ton press and a good warm-up crankshaft decompress itself, but his eyes opened the fingers rods are worn to such an extent that recovery and can not be repaired, the restorers had to contact and purchase one of 2 available to the entire Russian normal renovated in Germany crankshaft. While disassembled and blasted frame,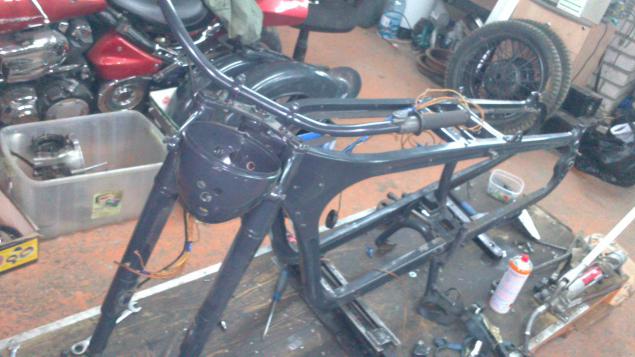 with their historical homeland was a motorcycle and his family paint,
malaria in Russia, too, this is not so simple, most simply do not take up the job as they hear the word "motorcycle" he blow bonnet easier than messing with draining the motorcycle.
While waiting tokarki of spacers under the new bearings, made new stock clutch
welded on the missing teeth on the gears,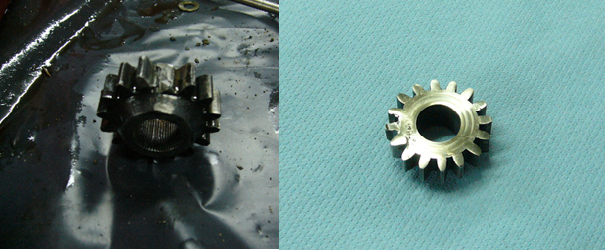 washed, limp from rust, again washed, cut and corrected thread,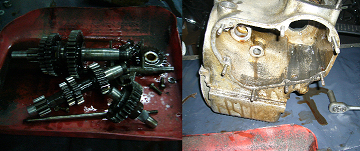 the amount of dirt is inside the washing envy ATV involved in the rally raids in the swamps
lock washers from cans and mailboxes made one vague doubts whether all this will be possible to recover and that to wait further.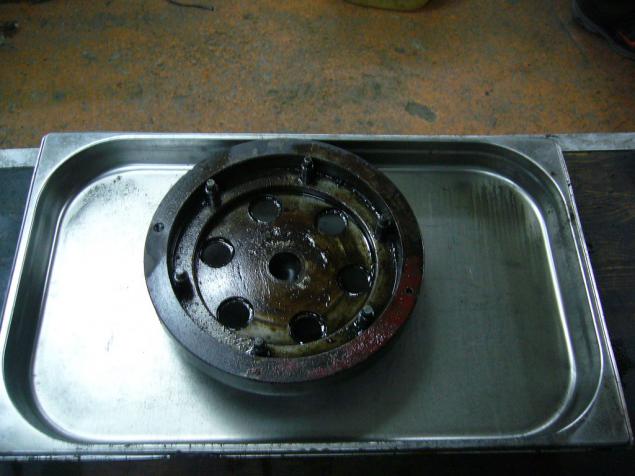 It was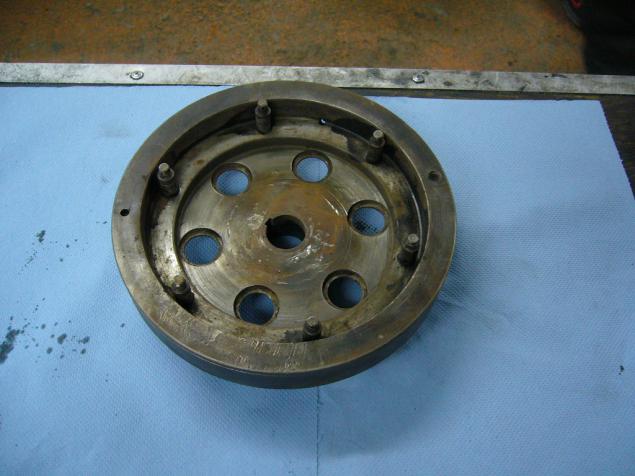 Meanwhile, painted, bored already under repair cylinders and rear gear battered life, reduced half bushings on the brakes and control cables altered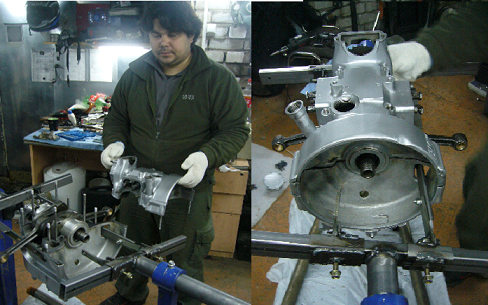 I must say, there is a motorcycle any node that does not have to be restored, brakes, engine, transmission, gear shift levers on the steering wheel, the audio signal (had all disassemble, solder, clean) one word was no place that was not necessary to do , replace all the wheels Bearings,
In the motor and box, rear axle, in addition to the two it miraculously preserved in the normal form had to change to the new German or Japanese, removing dilapidated "3 GPP" and but Neum, native got only one at the wheel held are said to last, but after removal from He crumbled separator,
The climax was the engineering course combined with a magneto generator from the company BOSCH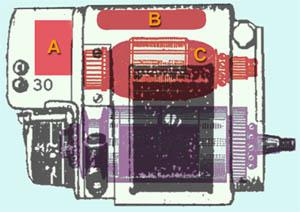 Even more puzzling was the fact that before reaching the restorers did not even try to understand where the shoe pinches, connect the wire completely not true, but that would have put the diode does not close, which was that dead a poultice had to disassemble the magneto that would meet his two ustroystvom- generator in a single package by rotating the idler gear from the chain camshaft drive, and deeds of this time has passed, and finally came to paint
Clean off of 6 mm layer of paint in the paint tank drove

As I have already said, to find a good painter was a problem, despite the fact that like everyone has friends in the car repair and so few people want to do such work, but there's my old friend who is not afraid of the amount of work, the truth had to carry over 25 km from Moscow, but we are worried about the result

on the distance did not become a hindrance, but here everything was not just in the paint brushes burned hood, and we froze in anticipation of another week, but once we got a call and heard was the magic word - "READY" immediately broke down to pick up, fit everything from It works in two cars and a trailer, of course careful not to scratch.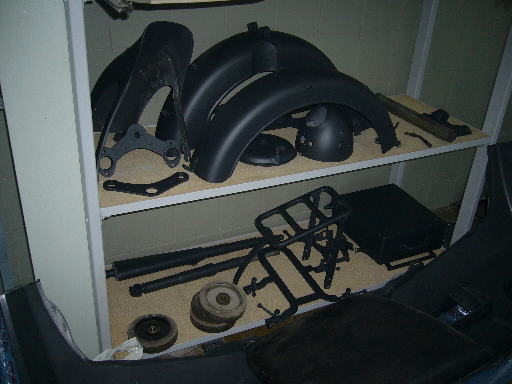 I do not believe that it happened now could begin to collect all the pieces together, started a routine process of assembly and replace killed fixture to normal, unfortunately, was unable to save all the original fittings, bolts, clamps, time and curves of your hands with a pair with a poor tool made many bolts unusable,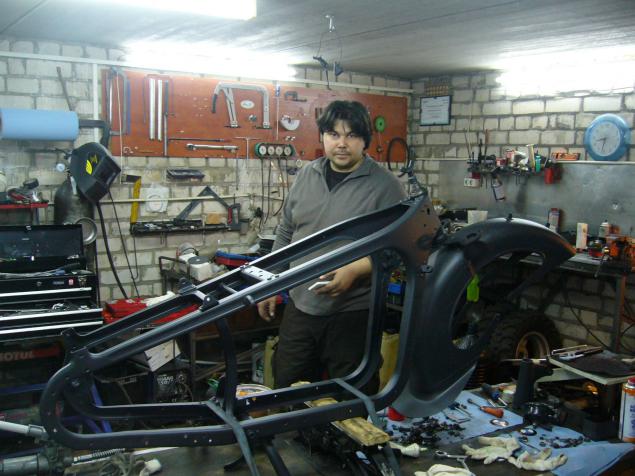 Implement almost assembled engine in place, then it is more convenient to gather on the frame, tsentruem, as it turned out, the Germans engine frame regulated plates to enclose the sides of the engine on the Internet, it was found picture what type of frame, carriage and attachment pegs corresponds to a shift in the engine Framed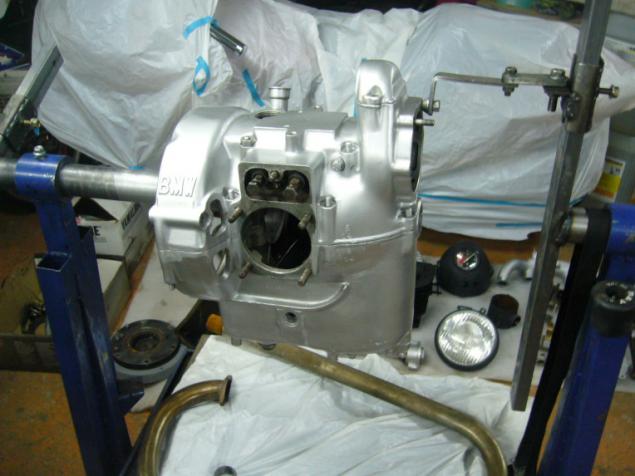 And actually continue to collect a miracle hostile technology, here a little retreat from the description of the assembly process, but in which direction, the last time I read a lot of materials, books and articles devoted to World War II, trying to find answers and to fill the gaps in the overall picture of what was happening in the difficult years of our history, many times ezdiv in Russia from Peter and to Odessa (for me so far this State for Gender childhood I spent in Ukraine) for me inexplicably Germans unleashed the horror going not just to control these territories, fear and strength to do it long still it would not work, what counted for me it remains a mystery to which I have no answer.
Such a huge area, I certainly understand how arranged state regulation, but to manage captured nasleniem developed with the guerrilla movement in its territory is simply not possible for a long time and has nothing to do what punitive measures will do no good, I'm not talking about the year -dvuh, for more time See what spaces, then every tree for us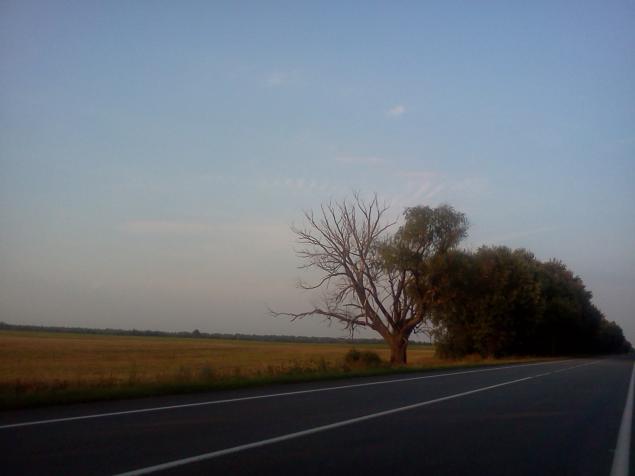 With all the equipment of the German Army, colossal equipment and highly complex from a technical point of view, compared to our technology of the time, with whom I've encountered what I wrote at the beginning, any army still people, and not looking at all well thought-out design of the or other node motorcycle, cars, tanks, machine guns, it's short-lived, but people need to live somewhere, repair, build, they can not fight all the time, people can not live life destroying and living in ruins.
Speaking of machine guns, the bolt is in a wheelchair to install a machine gun, and so to say for historical justice, it would be necessary to equip the unit to the bike, even for photos
This was done, thanks to a friend of the search party provisionally museum exhibit, (of course demilitarized) MG34 be what and had to stand on the pin in a wheelchair. Machine gun (or rather the weight and size model) was needed for that would-hour gun he worked under the weight of a machine gun, and not somehow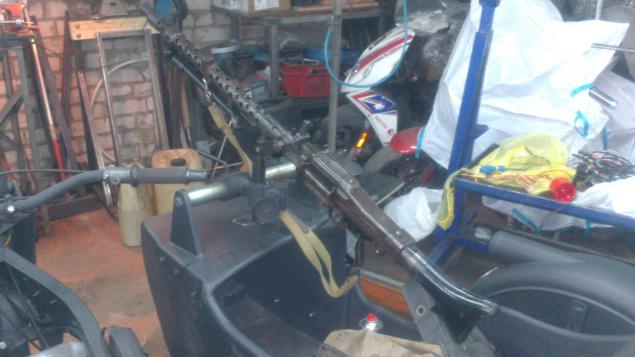 Well, go back the same to the process, inexorably approaching the moment when the engine will be assembled and then later I do not know how long to wake up from sleep, what will be the awakening, the engines of the time compared to today have a hell of a charismatic sound, slow no matter how much is not hurrying to match the era, anyway, I took it for the bike only from a desire to touch so to speak, a dip during our grandfathers and grandmothers, no matter how trivial seem to basics, but to the sources, including the history of motorcycles, because this BMW is the first motorcycle with a telescopic hydraulic fork, the first on which the speed record which lasted pretty long for this to work with him was not easy, because a huge number of technical solutions for half a century or where not applicable, but also shows how oprobyvat ideas, ways of development then what we have now come extremely interesting, especially comparing our Urals, apparently ripped off with the BMW utterly simplistic, to the detriment of the resource and consumer qualities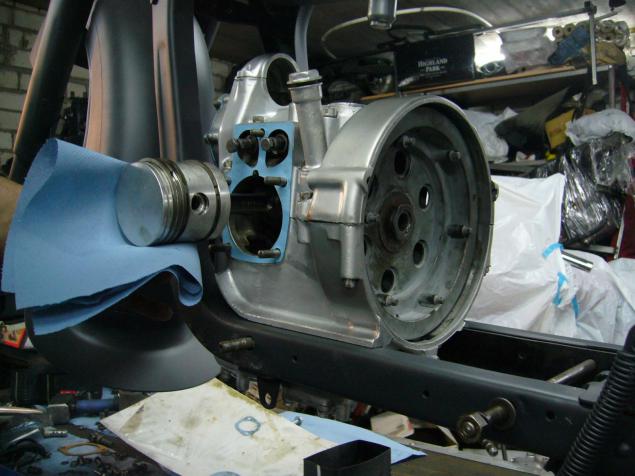 But we deepened further assembly was almost like clockwork, which by the way was also flooded with German marks Liquy Moly has long earned its reputation in the world of quality, but are unable to do this unfortunately as a bright wrapper Motul. Actually, I tried as much as possible to use authentic grease, oil, and methods of recovery of damaged parts, neither of which NANO, gradually acquiring iron motorcycle rose on wheels, rinse, to repair the power supply system, collected the clutch and the box here this Gadget can be seen on the last picture kept us course nut clutch, do it to us a week, the fact that the thread was not consistent with our classification of threads, it is metric, but 28 * 1, 25, as we move either 1 or 1, 5, or 3, then I was faced with the that Turner whom there are not a lot of the old do not want to have to fool with threading by selecting stroke cutter and turnover grandmother and the young do not know how, hell we're used to it at school looms on the lessons of work to do, and then the generation «NEXT» represent my indignation, but the machine will not let a stranger, had to ask the restorers, and as a result we did on LEMZ Gadget ...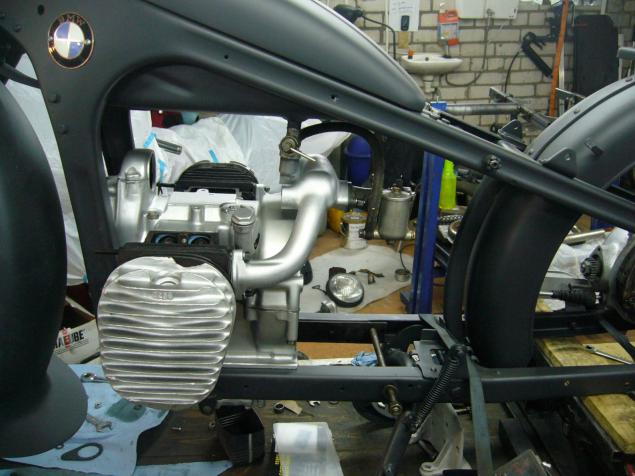 Surprised by the stratagem of the intake tract, he warmed exhaust, by the way, exhaust the Germans are not only used for heating hand,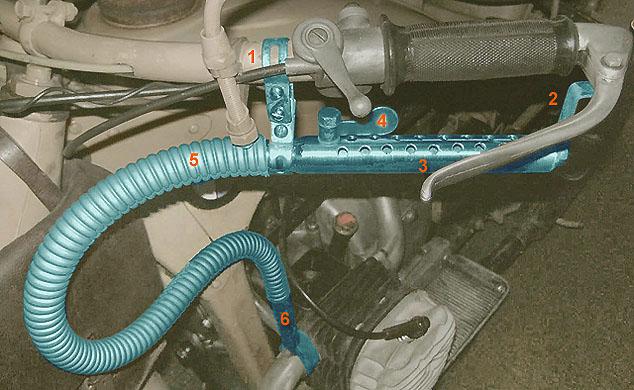 and for heating the feet of the driver or a passenger in a wheelchair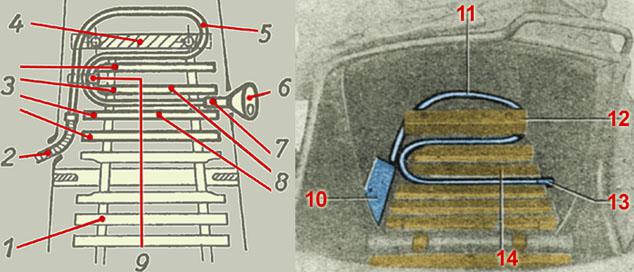 Very controversial, zamudrёnye and not very safe design, especially when you consider that the motorcycle's military and hung with canisters of fuel, unusual and the fact that the exhaust gases are directed almost in the face, which is clearly not conducive to normal breathing, taking into account all the same low speed in winter,
but history shows they are often used for warming schnapps or here on this photo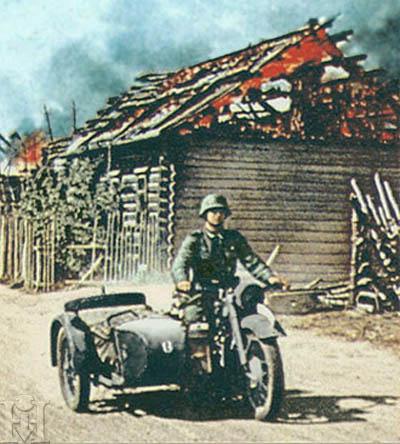 In general it was a very strange feeling, on the one hand I understand and realize that it's just a technique, and I was wondering it to recover, but one can not be separated from each other and parallel to the raising story of this bike takes up the story of that period, the terrible story is not nor giving in any common sense of the evil empire, which affected the lives of millions and millions which claimed. Then it was decided to restore the historical authenticity, and rummaged in the internet, it became clear that this was part of the motorcycle is likely Motorcycle Battalion SS "Totenkopf»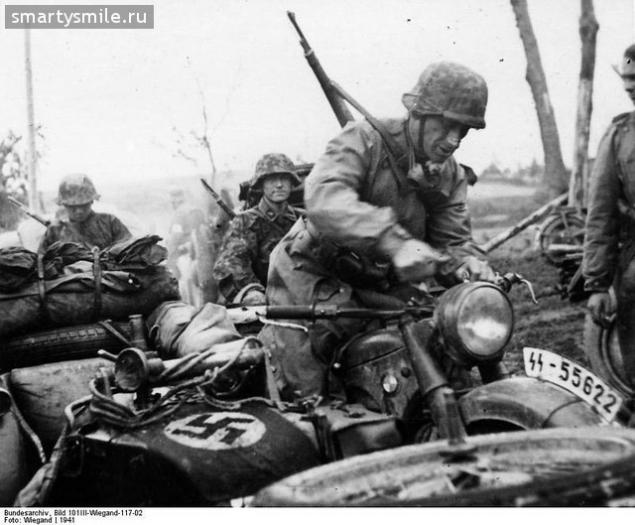 Accordingly, then it will be necessary to apply and tactical signs, but this is far, had to collect, re-lay the wiring, to buy the battery 6 volts suitable sizes without marking "Made in the USSR" and try to make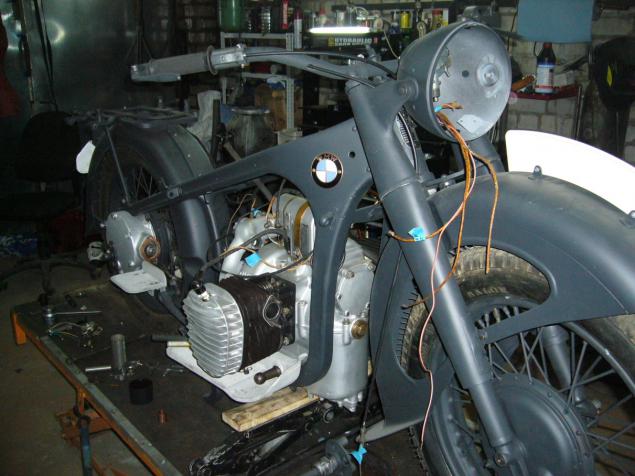 Really really want to insert a maximum of photos that would be seen as the pieces of grains he was going as tightened three months of life in an ongoing process, it is desirable to start the engine, for the mechanics is like an orgasm when you collect the motor and his first start, when he is alive, breathing, grabbed, once, twice, that's unstable, like a small child makes his neuvernennye first steps, here began smoothly, warming, obrgorayut and evaporate grease starts to smell paint, exhaust sound, running, warm up, you can add gas, spinning well, and even though you know the result of collecting, and the other can not be, not in order to understand, what not to do, but still, each motor hell first run mesmerizing. And then there have not heard when the motor that adds glow in double waiting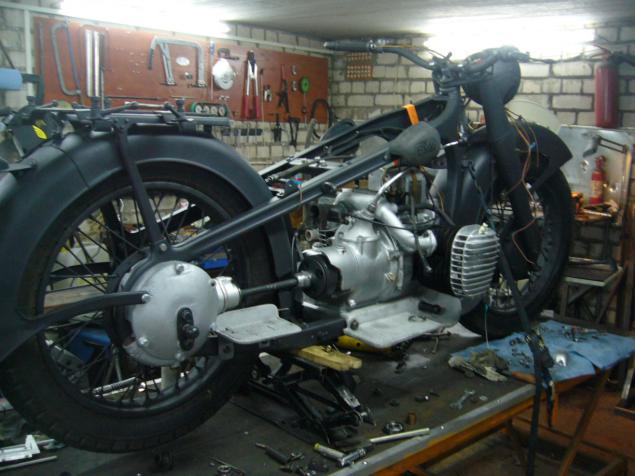 Tucking into plates cosmic maps and navigator specifies the last time the route .........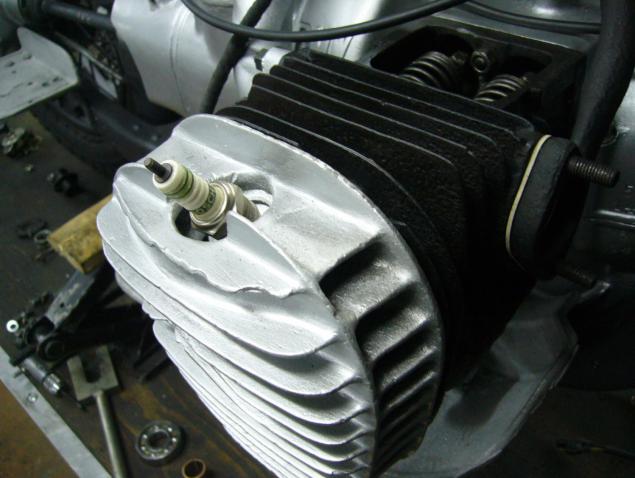 START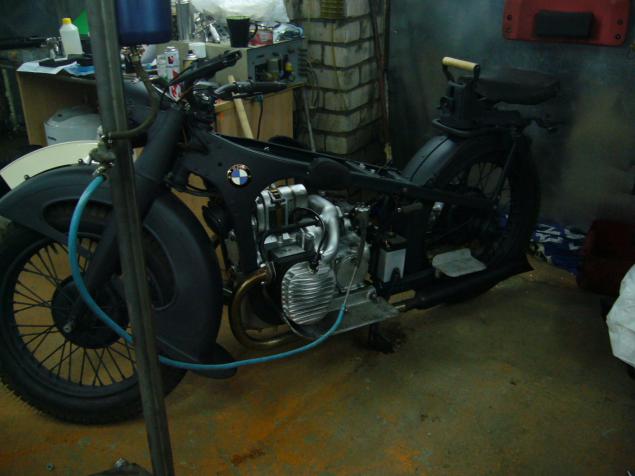 The second launch tossed an unpleasant surprise
Unable to stand the test of time, tired of the metal, cut the key addition of a flywheel Gadget for which we have been doing, I had to take over the file and make a new hand the key
(USB plug for scale)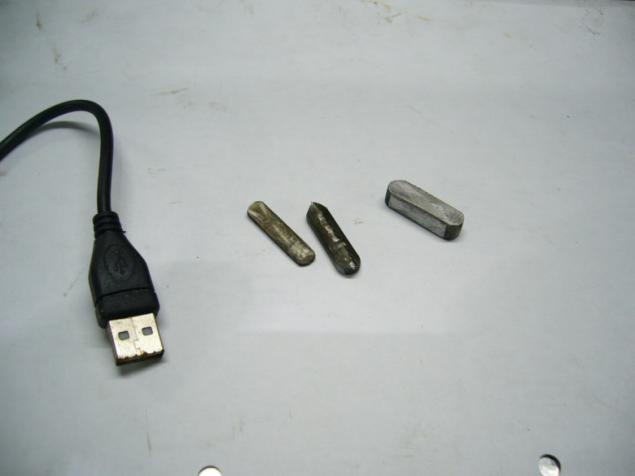 Replacing the back of the plant, the photo does not glare, slightly pokoptiv oil (and I'm collecting grease-lubricated piston)
He began to work steadily. Then I went to have small things and cosmetics, signs, drawings, plaques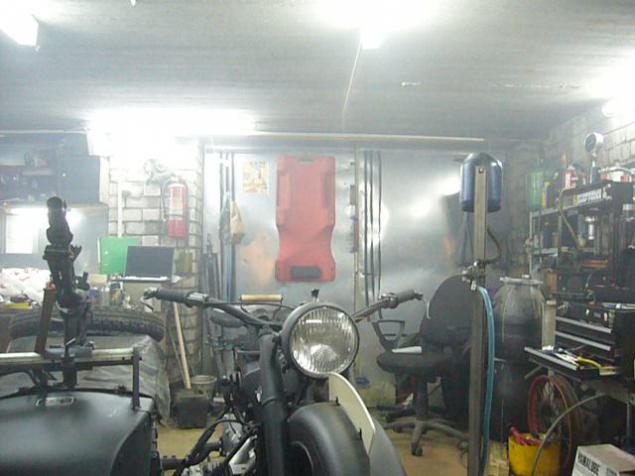 As I mentioned, it was decided to apply the tactical signs 2 companies motorazvedki division "Totenkopf»
Swastika my hand was raised to draw, this cost only cliches and conventions,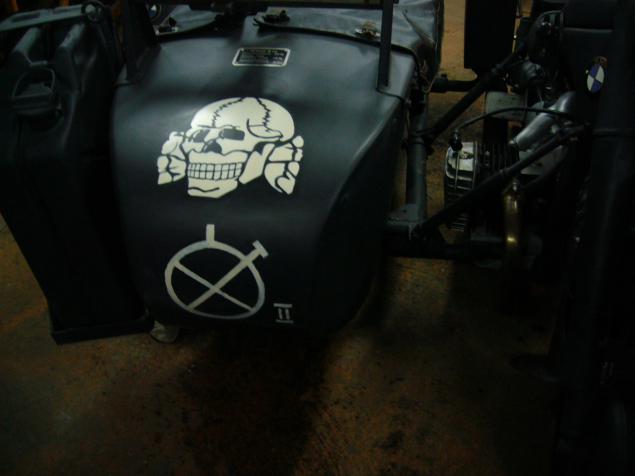 Well, of course not forgetting to attach to the stroller all the necessary canisters and sapper shovel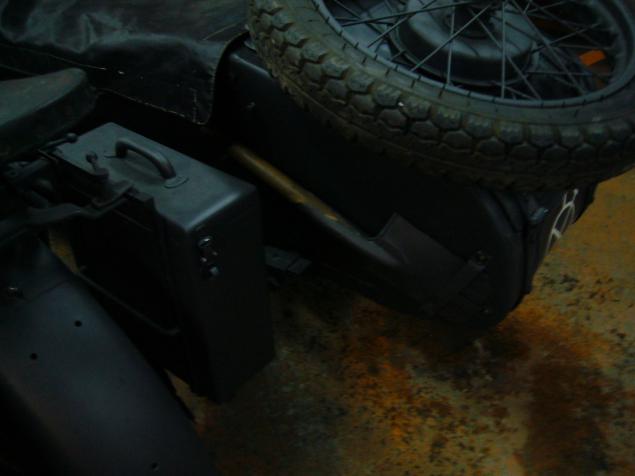 That's actually what happened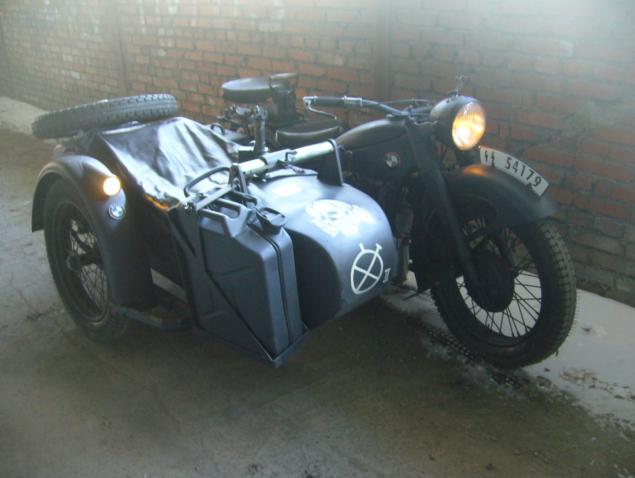 It is natural to search for information on a motorcycle found that of 36 thousand motorcycles R12 including 20 thousand originally former civilian and then expropriated at the service of the Wehrmacht remained registered only 161 thing most of them in the United States and Germany, many of which are not complete, and have in best frame and crankcase registered in Russia 3 motorcycle from a private collector 1 and 2 at the Museum of Vadim Zadorozhnogo. But studying the photos that we saw a motorcycle Zadorozhnogo at least one not to go, he does not have the magneto, the same which I killed all the day, bringing him to his senses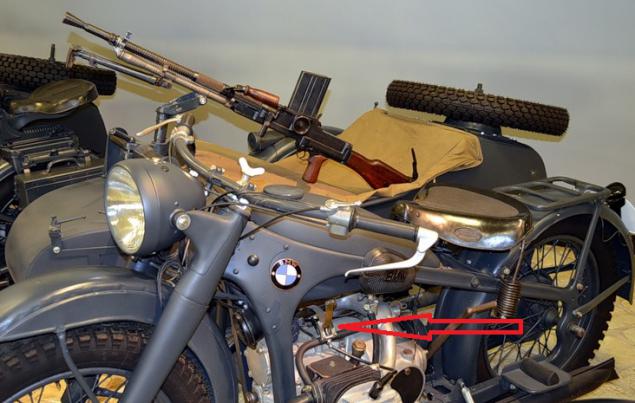 Source: