It sounds as if I have come to some sort of group therapy session, and it was my turn acquainted with fellow sufferers. In general, so it is, we are all more or less sick "two-wheeled disease».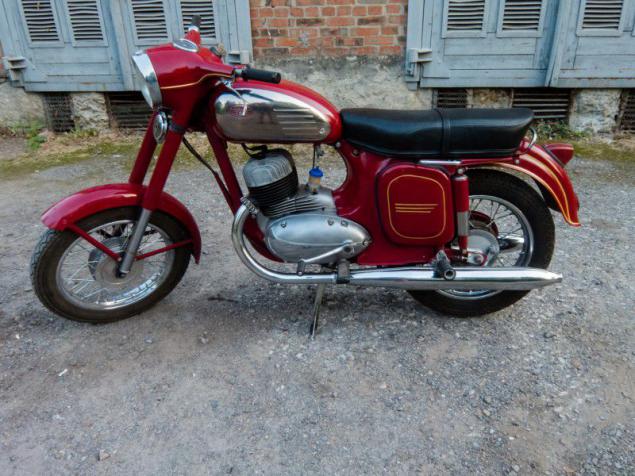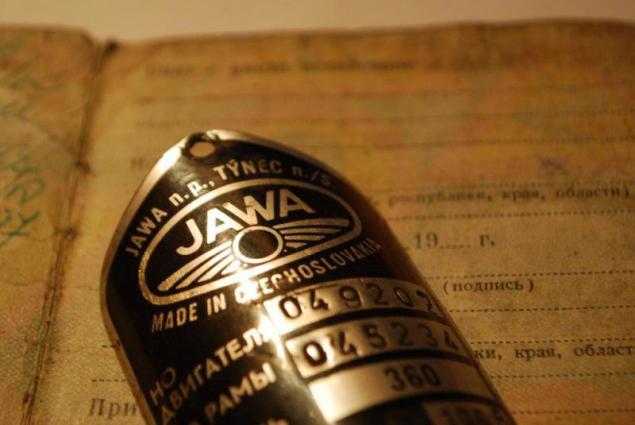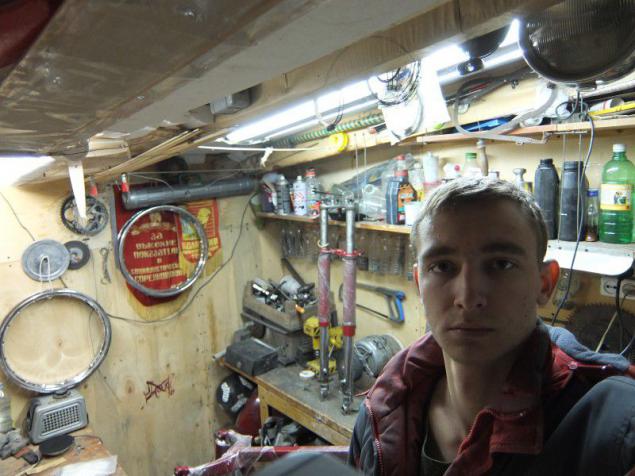 Hello again - it is I.
So I got sick last spring, I got sick idea of ​​restoring the old bike, I really like Java "old lady" long smoking sites, forums, and one spring day came across the announcement of the sale of "old ladies". In the photos it seemed to me normal, it is a good option for recovery, agreed with the seller came, looked, picked up. Brought, unloaded, averted in the garden, where she stood for two days.
During these two days learned that next to me lives a former owner of the motorcycle Java, the evening gathered a council, and we decided to have this miracle of the Czech Moto promos. For a long time we tried to start it, figured out the entire electrical circuit, but not as it was not possible ... decided to drink tea and look at all this with a clear head. Perked up after tea, we re-checked everything, cleaned candles, put the ignition and started to pull drin-stick (Kick), a couple of minutes old woman gave the first flash ... we are still tormented about an hour, the steam was coming from the heads involved, who stood with a significant views and speak of the one who is trying to figure out the problem, and someone pulled drin-stick, in the end, she started up, and worked at idle until it ran out of gas ... in general, the evening was not in vain and ended on a positive note the engine running, happy and pleased we went.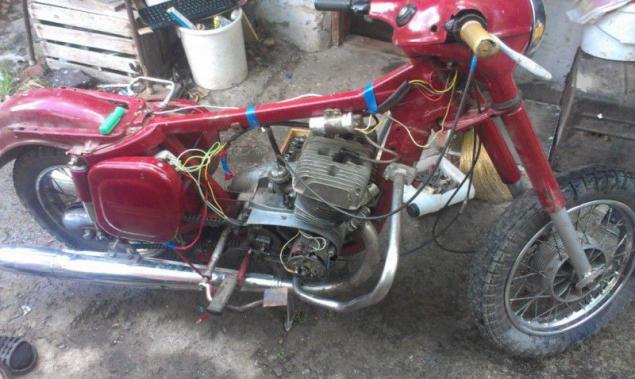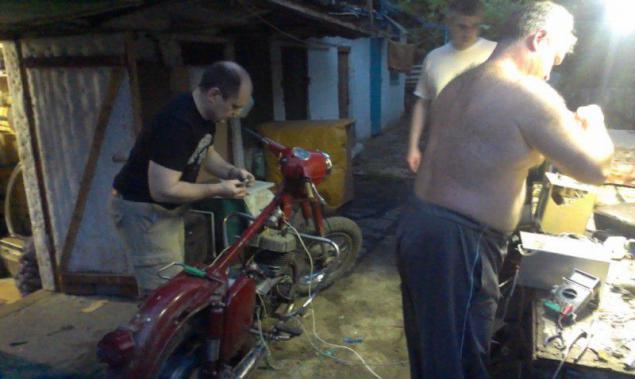 Then the session, I did not fit to the bike during this period managed to acquire a donor - the frame and engine instruments, as it later turned out the left frame, the documents are only on the engine, deceived me huckster filthy. Then charges them rest on the sea, so the summer passed. As the saying goes, "the first thing, the first thing - motorcycles, well, girls, and the girls on them", following this wise thoughts, came from the sea, I finally got to my old lady. At that time, I had a motorcycle frame and another motor. Since the emitted 2 and 3 assists, it was decided to remove non-working engine and put the second in his place, I fussed with it a couple of days, put the motorcycle on a steady course and in this form rolled a couple of months.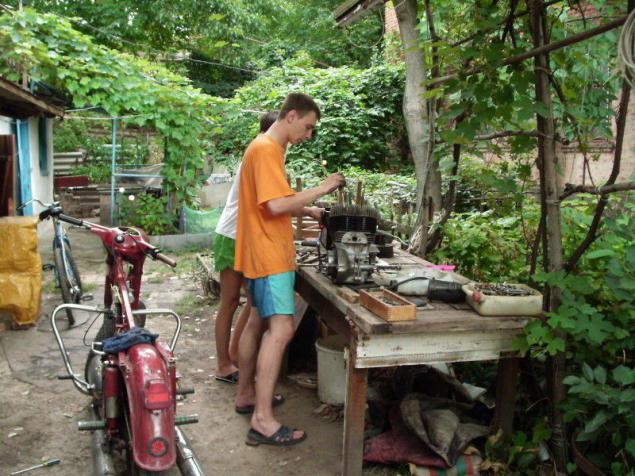 At that time there were donor search documents, the main criterion was the presence of a new model of TCP and live host. In the yard was autumn, I rode serenely on a motorbike through the grove and the surrounding area, monitor sites, and eventually came across an advertisement for the sale of the bike meets all my criteria. Called and spoke with the owner, it turned out that he either sells this bike for 13 rubles, or change it to IL Planet 5 - on the go, with the documents. At that moment I remembered that my friend, ten years is such ILs in the garage, phoned, came and looked, gave top 10, has issued the documents taken away.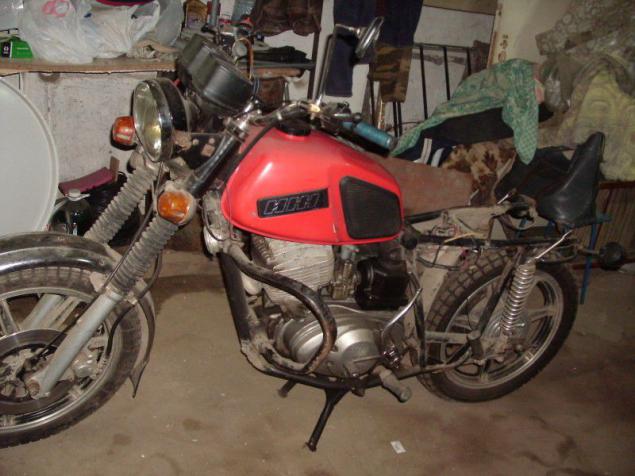 Day needed to put IgE on wheels ride on it for a week, it's time to change. Although IL I did not like but I parted with him with tears in his eyes, because he was in excellent condition, and sell it can be had for a lot more money than for those that I bought it. Yet, the old lady is a dream, IL is a step towards the dream. It's done, DCT signed in Title I, and now I am officially the new owner of the motorcycle. I started on the same day, rolled and put into place.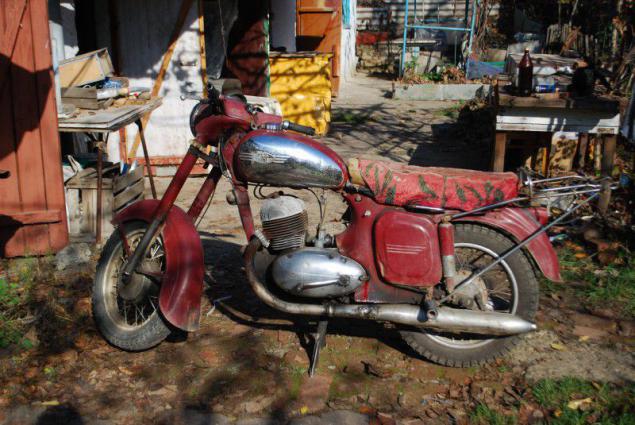 The next day, it was adopted a decision to disassemble both bikes and begin the process of recovery, restoration is difficult to call, so I will call my job recovery.
Having examined the first motorcycle, I realized that I was mistaken about his condition before, all were killed in the * avno, looking in before I say that I took from him only one rim and "stick" to fasten the glove compartment. It is time to dismantle the second bike. On this day, I appreciated preservative properties of clay mixed with oil and sludge.
The previous owner used this bike "in the tail and mane," for fishing trips. Dirt on it was nemerenno. Having examined the second bike I realized that he ushatan even more than the first, in front of my eyes was cracked and povedёnnaya frame (it was the biggest disappointment for the entire recovery process). Nothing to do, you need to edit and repair the frame. It took about 7 days, or rather nights. In the end, everything was done, the frame straightened, scald plates, glazed and painted. A start.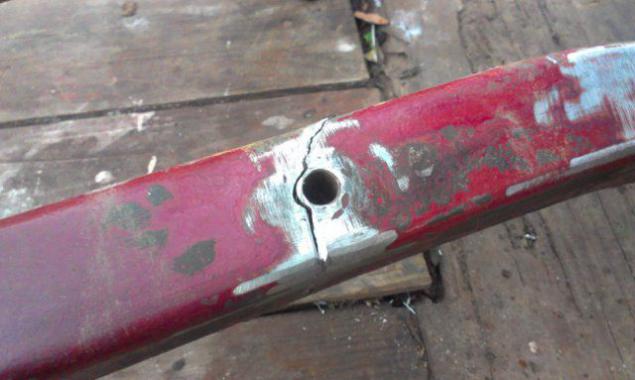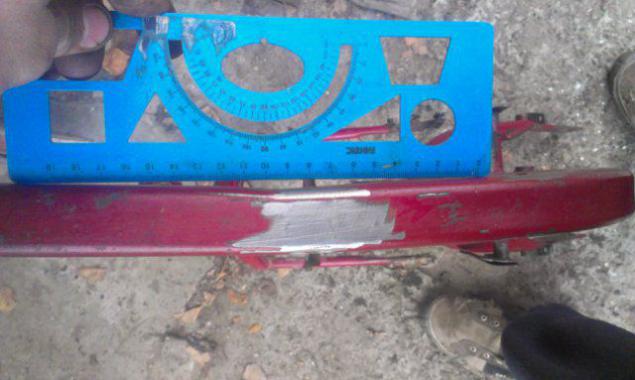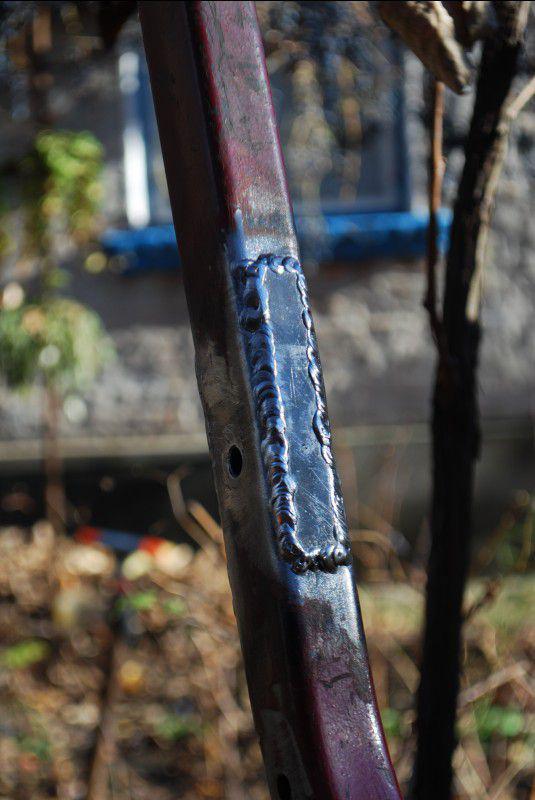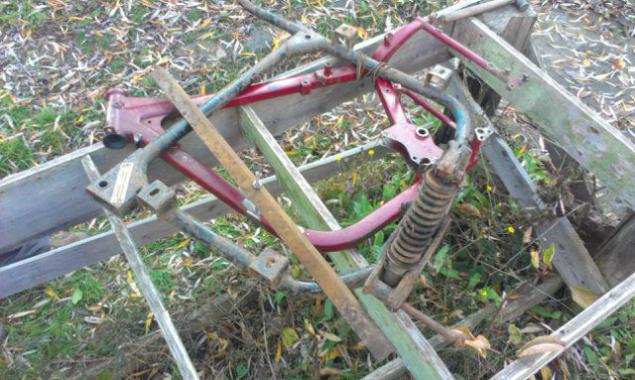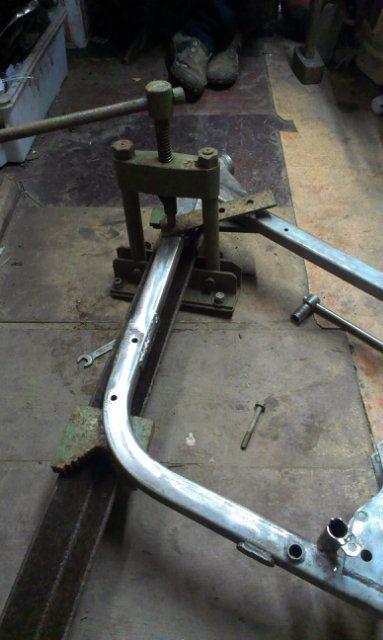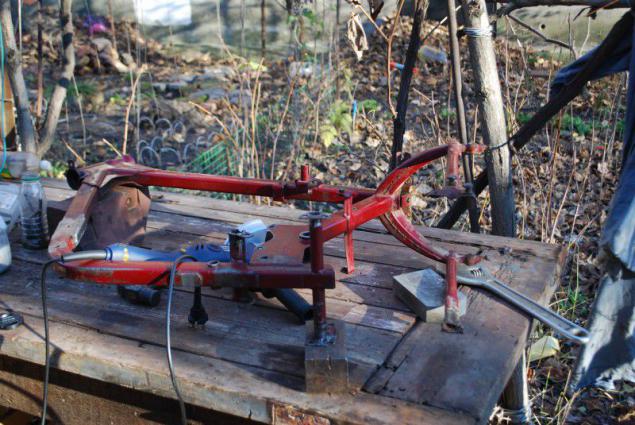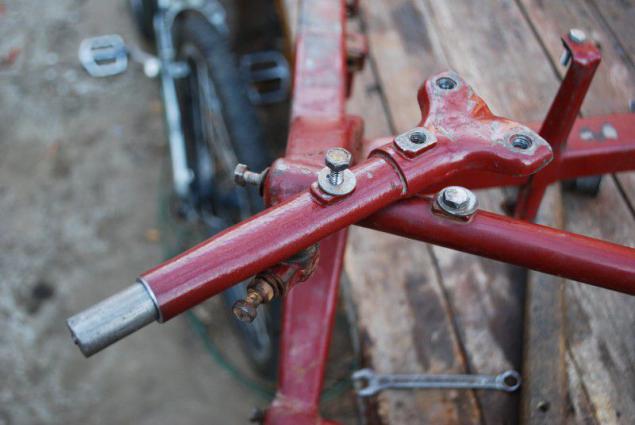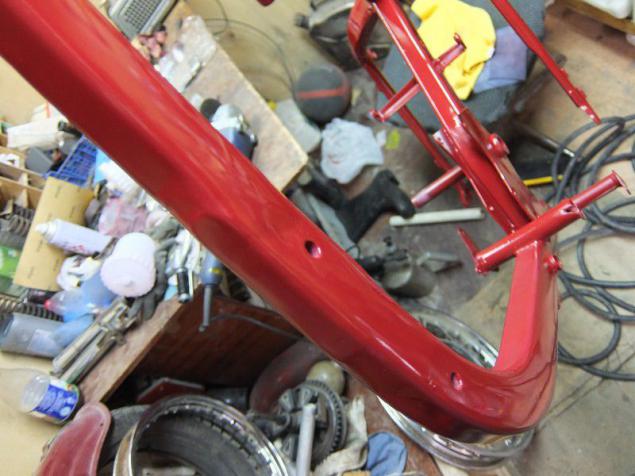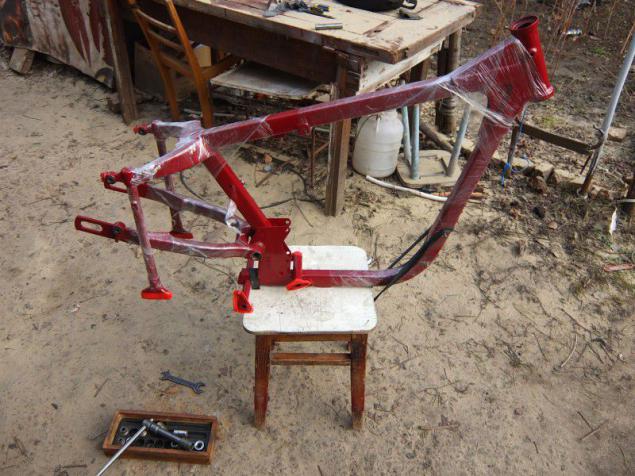 Tell us how we stabbed engine and capital, as well as about how I learned to paint, and, accordingly, painted all the elements of a motorcycle.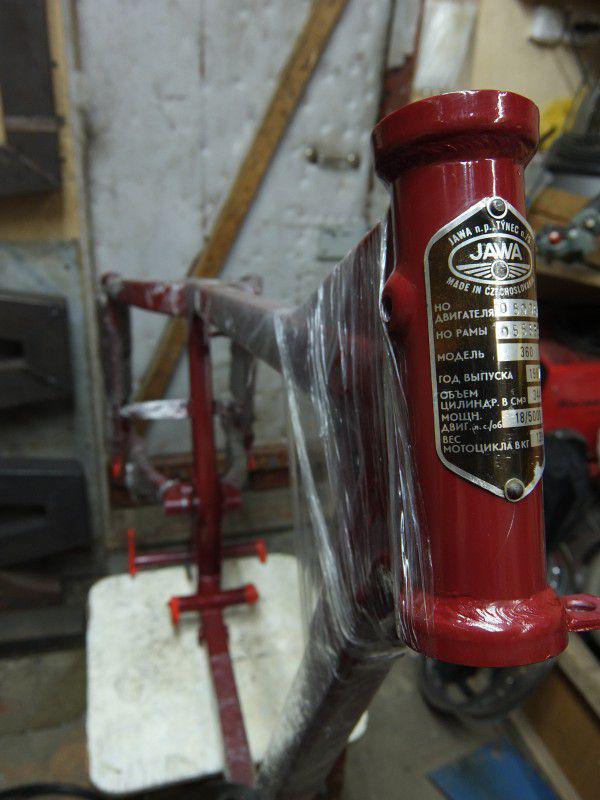 It was winter, introduced me to an interesting man his name is Gene, he is engaged in the exploration and resale of spare parts of motorcycle Java, to visit him sit talking about motorcycles, fishing ... in general the winter I called him with the words "... need otkapitalit engine Java Starushki" , to which he replied "... not a problem, bring, let us study." Brought the engine to negotiate the price, incidentally asked for him to watch all this and help. Came the warm days and we split my engine, and then I brought another one, which we are also subjected to the same operation.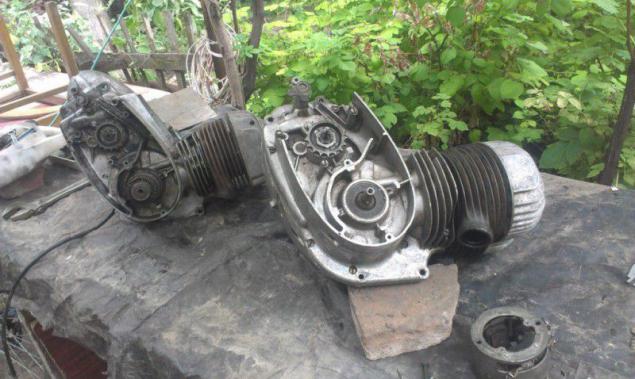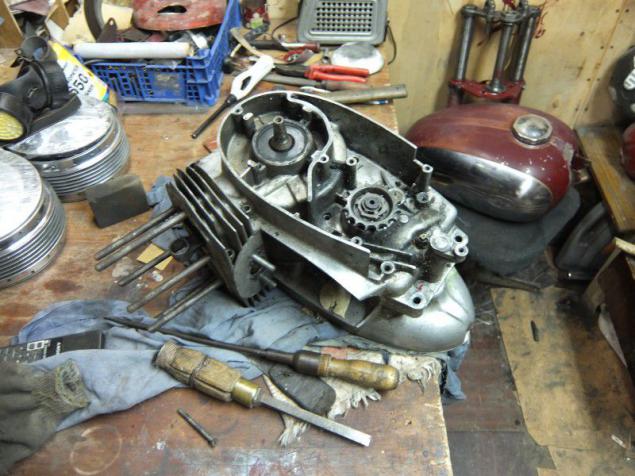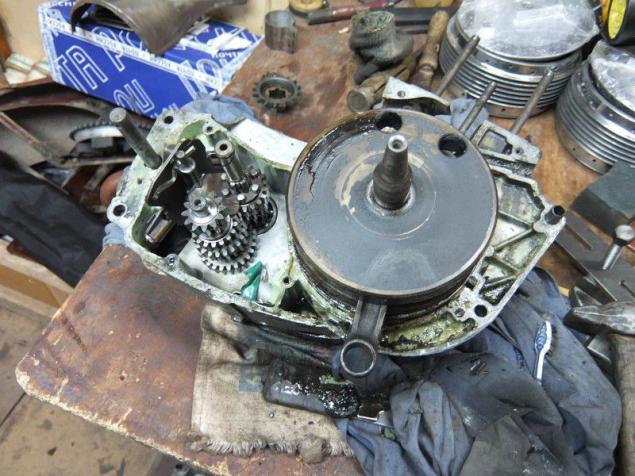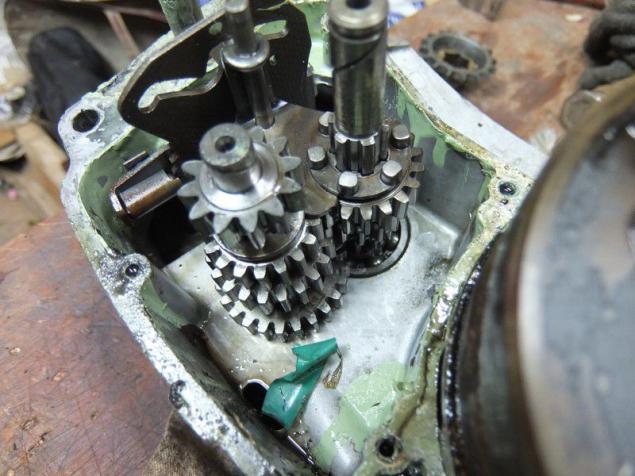 Troubleshooting When was culled to 70% of the parts, one housing and one crankshaft. Thus from a living I stayed crankshaft, which had perepresovyvat, change the bearing and align, just less suitable housing (suitability of it was in good condition seats), several gear box, clutch basket, everything else had to be changed. Just had to sharpen the cylinders at the second repair, and look good original piston. All not move quickly, while I was looking good - quiet bearings, Gene sharpened cylinders, while I washed and prepared for assembly housing, Gene worked crankshaft. When all the work before assembly were held, it was necessary to wait a day or of a fine and collect dvigatel.Den this I pressed for a long time, This winter we stood out on the abundant snow. In one of the most beautiful days of the snow is gone and it's not as ends, all this took a long time, to such an extent that one day, the road was covered with so much that it could move the car, on the slopes of frozen people, missing bread in shops, One of these days I went for gasoline go up to a gas station, asking me to pour 10 liters of 92go, and they require a card, I neponyatkah ask for that card. It turned in mind the weather conditions at the pump began to run out of petrol and was not bringing up, and introduced cards that were given fire, emergency and similar organizations ... I am disappointed smile turned around and went the other way to buy gasoline kerosene in place, it was necessary for me that would wash my zapchastyuhi. Until cleared the road until the temperature has risen much time has passed, but the day was coming inevitably X.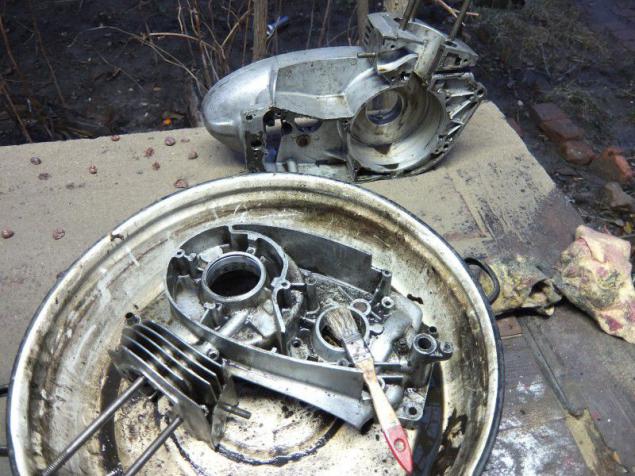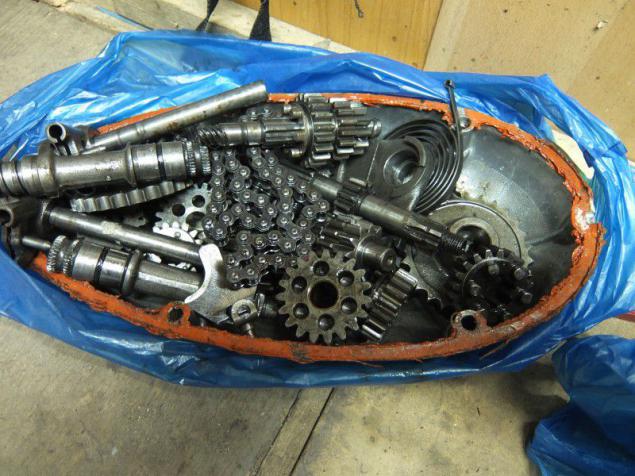 And he came, I came to the Director and we started at all about everything we spent about three hours in passing, I learned a lot of secrets and subtleties of this particular engine assembly, and vowed not to disclose them to anyone. (One I will reveal to you - Piston finger on the nose prolazit into the hole designed for worm gear transmits the rotation of the secondary axis gearbox Speedo cable). We have collected the engine, I was happy, had polished cap and can be used. I took the engine until he was standing in my studio I polished cover. Later began assembling the frame, and the marriage of the engine to the frame.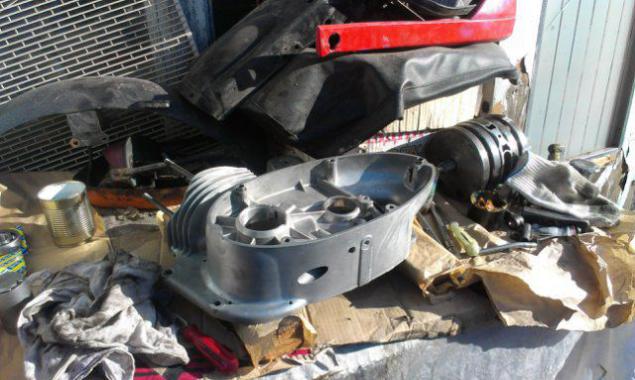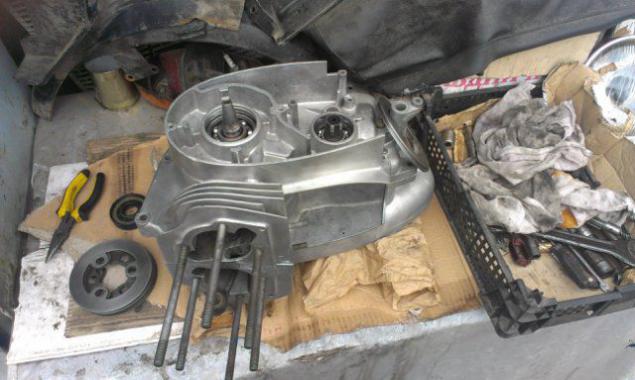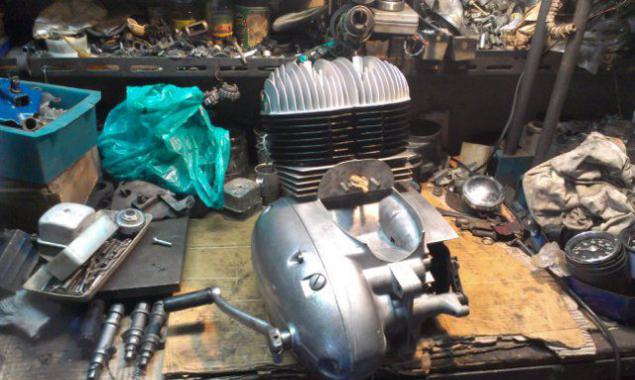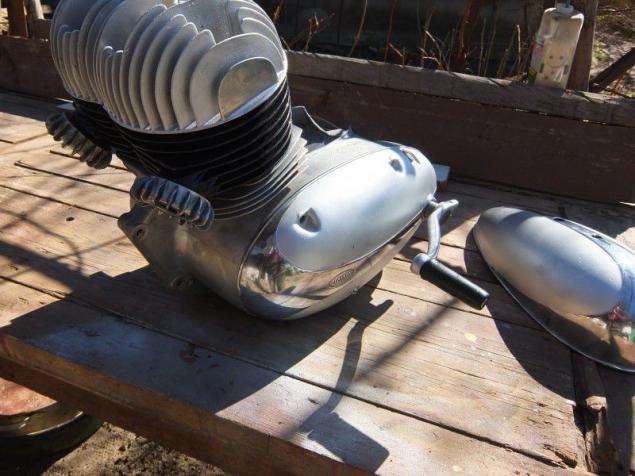 I work alone so I had to invent sophisticated methods of installation of the engine on the frame such that would not hurt your back. I eased the engine as I could, and using Russian Dictionary mat hoisted into place. Next was to lay the wiring, since the original posting are hard to find and very, very, very expensive, I bought a bunch of different colored wires, a handful of connectors and crimping tool.
Wiring spent two evenings, and on weekends I was waiting for a ceremonial start of the engine. Until the end of the week I went representing this action, frantically tugging foot during sleep (if I pull drin-stick) scattered in the surrounding drooling, emitting sound of the engine, in general, from one of my friend, voiced the opinion that by the end of the week I did not live to see it.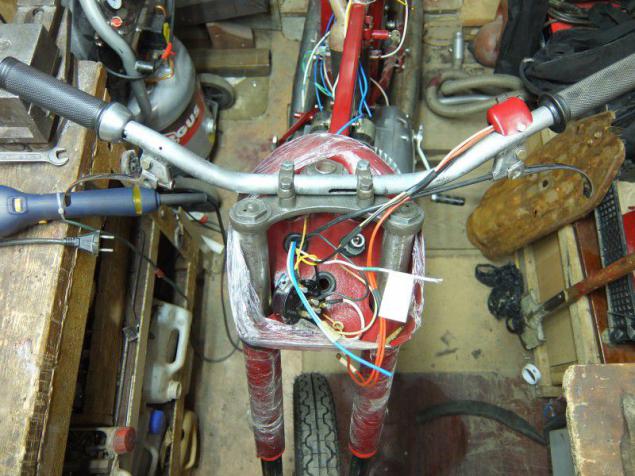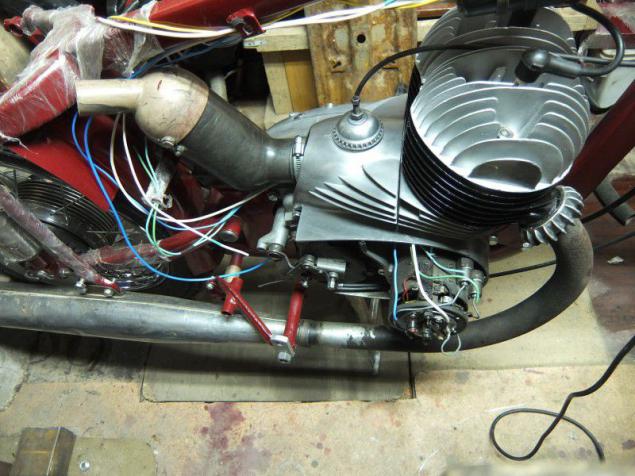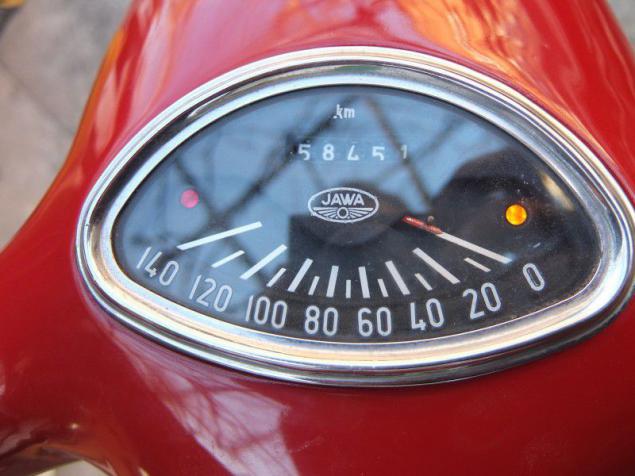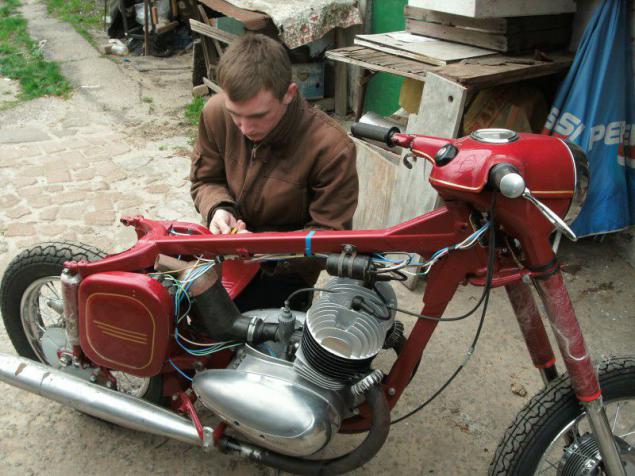 You can not imagine how I would like the engine wound up with the first kick, unfortunately it did not happen, I had to pull a few times, and then podsosat it for ORAL (I just was too lazy to put silencers, spend time on it) after the first run again put the ignition , threw silencers and tuned carburetor. More Upcoming FUOZ buy, buy knees and pipes.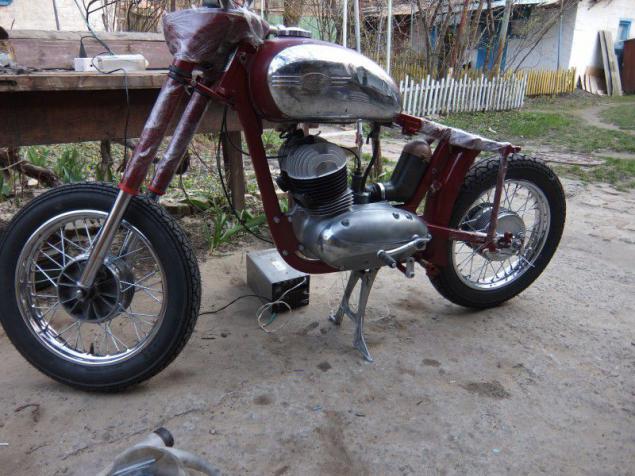 In parallel, all the above-mentioned work, I studied painting, polishing and assembly of metal wheels. In our city, no one wanted to do painting small elements, or asked a lot of money. I immediately thought otmёl paint in some Cantor began searching for the compressor and the remote in the end was chosen compressor 220 liters per minute, with a 40 liter tank. Remote simple with all the necessary adjustments. So I bought a gun for sandblasting. 60 year old paint that gun, struggled with great difficulty, and then I took the Body 700, in conjunction with sandblasting it yields the desired result. So I struggled with each element. Then came the primer and paint, then polishing, nothing tricky here, you need to expose a handy torch for you, to put pressure to avoid sharkskin and pour so much paint on the surface as you need.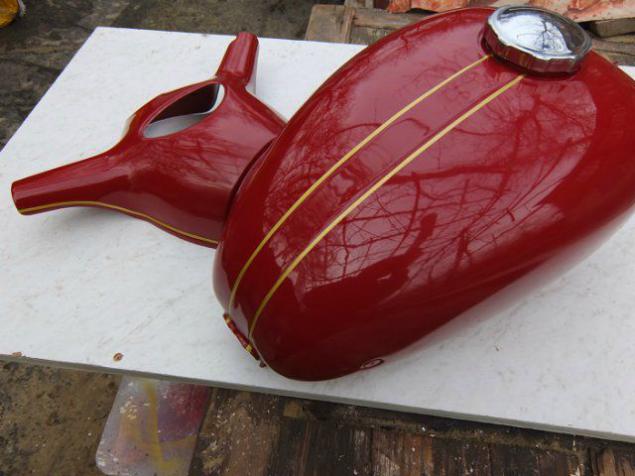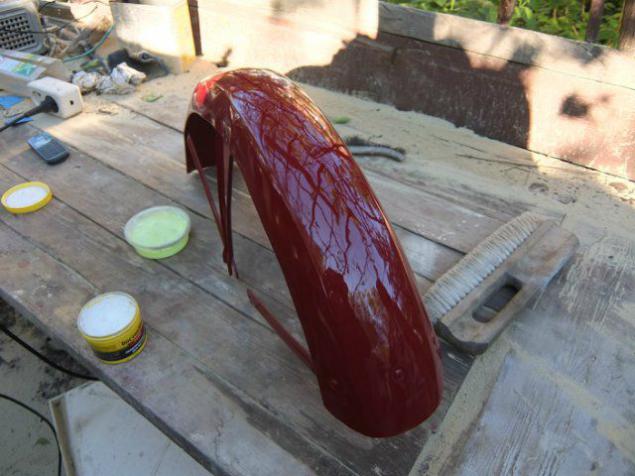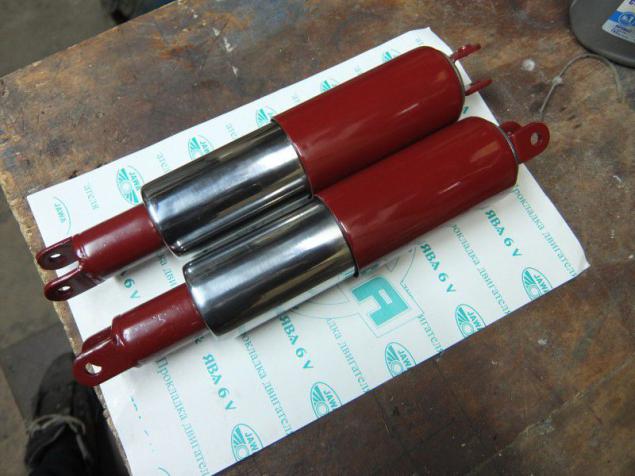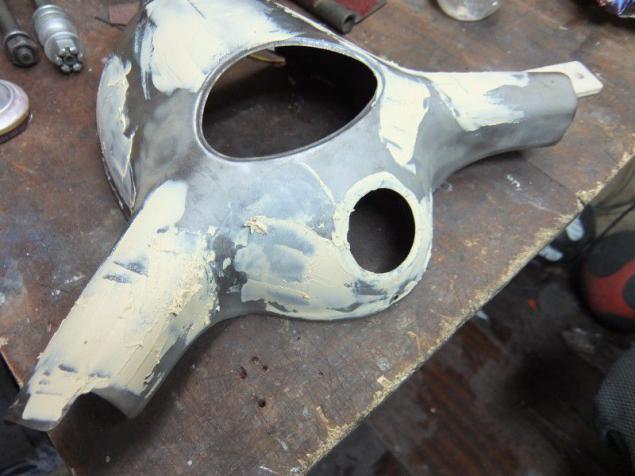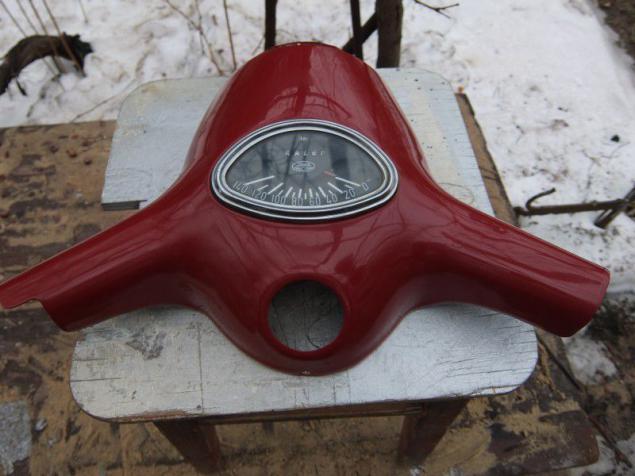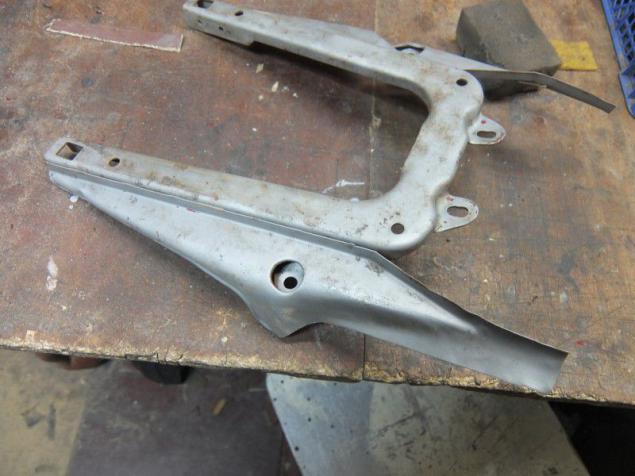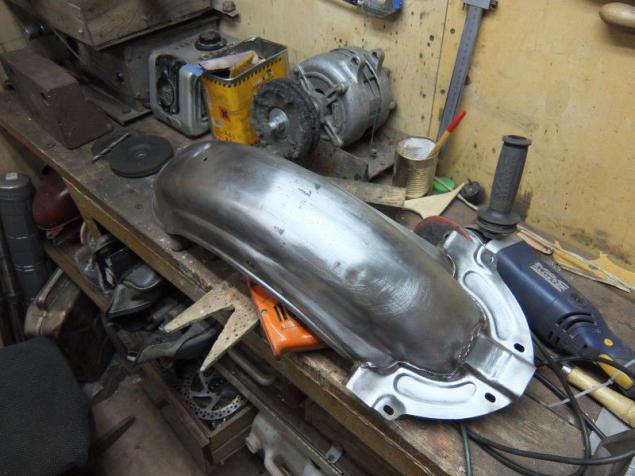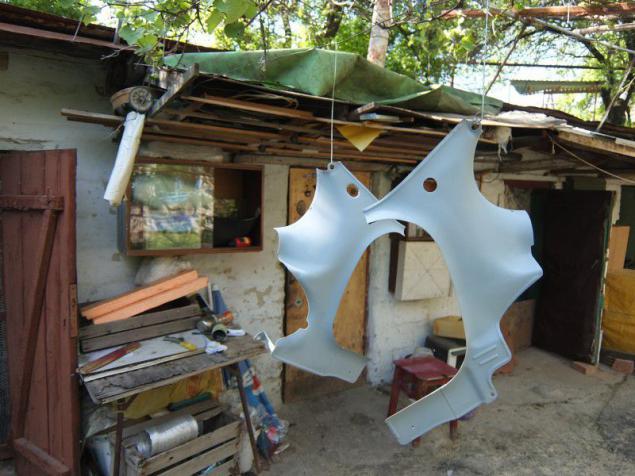 With tsirovkami another story. At the factory on Java tsirovkami worked only women, they came to the factory, they were given a brush and a glass of water, the first half hour they drew their water to develop hand and feel the painted detail, then they were given paint and they began to draw ... artist from me no, but still had a great desire to draw tsirovki by hand, on the Internet found a special brush, they are intended for pinstraypinga but was afraid to order them. In total bought a special tape thickness of 3 mm and 10 mm, and "painted" tsirovki remote control. Polishing was acquired Bulgarian with adjustable revolutions from 1000 to 6000, the softest circle and paste 3M 2000 2500 sandpaper (in wet). In this case, the main thing is not to overdo it and do not whittle away the paint to the ground, the benefit to me it did not happen, all the elements have been successfully polished. So I stuffed them skill for painting and polishing, has acquired all the necessary equipment, while saving compared to the price of the requested suitable paint offices.
Just had to deal with all the brilliant elements, the entire motorcycle fasteners must be either a chrome-plated or galvanized. Galvanized everything is simple, but very few people willing to chromium do, after all, I found a man othramiroval necessary spare parts and rolled a lot of dough.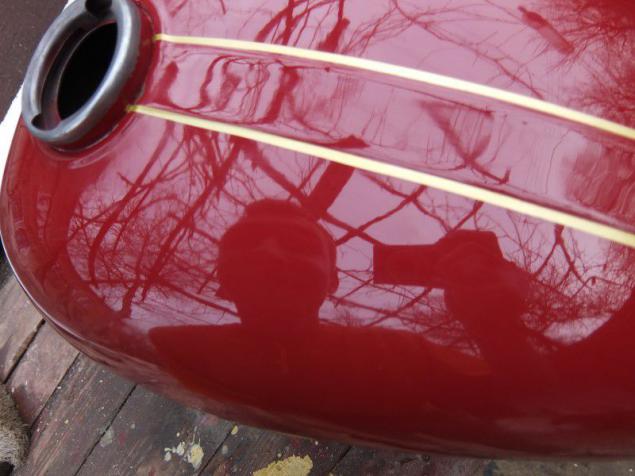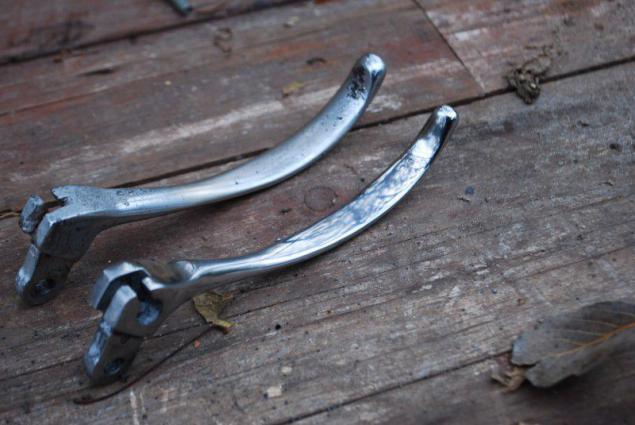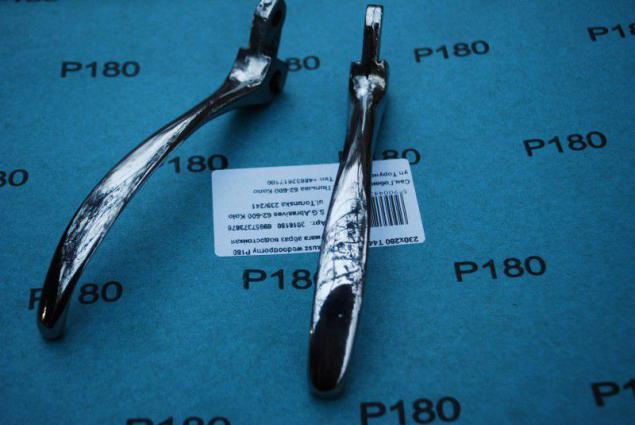 Just had to polish the drums wheels, bearings change in them, replace pads and assemble the wheels back. With overlays another story, I think everyone understands that hat rivets must be recessed into the cover so as not to rub the drum, as I reversed rivet studs, drown them was not so easy, it was invented by a clever way, between the rivet gun and paved Gadget The result is a good result. Spitsevat I trained on the old spokes and the rim of the old, after two attempts, I moved on to the main wheel overalls, first given to me hard, I see the rim was a little crooked, but still I had brought to the desired condition, a second was for easier on everything I spent 3 hours - 3.5.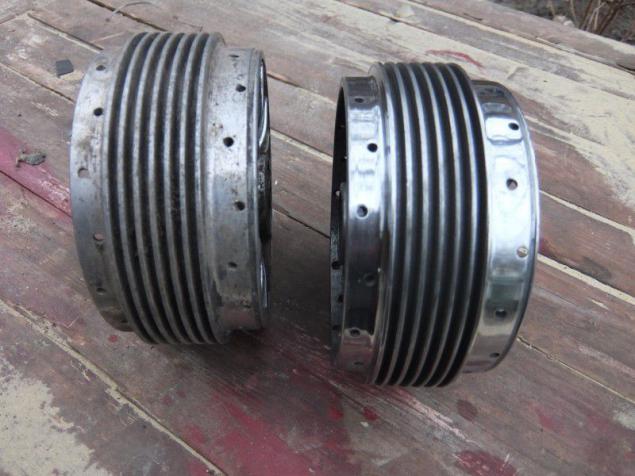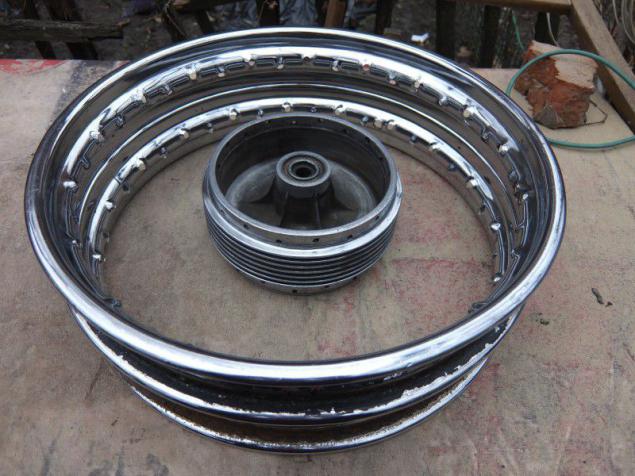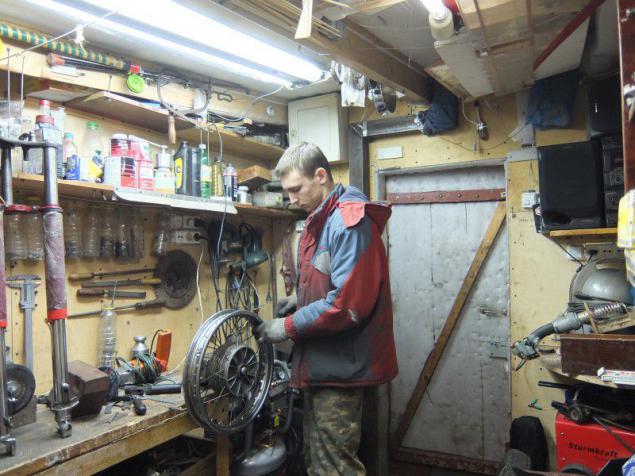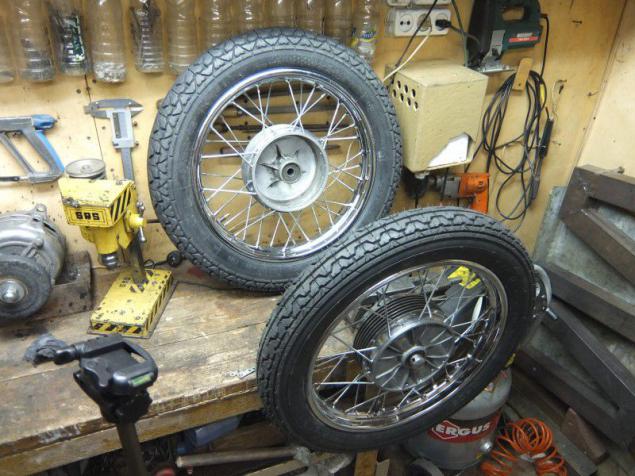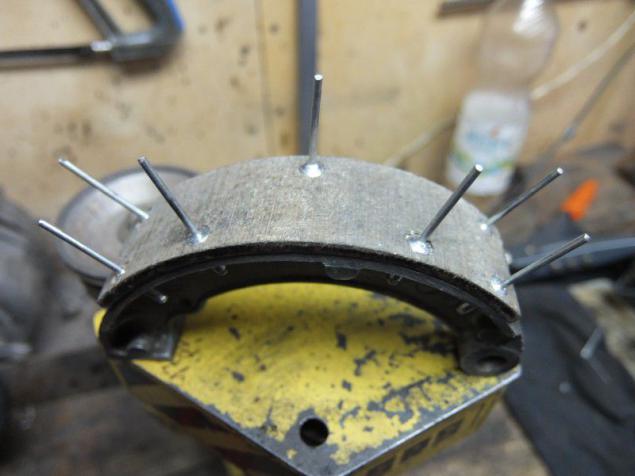 The last time I had finished at that tell you about how I would start the engine. After this magical effect I had to alter the seat, order a tube from the Czech Republic, and electronic ignition from Ukraine.
On the seat was no special problems, the benefit of perfectly preserved mikroporka ("Foam" basis seat) but the base frame (metal base) had to be repaired. Repairing the base frame, I phoned the man and sent all this stuff to Anapa, where Uncle Kolya had to sheathe my sidushku by all the canons of Java. Generally sheathing seat Java controversial issue for many years, there were many different versions, some people claim that there were chants, some sewn with white thread, in general, there is a lot of controversy, but they all fade away when the light appears the original seat of those times, all fall silent and let drooling looking at her. Uncle Nick has in its arsenal almost all original Seats and sews as necessary. Seat sheathed, and it came back to me. I went to the post office to pick up his sitting on the wing, while driving cursed road, my tailbone was shocked by such visits. So, took Seats, established rural and went, and then I waited for the worst adventure. Since leatherette was still fresh and new, I slid a little on it, and gave gas and crawled back, braked respectively crawled to the tank. Imagine how you eat at this Seats, about 60 km / h, and then turns sharply to the bus stop (in Rostov marshrutchiki do what they want, what is the turn signal they probably do not know, and motorcyclists for mosquitoes probably think) so this ghoul decided to turn out, and here I am, doing nothing, begin cutting ottormazhivatsya respectively slide to the tank iiiii all the fluff trying to take away his virginity ... uuuuuu, how hurt ... came home wiped Seats, the problem disappeared.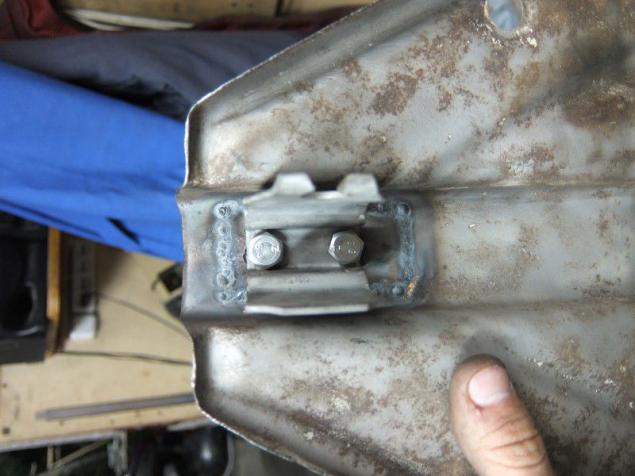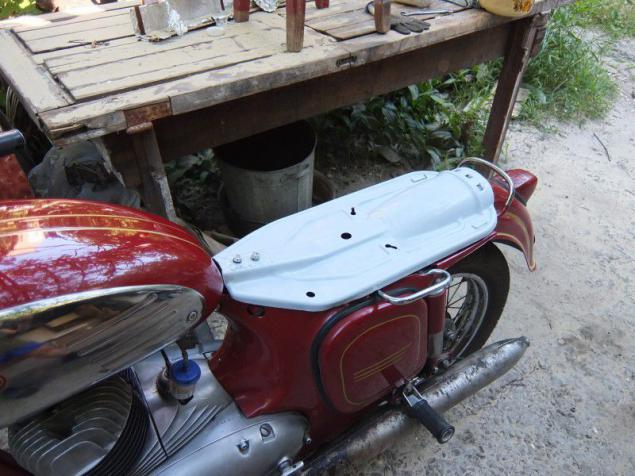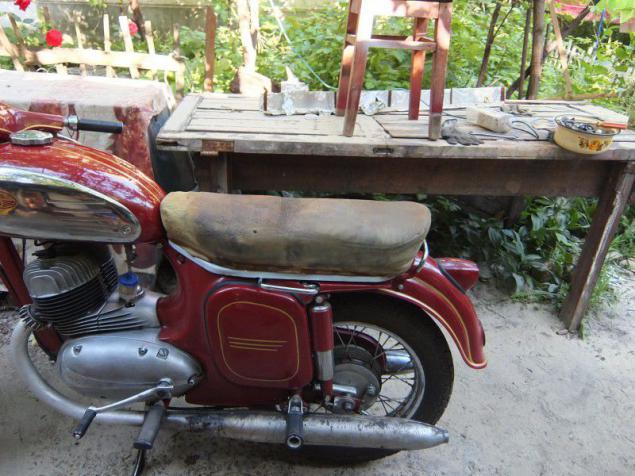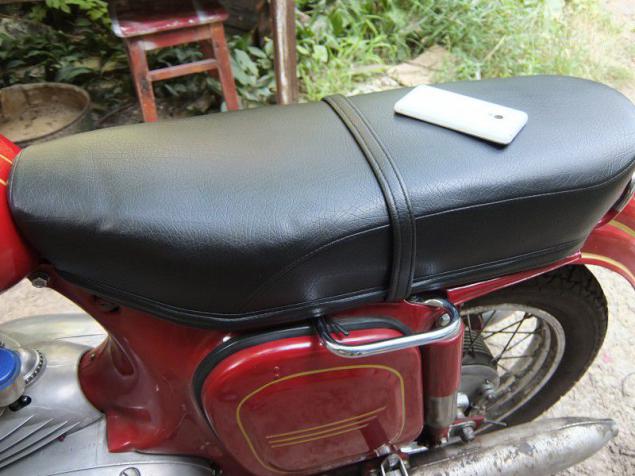 Originally stood on a motorcycle cam breakers, I have always had a problem with them, since it is difficult to find a normal cams went on what was, and shoot down the ignition time. Solution table buy FUOZa on opto-sensor, on the adaptation of the wiring took 2 hours, and I successfully launched the bike almost from the first kick. Optics pleased with the work, but still in the shower while there is still doubt. The fact is that the cam system more reliable, well, so for example, if you went down one cam or one of the coils, with grief in half, but you can get to your destination on one cylinder. And if you are out of order two lead-out coil, spark immediately disappears in both cylinders, the same thing if you got off the ignition or even worse failed opto-sensor, a spark is lost in both cylinders and you immobilized. That's why I think the cam system more reliable, but it is possible to solve this problem the two coils and two opto-sensors.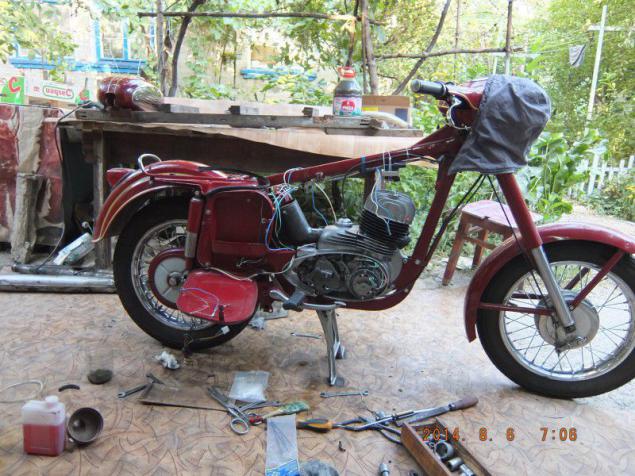 Original pipe now a big problem, they are hard to find, and they are expensive. Even if I bought them they would have hung on my wall, I'm sorry to put them on a motorcycle. The solution to this problem is in Turkey. Turkish children have learned not to do bad new pipes, chrome is not bad, weld quality is also acceptable, in general, I have Steam pipes, knees (pipes) Turkish billet, chrome put them in the Czech Republic, they simply will not trust the Turks. The fact is that if you put a thin layer of chromium it is likely to turn blue from overheating, and the Turks sometimes skimp on this, on the Czechs themselves put chrome. With the exhaust system it was decided, ordered, and a couple of weeks it was in my hands.
Could only kick bike polernut him and arrange a photo session. A! Well of course still hang on his numbers. On the issue number, they do not have forever to MREO, or have but very little, so little that I do not have time to reach them as they end. Below I present a list of your expenses on this bike, I want to warn in advance, do not be frightened of total sum, I do not want to make it deterred people who want to deal with such cases. Despite the fact that the amount is large enough, I still fulfilled his dream of being a student, earning 9,000 rubles a month, it took more than a year, but this thing does not tolerate haste.
Meet her name is Anastasia. The fact that I've always liked the name Anastasia, I decided to find out if the Czechs similar name. In the Czech language has a name Anastázie, in Russian it sounds just Anastasia, in the Latin form, it is written so - Anastasia. Next on the list endearing diminutive - Stázka, Stáza, Anastázka, Stáňa, Nasťa. That's the way they sound and are written in Russian - Stazka, stasis, Anastazka, Stan, Anastasia, in the church. context also - Anastasia. And now the most important meaning inherent in this name: the name is derived from the male name Anastáz, rather it is the feminine form of the male name here Anastáz.A Anastáz comes from the Greek name Ἀναστάσιος (Anastasios) - "resurrected" According to my logic will wear a feminine name meaning - "resurrected»