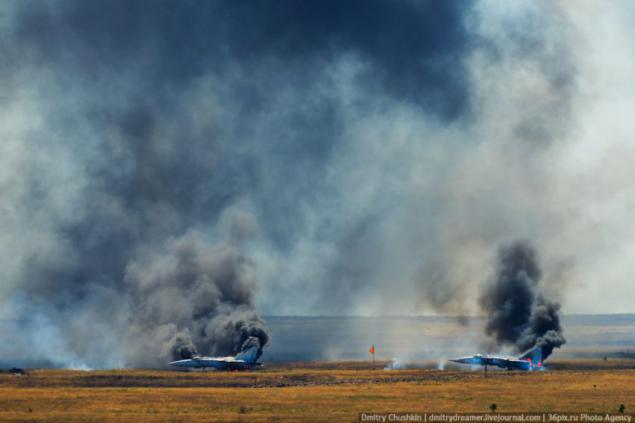 It all started with a pair of attack Su-25 ground targets unmanaged 80-mm rockets S-8. As can be seen, the planes are charged to the maximum, not a few missiles, as in the previous "Aviadartsah".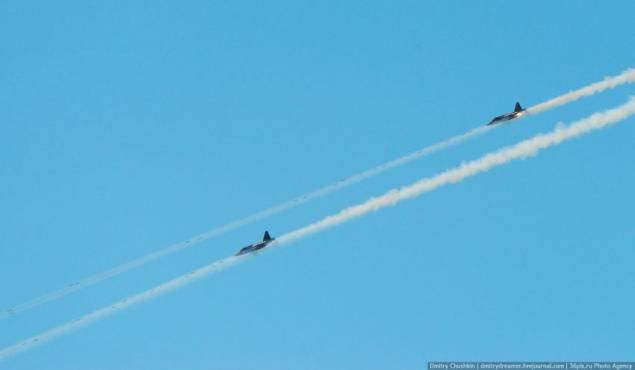 And looks like the result of applying these missiles. I can not without the traditional excuses: as usual, events related to aviation, almost always have to look into the sun. A haze at a great distance melts the last details of the picture.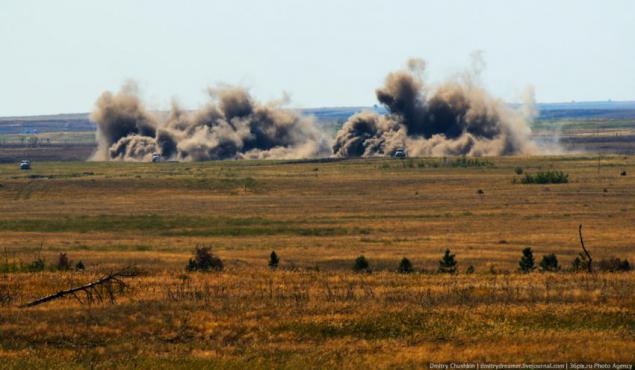 There is clearly somewhere got it seen and shot up the wreckage, and was heard in the negotiations of the crew.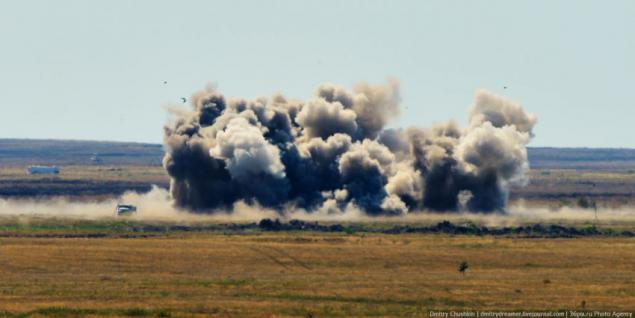 Fire and earth.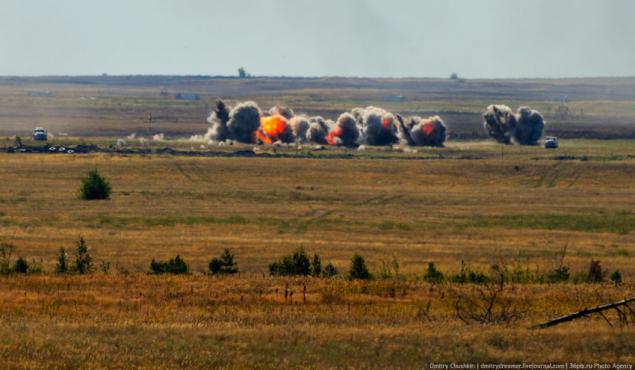 Chinese Su-30MKK blocks NAR C-13. This 122-mm rockets designed to destroy well-covered equipment and manpower.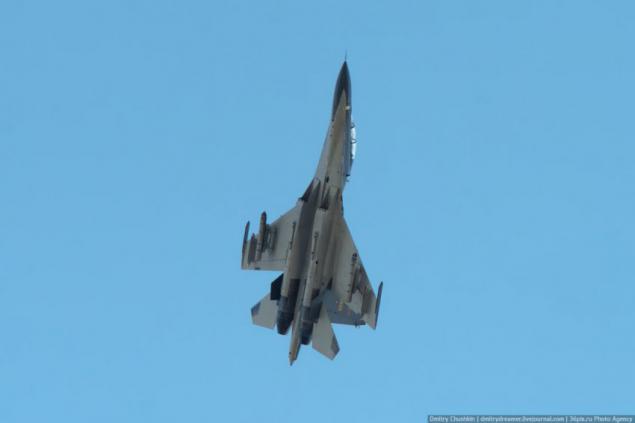 Little Hiroshima from the use of the C-13.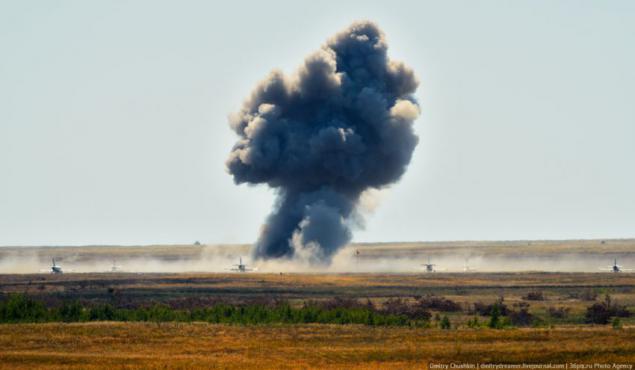 Do not have time to leave the aircraft as soon appear "Night Hunter" Mi-28N. And also with the NAR C-8, as well as to attack aircraft. Rockets are gone, and as you will see in the next shot - right on target.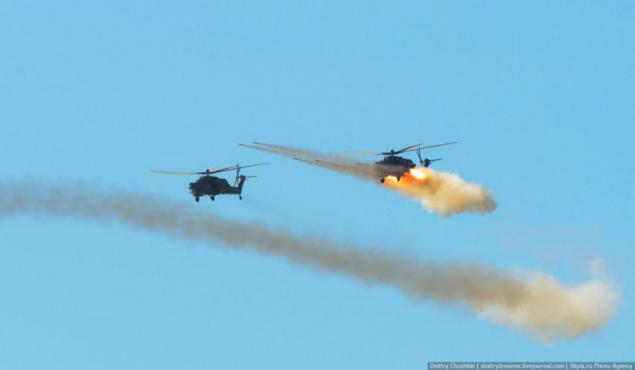 L-39 take care of all strokes. In general, while at the site, it is possible, in principle, close your eyes and just listen as the sound effects, much more impressive than conceals large distance kinds of explosions. Acoustics incredible, like being in a giant room.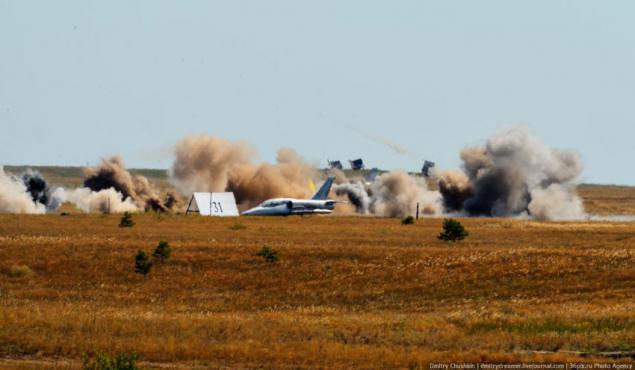 Due to a decent distance there are delays sound for a few seconds, a relatively visible eye pictures.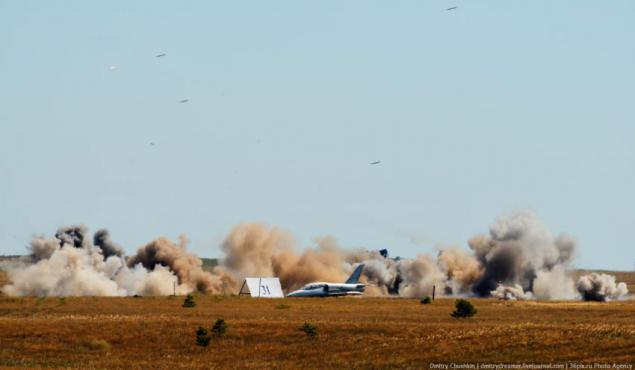 We'll go and see this Elkam and see what it after firing.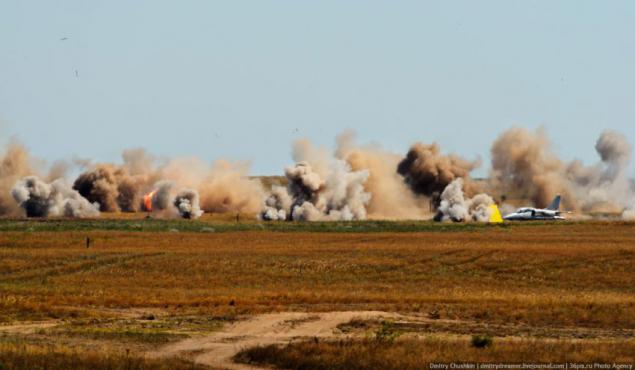 The Ka-52 "Alligator" generously sprinkles ground sleeves from 30-mm cannon.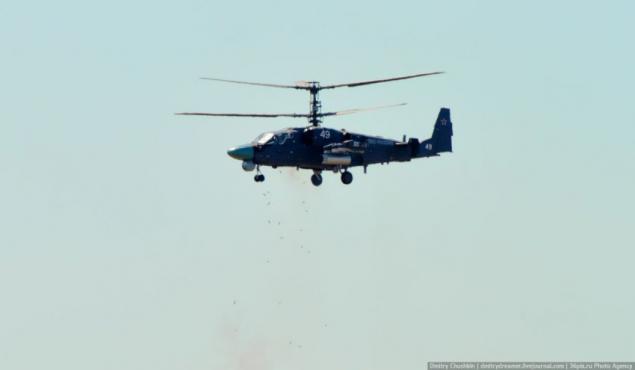 Again lyatyat debris. Shells pierced through the fuselage.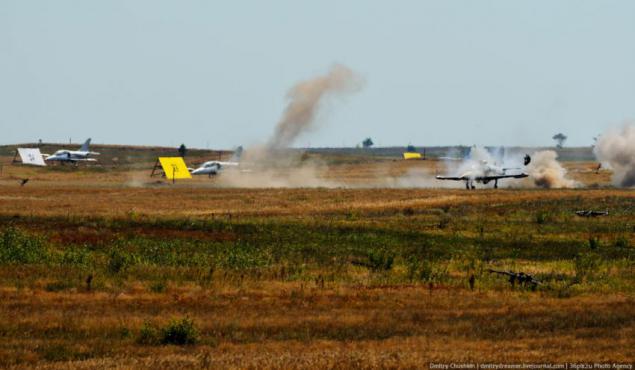 Heat and firepower, falls on dry grass quickly lead to a fire. Because of the smoke, although increases the realism of the situation, but, apparently, makes unequal parties, and indeed the fire is bad.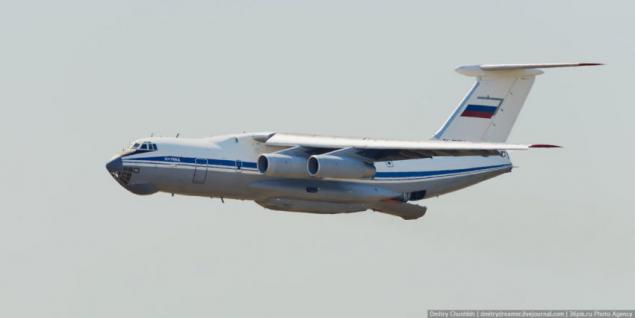 Fire Il-76MD merges 44 tons of water.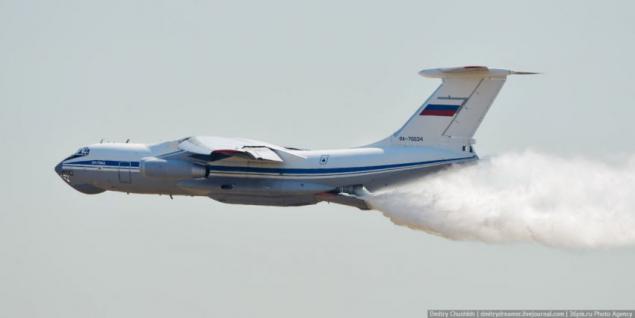 Looks very impressive.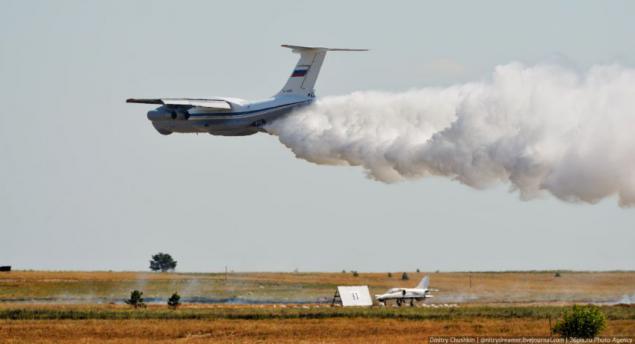 But where were spectacular two Tu-22M3, discharges 28 bombs of 500 kg each.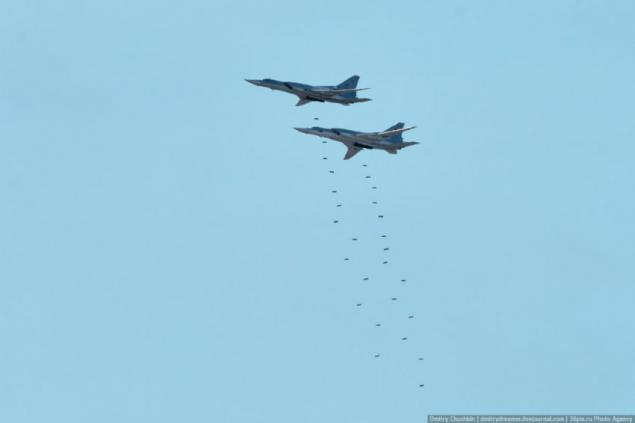 Some stood delay fuse for a few seconds to leave deeper into the ground.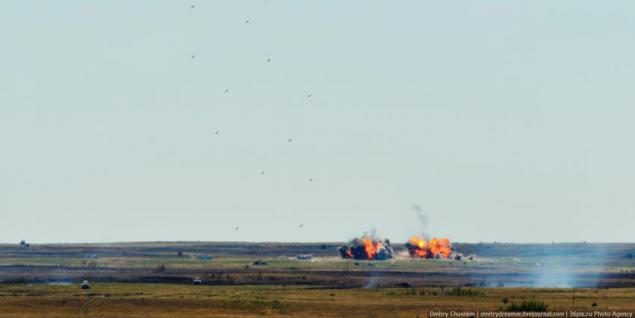 Of course, at this distance and on the flat plain of the use of these weapons might not seem so impressive (actually impressed how!). Now imagine that here, for example a plant or a large concentration of technology and more manpower. What remains of them?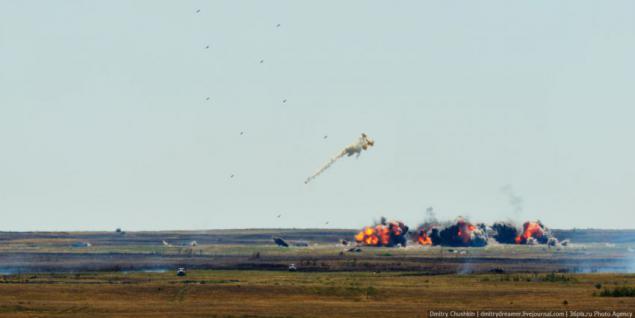 Up to his ears came the first rumblings of explosions, and the remaining bombs still flew to the ground.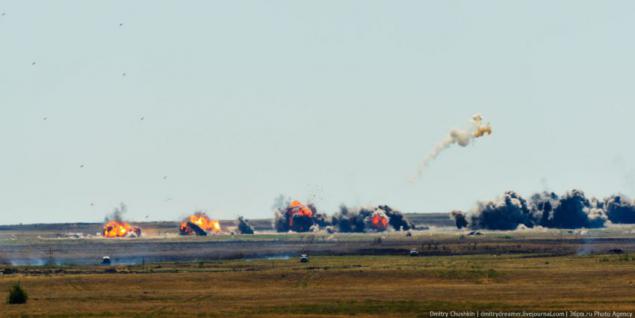 Here I do not understand whether it is special air blast, or easy to get. People in the know, please enlighten.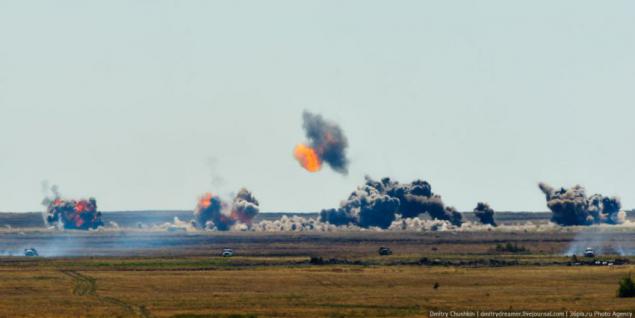 MiGs got tight, though still far enough away exploded. Aircraft, as were, and are.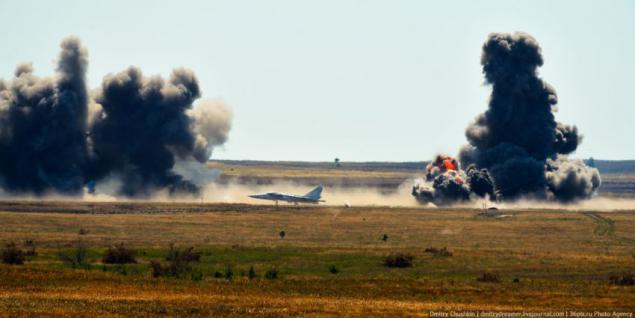 Smoke and all the land rises. They did not seem to stop.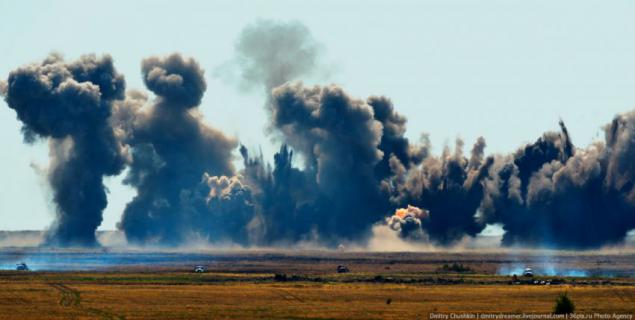 Black curtain symbolically completed that day.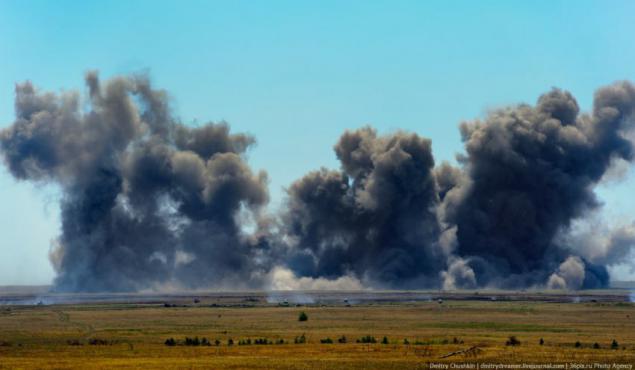 Long MiGs were still burning, emitting a thick black smoke. Perhaps, though I could be wrong, I shot it their flights, when I started to get involved in aviation shooting a few years ago. And now so ...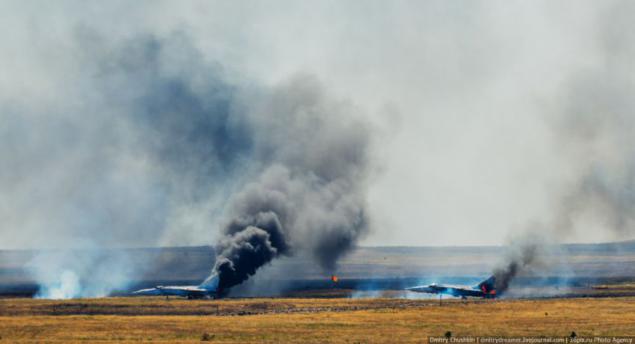 These shots were made on May 25 during the spring "Aviadartsa." We then immediately after the shooting were taken to the landfill, just where are "Albatross" L-39. Screens with numbers too objective.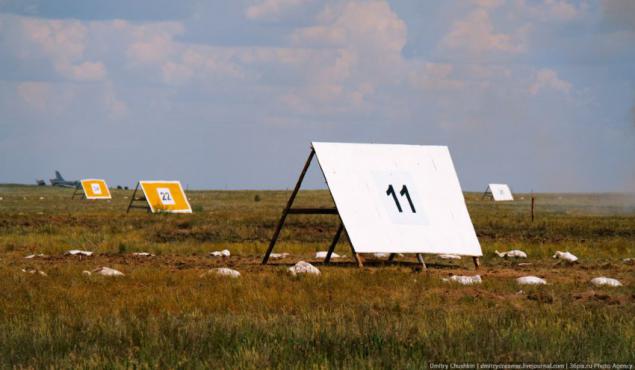 Even just half an hour ago, there were broken 80-mm rockets and 30 mm shells. Grass burns stronger. Around smoke.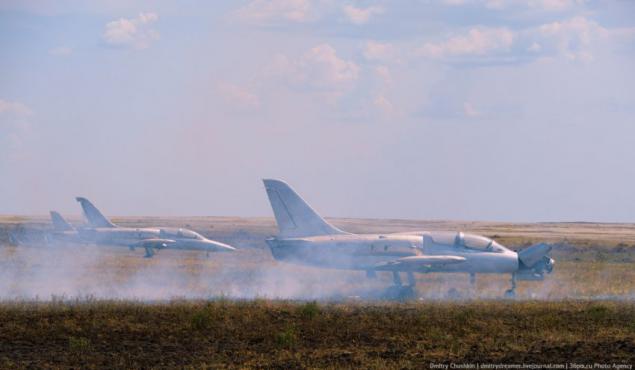 Match closer to raskurochennye L-39, when can a hundred meters, something babahnulo. I do not know what it was, but I think a brick postponed all.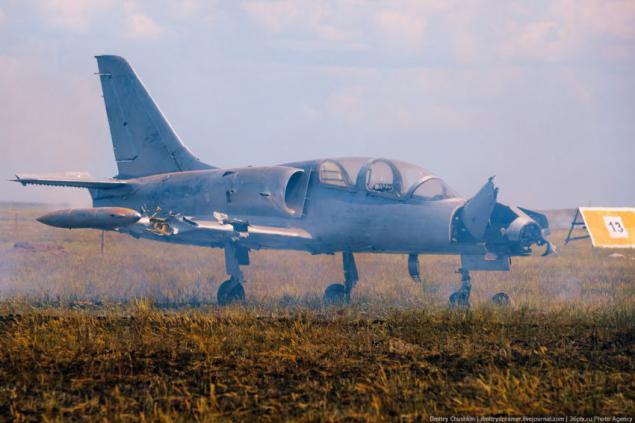 Most likely these lesions from 30-mm shells.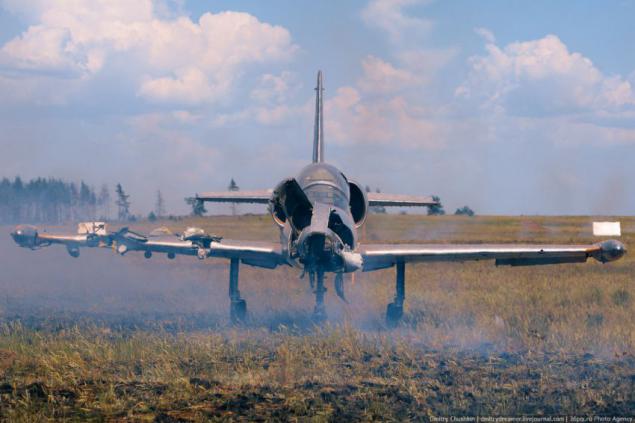 While bypassed plane near again something exploded.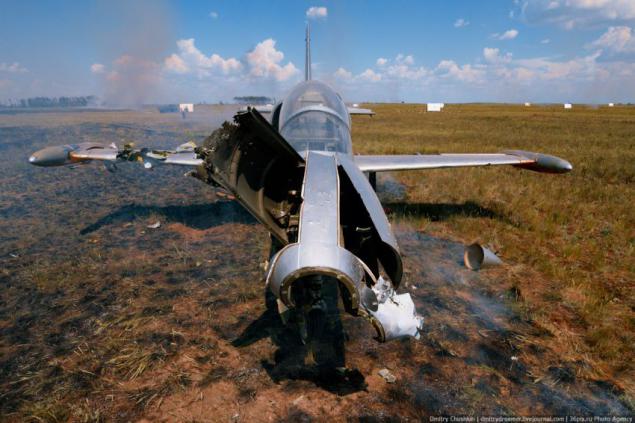 The ground beneath their feet burned.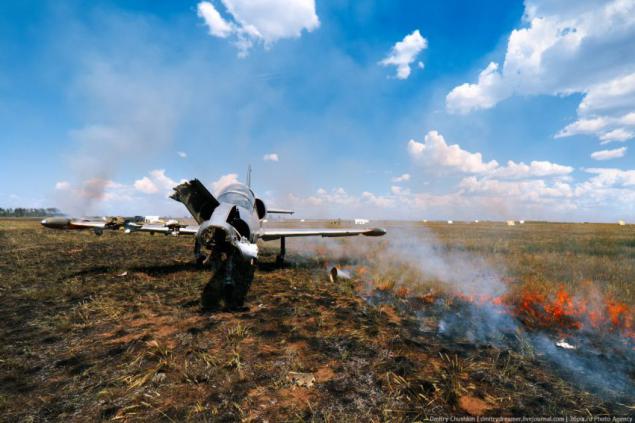 Apocalyptic, is not it?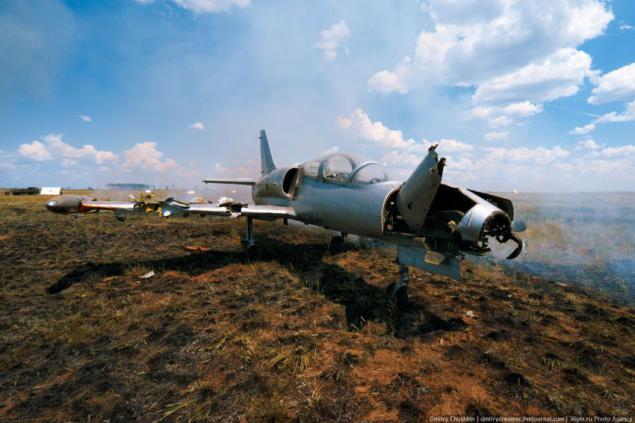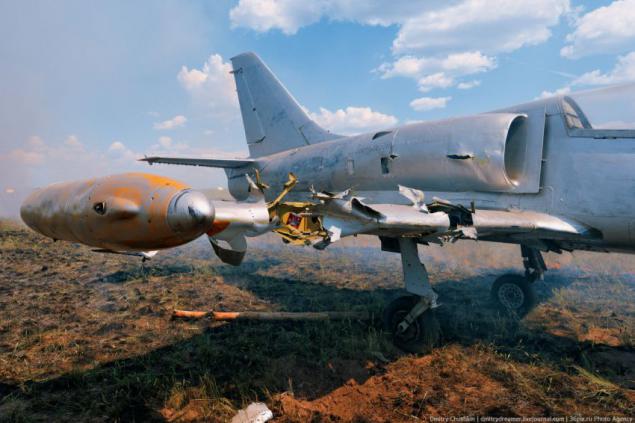 Russian crew took first place in the team event. According to the results the following. Do fighters: Kursk, China, Lipetsk.
In Stormtroopers: Kant, Belarus, VUNTS. The winners went on the Land Rover Freelander, runner-up at the Hyundai i40, bronze medalists - on scooters.
Next time I will show "Aviadarts" in the sky. In order to add some fun shooting and give more entertainment, arranged a small hour air show called "Aviamiks" with airplanes, helicopters and flight groups.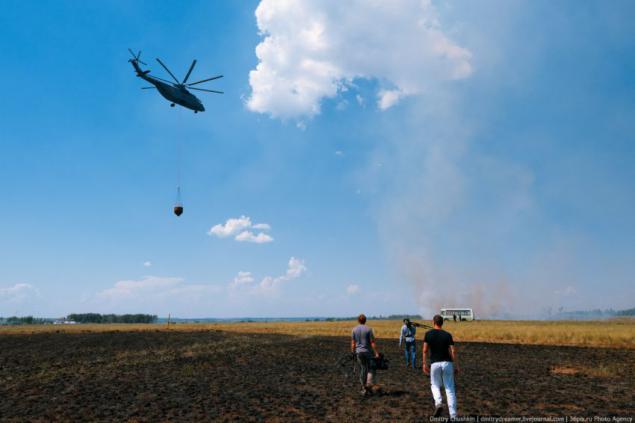 Source: dmitrydreamer.livejournal.com