Be one of the first car journalists who not only saw KAMAZ 5490 at exhibitions, but also went to him, an honor and a pleasure. I do not know whether we are ahead of distinguished colleagues from the "Auto Revue" Trucks and buses ", but that did not beat one more, very similar to the truth. At least Googling "test drive KAMAZ 5490," I have not found anything.
It all started in the winter when KAMAZ invited a group of bloggers on a tour of the workshops and scientific and technical centers, which we saw standing in the corner of the car, not like the so familiar to us Nizhnekamsk machines, and even secretly photographed. But did not publish, in agreement with "KAMAZ". Factory workers, in turn, promised to invite us to the presentation of the new long-haul tractors, and kept his word.
Under the cut story about the test-drive a completely new long-haul tractor KAMAZ 5490 and several cars.
24 via vova_maltsev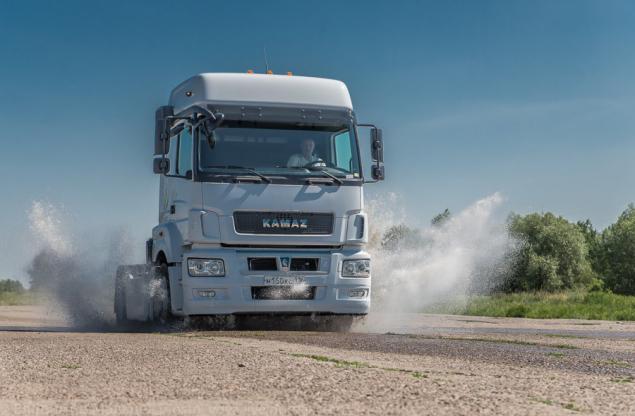 2. Old KAMAZ outdated. Do not just outdated - a guest from almost the middle of the last century, a lot of work workaholic, but is not suitable for this century - not for comfort or safety requirements or ergonomic workplace. It's time to retire, but in the meantime grew change.
The new model is created in close cooperation with the concern Daimler Trucks, which owns a 10% stake in the plant. That is why the design of the tractor used Mersedes-Benz engine power of 428 hp and a working volume of 12 liters, prepared in accordance with the requirements of Euro-5 and the cabin Mersedes Axor, meets all modern safety requirements.
I suspect that now begin discussions on the subject is not well KAMAZ, Mercedes repainted it and hung label. No, comrades. It KAMAZ. In the global automotive engineering has long been completely different models from different manufacturers are often built on one platform or common units. Moreover, the entire filling the car, except for the cab, engine, gearbox and drive axle ZF (the last two are not its production unit in the vast majority of manufacturers in general) - site.
3. Prior to the test drive we were warned that the wheel will not be allowed, except to touch. But, seeing the approach KAMAZ, I immediately realized that it is said for the sake of, because we need. Empty. And, of course, let them - not on the highway, on the range, but it was enough. On the highway we bowled driver almost descended from the TV screen, where the twist series "King of the Road."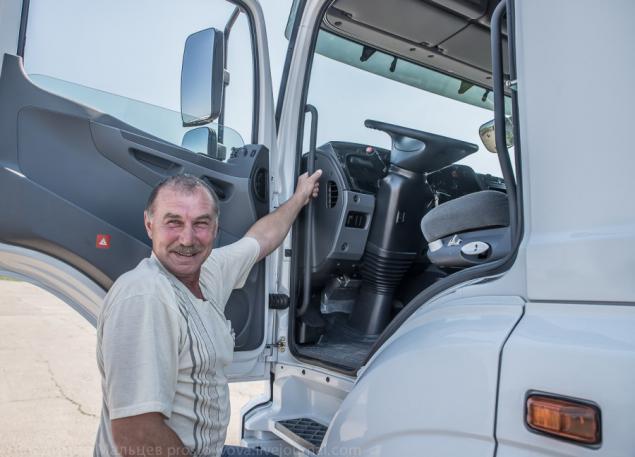 4. The car turned out nice and comfortable. Lots of space, a hefty dodger_37 Misha stood in the cockpit in full view. Behind two full beds. The seats are comfortable. Weight of shelves, drawers, baskets for all that awaits truckers in a multi-day journey. Ergonomics I claim there is only one - a healthy hub wheel covers devices when turning. But we explained that the dashboard trim is not final and will be further developed, including taking into account our comments.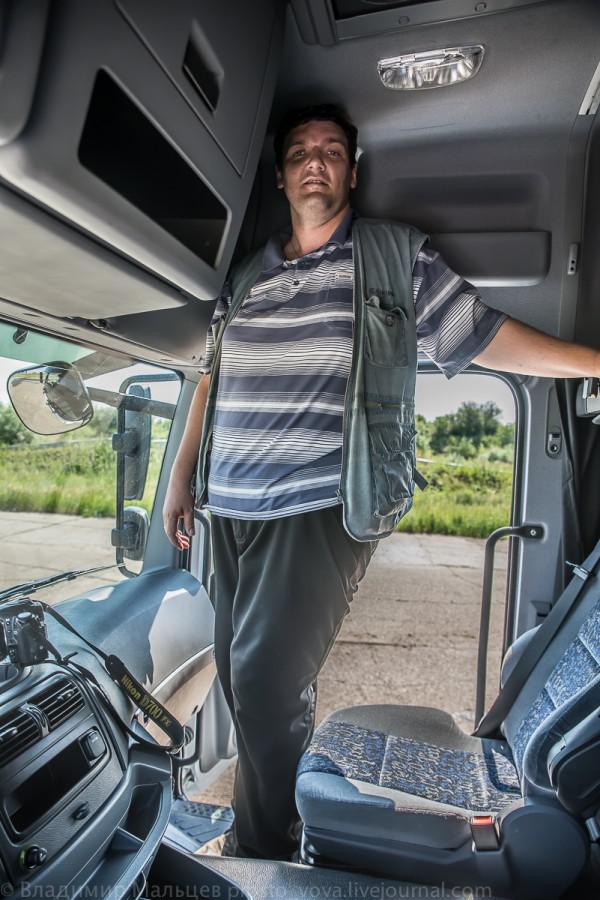 5. Yes, there is a tunnel of a motor compartment, flat floor could not do that. But it is very comfortable to sit!
Next picture is not mine, I took it from the site
autompv.ru/new-auto/327-kamaz-5490. html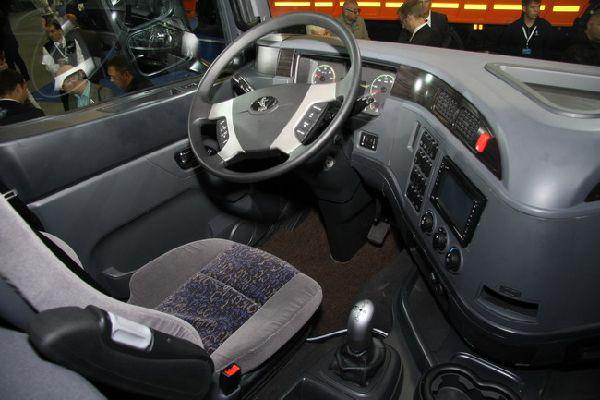 6. Probably the materials used are not ideal, but first, you need to reduce the cost of the machine to increase competitiveness, and secondly, in comparison with the old model, is the pinnacle of comfort.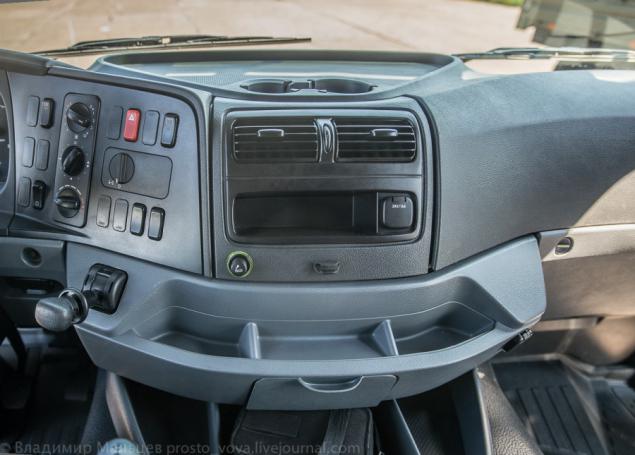 7.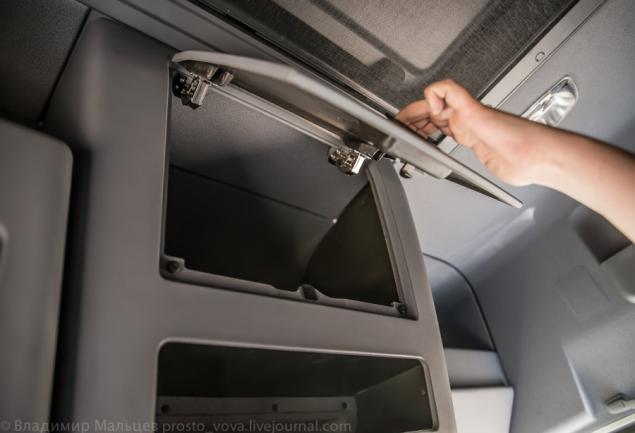 8.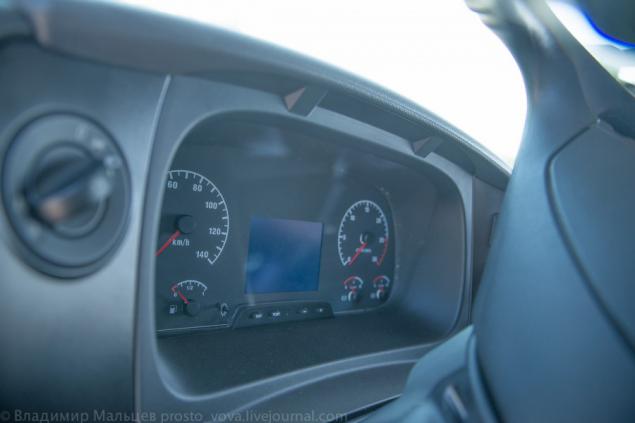 9.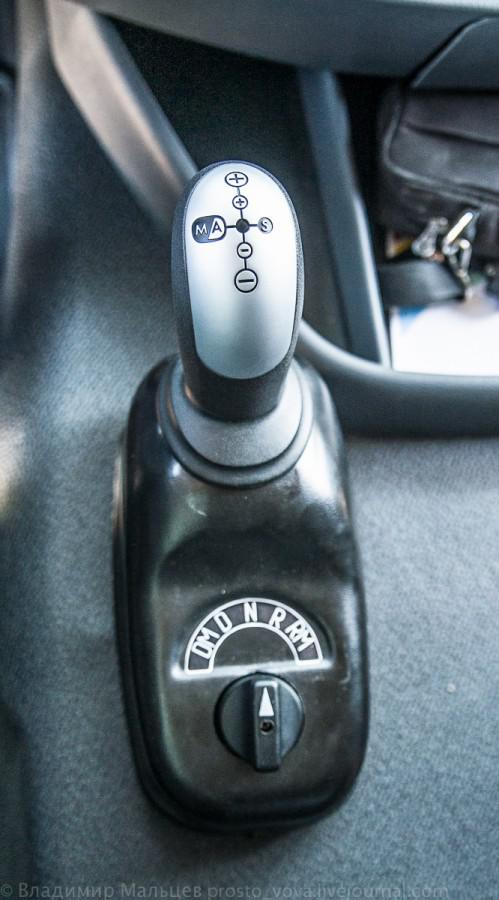 10.
11. And now for a test drive.
The first time I drove a truck in my life, riding steers "Nochtnogo patrol" when I was at Mosvodokanale not counted. And I do not think it's so easy and convenient. It's easier than by car, honestly. Excellent visibility in all directions. Lightweight, yet informative wheel, just huge unusual size - by the way, surprised, and why not make a small truck wheel? A tribute to tradition? Sitting at all at times more convenient than cars. At times!
Automatic transmission smoothly and quickly shifts gears, and in manual mode there is a choice, one or by two notches to switch. In the cockpit excellent soundproofing.
Stock traction stunning. Tractor without load is the dynamics of the car. It is clear that with the load it will be slower, but more than 400 horses it's still power.
This is driving my colleague Alex nasedkin - he is also the first time behind the wheel of the truck, and it all turns out. And he likes! If Alexei tired treat people, it definitely will go to truckers!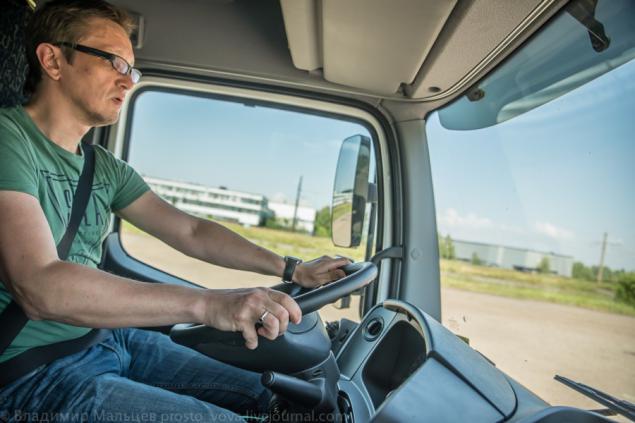 12.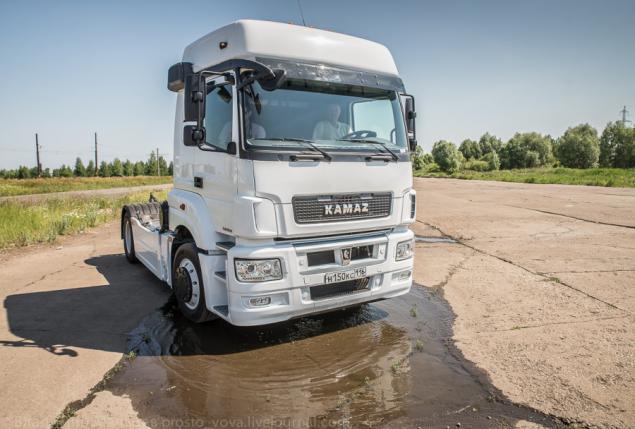 13.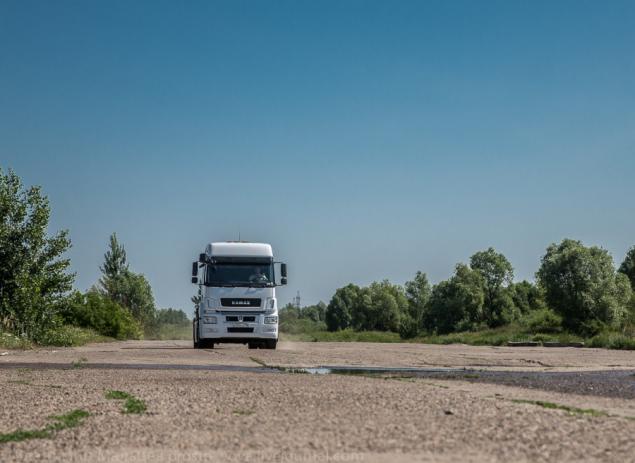 14. We are all very inspired by this puddle when at high speed through it sweeps KAMAZ produced spectacular footage. Here Martin martin aims, and I'm lying on the pavement with a camera. Now we get a shower, a nice in hot weather. Shower of KAMAZ - the coolest shower in my life :-))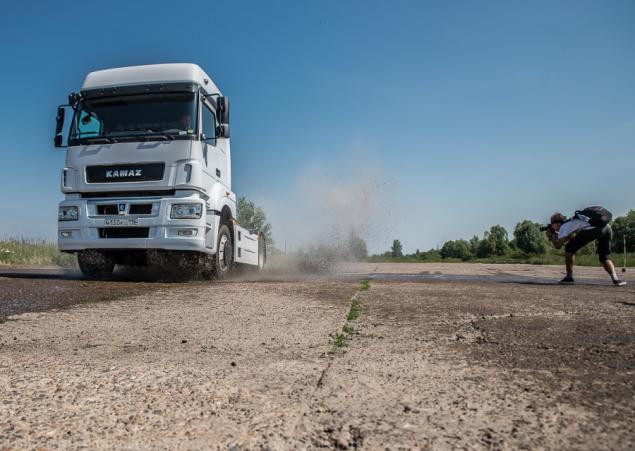 15. We were given another three cars - two-axle KAMAZ military terrain four-wheel drive, a three-axis (not pictured) and dump, though - loaded! The SUV behind the wheel we were not allowed at the site, only on the asphalt, but off-road ride.
Dump truck loaded with control, of course, more complicated. There manual transmission, but despite this, it turns smoothly to get under way, no one has decayed and not twitching. However, switching to the "down" before turning a couple of times I had to use a long-forgotten dual clutch squeezing with peregazovkoy despite the synchronized checkpoint. Happened! Pleased with himself, without false modesty.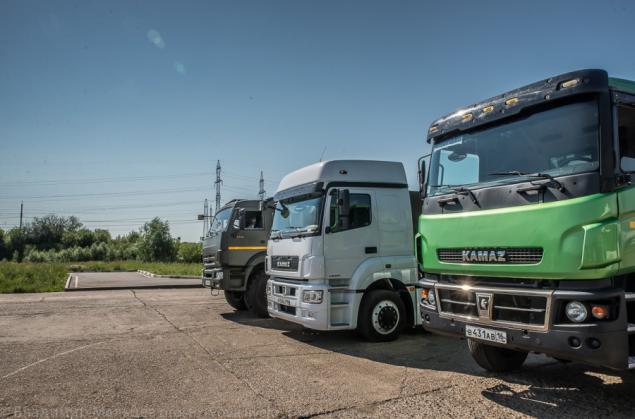 16.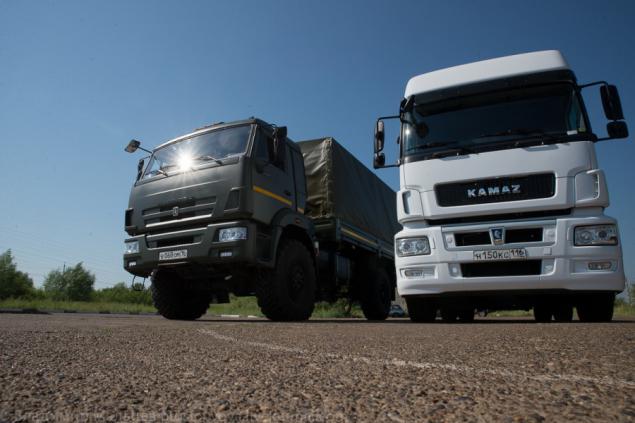 17. In the background is also a bus KAMAZ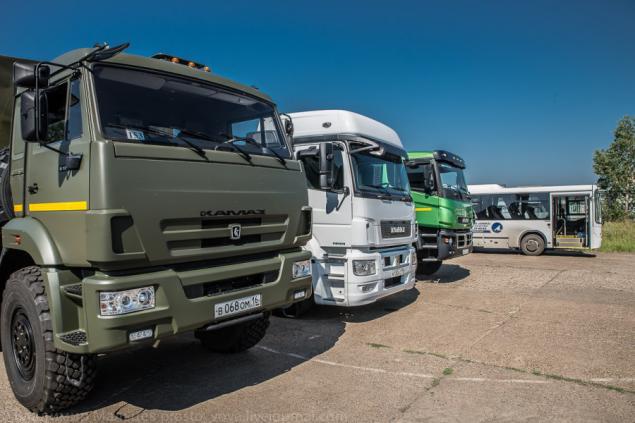 18.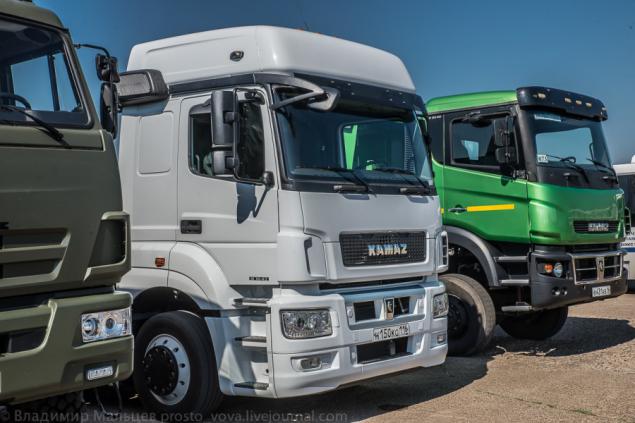 19. Well and SUVs is something amazing. The slope of 45 degrees? Yes, easily.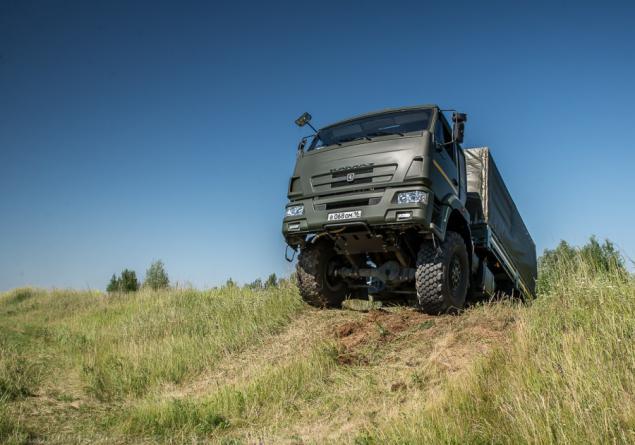 20. The two-meter shaft - no problem!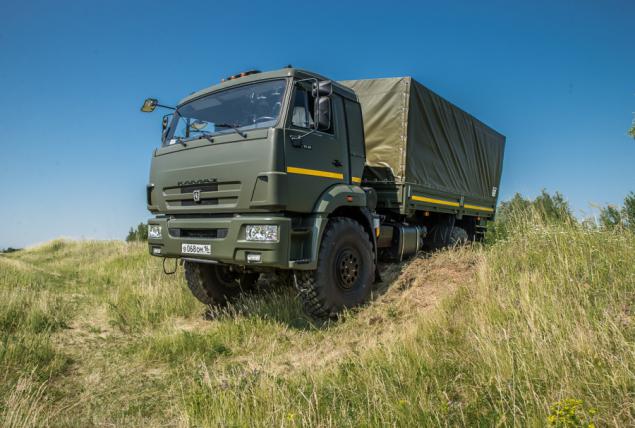 21. This is not to pass on the photo, it is necessary to stand a meter away from the iron monsters - then understand. Our May pokatushki - garbage compared to such biases. It is necessary at this trip sometime in the "teleportation".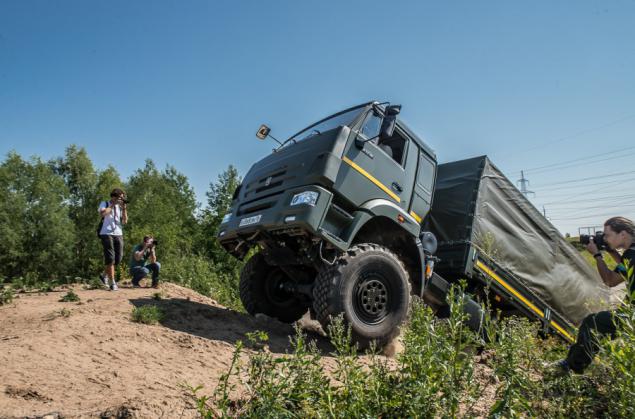 22.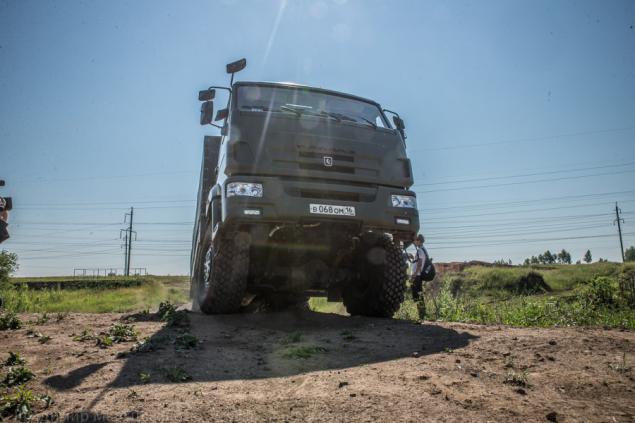 23.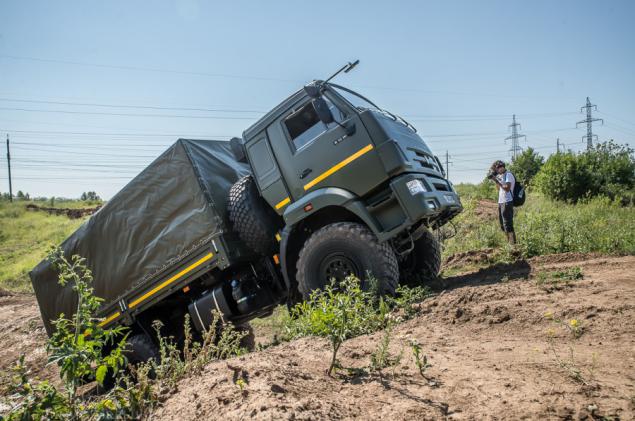 24. Rezyumiruyuya foregoing.
KAMAZ is on the right path and has a great future. I am confident that the new model of the main prime mover will be a success. It should be noted that "KAMAZ" this year for the first time in many years, dividend payments to shareholders, which means - it goes uphill. At KAMAZ very European approach to work, and it promises success. Few in Russia works, unfortunately.
Well, it should be noted the highest level of interaction with the media, this is still not enough where you will meet.
And I hope that KAMAZ will invite us for a presentation and test drive the conveyor version of the car, and will ride on Dakarovskoy car. I think it would be. They are well done)).
P.S. Of course, the presence in the ranks of "KAMAZ" the spokesperson Oleg Afanasyev, who understands the importance of the media and the blogosphere in the world today, it is a huge plus. Oleg special thank you for the professionalism and openness.
P.P.S. Car cost is projected at 2.5 million rubles.
___
All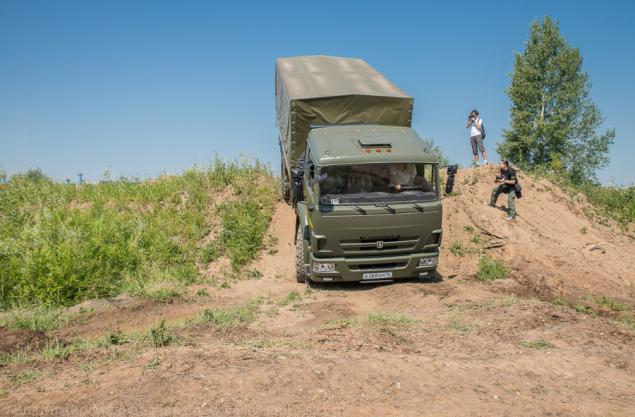 Source: