I do not believe in conspiracy theories.
But maybe I do not know?
Before the New Year went to the shop with a mysterious called Prism.
For those who do not know - it's such a Finnish supermarket chain, a cross between Pyaterochka and Auchan.
They also have their own grocery brand, very poor quality, but inexpensive.
But is not the point.
Since the sum of the purchase exceeds a certain value, I was offered a completely zabesplatno fuck loyalty card, theoretically gives some benefits in the form of discounts.
Thirst freebies led me to a table in the corner inconspicuous with a stack of profiles.
I looked at them and ofigel. Certainly not an application for a Schengen visa, but also robust design.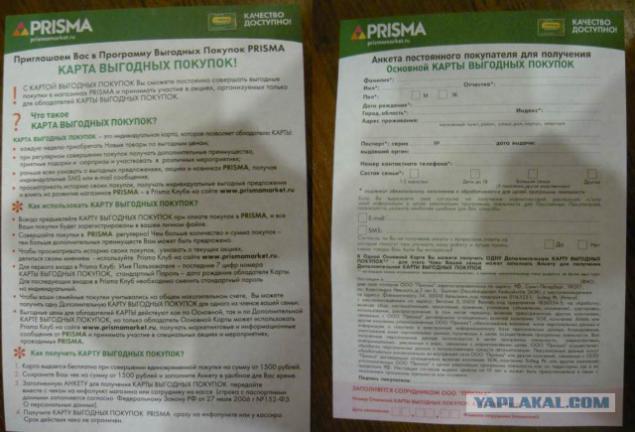 And close-up fine print.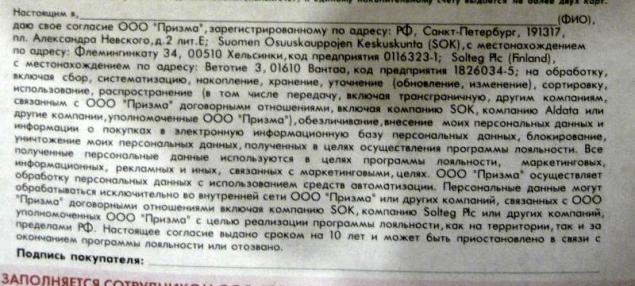 Someone explain to me why the heck Finnish shops belonging to the Finnish network, based in Finland, my passport data, and even with the right to transfer to third parties?
Moreover, third parties, not only in Russia but also abroad.
What are these people going to do with my passport data, I can only guess.
Naturally, I refused to specify the passport data, and even more resolve to transfer them to third parties.
No less estesstvenno, in response to me refused to issue the card.
Then I asked the administrator, and tried to explain that the cards are issued in the order of formation of loyalty programs to ensure a flow of regular customers, not to collect on these dossiers.
Admin answers short and clear that I go with her loyalty to the known address and Prism do not need buyers, and their passport details.
And in general, the right to collect personal information to give them the Federal Law *.
* Link to the Federal Law №152 is clearly out of place, because it does not allow, nor does it prohibit, collect personal data, but only defines the procedure for the collection, processing and storage.
It seems that the father's laurels Muller, who were all under the hood, do not give rest to the leadership of the prism.
PS grief, sadness ... I can not be a regular customer in the store, and all the bargains pass by me.
PPS And to hell with them.
PPPS Maybe someone knows. PRISM - US government program - a set of activities undertaken to gather information implicit mass
Source: