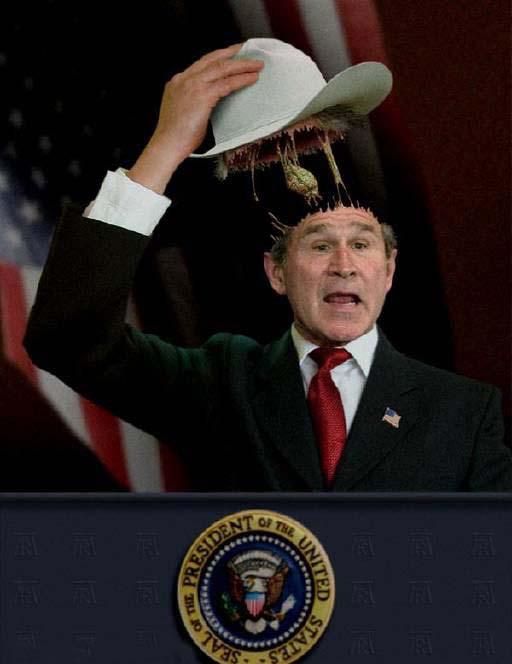 - And you also have negros? (Conversation with Brazilian President Fernando Cardoso, Sao Paulo, Brazil, April 28, 2002)
 - Wow, and Brazil more! (Conversation with Brazilian President Lula da Silva, who showed Bush a map of Brazil, November 7, 2005)
 - It is the same girl from West Texas as I am ...
 - America - a country that loves freedom and loving our country.
 - God speaks through me. (16 July 2004)
 - Most of the imported goods we get from the colonies. (NPR's Morning Editing, September 26, 2000)
 - In the end, he [Saddam Hussein] - this is a guy who once wanted to kill my dad. (6 September 2002)
 - In the end, Europe - the closest ally of the United States.
 - Are you free! Freedom is beautiful! But remember - to restore chaos, it takes time.
 - The key question - how many people I shook his hand? (New York Times, October 23, 1999)
 - God loves you. And I love you. And you can count on both of us, as a powerful message that is designed for people worried his future.
 - I think if you really believe in what you say, I will be much easier to answer your question. I can not answer your question. (Reynoldsburg, Ohio, Oct. 4, 2000)
 - If the United States says that there will be serious consequences, and if these do not have serious consequences - it creates negative consequences.
 - Another example - the Dred Scott case, the passage through the courts many years ago. It has been said that the Constitution allows slavery, because ... because ... well, there is the right to private property. This is a personal opinion. This is not what the Constitution says. The US Constitution says - we all ... we ... Well, you know, nothing like it does not say. The Constitution does not say about the equality of America.
 - Remember - the birds have to suffer, not hunters. (New Mexico, January 22, 2004)
 - Iraq - is not America
 - The aim should be a war and military victories, and in this way they escape the war.
 - When I was young and irresponsible, I was young and irresponsible.
 - When I'm talking about ... When I talk about myself, and when he tells me, we all talk about me.
 - We are ready to work with both parties to reduce the level of terror to a level acceptable to both sides. (Washington, October 2, 2001)
 - We must understand that poor people - not necessarily killers.
 - We ended the reign of one of the worst tyrants in history, so we not only liberated the Americans, but Americans have made even safer.
 - We can not allow our country to seize terriers.
 - We did not incur any losses. (On the eve of the invasion of Iraq in 2003)
 - We have lost too much time trying to talk with Africa rightly. However, Africa - a nation suffering from the disease unthinkable. (Washington, 14 September 2000.)
 - We must help in the democratization of Afghanistan, Iraq and other African countries
 - Natural Gas - he hemispherical. I'm calling it a hemispherical, because it is a thing that we can find in our neighborhoods.
 - Teach your child to read, and he or she will be able to pass the exam in the literature. (21 February 2001)
 - Our enemies are innovative and resourceful, and we - as well. They never stop thinking for new ways to harm our country and our people, and we - as well. (Washington, August 5, 2004)
 - Our enemies are brutal, but they will not be able to catch up with the United States, with men and women serving in our army. (June 19, 2005)
 - Environment threatens no pollution and impurity of water and air.
 - Definitely, this - the budget. There are a lot of numbers. (5 May 2000)
 - Let me put it bluntly. In a changing world, we want more people to have control over your own life.
 - The most important job - is to be governor, or first lady in my case. (30 January 2000)
 - The most important job - is to protect the homeland, protect innocent Americans from death killers.
 - Family - the place where the nation finds hope, and the wings - a dream.
 - Would have to ask to ask me questions. I have not had the opportunity to ask to ask this question. And what kind of issue, in fact, is it? - Austin, TX, January 8, 2001
 - The essence of the problem is, if you listen carefully, that if Saddam was still in power, if he was the President of the United States, and the world would be much better.
 - We had the opportunity to meet with Teresa Nelson, which is also the parent and the mother, father or just.
 - We took a good meeting of the Administration, to which the Minister of Defense and the Secretary of State told us about our passionate desire to spread democracy around the world.
 - Wales? And where is the country?
 - It is extremely important to understand that there is much more trade than trade. (Meeting of the Heads of the OAS, Quebec, Canada, April 21, 2001)
 - I believe that people and fish ... can lead peaceful coexistence. (Saginaw, September 29, 2000)
 - A woman who knew that I had dyslexia. How could she know that, even if I've never met her? (Orange, CA, 15.09.00)
 - I always joke with people. Oval Office - a place to which people stand before enter. They are ready to come in and tell me why they had come, and they come in and amazed atmosphere. And they say, "Wow! And you're cute! "
 - I think we all agree that the past is over. (10 May 2000)
 - I think that the war - a dangerous place. (Washington, DC, May 7, 2003)
 - I know what I believe. And I know that I believe that it is right. I continue to stand up for what I believe and what I believe. And I believe that I know what I believe what I believe, as I believe, I believe in the right things.
 - I have the honor to shake the hand of a brave Iraqi citizen that Saddam he snapped.
 - I hope that you leave here, go out and say, "What did he say? "
 - I'm not an expert in how people think of Iraq, because I live in America, where it is good, safe and secure.
 - I recently met with the Russian president in Slovakia. Or in Slovenia - I do not remember exactly how this country is called.
 - I spoke with the new Mexican President Vicente Fox on the supply of oil to the United States. Thus, we will no longer depend on oil supplies from abroad. (Presidential Debates, March 10, 2000)
 - I have heard - there are rumors on the internet that we will soon introduce compulsory military service.
 - I believe that as soon as possible you need to enable young cows cross our border (US-Canada). (30 November 2004)
 - I'm a patient man. When I say that I - a patient man, I mean I - patient man.
 - I've cut taxes for everyone. I do not cut them - Congress cut them. I asked them to cut back.
 - I want to keep the executive power of the President, not only for themselves but also for all of my future predecessors.
 - It is necessary to put pressure on Syria to put pressure on Hezbollah, it is time to stop this shit. (July 17, 2006, Strelna)
 - I grew up in the east. In east Texas. It is close to California, in any case, closer than Washington.
 - I make good decisions, not only in the past but in the future.
 - If fewer people vote, then fewer people come to vote.
 - We must be prepared for unpredictable events that may occur or may not occur.
 - NASA is still interested in space.
 - Who is to blame for the riot? I think the rioters.
 - Holocaust - is a very big part of the history of our nation. That is, the history of this century. But we all lived in ztom century.
 - Teacher - is the only profession where people are taught to our children.
 - It is time that the human race must enter the solar system.
 - America has brought to Iraq a free press and freedom of religion. Many people in our country are hoping that in Russia will be done the same thing. (Putin at the G8 summit in St. Petersburg, to which he replied "We would, of course, did not want us to have a democracy in Iraq, to ​​be honest»)
 - And by the way, I know that our rovers to Mars fly!
 - Chammas commit terrorist acts, he thinks, and we think, but if they think it does not mean what we think!