On the sad story of Olga Sukory in Belarus have learned a few days after becoming aware of the death of Julia Kubareva as a result of plastic surgery in "Ecomedservice". Change operation bite 32-year-old Olga made a public hospital in Minsk in October 2012. May 6, 2013, this case was discussed in detail in the talk show "Open Format" ONT. For 15 months she is in a coma. Why did this happen? Parents of girls are looking for an answer until now. SC has already given his answer: cause coma has not been established, but the actions of the doctors do not constitute a crime.
Will be 13 pictures + text. Source.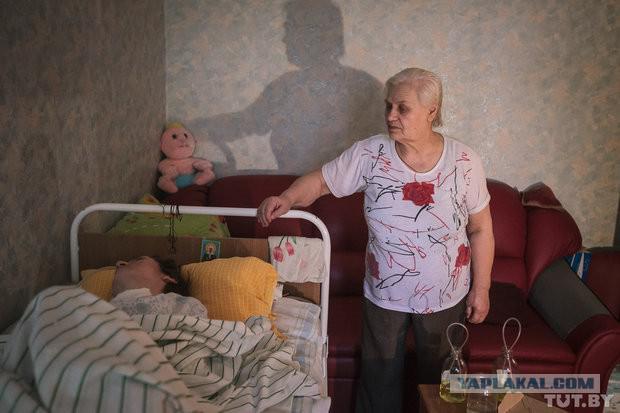 Doctors publicly promised that girl "yet no one would write," she organize proper care. But a month after the transfer of Olga was discharged home. She is still in a coma for 15 months. Look after her 72-year-old mother who loses power every day. "They promised us everything, and then transfer to the Department of Neurology even did not want to take it, saying that his daughter nothing will help," - says Olga Love Danilovna mother, through her tears and whisper adding that after such an attitude is itself thought "that -nibud do with myself ».
Olga surgery done on the same machine as the deceased Julia Kubareva. What else has established a consequence?
Olga operation Sukore made more October 10, 2012 - in the Minsk regional children's hospital. The girl wanted to have time to make it to the upcoming wedding in six months. Surgery is done under general anesthesia from which Olga did not come out - went into a coma. Until now, doctors evaluate her condition as vegetative. At first she was in the same hospital, where she was operated on, after she was transferred to the adult clinical, first in the intensive care unit, and then - to the Department of Neurology. On July 12, 2013 Olga home.
The question "what happened?" Relatives for 33-year-old girl are set so far. The final diagnosis - acute encephalopathy posthypoxic severe. The reason - is unknown. The investigation lasted for nearly 8 months, and as a result it was found that no contraindications to surgery, Olga was not. Previously, she had already injected anesthesia - first with an appendectomy, then - hernia. Recovery from anesthesia is always without problems.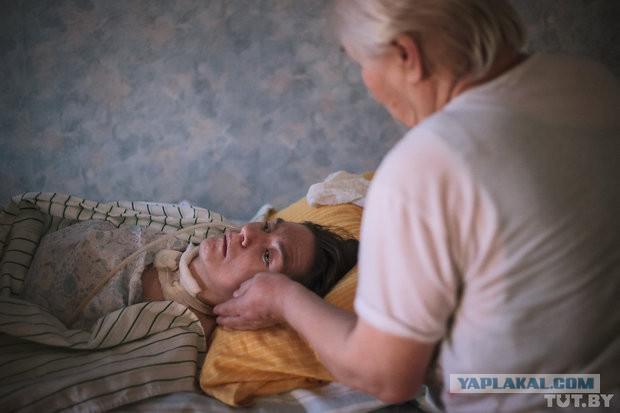 From the conclusion of forensic experts followed that up with 12.20 to 12.35, ie, within 15 minutes after the operation, Olga came clinical death. It was found that "for the patient in the postoperative period Sukoroy absent due observation that did not allow time to identify the onset of hypoxia in the latter. Medicaid provided only upon its discovery in the ward with signs of clinical death. & Lt; ... & gt; Due to improper execution of their professional duties and violation of the requirements of the job description & lt; ... & gt; doctor Anaesthetist Mushroom admitted defects in the treatment Sukory. However, these violations in a causal connection with the development of acute hypoxic encephalopathy brain after undergoing surgery are not made. " Acute hypoxia "is the result of finding the patient in terms of expression and of sudden lack of oxygen, is a complication of early postoperative period," the document says.
However, the expert committee who worked on the findings, noted that "because of the patient in the period from 12.20 to 12.35 there was no direct medical control, reliably establish at what point and for what reason came hypoxia, is not possible." Impossible precisely because "in meddokumentatsii no data about its condition, terms of breathing and heart activity (in this period)».
But as explained by the absence of near Olga anesthesiologist: "As a physician at the time of Mushroom in Sukory hypoxia was in another room (operating), shortcomings in the work of the health care provider does not consist in a direct causal connection with the development of the patient acute hypoxic encephalopathy brain in the postoperative period ". In the criminal complaint against the anesthesiologist and other doctors refused. "Resuscitation Sukore held immediately after the establishment of the state of clinical death in 12.35 and implemented in full, with positive results - restored cardiac activity and adjusted ventilation" - as stated in the conclusions of the investigation.
It is noted that any other violations, except as permitted doctor Anaesthetist, no. Corpus delicti in the actions of her and other doctors also absent.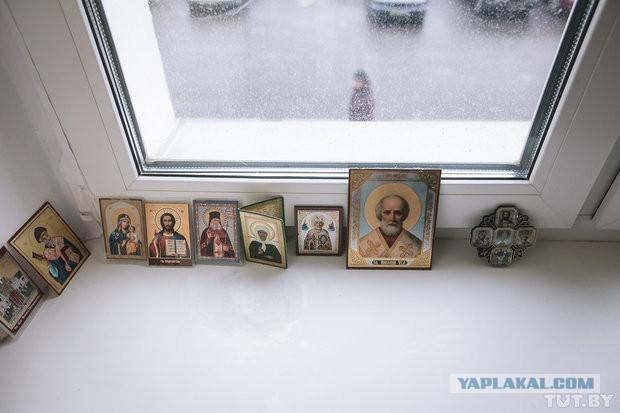 During the operation, Olga Sukore used the same ventilator, as in the medical center "Ecomedservice" when operated Julia Kubarev - MK-1-2 Belarusian company "Respect-plus." The materials of the preliminary examination indicates that the unit was defective at the time of surgery Olga Sukory - it together with the investigator checked the master of the firm - a year after the operation. Checking the case Sukory began only after began to investigate the death of Julia Kubareva.
Recall at the trial about the death of Julia Kubareva revealed that the manufacturer did not engage in regular service ventilator, and the device to fail earlier. During the operation in the "Ecomedservice" oxygen supply valve, which was connected apparatus was closed, showed official proceedings conducted in the medical center.
"I do not believe that my daughter suddenly came hypoxia. Just do not believe. For some reason it is not established why she has received less air. I do not know what to think, but in a healthy person, the transfer of anesthesia is always normal, can not have such consequences ", - said the girl's mother Love Danilovna. The same opinion and my sister girl Olga Sizova, physician by training.
Confused relatives and that the investigation on the documents themselves doctors found clinical death of Olga and began to assist it. "But when I arrived at the hospital, I met a woman who told how she personally noticed that Olga began to turn blue, and ran to find a nurse, - said Ilya TUT.BY young man Olga. - An investigator tried to convince me that this is not the woman, and said she was not about that. But I'm no fool ".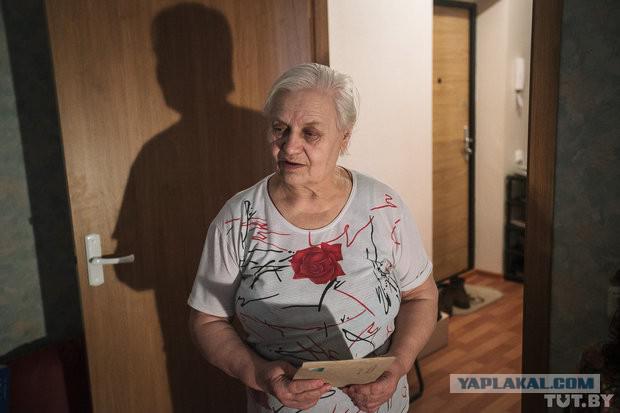 Olga's mother: "The worst thing was to learn how to pump out the phlegm. I immediately feared "
Olga's eyes are open almost all the time. But where she looks, if someone finds out - is unclear. The first time I saw a man in a coma, and the first thought that visited me: "It's not like in the movies." Perhaps because in the movies usually show a different stage of coma, the most difficult when people are lying motionless with his eyes closed. Olga Sukory things differently. Apart from the coma, doctors pronounced her convulsions. It looks like this: paralyzed 33-year-old girl with thin legs, like a 4-year-old child, blinks constantly rattles and shakes. Mother Love Danilovna turns it every half hour, so that no bedsores. Make it a 72-year-old woman is difficult. Despite the fact that Olga 15 months coma noticeably lost weight, her bones were heavy, the woman says.
Love Danilovna arrived in Minsk from the village Neseta (Mogilev region) to the hospital to her daughter on the fourth day after surgery, when she had already told on the phone that Olga did not come to life. "I asked the doctor:" She's in a coma? "They said," No ". Then they said that she does not wake up because she was given some other anesthetic, so it does not come as a shock when he wakes up. At that time I did not understand why she has to give anesthesia, if it did not come out of that? - Says Olga's mother. - And now I understand that it was all a lie, that she immediately fell into a coma & quot ;.
The girl's mother threw in his native village of all: the house, the farm - and watching daughter moved to Minsk. Both women now live in Borovlyany - it is here, right in front of the hospital where the surgery done, Olga has built a one-room apartment on credit.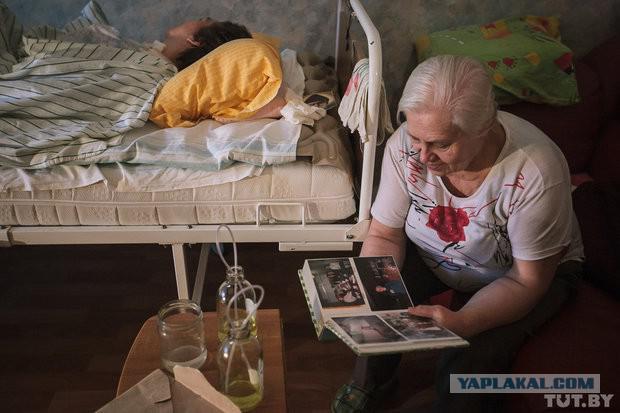 "We moved here after the doctors had to give up. I kept asking them: what do you want us so quickly shove? Why after resuscitation do not want to take in neurology? I was told that such a coma lot on Belarus, so only need care, treatment anymore. But where I was going with it? How to care for a person in this state? I did not really know. I told the doctors that if they do not take it in neurology, with herself to do something "- says Love Danilovna. After that, another month Olga Sukora lay in Neurology - Rehabilitation and occasionally have other doctors, massaging her hands, feet, checked the general condition.
"When already subscribed to - all we were promised. Said you will go and see doctors from the local clinic, you will be given a rehabilitation nurse will visit, all doctors will be with you. What is? Therapist comes once a week, a neuroscientist at the time from July 12 was only twice. Rehabilitation until January went once a week, and now comes "- says the woman.
For six months, every day for her - test. Sound sleep for this woman now only in dreams: any movement daughter - and she jumps out of bed. Love Danilovna tells how their day with Olga: "Today, she did not sleep until four in the morning. And if she does not sleep, and I do not sleep. My poor girl - begins to cry Love Danilovna. - Today at 8:30 am somewhere I fed her, she's a little sleep. Food in liquid form to give it: through the nose into the esophagus is the tube. Through the mouth can not feed her. Basically, buy baby food. Dining she enteral: to smash blender products. Feed three times a day: breakfast, lunch and dinner. And between that give juice, water to drink. Sometimes, yogurt, soft curds - all at the same blender to grind. "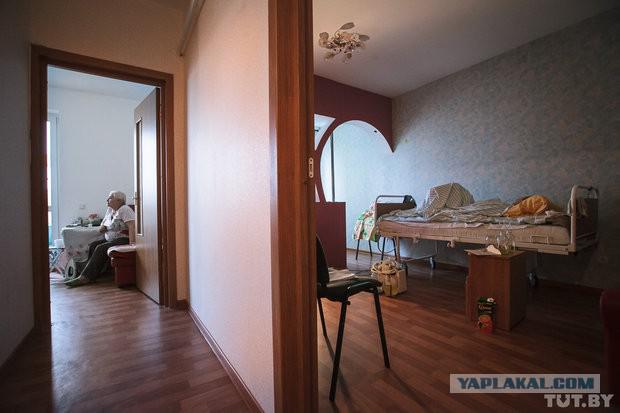 Love Danilovna says that when Olga discharged, she asked doctors to give them a machine that can pump out the phlegm, because it is - a component of the care of a man in a coma. The device is given. But the bed on which she lies - from the morgue. Brought her friend Olga, who works there.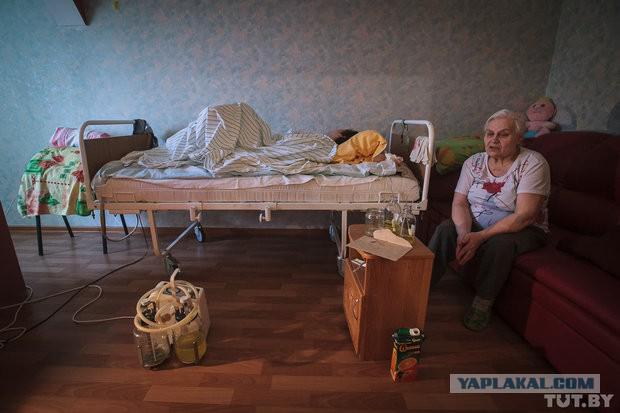 "The knowledge of how to care for a person in a coma, received" on the go "
Olga's mother - a pensioner who has worked 38 years as a mathematics teacher in rural areas. No medical skills, says she never had. Knowledge about how to care for a person in a coma, received "on the go". "For doctors, I watched a little bit. I was with her for more than two months in the hospital. I was there almost everything myself doing it at first only watched as doctors do. The worst thing was not to learn how to feed and pump out the phlegm. Immediately I was afraid, because it must be through the tube, which must be inserted into a hole in the throat, deflate it, include the unit. And yet we must determine when accumulated phlegm. Previously, she coughed, and now less. I just put my hand to the neck and how to feel for her, "- says Love Danilovna.
Know whether her daughter, she does not know. "Most likely, we have come up with themselves that learns. But happy that she at least something else feels not quite numb. Needle before it ukolesh always twitching. And now spend fingernail, she twitches. Previously, it was also scary. Drill Drill the wall, Olga twitched. It is no longer ... "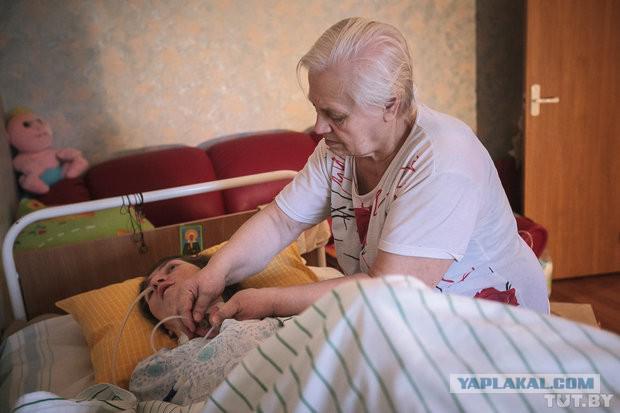 Several times Love Danilovna home caused priests. "One even came to the emergency room. The second - from Nesvizha called - right here. Hallowed apartment, said to pray and believe in a miracle, - says the woman. - We are believers. I used to go to church, praying. And now pray at home, because I can not in general be away from home, I have no substitute. A maximum of 15 minutes can run to the store so the pharmacy. " Sometimes it helps to take care of her sister Olga. They come from the Mogilev region, but often fails to come.
Now Olga relatives are determined to sue in court. There are also plans - Olu carry to Germany, where, according to them, can help bring it out of the coma.
Love Danilovna: "I felt that it was not necessary Ole in the day to go for surgery. Premonitions were. I dreamed a dream one three times in my life, and every time someone died after him. Olga called me before the operation, we had talked about all sorts of little things, I just wanted to say to her: "Do not lie to the operation" - as her come. She said: "All my mother came for me," - and hung up & quot ;.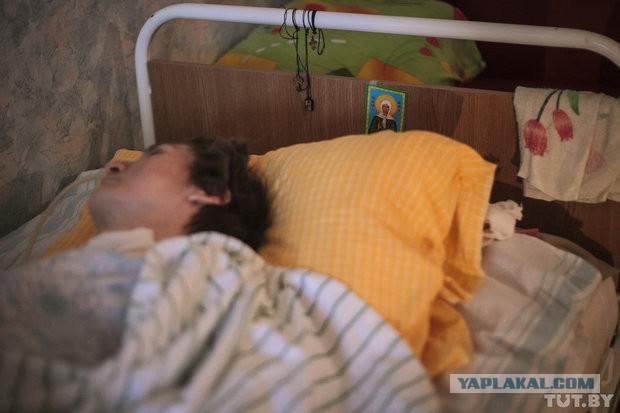 - Do you believe that Olga extricate himself? - Frank and ask the patient to Love Danilovna question. The woman stops and starts stroking her daughter's head.
 - I do not want to talk with her. She hears everything.
Love Danilovna for a while again silent. And then goes on to tell: "You know, we now head Ole washed. When her fiance, Ilya comes easier for me. He holds a basin of water, and I water from a jug. And can wipe. A single hard for me ».
 - A nurse take thought? - Ask her.
 - But where I Braz pennies on Yai? Olya - invalid of the first group of its pension - 2, 4 million, my - 2, 6 million. Of their pension Olya more credit for an apartment, "pay", she herself had built it. This 800 thousand a month, she took 20 years. What do I have enough of these a couple of million, if only for a fortnight food costs 3, 6 million? Let the state would normally though money has helped pay utility ... More 200 thousand a month, and now has risen in price. Previously, still held to have 61,000 "for other services." So zhirovki was written. I'm calling the accountant, ask: "What is spent 61,000 this?" And she says: "We have to pay." I ask: "How many of your salary?" They reply: "A small, four million." So it turns out: the first group of disabled person in a coma, in which two million pension, you should still 61,000 for the salary of charge? Told me to write a letter of refusal to pay. I wrote, and now 3 months do not hold this amount.
Love Danilovna: "In February I will have to report to the Executive Committee for where I spend retirement Oli. Said to provide all the checks. I collect them in a box and throw. So in the box and enter them. They need to let yourself and believe ».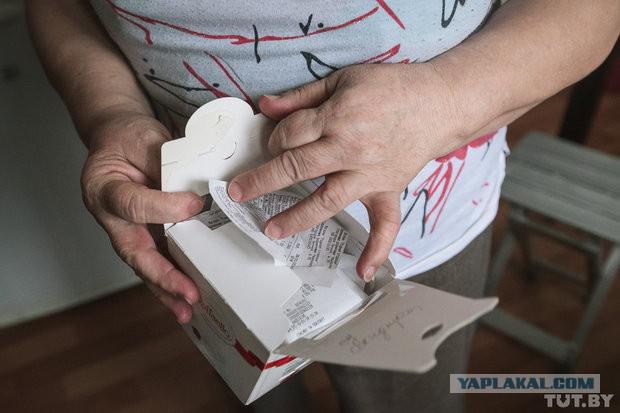 "It was such an active girl. She graduated from music school, played the piano, accordion, dulcimer »
On a visit to visit Olga come often. "There comes a groom her, Ilya. I'm surprised - that's a tough guy. I told him once said even: "Dzyak, hlopchyk INTO kіdaesh not." And Yong me: "Nіkolі not kіnu".
Olga Sukora a few years ago on vacation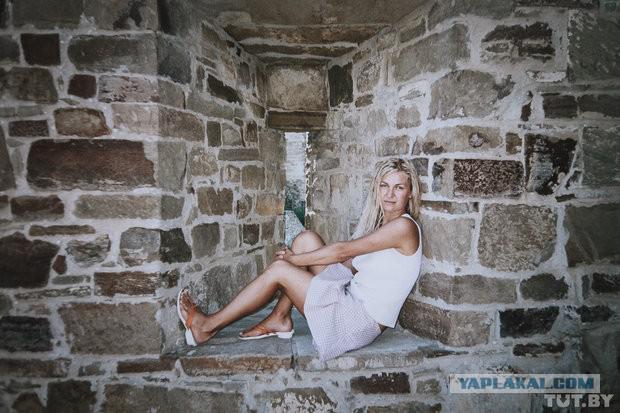 According to Love Danilovna come to Ole and her colleagues, and the girls with whom they studied together at the Institute. Sakharov. Olga herself, by the way, worked in the 9th hospital and at the Academy of Postgraduate Education (BelMAPO). "By training she cytology. Received another economic education ... She has so many plans for the future were, "- says Love Danilovna and finally shows us pictures of his daughter.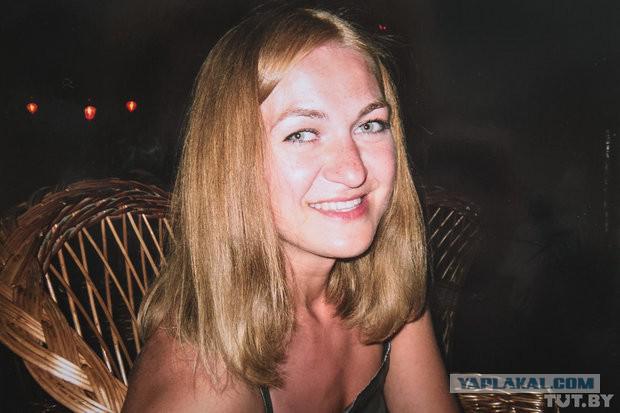 "It was such an active girl. She graduated from music school, played the piano, accordion, dulcimer. Participated in competitions of regional, took place - says Olin mother. - Now is my girl. Can there be grief, more than that? & Quot;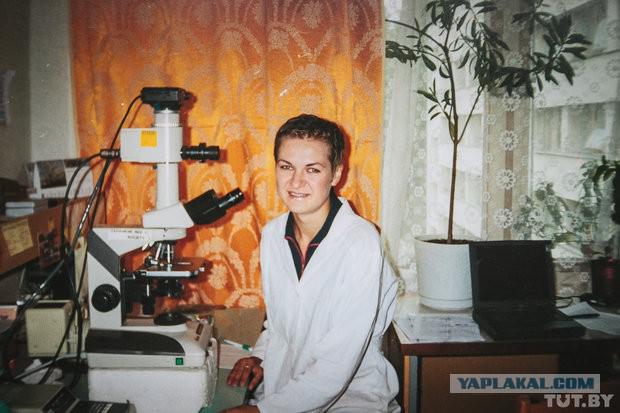 Not for the sake of advertising, but can someone wants to help.
In Belarusbank relatives Olga opened the account "on demand". If you want to help the family Sukora, you can donate money to the BRANCH N 529 Belsvyaz, Inc. BELARUSBANK ASB 01002399 1. Account opened in the name of Kastsyan Tatyana (it's sister Olga. - TUT.BY).
Relatives Olga also note that it is not sure what she wanted it to a clinic in Germany. Therefore, they ask caring and knowledgeable people to help in finding proven clinics abroad. All medical documents have already been translated into English. Contact on this issue can be with a girl, Olga, who was engaged in the translation of documents. Her address- zinoa@tut.by
Proof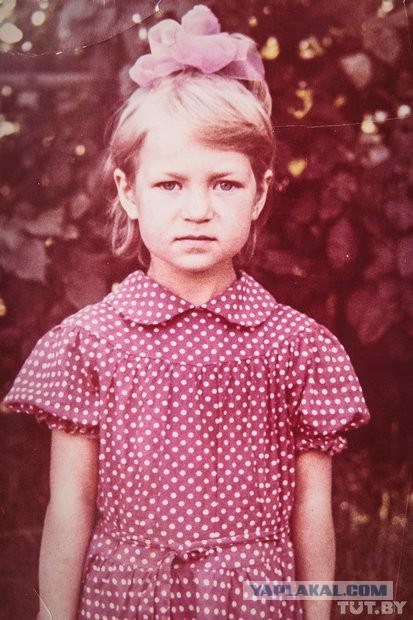 Source: