More in Hallstatt in Europe were the basic skills of plastic processing iron, rare attempts to produce steel blades by carburizing and hardening iron. In the subsequent La Tene era was completely mastered the technology of making steel, vklyu¬chaya rather complex ways of obtaining welded parts with high quality surface resistant to abrasion.
Metallographic study of iron parts and microscopic examination of thin sections method allows us to say with confidence that the main elements of the design of this unusual medieval bicycle is made of steel. As can be seen, recipes for steel products with little or no significant changes have been through all of Roman times and has had an impact on the level of early medieval Europe kuznech¬nogo crafts. »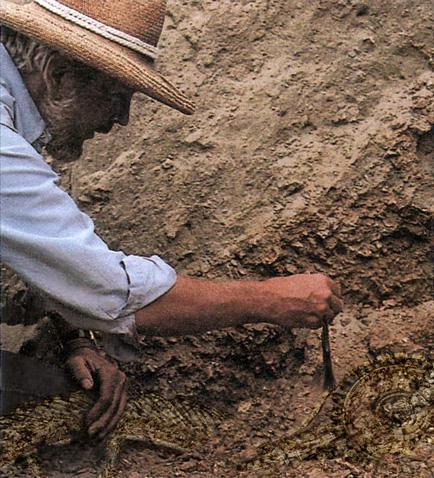 Gradually, the scientists were able to recreate the look unusual in the era of the Knights of the vehicle. Helped engineers designers Steve Berkeley and Andrew Hopkins arrived at the excavation of the Scientific and Technical Center at the University of Cambridge.
"When they called me and said that the excavation presumably the twelfth century found a similar design on a bicycle, I cried - incredible! - Steve says - if not the expedition leader, John Williams, whom I know very well, thought it would be an April Fool's joke. However, the fact remains - in the Château Gaillard really found a very rare "ancestor" of the modern bicycle. Helping archaeologists retrieve piece by piece, we are trying to Andrew on the spot in the drawings and diagrams to imagine the appearance and general construction sites bicycle, how it could turn and run. Frankly, we are gradually imbued with admiration and respect to the medieval inventor, invent and implement in those days such a complex technical project.