Designers often use to create spectacular interiors of vintage details: Wallpaper, paintings, Souvenirs. We propose to consider, how is retro open wiring in a wooden house.
General information about vintage wiring
What is the wiring a retro? This decorative wiring in residential and industrial premises, which was used to supply electricity to homes in the early twentieth century. It is performed using two solid wires, whose fibers were connected in a spiral manner. At that time there were junction boxes, junction cables was done on porcelain or ceramic rollers. You could not see the individual fibers, they are carefully hidden under the insulation. Of course, in modern apartments, this variant of the wiring is not only inefficient, but also dangerous. So now the only possible improvisation and create a transaction for a La vintage.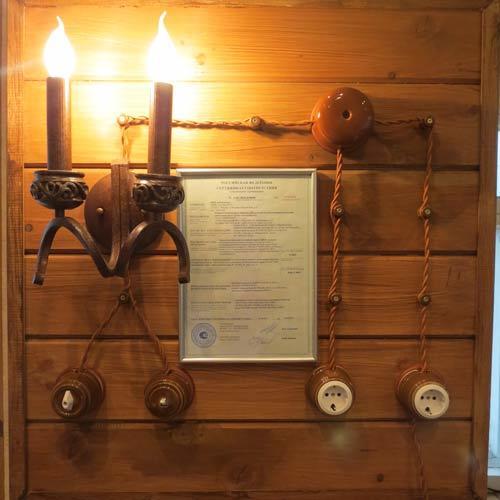 Most often posting in a retro style outdoor or external, because it is situated on the wall, the ceiling. This is necessary in order to give your home the required style, because whether it is hidden under layers of plaster, it would not be clear that it is the original.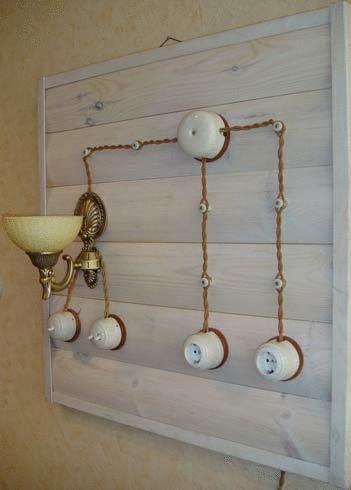 To give the wire the necessary, manufacturers use special insulation materials. If the cable is outside, covered with crinkled paper, cloth, or twisted, it is likely that under the layer of the interior refractory insulation. Basically, these stylistic decisions used in a private house, cottage or cottage, although in the apartment in the vintage style too, such detail will look quite impressive in the interior.
Types of retro provodnista several options how to give the vintage wiring:
Retro wiring on insulators or clips. Very often used for decoration of buildings made of wood. Now this layout can be seen in old houses built in the 1920 – 1940s;
The use of wires of a special kind. As we said above, twisted or old-fashioned.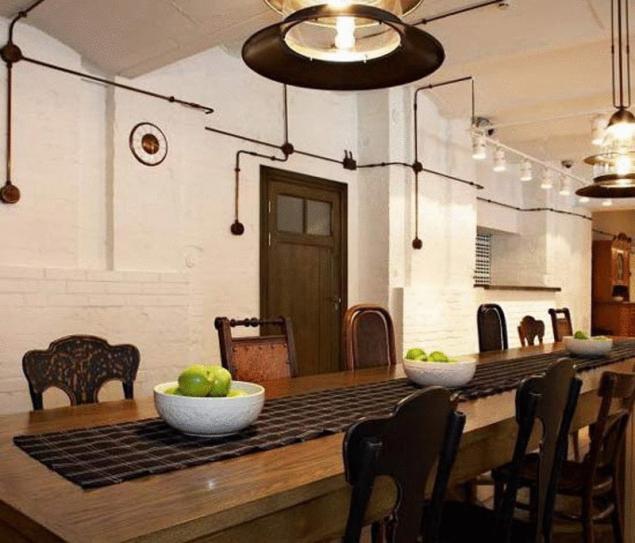 To their hands to install a vintage wiring, You will need to purchase a special splitter boxes and insulators. Retro electric wiring is often organized by the use of spare parts of Russian production (for example, "Gusev"), but we can also recommend You to buy Bironi (Bironi), Salvador (Salvador), Villaris, or find a wizard that will perform the work.  
The wiring
How to make a stylish wintrinoo the wiring yourself:
Weave for one small harness a few pieces of single-core cables. If You don't have the grounding in the home, it is better to use 2 pieces, if the land is, it is possible to connect three;
On the wall in the selected areas (it is better to consult with experts so You don't hurt a real transaction), you need to attach the insulators. They are installed using a drill, some even are attached by sticking (mostly imported models);
Before you put the wire on insulators or clips you want to attach to it heat-shrinkable tube. Try to match it to the color of the cable to make it look neat and beautiful. This detail ensures the strength of installation and the durability of the cord.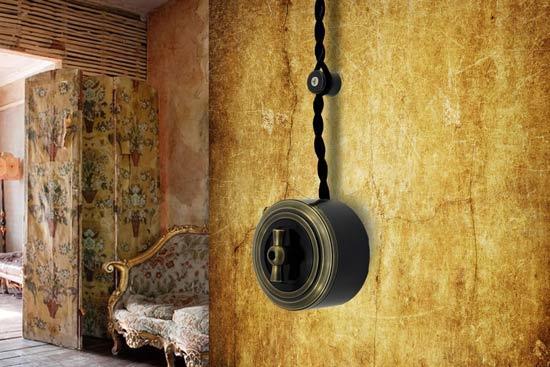 If You buy ready-made harnesses, ensure that the components were performed according to the standards for this type of wiring. A special role you need to take the combustibility and smoke development. For example, classic Italian retro wiring pigtail must have an index not flammable or NG. Very famous brand Fontini and GI Gambarelli, which produced not only the individual parts (rollers, cables, switches, sockets), but the kits for wiring (fittings, usagepage tube, etc.). In that case, if You decide to make a real wiring twisted cable, it is best to use the services of specialized shops to protect themselves from fires and short circuits.
Retro twisted copper wiring is not cheap, despite the fact that in Moscow, Perm and Saint Petersburg already has several factories, buy it is still not easy.  
Source: www.asutpp.ru/elektrika-v-kvartire/retro-provodka/