Why wooden houses are most often used today for housing those who appreciate real comfort and convenience? The answer to this question is the undoubted privileges of the house of natural wood:
Maximum comfort: the optimal combination of humidity, hygienic air quality, thermal regime and insulation
Minimum heat loss and save money on heating and insulation
Minimum construction time at relatively low cost
Safe and environmentally friendly housing
Resistance to wind and seismic loads
Long service life
High quality decorative material
Healing properties of wood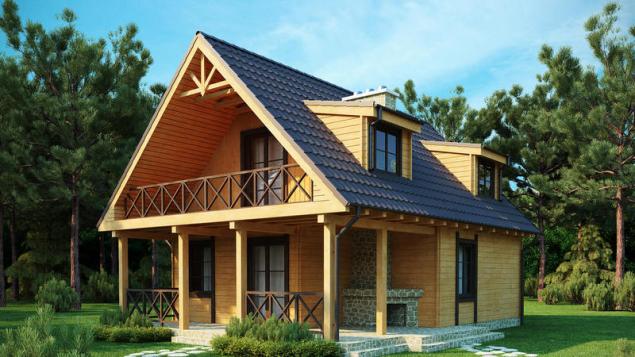 Today many say that people living in wooden houses of logs, less sick than the inhabitants of the concrete skyscrapers. This is due to the fact that a permanent stay in a comfortable environment created with natural material – wood, enhances the body's resistance to adverse environmental influences. Clean and fresh air, positive energy wooden houses from logs and the beauty of the wood can have a very beneficial effect on the body all the inhabitants of the home.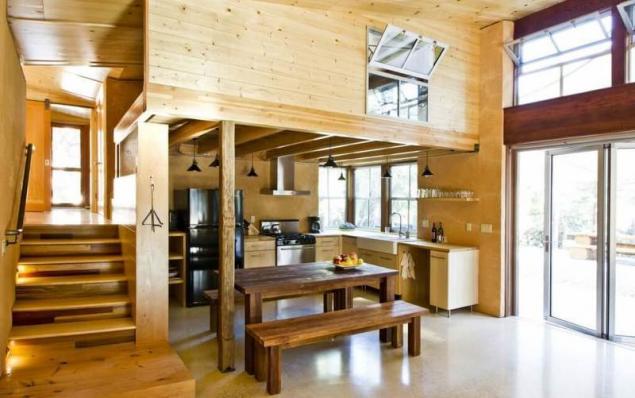 Good insulation properties of log walls combined with the strength and durability of the material can be made out of wood not only for the summer country house, but also wooden cottages logs for permanent residence.
Today, wooden houses are built of several types – frame, of shaped and common timber from round logs and hand-cut.
But only wooden houses from logs and beams have unique properties of active ventilation areas up to 30% of air per day. Moreover, in dry weather the whole timber tends to give the accumulated moisture in the atmosphere, and in crude – to absorb its surpluses, thereby adjusting the humidity in a residential building. Thus, a wooden house made of logs or timber allow you to create a special microclimate and a high level of comfort, without the use of air conditioners. To achieve this level of comfortable living in a timber frame, brick or concrete house, even with the use of additional tools and devices is difficult.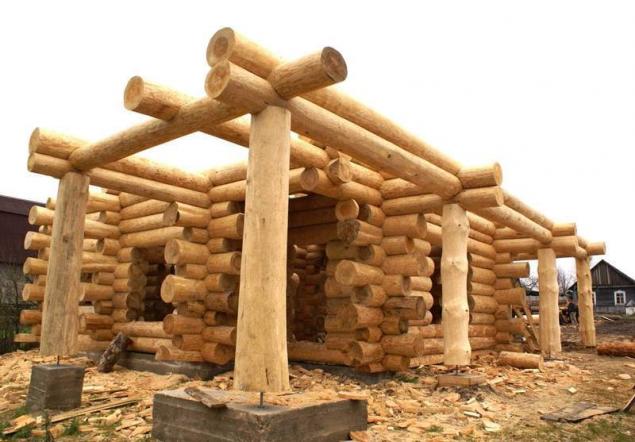 Material for construction a wooden house is pine, spruce, larch, cedar, emitting in the process of operation is detrimental to pathogenic microflora, volatile. Wood is easily processed, environmentally friendly material with good heat-shielding properties. Wooden house of logs or timber is warming up much faster than brick. The wall of the log house with a thickness of 350 mm thermal insulation qualities correspond to a brick wall thickness of 1.5 m, which allows to significantly expand the useful area of the wooden structure.
The optimal combination of reliability, durability and cost, a minimum of finishing work and original projects of wooden houses from logs of different sizes and layouts attract attention with its unique design and its fast implementation. Especially popular today are the builders of wooden houses made of logs and profiled bars. Quick and cheap construction of the structure is possible due to the most costly and time-consuming operations for the production of wall materials in the factory.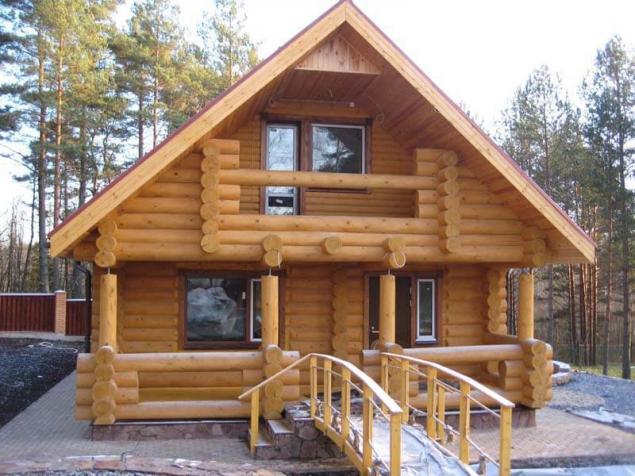 When you build these houses does not require additional adjustment of logs. All the necessary parameters and dimensions of the workpiece are calculated and determined at the stage of designing of the wooden house . The precision workmanship on the factory logs allows you to quickly assemble the walls, providing a tight and durable connection for all structural elements.
Beautiful, smooth and dense walls do not require additional finishing, in addition to applying treatment to increase the resistance and the resistance of wood to decay. With proper care and application of special means of protection of wood against adverse factors of the environment, wooden house of logs or timber will last much longer than brick or concrete.
Modern designs of wooden houses give you the opportunity to build a fully equipped and comfortable homes that meet the latest trends of design of individual housing construction. Developing projects of wooden houses of timber and logs, and architects to create beautiful buildings in the style of the wooden houses of Lapland, Swiss Chalet or Russian palaces. Ventilation system and drainage, gas supply, washing – machine and dishwasher -- all these hallmarks of civilization quite fit harmoniously into the elegant design of wooden houses from logs and timber. published  
Source: ardexpert.ru/article/4249