The second level of sanctions provides for the introduction of restrictions on travel to the EU of persons responsible for the crisis over Ukraine and the freezing of their assets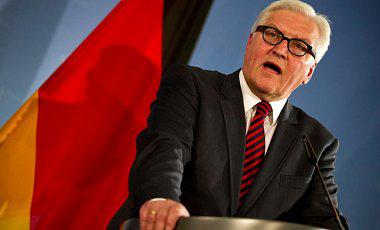 Frank-Walter Steinmeier (photo - EPA)
If Russia will not de-escalation of tension in their invasion of the Ukraine, the EU will have to go to the next level of sanctions. This was stated by the German Foreign Minister Frank-Walter Steinmeier.
Such steps the EU will, if in the course of negotiations on Monday or Tuesday, Russia, in particular, would not agree to move to the international format for the preparation of de-escalation. The second level of sanctions provides for the introduction of restrictions on travel to the EU of persons responsible for the current crisis over Ukraine and the freezing of their assets within the European Union.
Earlier on Sunday, German Chancellor Angela Merkel in conversation with Russian President Vladimir Putin stressed that the proposed so-called referendum in the Crimea is illegal. As reported in Berlin, Merkel told Putin that Russia is an urgent need to agree on the establishment of an international contact group to a political solution to the crisis over Russia's invasion of Ukraine.
In Moscow, said that Putin, by contrast, insisted that the referendum on joining the Crimea to Russia is "based on international law».
Recall, on Thursday the European Union introduced against Russia for its invasion of the Ukraine the first package of sanctions: stop negotiations with Russia on visa facilitation and a new agreement on cooperation. The EU has said that it is only the first stage of the three proposed sanctions. The second should be an asset freeze and visa sanctions against involved in the invasion of Russian officials. The third phase, which is beginning to develop, may include, among other things, a wide range of economic sanctions.
radiosvoboda.org/