Trini Schultz photographer even difficult to call. It is rather a philosopher who knows how to take pictures. Her work - it's just something beyond. In the story, beauty, meaning. It simply must be seen. Do not come off.
Pick elements
Separate images it creates as illustrations to their thoughts and ideas. Treatment is that pictures look like old worn prints, which gives pictures an even greater charm.
The photo below was made at Fort Teyon in Lebec, California. Former outpost of the US Army after the Civil War. Now it's National Park, most of the time it is a quiet, eerie place, immersed in the silence. I love this place. They sometimes walk here are the ghostly deer.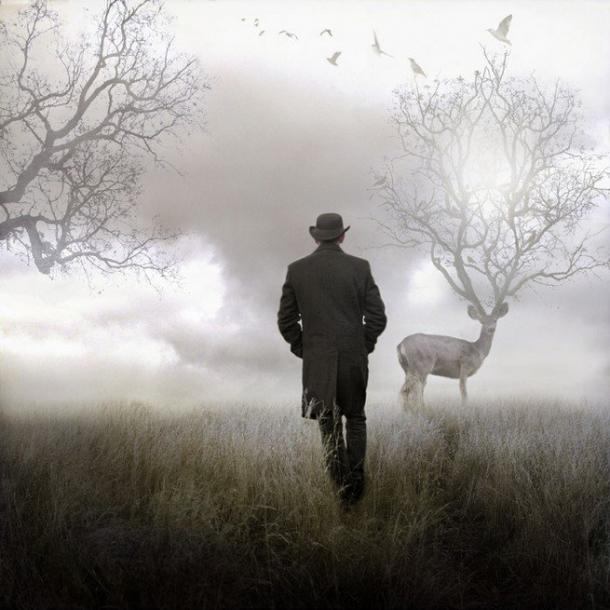 The top light
It helps her to her sister Kirsten, her makeup artist and sister together work wonders.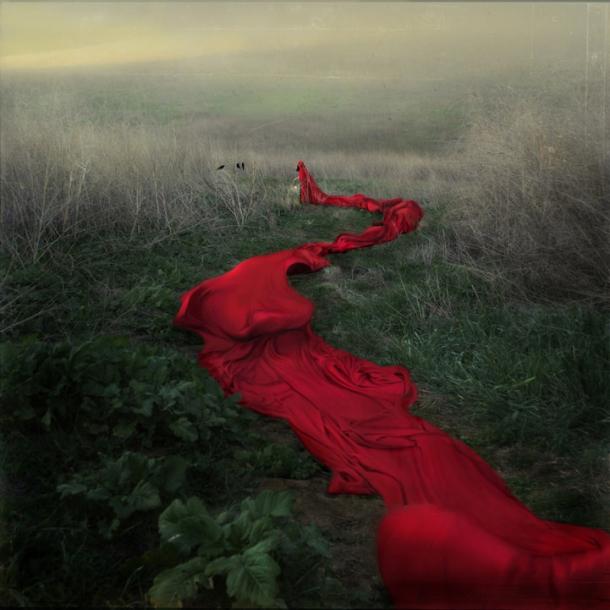 Destiny's Way
Love, too, is full of philosophy.
Secret lovers
Dreaming of a past love
Even the wedding photos she manages to do with philosophical overtones. And they will only win.
Building memories
Lost in his own world
Once ...
Maximum elegance
In January, my husband and I were on an abandoned airfield. We were looking for at least some remaining buildings, even ruined, probably at least one runway. But there were only fields sown with forage crops. Hard to believe, at the time was known Taft Airport, where made his ups Chuck Yeager, the first pilot, which was praised for speed, and compares it with a beam of light, flying faster than sound.
Quote of the photo below:
Learn from yesterday, live today, hope for tomorrow. The main thing - do not stop asking questions ... Never lose a holy curiosity. Albert Einstein
Sounds of rain. Photo taken in the mountains Red Canyon in Nevada.
There are well-known revelations former bullfighter Alvaro Munera, who scored his art when he first saw the bull's eye.
"And then I looked at the bull. He had this innocence that all animals have in their eyes. He looked at me with a reproachful plea. It was a silent prayer ».
The picture is taken from the bull vintage poster artist fuser and processed in Photoshop.
Generosity in the face of death
Exotic roots
Just an interesting family photo. We posed during the holidays, just before leaving. Bear face - the idea arose spontaneously, in the cabin on the shelf was the head of a bear, so I came up with to do so. In the photo there is my son, and all the assembly.
26 roses in memory of the 20 women and 6 children who were tragically killed in the Sandy Hook Elementary School December 14, 2012. On that day, 20-year-old Adam Lanza shot his mother first, and then shot the teachers and children at school.
My favorite place - Canyon red mountains, where I rented a base for many of his works. Shooting model - my husband. Initially, it is a jump from a working platform, and he broke his leg in the jump. But it was his idea - to jump off the traveling train and see what happens. I decided to honor his courage to do here is the photo.
A quick escape from the city madness
As a model - my daughter. My sister has painted her half of the face, and I played with collage, until the idea pictures.
Feel the wind
In Paradise riots
Princess abandoned city
Model - my husband. The photo was taken during a trip to Big Bear Lake. Everything that could go wrong went wrong. The car slid on the ice, the engine stalled, we rented a house, but our blind dog fell from the balcony, I fell down the stairs, my daughter, too, ached sharply. But we knew what we knit and no "tigers" we are not afraid.
Walking on quiet paths
Time travel
Fanning the flames
Bird of Paradise
Light, she exudes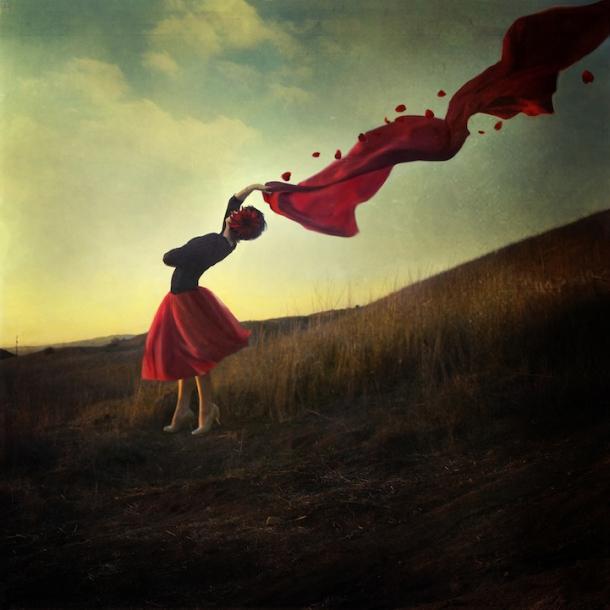 Freedom
Sower of chaos
The dress was sewn model to my daughter, who is studying at a fashion designer. The meaning of a photo that does not need to be a genie to fulfill your dreams. All in your hands.
The force that will make your dreams come true
Siren in the depths
The moment of magic. It is quite natural to feel the loneliness in moments of joy. But it is necessary to reach a new joy, and you will once again erase the memory of loneliness. Mizu Sahara.
My daughter looks at the clouds, which were taken during aerial surveys in Peru, in 2008, when I was flying home.
Catch without wind swim without water
In the shadow of giants. The photo was shot in Manzanar, the former concentration camp, where prisoners were kept the Japanese during World War II.
And do not forget that the earth is glad of your game to arrive and the wind in your hair ... Kahlil Gibran, The Prophet. Model: Stephanie Flores.
Where time stands still ...
Protection
Collector pearls
Tears in the garden ...
... Let them go!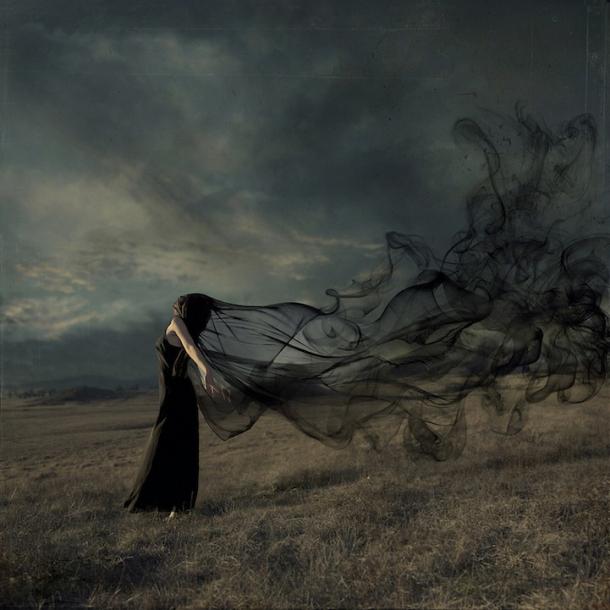 Death
Dance of colors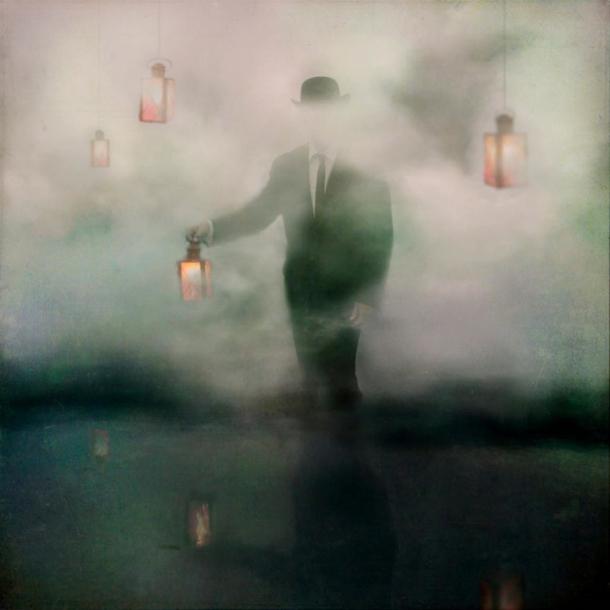 Fog
Either end - this is only the beginning of all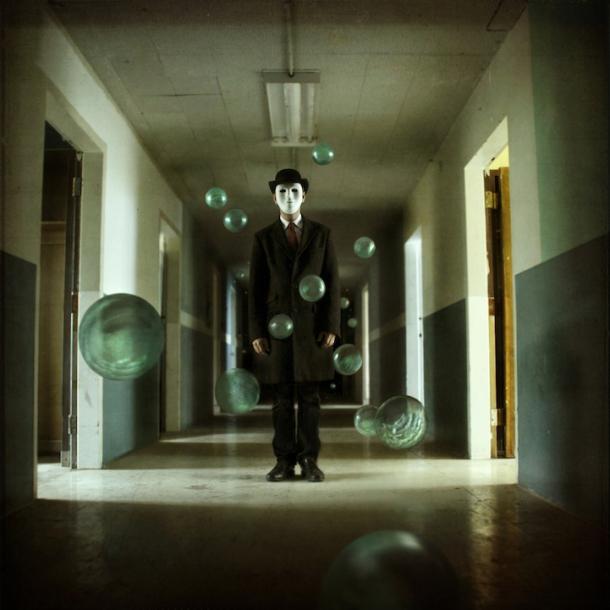 Mask
Flying Cranes
And finally a few photos that Trini puts in its portfolio. Here you can see how the process works.
Every week she puts a new job, and most likely next year we will see more pictures, full of wonders.
Exquisite work and such modesty. Trini did not even consider it necessary to make any copyright on the photo, it just does his own thing and everything. But the works speak for themselves, and not surprisingly is if it becomes world famous.