City cars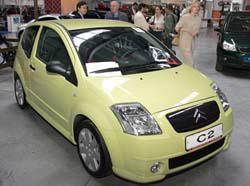 In this class, only four avtomobilchika: Daewoo Matiz, Citroen C2, Suzuki Wagon and "Oka". And the best was recognized Citroen C2. Small, but the fastest and most high-spirited competitor acceleration to 100 km / h in 10, 9 seconds, top speed 195 km / h), it is also the best and furnished. Semi-automatic transmission allows even forget to switch the speed and take foot off the brake when stationary. In general, a woman's little car. The results of the annual national award "Car of the Year in Russia 2005". Less than 1% of Russians voted for domestic cars. Small class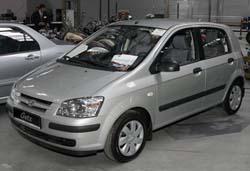 In our market it is presented 22 cars. Among them, the Ford Fiesta and Ford Fusion, Volkswagen Polo and Volkswagen Pointer, Renault Clio and Renault Symbol. The winner in this class Huyndai Getz. This machine, only appearing in our market, it immediately won. What is called "cheap and cheerful". The owner gets the fastest to 100 km / h in 9, 6 seconds, top speed - 180 km / h), comfortable, with all the popular today elektronachinkoy, and most importantly, reliable car. We must pay tribute to his cabin. Despite its small size, it is quite comfortable to sit and people of high growth.
Small middle class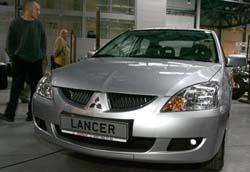 The most numerous and the most popular in our country. Bright representatives: Volkswagen Golf, Opel Astra, Nissan Almera, Toyota Corolla, and VAZ 2105, 2110, 2115 and IZH Oda. It won Mitsubishi Lancer. The average in-class price and average quality. It seems that the respondents chose it the fastest cars. Lancer in these parameters up to 100 km / h in 6, 1 second, the maximum speed - 245 km / h) even overtook Alfa Romeo 147 and the Audi A3.
Middle class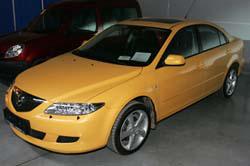 However, according to the organizers of the award, in most cases people choose appearance for 95 percent of the voting this option - at the forefront), which is most clearly manifested in this category. In this class of machines so different that it is difficult to compare them with each other. There Chrysler PT Cruiser, trying to look like retro, and does not stand out, except for its brand. Volvo S60, aggressive and sporty Subaru Legacy and a solid, confident Toyota Avensis. But the leaders went Mazda 6. Aggressive and at the same time sleek design does not leave anyone indifferent. Anyway, I have not seen those.
Business class
Typical members of this community -Mercedes E-Class, BMW 5 Series, Nissan Maxima QX, Rover 75. adorn this galaxy of GAZ-31105. On stage, before you open the envelope and announce the winner, member of the Commission, whose duty it was honorable, he gave a touching speech: "I have the opportunity to announce the winner in the class ... our class, judging by the cars parked in front of the center of this ..." and announced Audi A6. This machine has increased compared to its predecessor in length, width and height, lost the roundness of the lines acquired grille as disclosed in surprise mouth and more like a general - and appearance and content - its counterpart higher class. Perhaps this desire for high and served as the main criterion for the recognition of her car in 2005.
Executive Class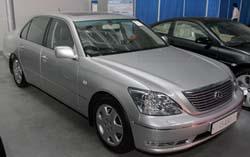 Even some brand names speak for themselves: Cadillac STS, Volkswagen Phaeton, Maserati Quattroporte ... In such competitors win Lexus LS 430 to be an expensive cost. However, this brand is always associated with the executive class. And part of the reliability of these machines have always been the first line of the world rankings. But if judged on appearance, it certainly commands respect for cars and his happy owner, but remains a traditional and conservative. Maybe this is what respondents like?
Executive class premium
There are only three cars: Bentley Arnage, Maybach, Rolls-Royce Phantom. To guess the winner, three times is not required. Of course, this is a huge, black, with a massive grille and "Nike" on the bonnet of Rolls-Royce. Despite its impressive size, it weighs comparatively small: only about 2, 5 tons. This accelerates to 100 km / h in 5, 9 seconds and a top speed - 240 km / h. Should this "people's choice" from 512 thousand euro, and only 25 people in Russia today can boast of owning this luxury.
Coupe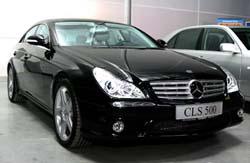 Among the sports, light, strong, fast, such as the Audi TT Coupe, Lotus Exige or Chrysler Crossfire, recognized as the best, again, the most dynamic. Namely Mercedes CLS. Up to 100 km / h it is dispersed for 4, 7 seconds, three tenths ahead of a more sporty Lotus. Not least in the choice was the fact that the Mercedes CLS, unlike his colleagues in the class of five doors.
Coupe Premium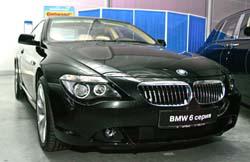 Machines for those who travel in the executive class in the back seat, but sometimes likes to tickle the nerves themselves and others, reseeding at the wheel. 575 Ferrari Maranello, Ferrari Scaglietti 612, Maserati Coupe, Mercedes SLR McLaren, Noble M12, Porsche 911 Turbo - are only a few representatives of this class. The victory went to the BMW 6 Series Coupe. There is no dispute, the car beautiful, stylish, comfortable, intelligent ... Even too: it is equipped with a special system Active Steering, which monitors the steering angle and, depending on road conditions determine the degree of coupling outside of the wheel and the road. However, he loses in speed characteristics - at least in comparison with the above its competitors.
Convertibles and roadsters
Ford StreetKa, Honda S2000, Opel Speedster, BMW Z4 - a total of 17 marks in this class. But it was not difficult to predict the winner: Porsche Boxster. This is a classic of the genre. Despite the fact that in high-speed qualities it yields four competitors, all the same dynamics and the feeling of a racing car cockpit well above the Boxster. Yes, and design over the years, changing very little, stirs love for the roadster. Composite engine of 260 horses, it accelerates to 100 km / h in 5, 7 seconds. The maximum speed - 264 km / h. Ceramic with good ventilation brakes allow controlled easily with this machine.
Convertibles and roadsters premium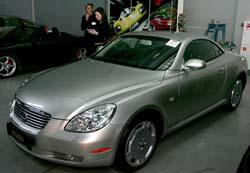 This machine highways and preferably somewhere in the Miami area. Bentley Azure, Ferrari Spider 360, Mercedes SL - hard to imagine them on the Russian roads. Although occasionally found here. A win in this series Lexus SC 430. surprised by the presence in the convertible second-row seats. It will only be able to fit a pocket or Pekingese lapdog, but with comfort. In all other Lexus only in Central Africa UFOs.
Wagons terrain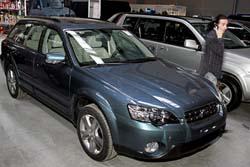 There are only three in our market: Audi Allroad, Subaru Legacy Outback and Volvo XC70 Cross Country. The winner in this category Subaru. Needless to say, and looks expensive, there's something in her space, and filling at the highest level. Engine - 2, 5-liter, increased ground clearance, reinforced suspension, four-wheel drive - all this gives us confidence on the back roads. I managed somehow to test drive, they say, put him in a puddle. The manager then complained that bald tires, but most likely not complete the roads for this car. It sports family for outings.
Light SUVs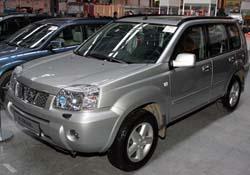 Jeep Wrangler got here and KIA Sportage, Suzuki Grand Vitara and Hyundai Tucson, BMW X3 and Shevrolet Niva. Car was appointed Nissan X-Trail. One of the most dynamic "SUV", an updated version of which appeared on our market in the past year, has gained popularity. Those who are not familiar with the latest machines of this mark may be surprised that the instrument panel is not in front of the driver, and in the middle. The Japanese claim that it is convenient. But the SUV in the fullest sense of the word can not say. Is there a center differential lock and cross-axle - no. Missing and downshifts. So go to the swampy expanses of it is not necessary.
Average SUVs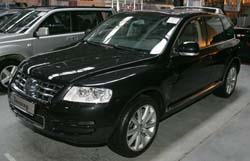 In this group, as they say, "together in a bunch of horses, people." Some of its representatives to leave the field, the Pampas, not everyone dares to prairie. Judge for yourself: here and BMW X5, Cadillac SRX, Mercedes M-Class, Porsche Cayenne, and here Land Rover Defender, Mitsubishi Pajero, Toyota Land Cruiser Prado. And UAZ Hunter and UAZ Simbir. However, the winner was named car, which is generally easily to any class ranked: Volkswagen Touareg. Interior of this car is more like a cabin ocean yacht: expensive decoration, not a lot of instruments, but their informative calm even paranoid, the number of knobs baffled. Before you start off, better to read the instructions. Seats with six settings, height and softness of the suspension is adjusted joysticks. But first, you can do an automatic mode. On the track, he behaves like a very sporty car, in the ravines and fields - as an SUV. There differential lock, there is a reduced transmission - in short, everything you need and even more.
Heavy SUVs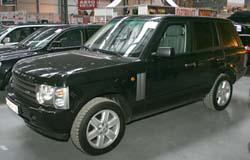 Hummer H2, Nissan Patrol, Toyota Land Cruiser 100 - now it is not the ATVs and vezdeprolaztsy dream hunters, fishermen and other adventurers, and combed and comfortable SUVs. But they are still ready and into the mud, and into a swamp, and other gullies. Best named Range Rover. After graduating, a company spokesman said that this award will take its rightful place among other confessions obtained at international exhibitions. In the high-speed characteristics of the Range Rover is second only to Mercedes G-Class. Was born in 1970, the flagship of the Land Rover is so shocked the audience that a year has been exposed as an example of design in front of the Louvre, the Mona Lisa. It is not a shame and an appointment to the Queen and to the country. With such a solid appearance updated version even become more SUV than its counterparts. Air suspension and adjustable ride height allow to pass anywhere. Suspension travel is such that the possibility of separation of the wheel from the ground when passing obstacles tends to zero. And still enjoy the ride in this car the best in the passenger seat. Ergonomics in it is intended for a boss rather than the driver.
Minivans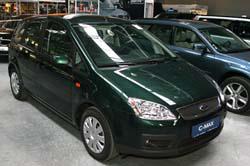 Family cars, which have already become classics. And the tone in this class asking Renault Scenic II, Opel Zafira, Volkswagen Touran. Russian manufacturer of the same acts in this class with VAZ 2120 Nadezhda. However, the victory was awarded unconditionally Ford Focus C-MAX. Unlike its rivals, which are provided and seven seats, and salony- transformers, this car has only five seats. Interior transformer can be called a stretch: retracted middle seat of the second row and push the table. But the rest ... Two years ago, at an exhibition in Brussels, this car won the award for design solutions. Despite the fact that it is quite high, on the part of control is the best car in its class. He's not the most dynamic, but for a family car is not the main issue. This is probably the best representative of this family of Ford. By the way, perhaps, is the first foreigner whose board computer Russified.
Small commercial
In this class, the fact that in Russian is called "heel." I must say that it is a domestic manufacturer and submitted to: Iz Ode pickup. Most of its competitors can be used not only for transportation of apples, cans and boxes, but also as quite civilized small family avtomobilchik. In this class, the victory went to Renault Kangoo. Small but surround the trunk, front-drive, high-torque and economical - everything you need for a delivery truck in the city.
New Year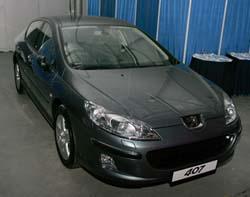 In this category of vehicles 90 consumers chose the Peugeot 407, the speaker in the middle class. Heir 406 th added to the exterior aggression due to the wide air intake and elongated, the setting on the wings headlamps made it more streamlined, slightly increased in size and were placed wheelbase, giving clarity of management.
Outcome:
None of the domestic brands are not even won the third place. According to the organizers, less than one percent of the respondents have advanced the domestic producer on the leader in the class. Maybe at the end of this prize is worth considering not only the managers of foreign companies, but also our automakers?
And now the people. It is clear that where the survey is conducted, it is important to know who and how to interview and what was there was assessed. There were represented among the 253 car officially sold in Russia in 18 categories. In voting
letters, via the Internet and SMS) was attended by about 50 thousand people. From the respondents were required to specify the code beloved in the corresponding class of the car and choose "new year."
Now we will try to draw a portrait of the audience. 88 percent of the vote for one or the other car - a man. Age more than 35 percent golosovavshih- from 18 to 24 years. In second place - 30 percent - people from 25 to 34 years. Nearly 45 percent of respondents - people with higher education. Middle and high spetsialnoe- at 28 percent. In 50 percent of the participants of money is enough for large household appliances, buy a new car but they could not. In 32 percent of voters have enough money for food and clothes, but buy now refrigerator or TV it would be difficult. In 42 per cent of respondents do not have a car, at 32 percent - the domestic transport, 25 percent - imported.
The Source: "Rossiyskaya Gazeta" on April 22, 2005