Famous blogger shared his stroll through the pedestrian zone in Moscow, and the problems of construction of these zones.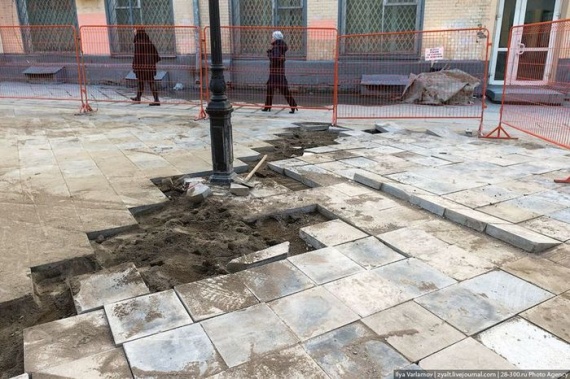 Unfortunately, I must once again write about the tile and pedestrian areas. The situation is really critical to them. I do not remember such an event in Moscow, to the eyes of thousands of Muscovites six months engaged in frank sabotage. And this is done either somewhere on the outskirts of the city, this is done in the center. One of the last projects Sobyanin, which he personally presented December 31 is now destroyed. In an attempt to save the pedestrian zone of unskilled construction workers from Central Asia to methodically destroy all that is left in its path. They work without documents, without complying with the rules of the work, without special equipment. Yesterday I once again walked through the pedestrian zone, and I can say that works are made with 100% by marriage. It is already impossible to restore or repair, all the material is broken, pedestrian areas should be completely dismantled and re-do.
Now people are trying to obscure something repaired.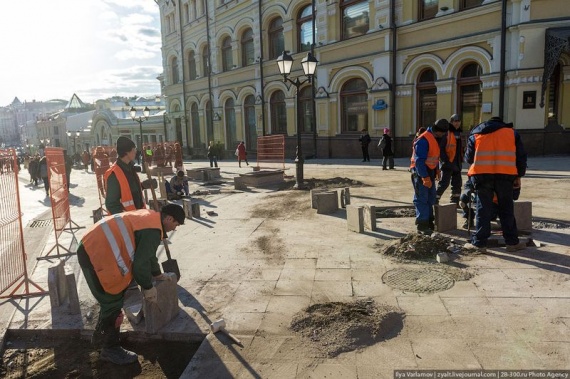 Why strange? They do not know whom to work, they are not in possession of any documents, they have almost no say in Russian. We found out that they arrived 2 days ago from Tajikistan and at the station took them into circulation any foreman, whom no one has seen.
Now let's see what they do. I already wrote how to properly put the granite slabs. Pedestrian areas in the winter did in violation of all possible technologies. Sand concrete simply dumped on the ground and laid on top of the plate. No need to be an expert to understand that the concrete hardens normal winter. And so it happened. A week after laying mite start to crumble and fall through the plate and become loose. What is doing now? Now pick up the plate and scrap crumble somehow solidified sand concrete.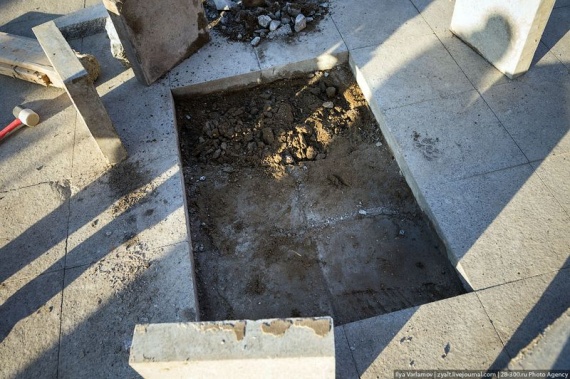 That's right because crowbar and crumble it into dust