Lithuanian journalists dispel the myth of the chaos in Sochi: here glamor and glitter
Helpful volunteers, gentle sea breeze, luxury hotels. And at the same time - the builders, who frantically trying to complete work on a variety of objects. The capital of the Olympic Games Sochi - a city of contrasts.
Sochi, rather its suburbs Adler, which runs the airport, smashing the Olympic Park and the Olympic Village, now together with the Latvian delegation on the charter flight airline Air Baltic arrivals Lithuanian athletes met a warm spring - on the thermometer was 8 degrees Celsius. In the mountains, where the skiers, skiers and biathletes somewhat cooler.
And while the world's media are full of reports and reporting on the chaos and unfinished work in the capital city of the Olympic Games, while the Lithuanians lucky. The procedures for accreditation have been carried out at the airport quickly, and later all arrived without any problems or discrepancies were brought to the place of residence.
Hotel «Gorki Panorama», which settled journalists from Lithuania, breathes luxury. From the cable car, which you can climb to the town of Gorki-2, the volunteers arrived to the hotel to bring an electric vehicle. No need to worry about the luggage - they are delivered directly to the bus in the registry.
However, in the corridors full of builders who are trying feverishly to finish everything in time - in some places of the walls are still sticking wires in warp rooms hotel staff, thanks to which the rooms appear remote controls, spoons, garbage cans. However, in the taps - clean water, good wi-fi, in the presence of a kettle, fridge, coffee and tea.
Admiration of living and working conditions and the photographer does not hide Alfredas Plyadis who personally seen more than one Olympics.
"This is my journey to the hotel and the room, I give to my disposal. I photographed and colleagues. I do not know a long time since I did not have such wonderful conditions. In general, you're done - chic and shine. However, the cleaning lady came, very sorry that there was no spoons. Television is, the refrigerator works, water availability, the fan spins, heat, and from the window - a fantastic view of the mountains, but it is already the next time ", - he said, sharing his photos with DELFI.
According to him, in his room has two beds, iron, cabinets, mineral water.
"So the myths dispelled the terrible picture ... at least for us, the journalists from Lithuania", - smiled photographer.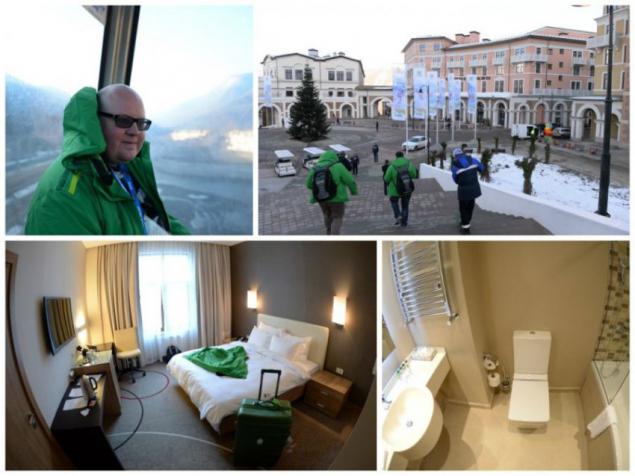 Source: ru.delfi.lt