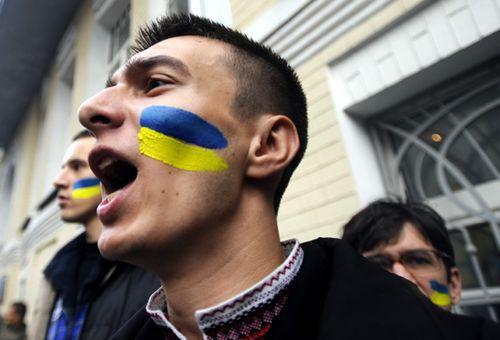 Recently, the first time I thought seriously about going into the Ukrainian language. Not at the meetings, not during business trips in Western Ukraine. And in general. In the correspondence, in his spare time, in a group, in social networks, in the family. We discussed this a few times with my wife.
For me personally, there are a few "pros" and "cons". But the final straw that made me think about it seriously, was our trip to the new year in the UAE. By coincidence, together with us went there a couple of tens of thousands of Russians.
I love my St. Petersburg, Moscow, Voronezh and Belgorod friends. But, unfortunately, there rested people a slightly different category. After some not very pleasant moments that took place with guests from Russia next to us, our family moved purposefully into the Ukrainian language in their communication with each other. And talked until the end of the trip.
I do not want to describe the nuances, but remember one thing very much. We had dinner in one of the types of restaurants in Dubai Mole, who goes to Dubai's famous dancing fountains. Next to our table sat a couple of glamorous girls from a particular club in Moscow.
When we were making your order, they were just busy absorption main dishes. The waiter took our order, asked politely not from Russia we, to which I replied in English, there is not from Russia, we are from Ukraine. And then the girls became hysterical: the one who sat in front of me, I almost choked on food, and her friend leaned back in his chair and tried to keep very much laughter. They became very funny that I said to the waiter. And I was not funny.
I do affects that of many Russians there is the eternal unrest in relation to the Ukrainian discourse. They definitely need something to do with us to discuss-something reproach and for something to cling to. Thank God that we have things work differently.
I think if we had declared to Russia the same emotions, like most Russians, through a fairly short period of time we could turn into two irreconcilable enemies.
Events in the country the last few months show is absolutely a different qualities of people that have seemingly asleep somewhere very deep.
Let's imagine that almost unimaginable, let's imagine that we are intelligent people
After returning to Ukraine, I realized that my desire has not disappeared anywhere. I still want to declare their affiliation to the Ukrainian discourse. The discourse of the Ukrainian culture. Recently, we met with one of our very close friend who speaks in Russian and thus holds no less patriotic views. She expressed similar views: "Before, when I dodalbyvalis to" a ti chomu not rozmovlyaєsh Zi ukraїnskoyu me ?? ", I first sent three letters, then explained that speak in the language in which I want to, because I live in a free country. Now around me as something more and more people are talking at the Ukrainian - friendly, unpretentious and boast to anything I did not forcing - just because "speak the language in which they want, because they live in a free country. " Me and most all the more eager to go to the Ukrainian. »
I'm the kind of person that appreciate freedom above all else. When someone is forced to do something against his will, when man humiliated and he does not have the opportunity to respond - I reduces cheekbones with indignation, and I want to quickly intervene. Perhaps that is why, after the adoption of the law on regional languages ​​I, along with the morning show on Radio Just moved to the Ukrainian on Thursdays.
Perhaps that is why, when I hear speeches about the ardent svobodovtsev "Muscovites" and "Jews", I want to stick yourself overhead sidelocks and distribute calendars with the Russian flag at their head office ...
Because it can not be forced to put a flower to people who are allergic to its color. Because you can not judge of Ramshtayma at gunpoint to make love Grieg. You can not impart beauty saperskimi blades. You can not be happy at the expense of others. It's long been known things.
Even almost generally accepted standards of supranational society, where we are seeking - the notorious so-called European values. But as recently told my friend the broker customer questions:
 - Why do you let me repeat three times what a beautiful apartment ?? I already knew it from the first time!
 - Because after my third repetition you it's also remember!
These simple things need to be repeated indefinitely. Because we'll all have long grown men. And adults and learn and memorize all the much harder. Maybe someone from our parents as a child to talk about sex even less than me.
I like all of us subject to their stereotypes, their lack of freedom and fear. As every one of us, I have something that I cherish and I do not want to lose. But lately, I do not often want to be among the "friends". Language, "Move", views and values. I would like that I was surrounded by beautiful people. I would like to consider me a beautiful person. Of course, you understand what I'm talking about beauty. On the beauty of words and deeds, deeds and attitudes.
I titled this article is not very politically correct, it is possible. But I did it intentionally. I really like the correct use of the woman of the Ukrainian language. But I sometimes very sad that politics in my country who can afford such statements do not have the support units and thousands of people.
For me it is important now to declare their position. For me it is important to carry it like a flag. To all who are with the same flags, could see it from afar. I have many friends of Jews, Russian, Armenians and Georgians. I want them feeling Ukrainians were happy. That they were happy living in the land, on which not always feel my great-grandfathers Ukrainians. I wish they choose the language in which to talk with friends. I wish they would choose Ukrainian.
Denis BLOSCHINSKY