Today I'll show you how we went last summer to Spain on holiday, and I hope we will go next.
It will not be photo essay, I will just share the experience as relaxing trip without the help of travel agencies are not very expensive and well.
So.
First time abroad for my wife and I went back in 1996, it was Cyprus, has since visited the different countries where we have sent the travel agency. But for several years now and we are planning to organize their own holidays.
The most serious was a trip to Italy seven day cruise in the Mediterranean on a huge cruise ship MSC Fantasia. That was in 2011, and I was a little rusty the process of organizing, so it is not described in writing about the fact that more fresh. But if it will be interesting, and remember about Italy.
In short. It begins with the fact that we are in January-March, search and book the accommodation, which is cheaper. For example on the previous year at all funny, the price of the hotel for the season jumped more than 2 times.
Doing it in the Buckingham, the options are many, we reserve apartment, just in case, with free cancellation. The last time it was simple Internacional II in Salou unpretentious, well, you can live.

Salou was chosen due to the fact that there is a great amusement park Port Aventura, my wife and I were there in 2005 and then decided to bring their children.
With the booking of accommodation problems, I think there should be, everything is simple.
The next step, how to get there.
We flew through Finland in the budget airline Ryanair
www.ryanair.com/
The peculiarity of the company, in addition to price, is that it does not fly in the main cities, but close to them. In Spain is Girona, 100 km from Barcelona and 250 km from the destination.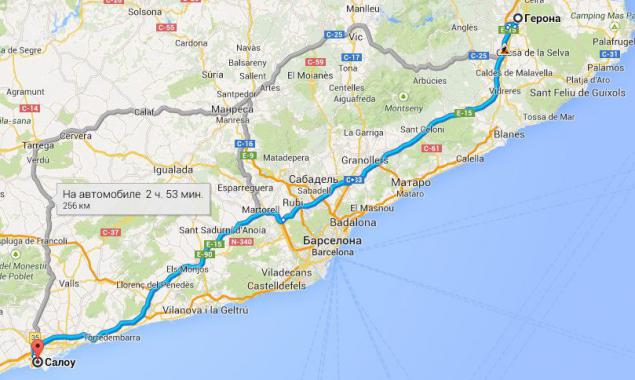 Plane tickets, for example, if you buy now, will cost four to go back 863 euros. This is because of Lappeenranta. Agree not expensive.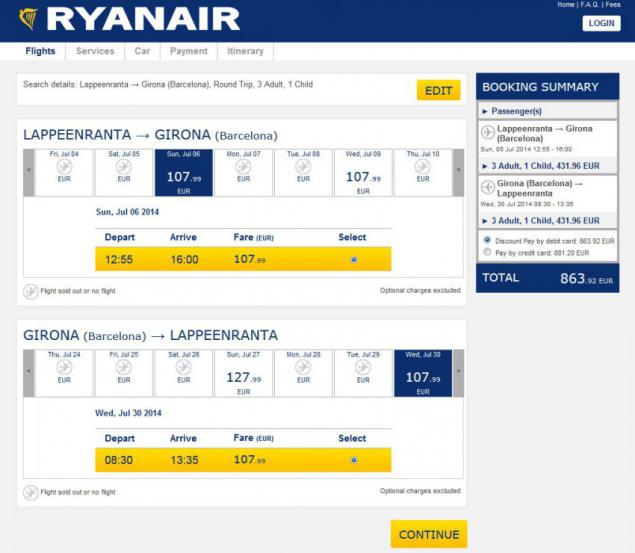 The main thing very carefully read the rules of this airline, there are a number of restrictions and if they do not comply, you can get to the money. The main thing is that the salon can take one suitcase, which should be all that is female handbag or camera in the bag must be inside the suitcase. The weight should be no more than 10 kg., And the size of a suitcase 50 * 40 * 20 cm. You can certainly pay a large suitcase and hand over his luggage. But we are missing four four small suitcases. In general, it is best to check out forums, otherwise it will be a lot of text here. In general, no special difficulties.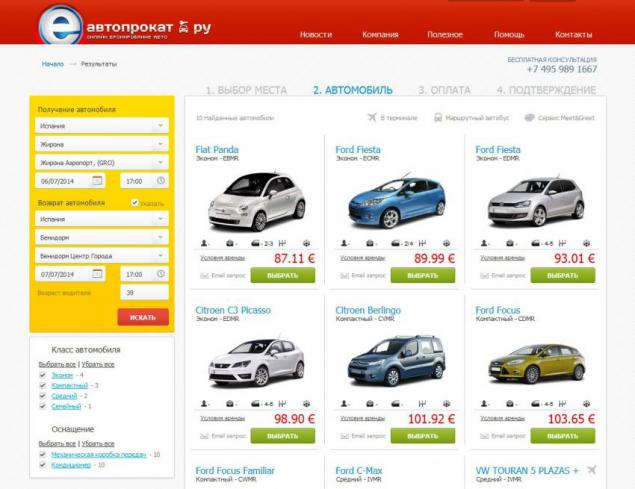 So arrival in Girona is at 17.00 which is good because it is possible to rent a car. Available with rail or bus, fall away, because the money will not much cheaper, but it will be a bunch of crap, straight, like no, all over Barcelona. A car can be reached without any problems.
Take the car directly at the airport, book in advance, I made a reservation
www.eavtoprokat.ru/.
Now, you can book the best budget option around 90 euros. I looked back to the Benidorm where we plan to go next year.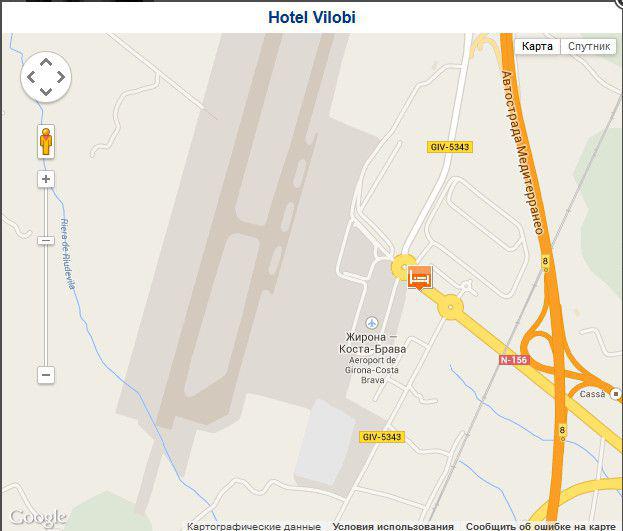 Not the essence, the price will be about the same if returned to Salou. The only thing that the site does not allow to select Salou, you can specify Tarragona (10 km), but put in Salou. They do not care, at least, last year we took from Europcar. We came to pass in Tarragona, and yet learned how to get to Salou, we were told, do not worry the brain, hand over the car to Salou and everything.
If the car booked to take it very easy and fast. By the way, yes, I forgot to say, the languages ​​I have full ass. I do not understand any of kakovski but our course and do not speak too well, almost do not understand, let it does not frighten. On the fingers can explain everything.
In short, take a car, catch a navigation satellites and forward. We were given a baby i10, which we have no problem dovezla. The road is excellent with pay sites.
A little bit about it.
The idea is that first you get a ticket at the entrance to the paid section, and then paste it into the machine when the toll section ends.
I do not feel sorry for these items sfotkal.
The ticket you take a simple button zhmёsh like), and we paid with the card, put the ticket immediately card, money written off.
It can be in cash, so, too, were paid back. Suёsh bill, you get the change. The main thing is not to hesitate. I first time arrived at the point of payment, the employee saw him and cried aloud HELP, he put my ticket and a map of where you want where you want.
I do not remember exactly, but the fare is not critical. In total, the shuttle back and forth went somewhere 250 euros. And given the fact that back when traveling, we had a free day and we went to France, 100 km from Girona. the beautiful town Perpenyan.
On arrival at the place of children throwing little things and when the wind blows with his wife in the store.
As for Salou and there is a normal shop, but it is not very large. We went to Tarragona, a 10-minute ride. There is a large supermarket. Then the bus went to Food.
Well, all we have in place!
Then we do what we want.
The return trip is about the same. Booking car immediately when we pass. A small inconvenient is that the aircraft departs at 8:30 in the morning, so reserve a wonderful hotel in a three-minute walk from the airport.


As mentioned above, since the left of Salou morning, the Girona were already somewhere in the hour of the day. Naturally, you need to have fun like that, we came up with a trip to France, a walk on Perpenyanu, snack and late in the evening back to the hotel. By the way, the car is not necessary to pass the hours when running a rental. There's a hole where you throw the keys and everything you put the car into the parking lot of distributors.
Of course, it may seem that all of these additional activities and expenditure on the circle will lead to the same value as the direct flight. Not really. In any case, it is cheaper. But even if it were so, we still do not have a direct flight flying because it's part of the journey pretty interesting.
Next year, we have already booked apartments in Benidorm, it is generally far from Girona. But flying is still there. We decided that will drive 350 km. to Peniscola, spend the night there and already go to Benidorm, approximately the same number.
You can certainly fly to Alicante, close to Benidorm, but from there already will not go away then. We want after Benidorm, go back to Girona and drive or to Andorra or France a couple of days to hang out. Those who were not in Barcelona, ​​we can go there there were already two times, I did not go, my wife and daughter went for a tour.
A little bit of food. The price of food is about the same as we do. More expensive is obtained due to the fact that buy semi-finished products. But you can buy potatoes, meat, vegetables and soup to weld or something, well, in short, the usual food. It just wants the end of the second week.
And eat that fast, there is a normal pizza and not expensive in the shops, all kinds of sausages, sausages, short of food no problem.
Now, who is with me in the roll of Benidorm in July See:
We are still in September to stay in Benidorm here such.

Plus Peñíscola, there here: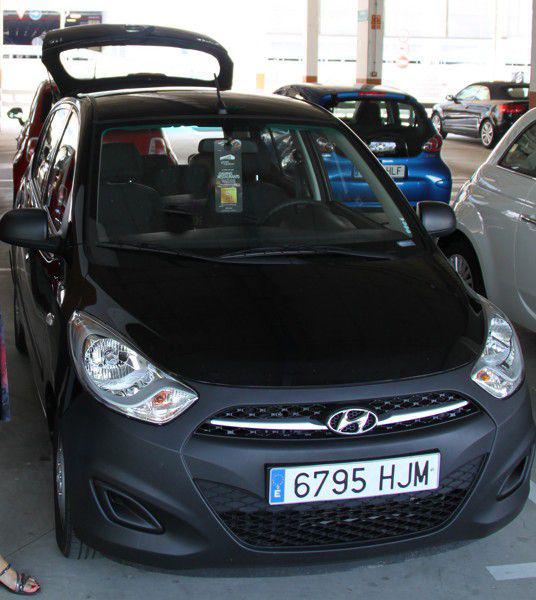 Plane tickets will cost thousands 40 000 - 45 000 depending on the course, they must immediately pay, we will buy in January, February. The machine can also book in advance, will be cheaper, do it when buy plane tickets.
Well, everything will get a visa Finnish, our spring run. And ahead, the Mediterranean Sea to bathe!
Well, now everything is still a few photos from the last trip.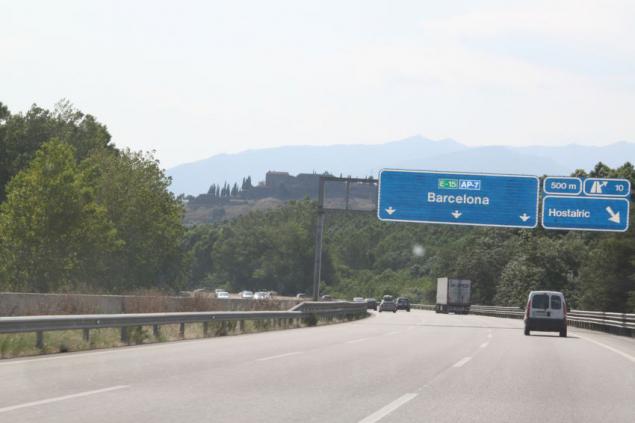 Baby i10, gave back to the Audi A1, of course she wore on pleasantly.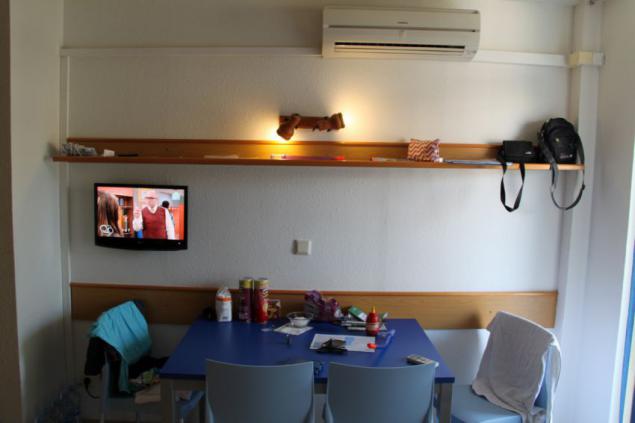 Road to Salou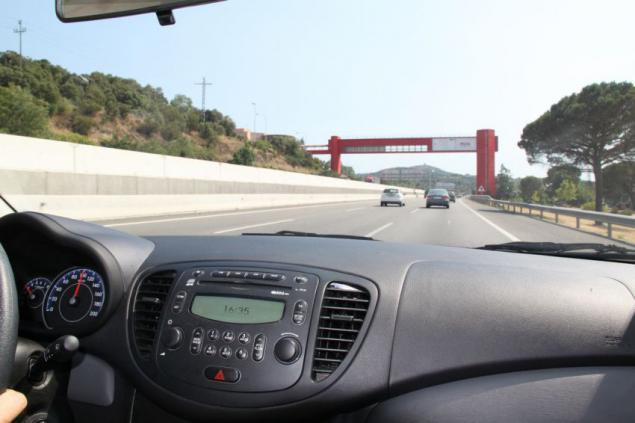 Apartments in Salou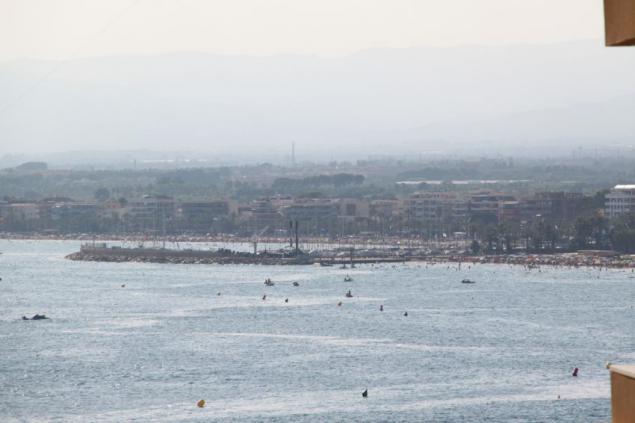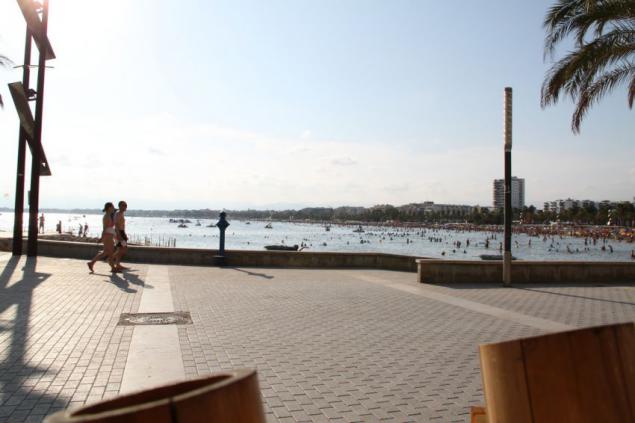 Salou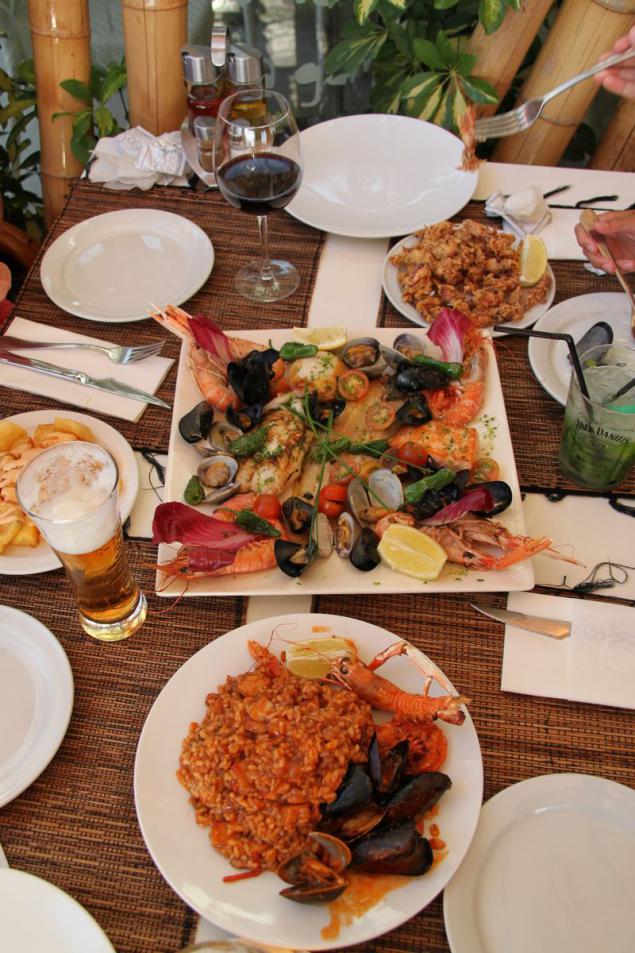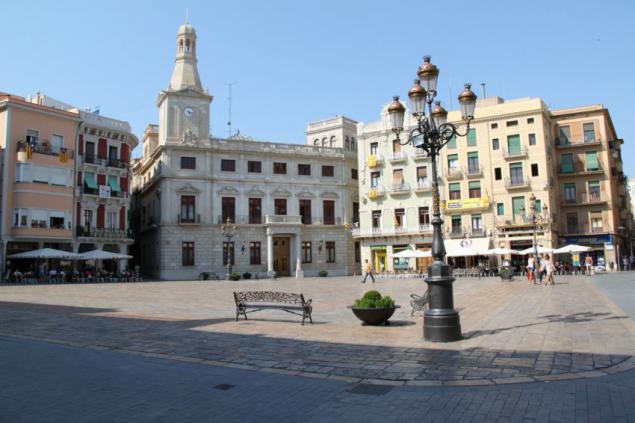 At son's birthday, a festive table in the restaurant. The staff told us that the DR, we brought a cake with candles and waiters sang a song for him, birthday embarrassed).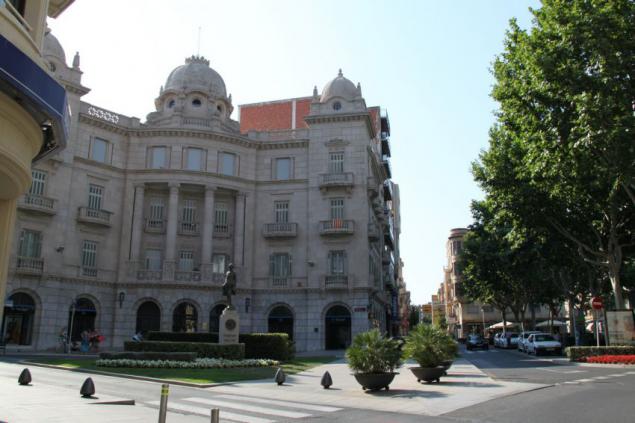 Reus, near Salou, a normal town.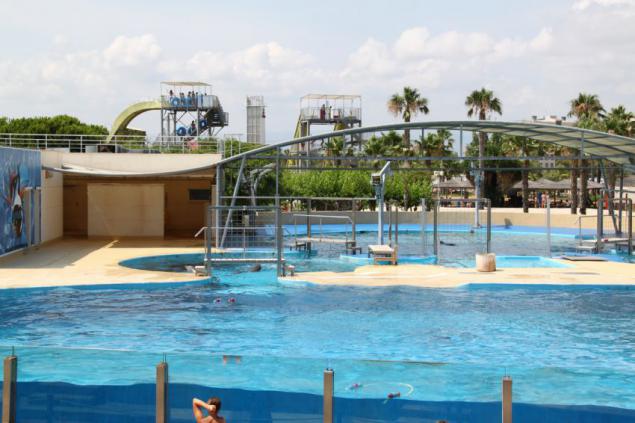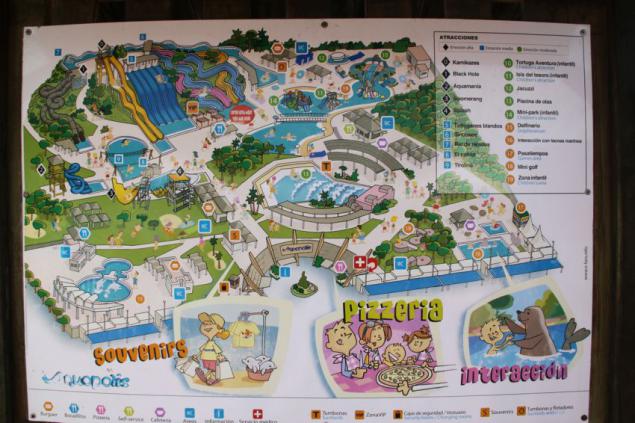 Akvarark a dolphinarium in Ayanape, near Salou, to go when it tanned, or fried.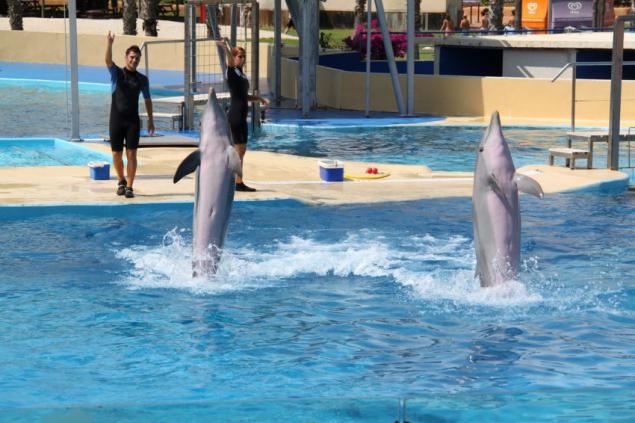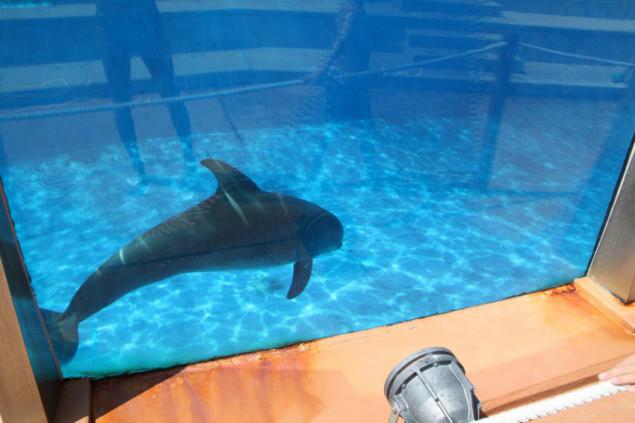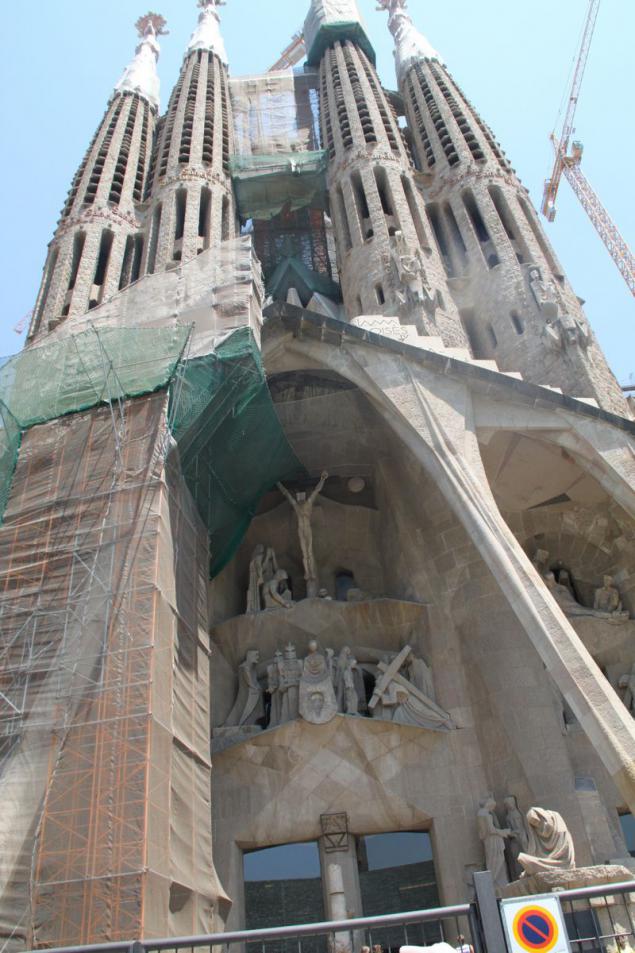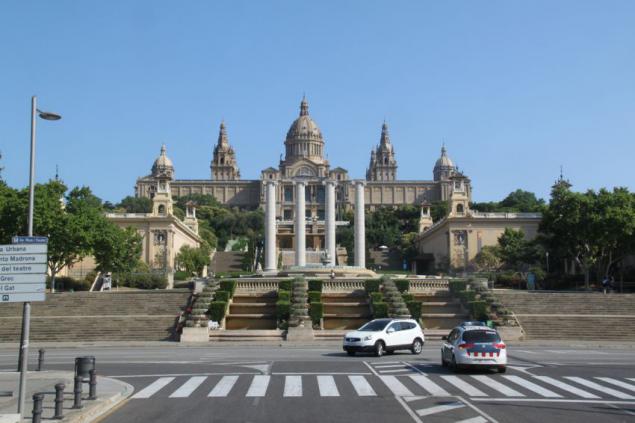 Barcelona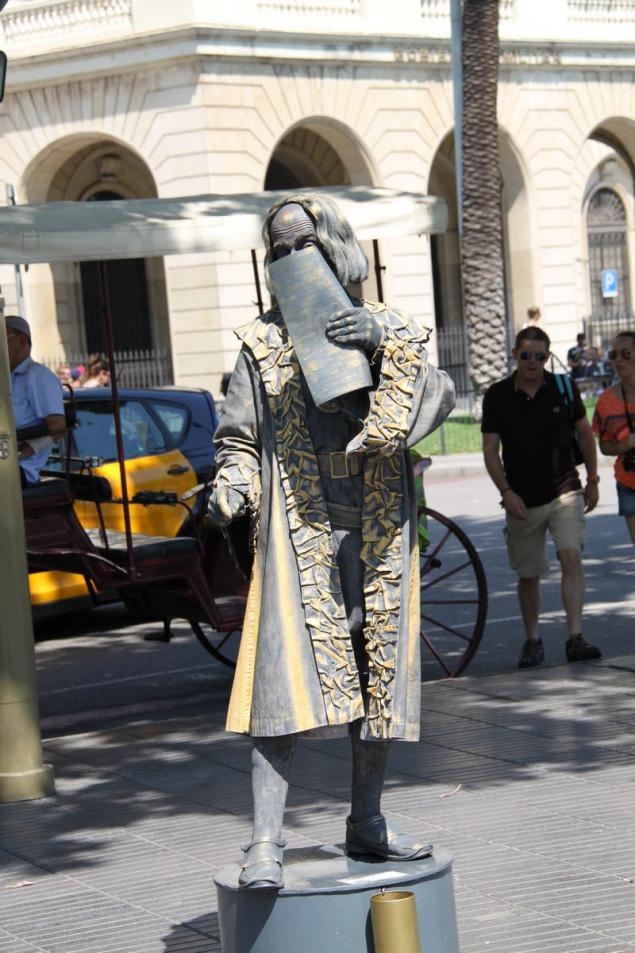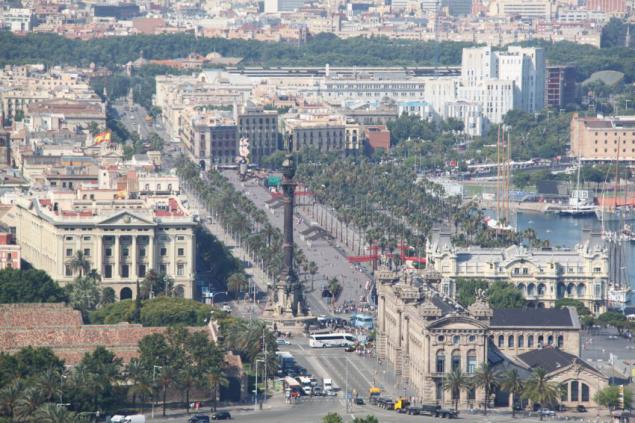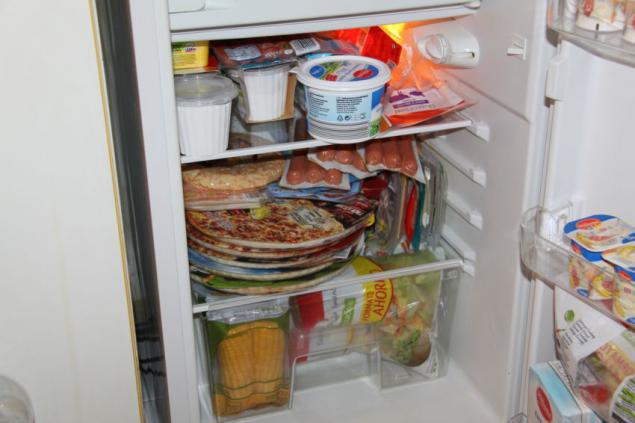 Our food supply. Refrigerator, certainly too small, this time looked, that was for more.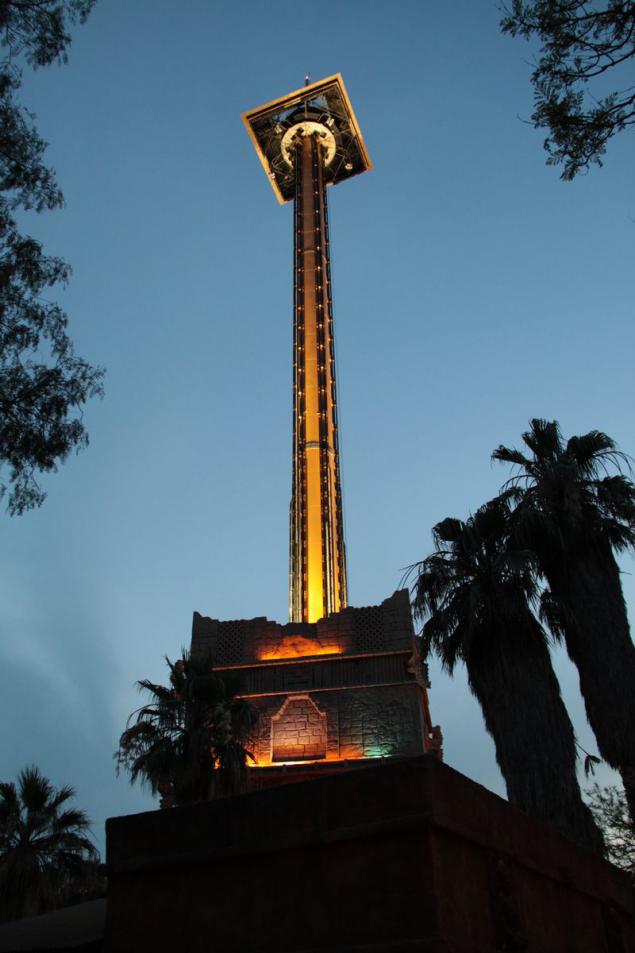 Port Aventura and the highest hill "Shambhala" son refused to go (13 years), but my daughter (10 years old) on all the attractions of extreme riding. She was tall, tall, it allowed everywhere.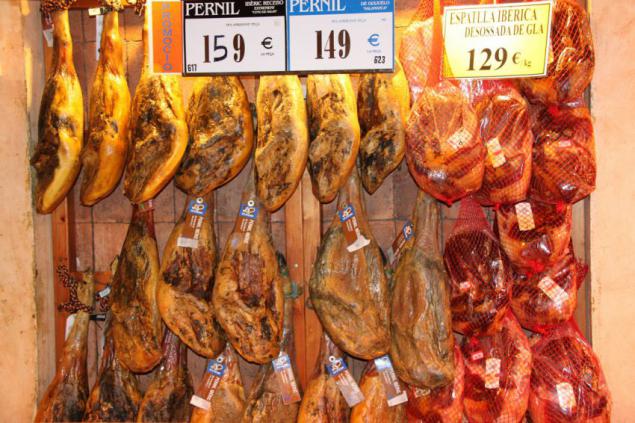 Free fall height is more than 100 meters. Due to the fact that stands on the hill, the feeling that all 200. As said, my daughter dragged me here. Although the last time I say to myself, that is no longer useful to this garbage.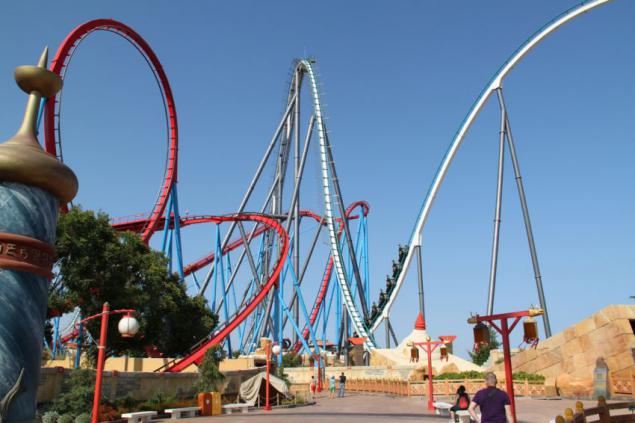 Hamon. With the beer is good.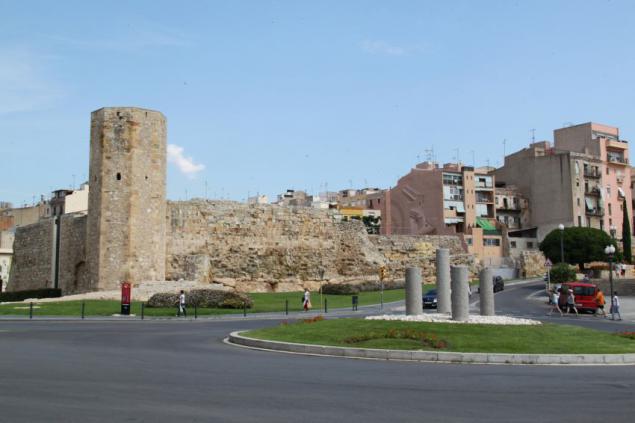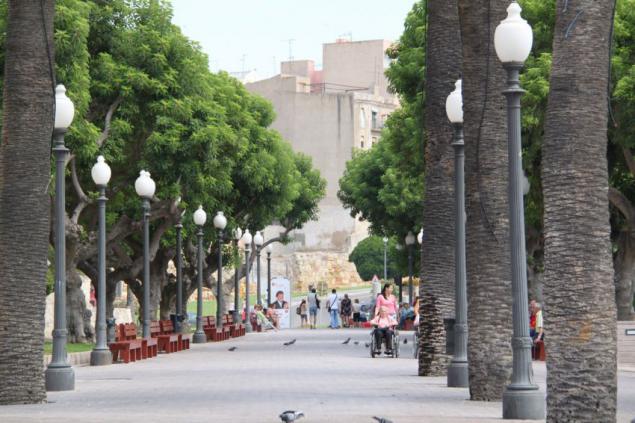 Tarragona. Not far from Salou, you can go shopping, my wife was pleased.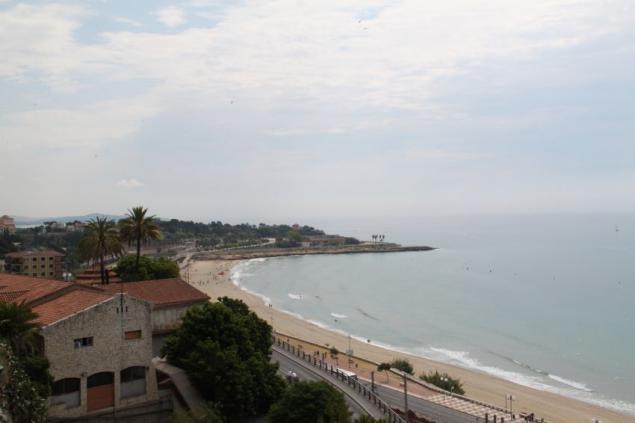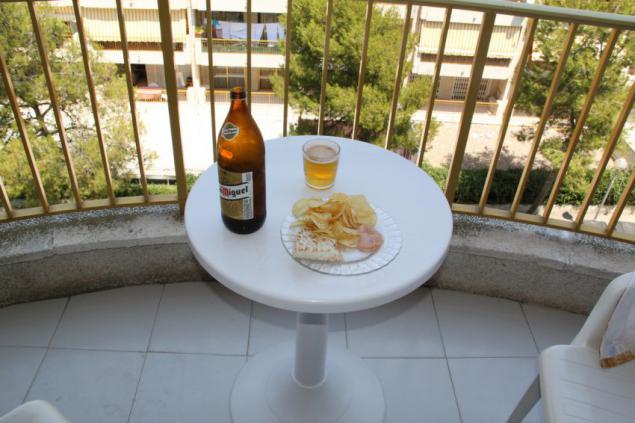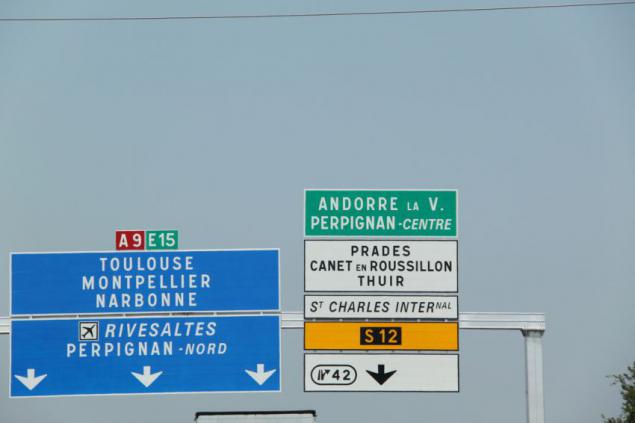 My lunch at a modest heat of the day)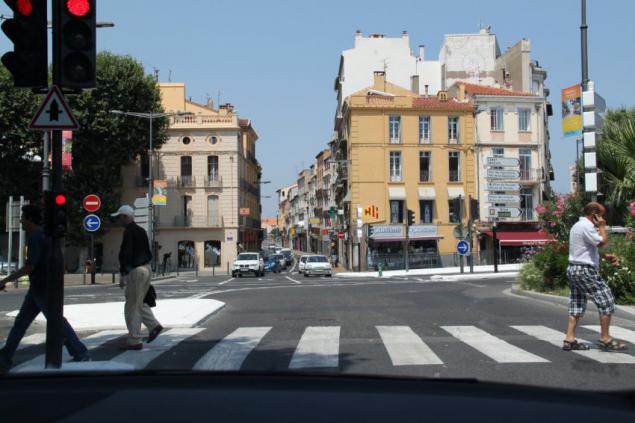 March to France in Perpintyan. Really liked this town, there lived a true Frenchman, no tourists. Unlike Marseille, where prosot darkness.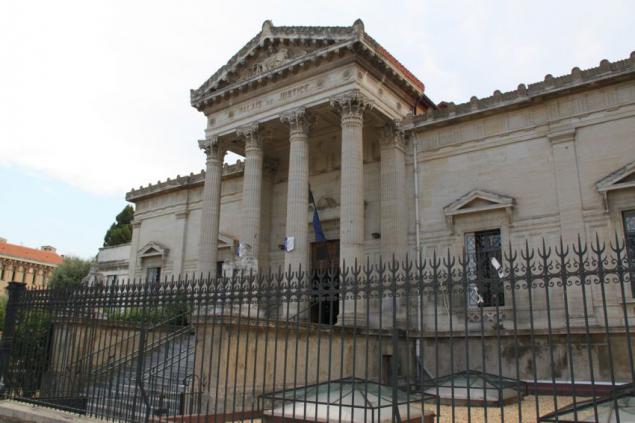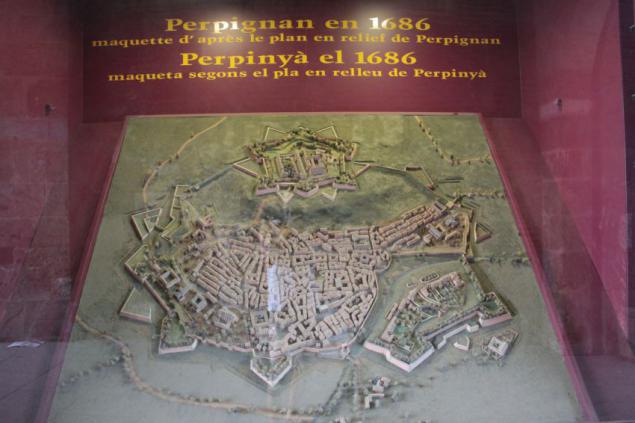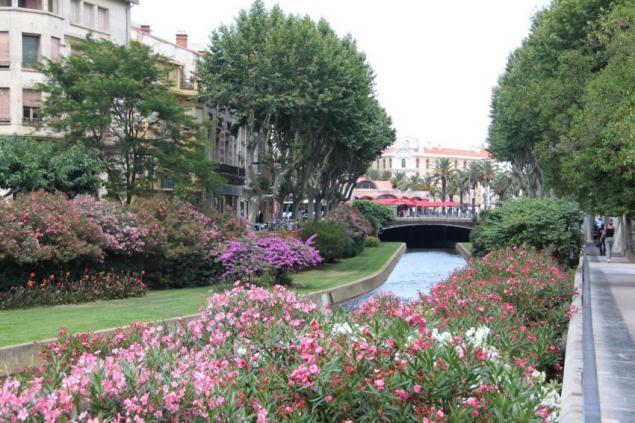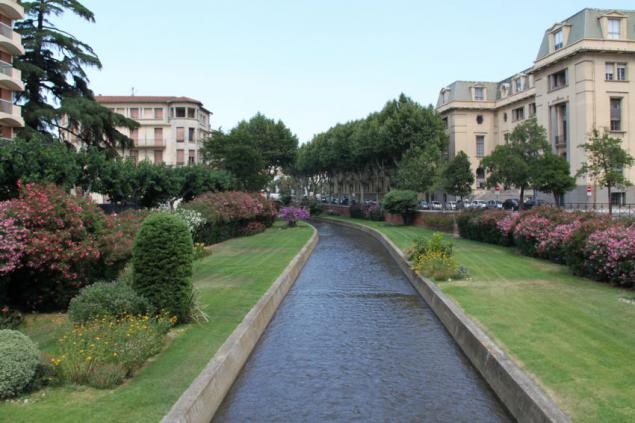 --img41--
--img42--
Well, that's probably all. I apologize for the error, and if something is not clear. There will be questions, ask)
--img43--
Source: