Please do not hit hard sticks for my epistolary attempts and apologize in advance for the quality and quantity of photos, because with him was a soap dish with a shrunken batteries forever, here and there was shooting on the phone. The abundance in the picture pretty blond muzzles explained by the desire to capture thereof himself in family history. Personnel without it is considered an error and ruthlessly cleans. Arguments that the landscape should not be a portrait, were not accepted.
Since childhood dreamed to visit America (there was a time when the name was pronounced with aspiration). And then just turned up an excuse: I met the love of life. "Zhenyus!" - I said, and in order to give more romanticism to this event, it was decided to make this sacrament without fail in Las Vegas!
Bureaucratic formalities to the collection of documents for a visa to re-read hundreds of forums on the horror overtaking is almost impossible to obtain such, some of the preparations marred Dreams. The apotheosis was interviewed. 9 out of 10 people who stood in front of us went to the refusal by winding snot on his fist ... Prudent imperialists played on a TV set in the hall of "Love and Doves" by appealing to patriotic feelings, alluding not to leave the beloved homeland ... Began interrogation (this is an epithet originated after we skated fingers and the reason for the "casemates" building on Novinsky Boulevard) ... and before it began, immediately ended. After three issues, we were told cherished words: "Your visa is approved." It does not even need to open a suitcase full of documents collected in advance (up to the urine distant relatives).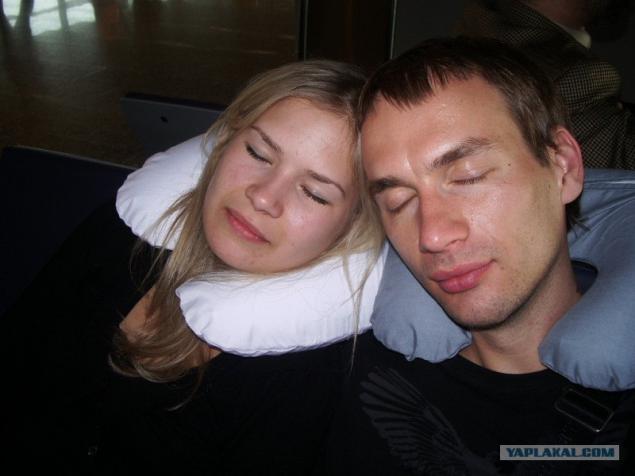 The ride itself, in spite of a long moral training was spontaneous. It so happened that I was on business in St. Petersburg, and the restriction gosy handed over in another city. I called and said, "How will hand over, come to me and Makhno America (Yeah, baby! Always wanted to say that!). Take some things we do with you. " Aha! Naive. I met her with a suitcase twice exceeding its weight (it is too long planned trip).
It was bought for 3 days prior to departure tickets. Lufthansa, 48,500 for two round-trip. Peter Frakfurt, New York and Los Angeles, Munich Peter. Note: because it was cheaper fare tickets sunk! The calculation was as follows: Arrival in New York, take a rental car (Grez red Cadillac convertible), and the rush of glorious road66 to Los Angeles, drove on the way to Vegas, and said to one another, "Ah do." For everything it was given 20 days + flight.
A few hours before the flight was made revision of luggage, the scope of which was reduced to a small backpack. I like a man spartan considered ballast hair dryers, curling irons, 30 kilograms of different dresses, outerwear, shoes, professional camera. Seeing tears well halves, he retorted: "There is warm! If Cho, buy everything! Well this is America! "Hearing" buy "half cheered. Fool! If I knew that I was such an approach will cost source codec Xvid karma, moods and endless strikes little fist in the stomach every time the thought of left heap of warm clothes, comfortable shoes, good fotike etc.
Departure was early. We went to bed. But it did not. The voice in my head empty echoed: "You forgot something!". And thinking, said that it is: take out insurance and bank card. Piterskie friends puzzled at 3am asking where this can be done quickly - we fly in 5 - were unable to help. Read the posts immediately luminaries travelers, says that even without insurance will not be allowed across the border, and cash Americans no longer use, and print for suckers, do not add confidence. His head began to play a melody "Goodbye America", but somehow funereal. In general, according to the proverb "in life there is always room do not care" problem postponed until better times.
Flight.
Sleepless Night manifested itself: a flight to Frankfurt do not remember, because from the moment of touching the ass of the seat until touching the chassis of the band slept like a log.
From Frankfurt after a 3-hour transplant to New York flying hours 9. And here it is! Earth! In the looming some industrial base, suburbs, garbage. Contrary to expectations, the pilot did a lap of honor on the "Baba with a torch and a book." But the sense of impending Dreams experienced indescribable.
The JFK Airport we were greeted friendly guards, ask questions about the purpose of the visit. Tempted to say catchphrase "conference on new computer technologies ...", but I thought that every third Russian stebetsya them so, and they know it by heart, and that they are "ugly here," too. Not shmonali. Although our happy faces could think that in the womb invigorating burst container contents. About insurance, no one has given a hint.
We took a taxi. Indian taxi driver in broken English:
- Where's your ride?
- On Manhattan.
- Where exactly?
- Well, where there you have the type of center or Choteau Tavo?
- ???
"I come in large numbers here! - I thought - do not know where the center! ". "I come in large numbers here!" - Hindu thought.
We did not know that such a large Manhattan. It was decided to go "in the middle" and there on the spot to take the hotel (the reservation for any hotel in advance, I did, for a spontaneous trip, and I'm a harsh).
On the way into town, we like two downs, with exclamations poked fingers in passing cars, two-storey houses and other labuden. Delight knew no bounds. Wherever you spit - everywhere recognizable by movie trivia: the yellow lights, architecture, taxi, cops, place names ...
Driving any quarter with three-storey brick houses where the windows were dried in yards pants and ran colorful children drove said this Queens (NY one of the quarters). In geography I am not strong. In memory surfaced only dude from "Do not Be a Menace to South Central While Drinking Your Juice in the Hood ...", which we all ask how to get to the Queens and was ready to "a lot" to find out the way. What he wanted to get here? Nothing remarkable. That's when moved to Manhattan ... Tower demolished by the abundance of skyscrapers, cars, people.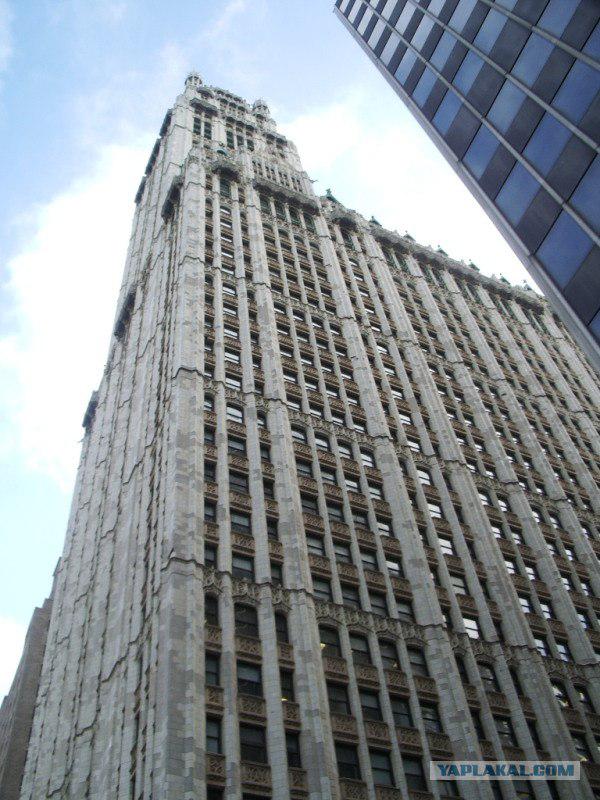 Here
ischo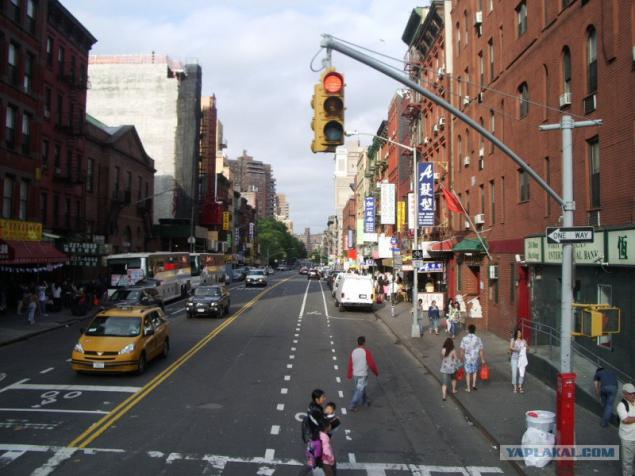 Arriving at the place in some alley, I began to look for a hotel on foot. Fortunately they are there every 50 meters (or, as they say, 164, 04 feet). For a long time to fool we did not have removed the second. I do not remember names. Different from the first cost 30 bucks. Number as with a view of the old church and ... (drum roll) the Empire State Building!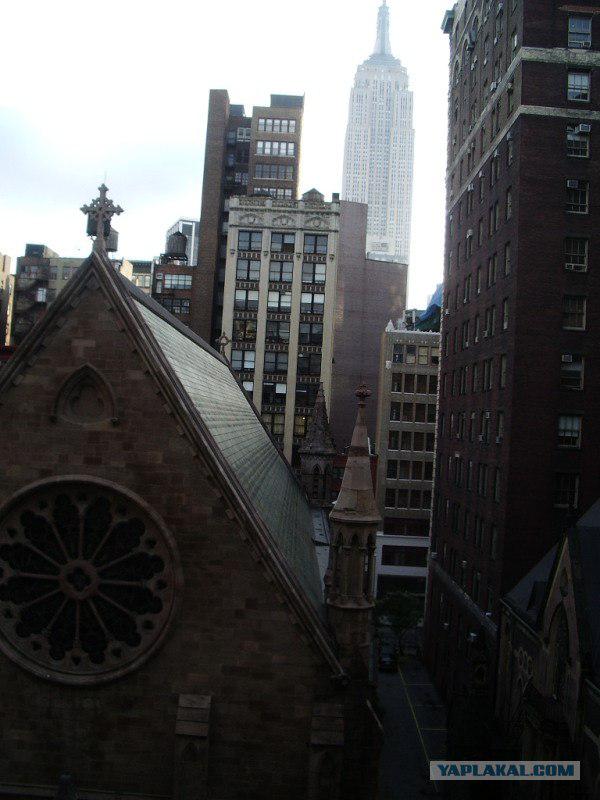 On Bodryakov it was decided not to stay in the room, and to trample the city.
It was pretty cool, although in June. She remembered the warm clothes, carefully left in St. Petersburg. Naskoryak taken sweatshirt is not saved. Later in the souvenir shop half-kenguruhu celebrated hoodie that says I (heart) NY, under Moulay 'style! fashionable! youth "(I'll tell you that the inscription of" black "neighborhoods of Los Angeles drew the same views of the local youth, as a scarf" Zenith "in South Butovo).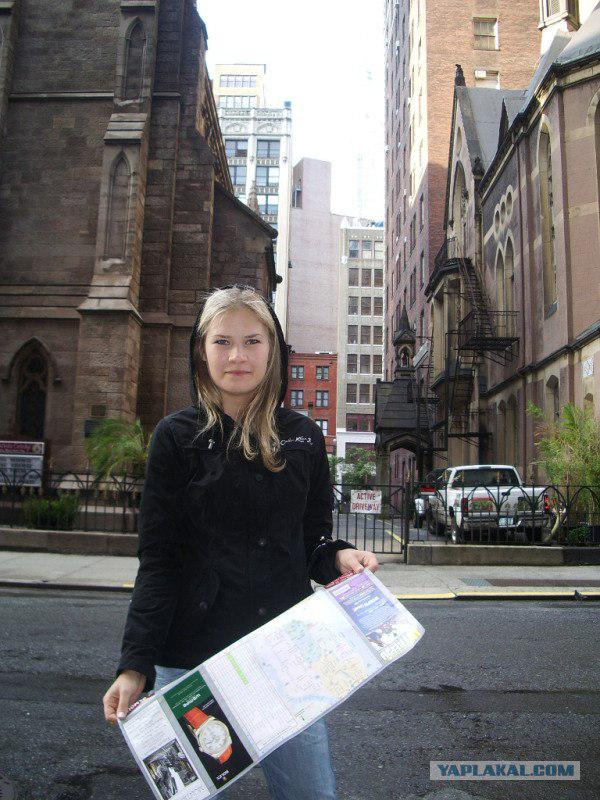 So we left the hotel, after taking the card retsepshene, and decided to go ... right. After 300 meters we found ourselves at the intersection of 5th Avenue and Broadway, near the famous skyscraper-iron and Madison Square.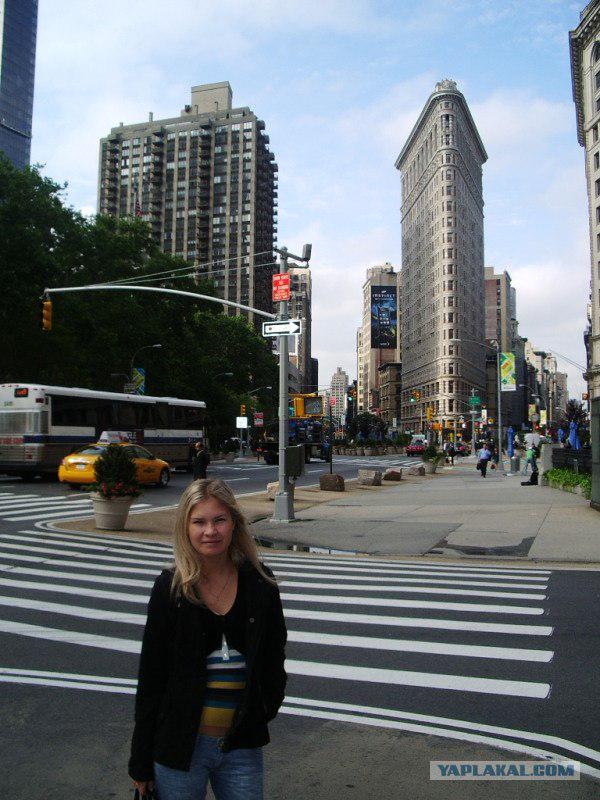 And we have, it appears, have settled in the heart of Manhattan - 23 Street / Avenue of the Americas. It was decided to move towards the Empire State Building.
Honestly, I did not expect that in NY this srach. TV, fortunately, did not give odors. The street was such a scraper! The air discernible shades of fast food, the exhaust gas and waste products. But you get used quickly. On the way, we went to have a cup of coffee. "Calyx" minimum volume resembled a bucket of popcorn. Impressed.
At every step there are negros and vparivayut some papers, coupons, etc. Out of habit, we did muzzle bricks and walked past. But near the Empire State he said one black magic word «discount» and Russian soul could not resist a freebie, and we are interested in. It turned out not in vain. We bought two tickets for the bus tour hop-on / hop-off (climbed / jumped) entitling two days to ride the bus with a guide, slazit and sit down at any point along the route. In addition, it gave big discounts when buying tickets for shows, museums, sightseeing. And then it started!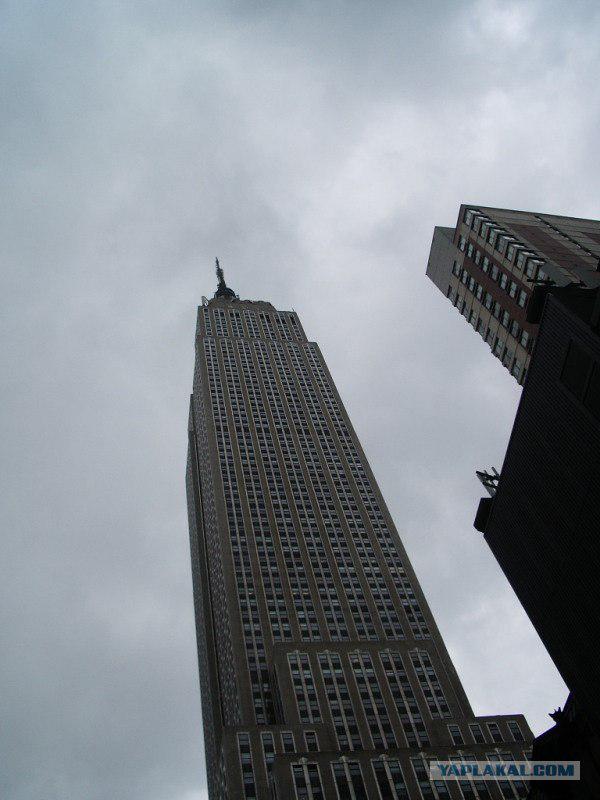 Here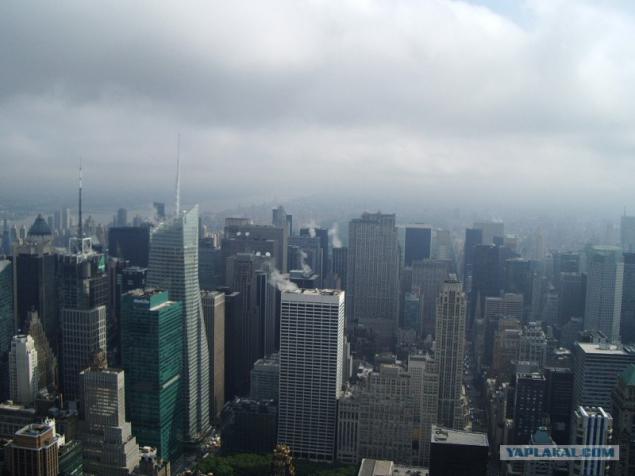 Here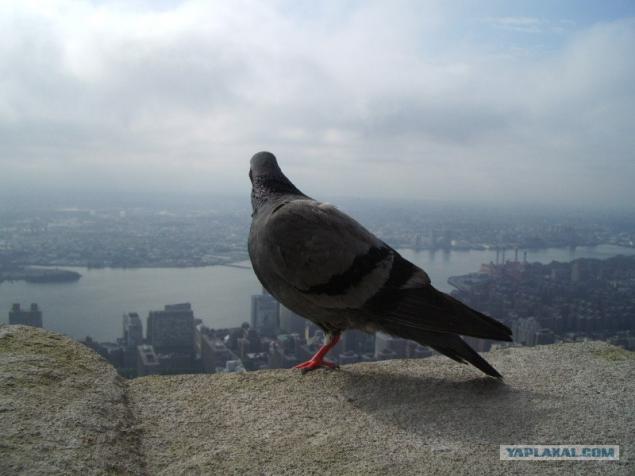 Here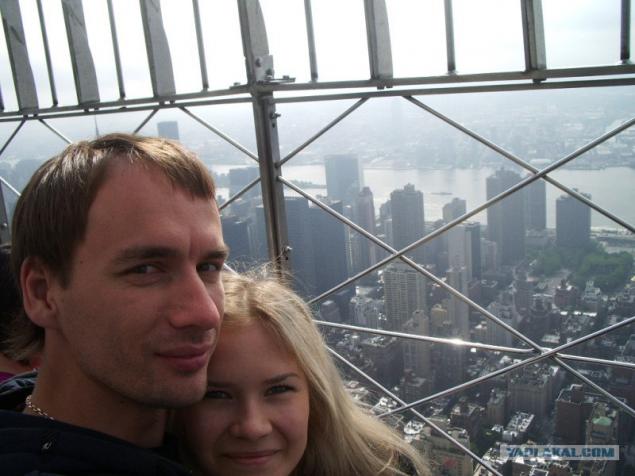 Empire State Building. I will not go into the historical and architectural details. I can only say (as it would without the mat?): Vysotischa fucking! View - this tryndets! Must see! The theory that if you can spit with the tower to kill someone, do not check out, because after the fall of King Kong made a metal canopy over the sidewalk below the building, and the grating above the parapet on the roof several times lengthened and pointed their cameras, so as not to attract those who want to "go nicely».
After skyscraper decided to make a circle on the bus to identify locations for more detailed study.
The guide told many interesting things. But not so much that after a year to remember. I remember only a friendly atmosphere and reverent attitude to the meager history (almost all of the passengers were from other cities in the US). When they learned that we were Russian, the guide was able to squeeze out of myself something about caviar and Gorbachev.
Generally, the ratio of Americans to Russian deserves special attention. They are for us simply do not know. In Vegas, at some souvenir shop young guy-seller, having learned that I was a Russian, said: Is it true that you want to have the atomic bomb to lose? I say yes (I spy of horseradish - all state secrets looking like glass bottles). It is: why? I was so confused that I could not answer anything else as because it's fun! (Neither mind nor fancy!) It is so impressed that he ran to the closet, pulled the sleeve of his ukurkom-colleague and said, jabbing a finger at me, Behold, the people want us to throw a nuclear bomb! But emotion is not caused in the spine, because he was in nirvana, and there is no bombs, no wars, no souvenir shops ... this other individual bizarre appearance (there are many such) dressed in military style, seeing me a T-shirt with the American flag and knowing that we are Russian, asked if I did not shoot in the gulag because I put the enemy flag. I had to tell someone that the war was over. The only amerikosy, hitting for the whole trip in the Los Angeles metro, said that he had read a lot about the city of Saint Petersburg, founded by Peter the Great. I almost kissed him.
Back in NY ...
Passing the quarter Soho, the guide mentioned that this is the best place of shopping in New York. Needless to say that our tour was interrupted at this point for an indefinite period? The weak link of our small team rushed to the first stop in the shopping arcade as A.Matrosov the enemy. The Victoria's secrets she was gone, I thought, forever. In general, after three hours hardly persuaded to return to the cultural part of the trip, and here, they say, we'll be back.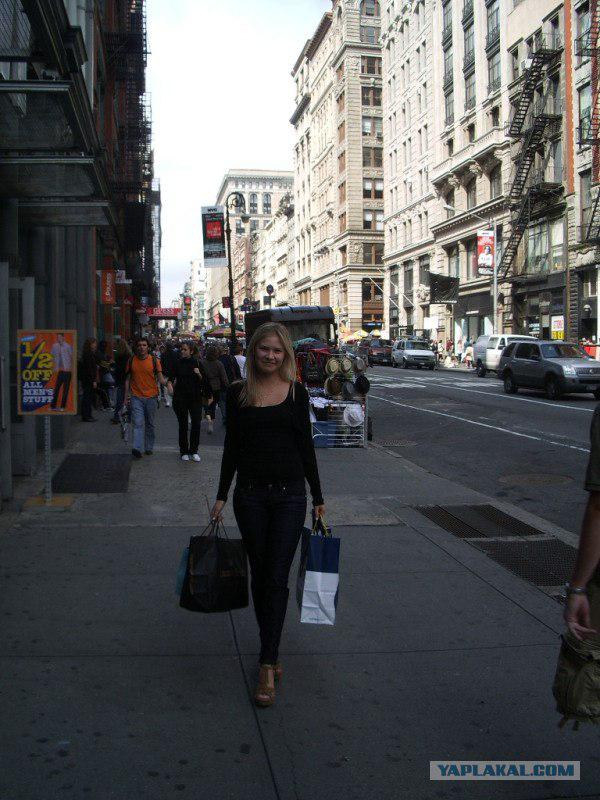 We boarded the bus. It was a group of Russian tourists, and some woman from Odessa accent and manners of know-all told everything about everything. "Local" - I thought, because He knows a lot. For example, this monument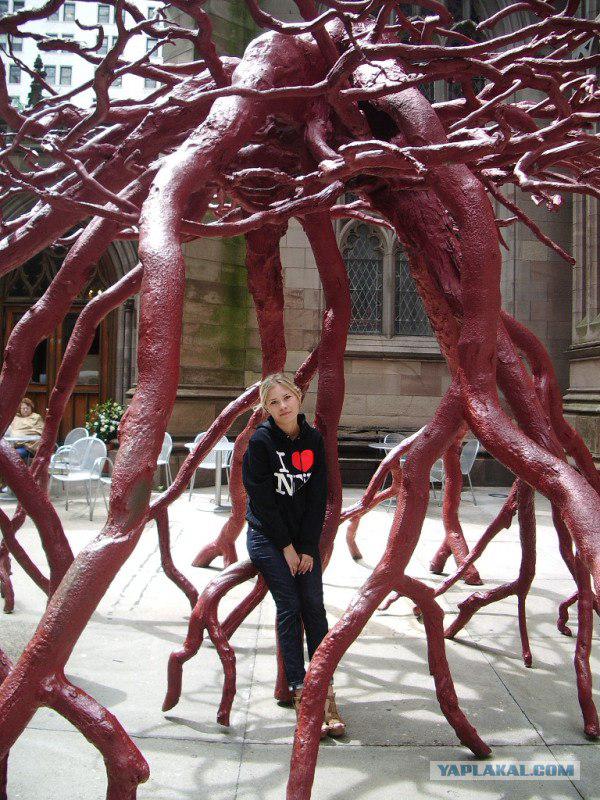 it is nothing but a root of a tree, uprooted by the explosion of the twin towers. A monument to "Sphere" in Battery Park- is a gift to the American people, Zurab Tsereteli after 9.11.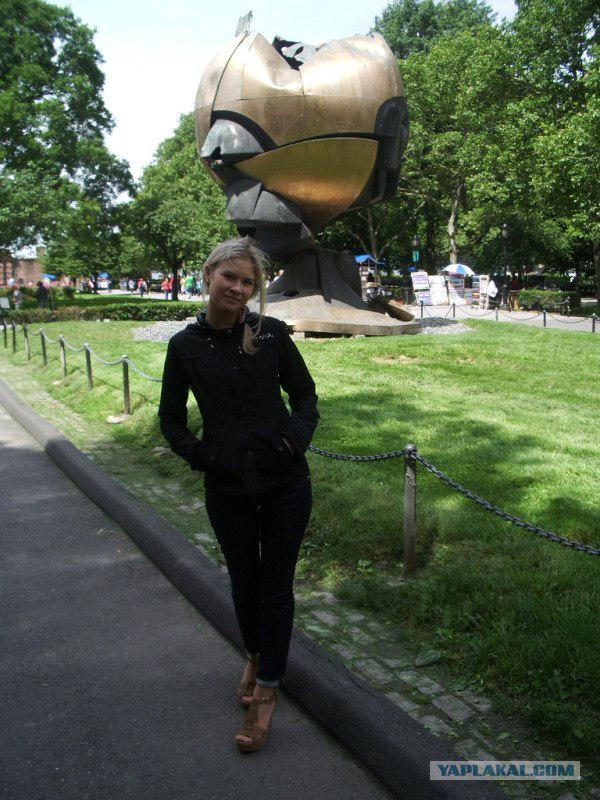 So, coming out of the bus and going to the "tree" discovered that it is an iron! About Tsereteli I do not want to even think! In subsequent visits to the bass I looked for the know-all "to spit in the face", but she disappeared into the big city.
Travel around the city, outlined point to compulsory attendance: Betteri Park, Statue of Liberty, Department Meysi's, Wall Street, Time Square, the place of the Twin Towers, Brooklyn, Brooklyn Bridge, Broadway theaters and more. We decided possible to walk more.
Hungry. We started to look for a decent place. Not found. Stories that Americans eat at fast-food outlets were confirmed. Even on Wall Street in a cheap diner in the queue rub against each other assholes Mexican illegals and stock spikulyanty in suits in the monthly rental cost of the eatery. In general, authentic food in America - a complete shit: grilled fat meat, sandwiches, genetically mutated potato, vegetables, plastic-smelling, all this watered with a thick layer of ketchup, sauces, salads sprinkled and washed down with Coke. Portia is designed to feed an African village of medium size. On TV in all seriousness while chasing ad-scam charity event, starting with the question: "Do you know that one in eight Americans is hungry? ..." I guess shit! Because not prolazit ass out the door to go for havchik! During the whole trip memorable (in a good way) rolls and pizza in LA and Seafood in Ocean City. About the history of coffee separately. I, as a lover of coffee, tried in vain to find the "American." About "American" in America is not heard. More or less like a coffee can be found in Starbucks. In other establishments serving the so-called "Regular" and "dekafe." By Poylu the end of the trip I even used to.
So, it was decided a couple of days to spend in NY, then take the car and move to the alluring unknown.
The next point was the Statue of Liberty. Arriving at Battery Park, we saw a queue of several thousand people. We stood for an hour and a half. It moves quickly. And it was not boring, because along the line went roving performers, beggars, some freaks and ice cream vendors. They take pictures of numerous monuments. After a light frisk sat down (or rather stood like sprats in the bank) on the ferry. View from the ferry to the stunning city!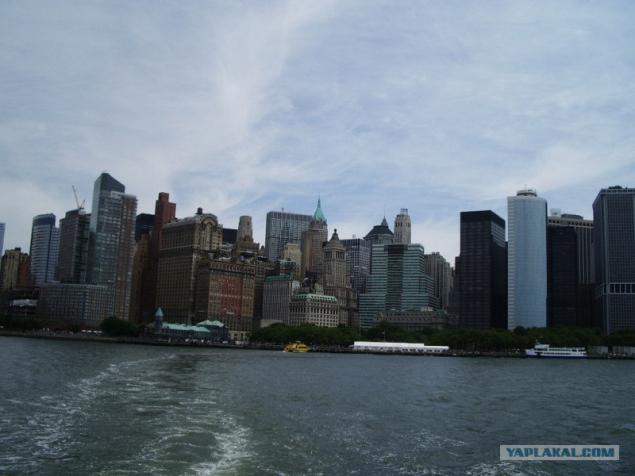 And here it is - a symbol of freedom! All Rushed to starboard, to shoot. Korab banked.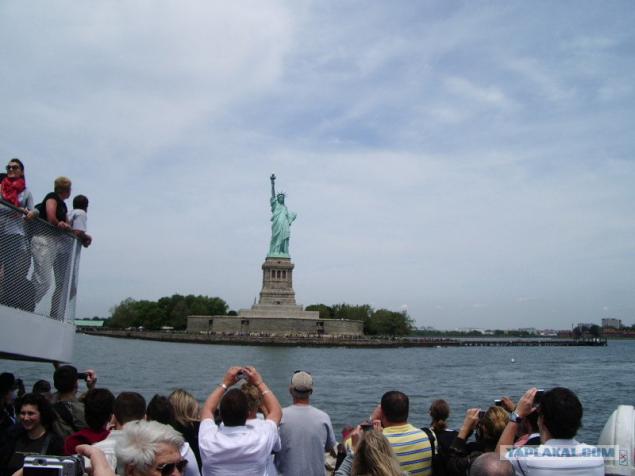 After landing and coming closer little disappointed. Not so her freedom, a lot. Size, probably from the 16th etazhku. Our Motherland is one of her little finger to ...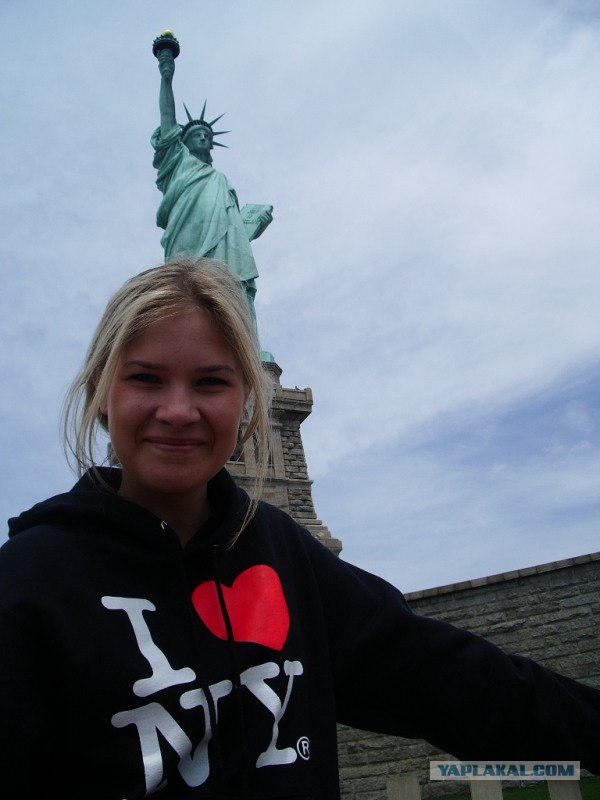 Posharahavshis on small islands were close to a group of Russian-speaking (with a wild Odessa accent) tourists. We decided to be closed up "on their own" and joined. Guides - old Jew began his tour uncomplicated:
- Built in France, in a certain year brought here. Sculptor such a molded her body with his matron, head with his mother. The height of such and such. See here, young people, nothing more. So Come on.
Moving to the other side of the statue "guide" muttered another 1, 5 and offered suggestions to quickly retreat from the island, as "I have nothing to do here." Hmm ... A fascinating tour! Bender Kislovodsk failures compared to him - just Radzinsky! I also noticed how he Kochanku my itching eyes, which were read in the presence of regret last forty years and the memories of long-forgotten erection. Killing him was not. Nature in the near future will do everything herself. Especially old man, as it turned out, he is looking for adventure, for there was a funny incident. When boarding the ferry police compartment our group away, leaving us on the beach. But the old man did not want to give up and saying, "We gusskie not bgosaem the others 'the others'!" By pushing policeman ordered "Follow me!". The air flashed handcuffs, and give the team on the radio ... After brief negotiations guide provocateur released. And we waited for another ferry. Approaching Ellis Island, "tour guide" demotivate a group to visit the Museum of Immigration, they say, "there is also nothing to see," and all served by ferry to the city ...
Noteworthy is such a thing: a ferry on Liberty Island was not a single black man older than 10 years. It is now, when a black president, began to instill in children a love for national symbols. But before ... The Statue of Liberty is not meant for Negro freedom. Quite the contrary. Therefore, they do not like it.
Cube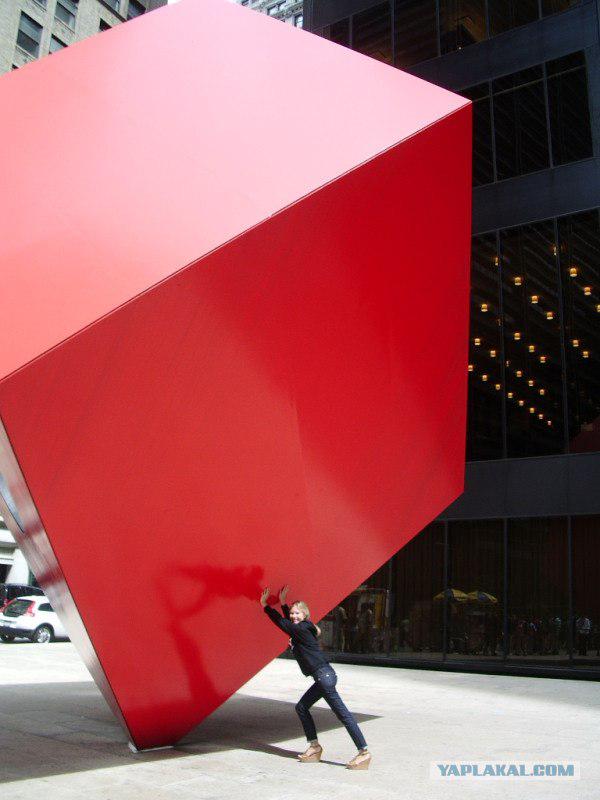 On Wall Street, we wandered around the World Trade Exchange. It does not leave the impression that if you throw a stone through her window, it will certainly affect the quotations of oil and the Dow Jones. From the experiment separated the presence of police (1 for every 2 meters) and dogs (in sight - pieces for 10 per egg).
There is the famous bronze bull with genitals, rubbed to a shine superstitious tourists.
Times Square. Good at any time of the day.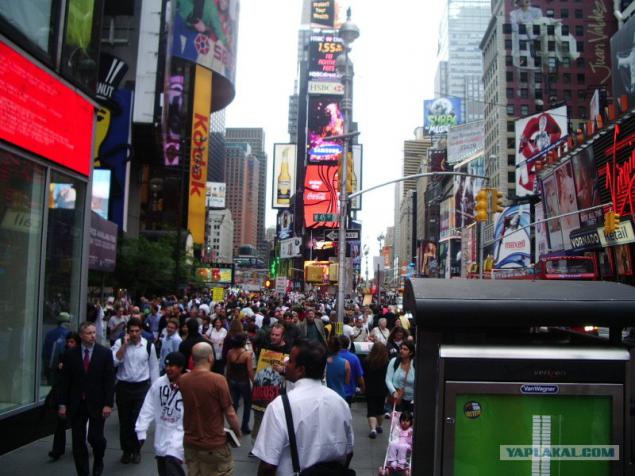 At night, we even managed to get to the shooting of a film. The area was cordoned off, the guards told passers-by to continue the movement. We started to show gestures of producers to get us noticed. But so far not received invitations ...
At the site of the twin towers - building. Bred in zero parking. Next - the fire department, the first to take a hit. It is now a museum.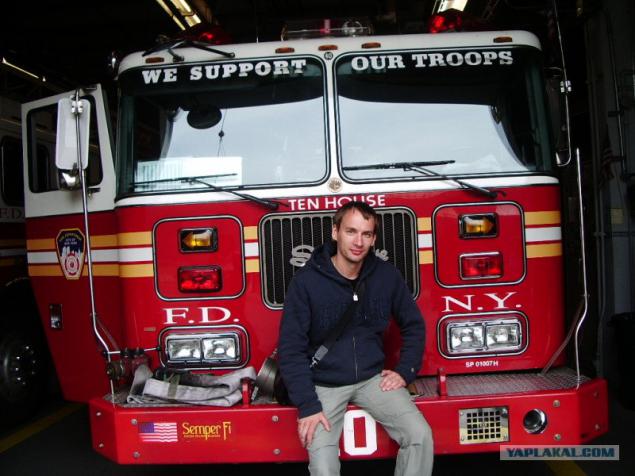 Around full of all sorts of obscure monument dedicated to those events. Immediately traders turn to loot national mourning.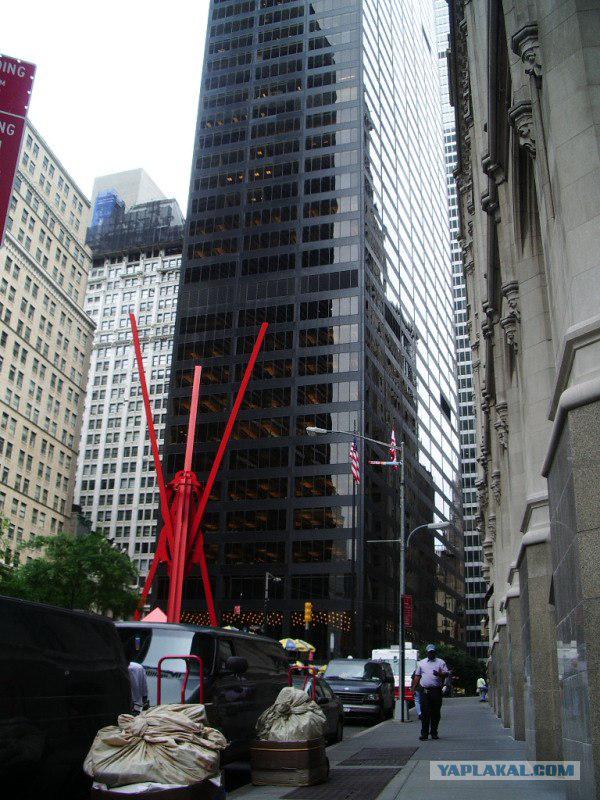 You will be in New York or San Francisco, be sure to visit Body museum. No pictures, because can not shoot inside. It presents various dismemberment created a careful hand pathologist pervert. Very informative museum. Especially for smokers, drug addicts and alkanavtov. The exhibits demonstrate ... no, not that you will be - what is happening to your body! Here it is worth the tub, where you can quit smoking. I suspect that the exhibition organizers handed cigarettes resell: profitable and exhibits do not stop! There is a "mother and child room" (not in the conventional sense). In short, a must see. I do not think that this branch of medicine can be traced to the level of art.
)))
We agreed.
Source: