Rumors that the 27-year-old American pop singer Lady Gaga will be named the face of spring-summer 2014 season, legendary Italian fashion house Versace, confirmed. To dispel any doubts, the singer appeared at the ceremony Music Awards American Music Awards on a white horse (not the present, of course) in the form of brand advertising campaign.
It is reported that recently, Lady Gaga was officially presented as the new face of Versace. The famous fashion-photographer Mert Alas in his Instagram posted some pictures made for spring-summer campaign. And the next day, the label Versace immediately posted on Twitter the following: «#Versace proudly confirmsLadyGaga as the face of SS14 campaign shot by Mert Alas & Marcus Piggott» («« #Versace proud to present Lady Gaga as the face of the spring- summer campaign of 2014, removed Mert Alas and Marcus Piggott »).
The very same Gaga, so as not to leave this information without attention and once again prove that it was all part of a carefully planned media campaign, came to the ceremony of American Music Awards in a dress identical advertising, stylized it in true Gaga style: The singer sat on the animatronic a white horse, on which it was inspired, in part, a Trojan horse, in part, the Anglo-Saxon Countess Lady Godiva. According to legend, Godiva, who lived in the 11th century, swept through the streets naked on horseback to persuade her husband, Earl, lower taxes are too high.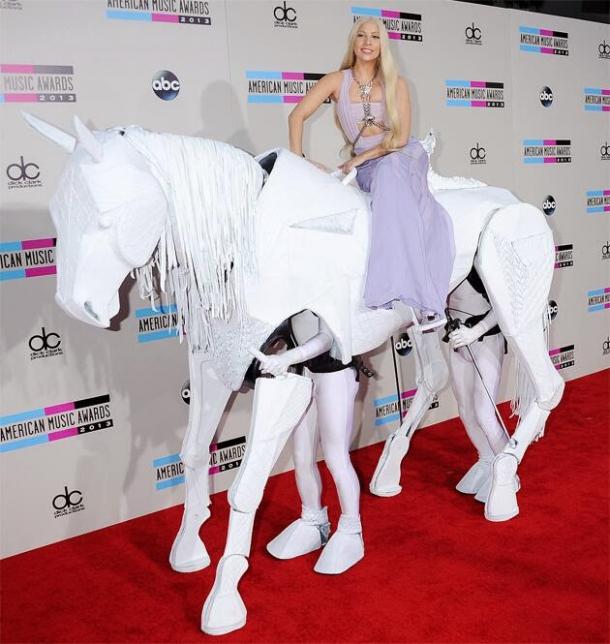 One of the photographs Germanotta, is shown lying on a couch in a slinky dress draped lavender hue, decorated with the emblem of a massive house - the head of Medusa the Gorgon. With smooth blond hair straightened Gaga looks like a replica of the creative head of the brand, Donatella Versace.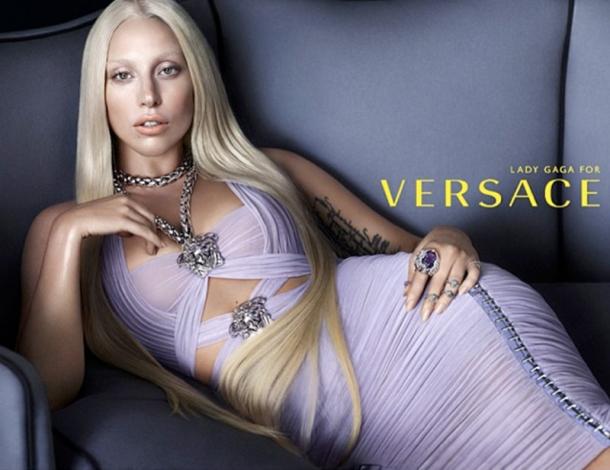 The designer and the singer seemed to have decided to prove the adage that two heads are better than one. So much so that some of the world's media are called Gaga and Donatella "divas twin": celebrities appear in the similar dresses at Fashion Week in Milan, often occur over a cup of coffee, and "mommy little monsters", even dedicating a song Versace, was incorporated into the her latest album ARTPOP.
The good news is that such a relationship gone flamboyant singer benefit. Compared with the past, when Gaga and then appeared in public virtually nude that has become boring and too predictable now, she almost always wore, and most of all - in Versace.
This morning, mailboxes representatives of the world press took an official statement of the fashion house Versace about the upcoming campaign and its star, which said: "Lady Gaga is fully reflects the essence of Versace: creativity, experimental and fearless." However, in a statement it was said that celebrities, as well advertise a new bag collection from Palazzo Spring \ Summer 2014.