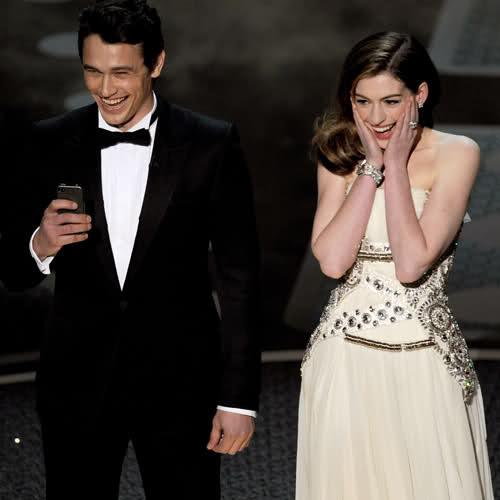 I beg your pardon for the topic is too late stamp.
Thus, & quot; Oscar 2011 & quot; He turned a triumph of style. Hollywood diva began arriving on the red carpet as much as two and a half hours before the ceremony - and every new dress seemed better than the last. So who have managed to amaze guests of the ceremony and an audience of millions of viewers of its kind?
Sandra Bullock in Vera Wang.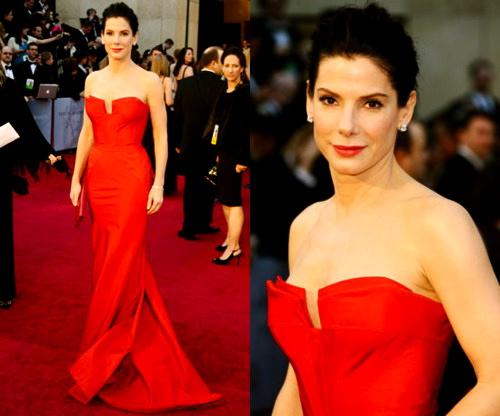 Last year the Queen "Oscar" has appeared on the red carpet in a red dress is Vera Wang. Elegant straight dress - a column with a large bow at the back neckline and dazzling. Fashion critics immediately praised her for this choice: in spite of the bright color and a bold neckline, the actress looked very noble.
Reese Witherspoon in Armani Prive.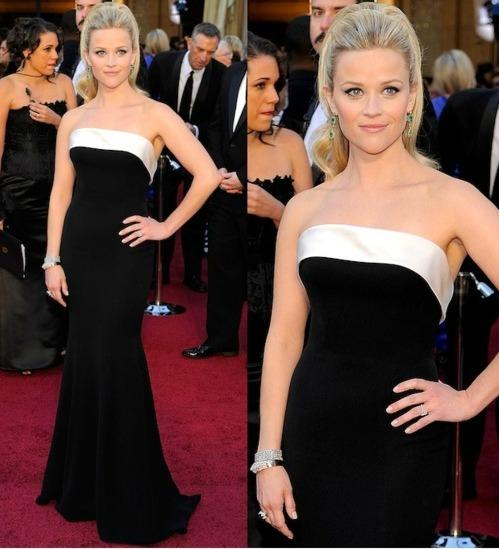 Reese Witherspoon opted for a retro or lost - it was dazzling in a dress Armani Prive. To some it may seem boring, but I find it incredibly elegant.
Haley Staynfeld in Marchesa.
Lucky Haley Steynfild! She is only 14, but her "baggage" has a role in the Coen Brothers film, nominated for "Oscar" and, in fact, a visit to the ceremony. Stylists worked on her way to fame: on the red carpet, she looked fresh and very cute in the "puppet" Dress Marchesa, which complements the satin shoes and a thin rim.
Cate Blanchett in Givenchy.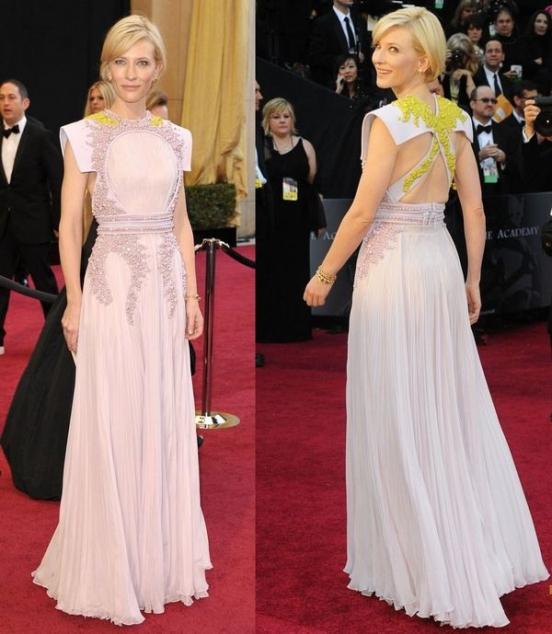 Cate Blanchett loves to experiment with clothes and in this dress from Givenchy's latest collection, she looked wonderful, once again confirming its status as "style icon". Hairstyle, light make-up, a minimum of accessories - everything worked on the image of the star, which is one hundred percent success.
Mila Kunis in Elie Saab.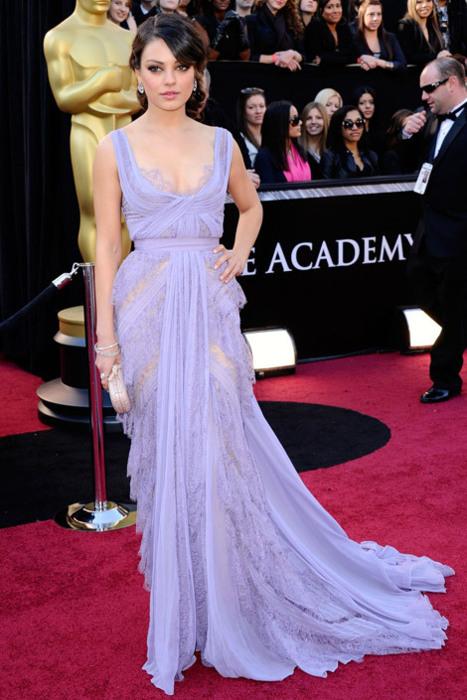 Dress Elie Saab, which was Mila Kunis, in my opinion - one of the best at the ceremony. From the side it looked as if she had just visited the paws of a cat. But some of the fashion critics called the dress "hit the bull's eye." The unusual shade of lavender, feminine silhouette, lace decor - what else should a young actress to shine on the "Oscar»?
Halle Berry in Marchesa.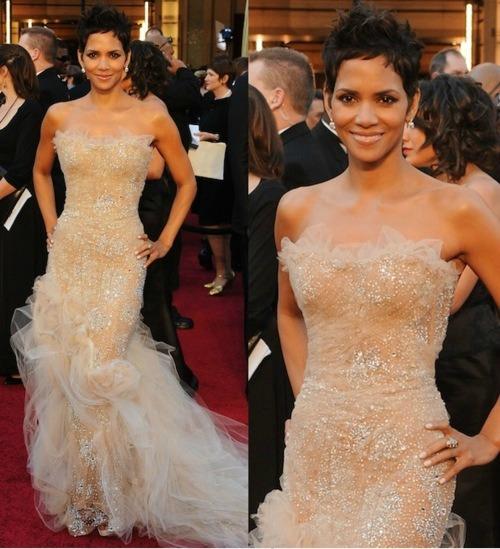 Typically, Halle Berry appears "live" in outfits more saturated colors. At the same time, succumbing to the trend in the soft, powdery shades, she wore a bright dress Marchesa. Feminine image turned to face her. Anyway, I think so.
Mandy Moore Monique Lhuillier.
Mandy Moore reminded me of the graduate school of noble maidens, but the overall image of the finished and harmonious.
Camilla Alves in Dolce & Gabbana.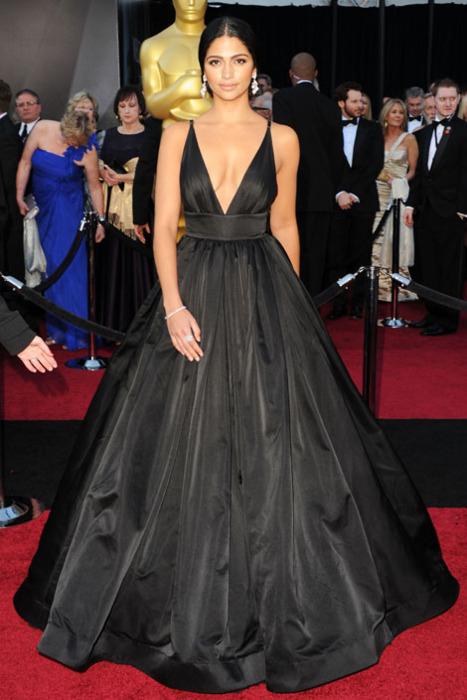 Perhaps one of the most spectacular of the outputs is not the most spectacular ceremony was the appearance of sweetheart Matthew McConaughey - Camilla Alves. Luxuriant dress Dolce & Gabbana great sat on it, and exquisite jewelry - earrings with large pearls and diamonds - gave her aristocratic appearance.
Gwyneth Paltrow Calvien Clein.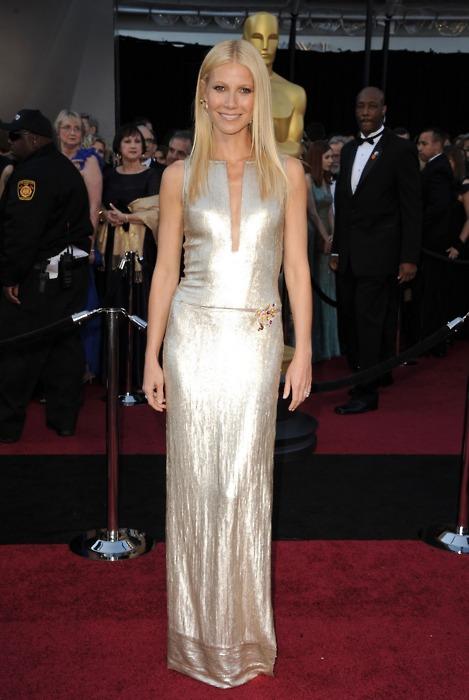 For & quot; Oscar & quot; Gwyneth Paltrow chose a dress from Calvien Clein. Actress complemented his jewelry Louis Vuiton, which gave it quite frugal and playfulness.
Jennifer Lawrence in a dress Calvien Clein.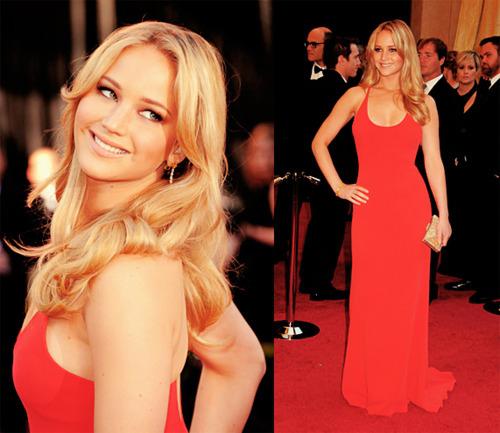 For the main ceremony, the Jennifer Lawrence chose a bright dress Calvien Clein red. It seems quite natural - light makeup, loose hair and a minimum of accessories.
"This is the most sexy dress on the red carpet of the season" - Kelly Osbourne.
Not all the stars managed to distinguish himself for the better at the ceremony of "Oscars". Let's see whose outfits can be attributed to the "failures pm».
Anne Hathaway wearing a dress Valentino.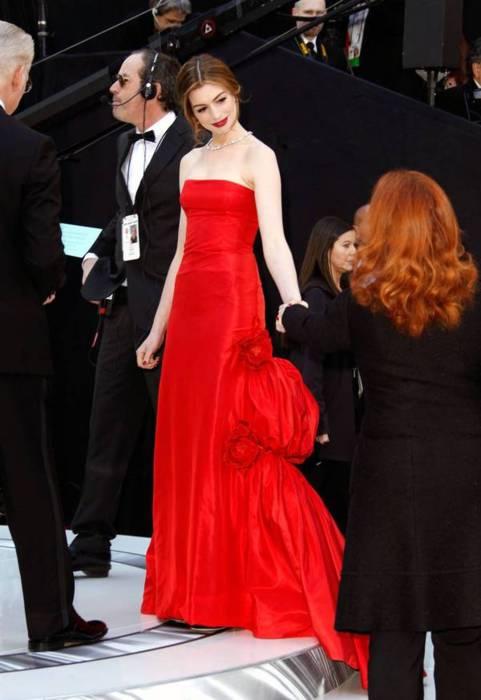 Anne Hathaway has been leading the ceremony. On stage, the actress looked great in the clothes Armani, Tom Ford, Oscar de la Renta ... But scarlet dress Valentino, which she wore on the red carpet, it was not the best option - it she lost a breast, and even her pale skin is not in harmony with her dress. However, she quickly corrected by changing the whole evening a bunch of outfits.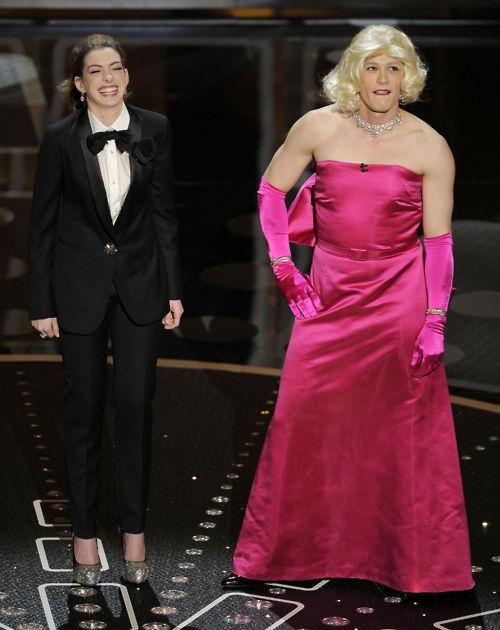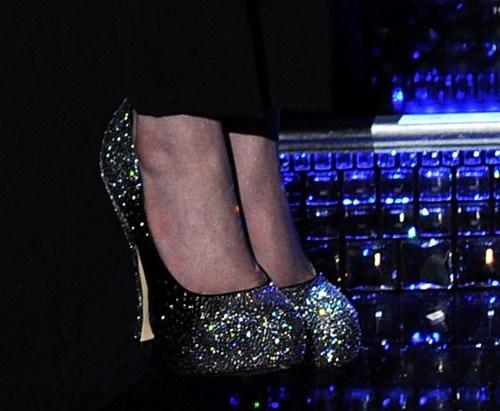 I want to draw attention to these shoes that she wore at the beginning of the ceremony for men's suit.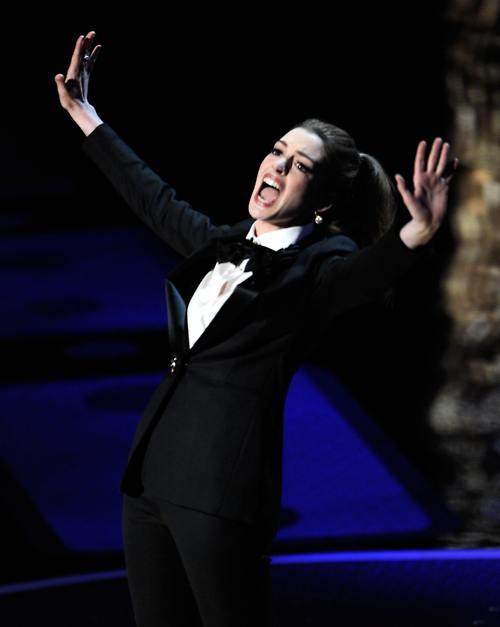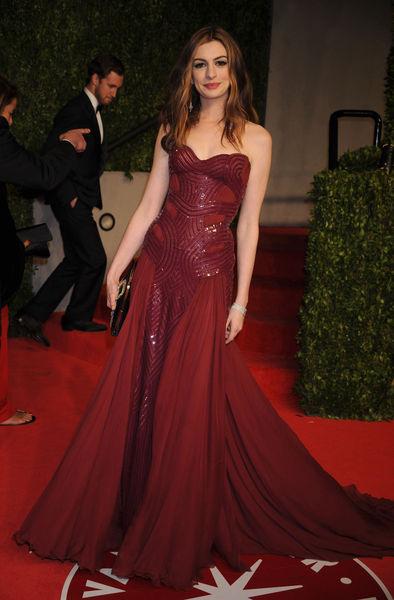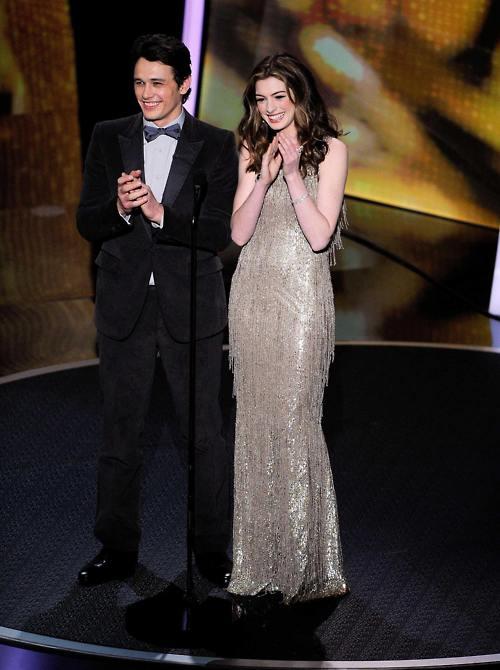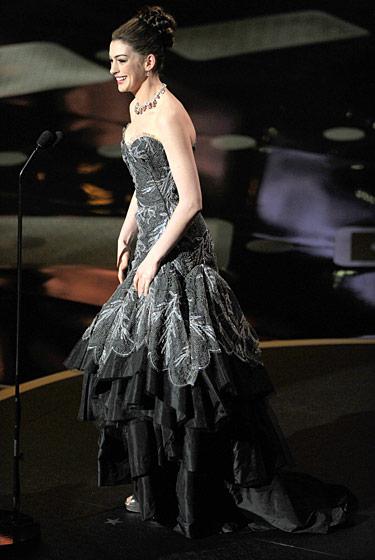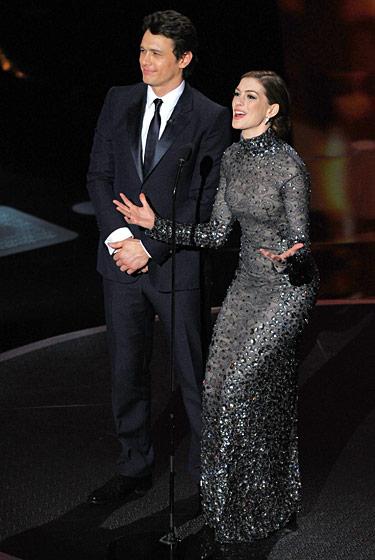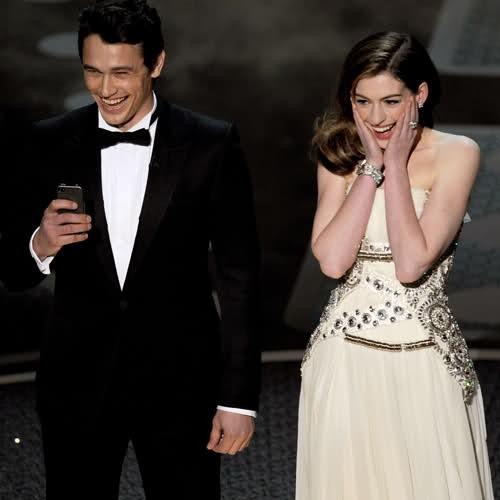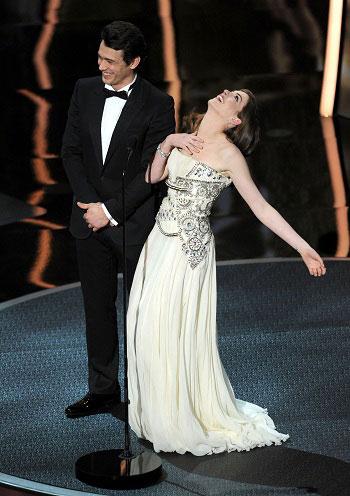 In my opinion, this is the best dress Anne Heteuey all evening.
Jennifer Hudson Dress Versace.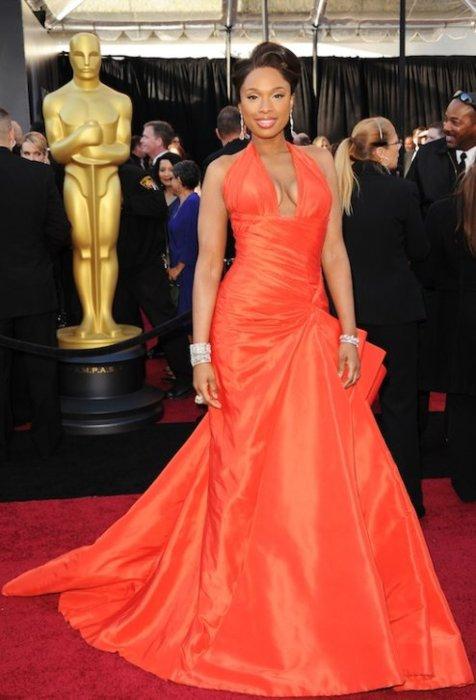 Postroynevshaya Jennifer Hudson has decided, in whatever was to draw attention to its updated figure. To do this, she wore a dress of carrot-colored Versace. And nothing, except that outfit "flattened" the singer's chest. On the other cut the image would look much better.
Penelope Cruz in L'Wren Scott.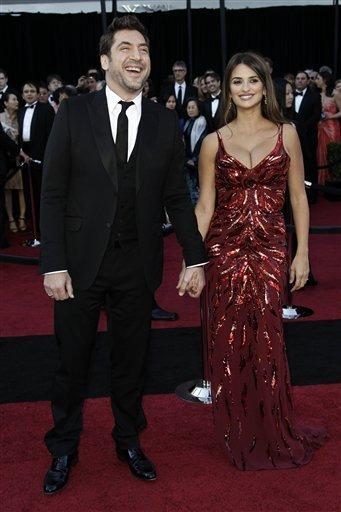 Penelope Cruz could look much more spectacular than this Dress L'Wren Scott, as she is able to shine in evening dresses. In my opinion it is not the best choice of dress emphasized the fact that the actress has finally come to me in shape after childbirth.
Scarlett Johansson in Dolce & Gabbana.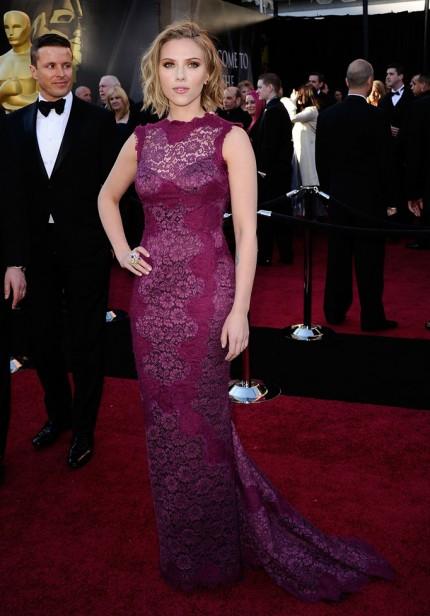 Scarlett at the ceremony was pretty controversial outfit. Her black linen not in harmony with lace transparent dress. Well, I saw her more successful outfits.
Marisa Tomei in Charles James.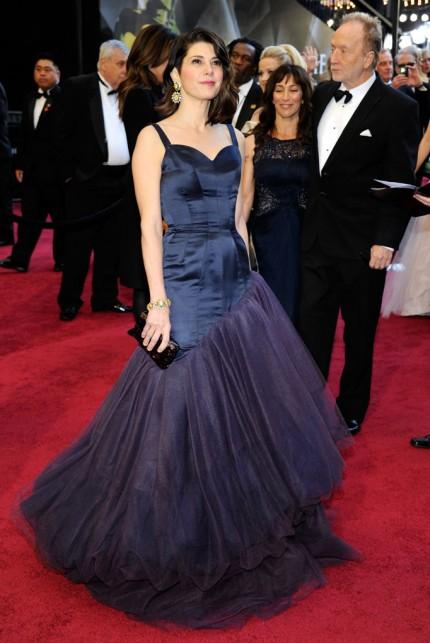 Well, the most "distinguished" dress, in my opinion, this dress Charles James on Marisa Tomei. I absolutely did not like this dress baklazhannovogo color that adds the actress is not less than 10 kilograms. It is not even in the silhouette of the dress, and in his controversial cut, which ruined a good, in-general, then, the figure of the actress. Perhaps with other accessories and hairstyle would look a little better.
To be honest this year's "Oscar" is not very surprised. Just fun Anne Hathaway and James Franco even as it was supported by the atmosphere tseremonii.V 2009, it was better.