The award ceremony "Oscar" - is not only an important event in the film industry, but also in the world of high fashion. Preparation for the event begins in May - then begin to try fashionista star designer evening dresses, the number of which often reaches hundreds of outfits. A fashion houses and designers is just at hand, because the appearance of their creations on the red carpet of such a prestigious event as the "Oscar" - the best advertising brand.
Carey Mulligan in Prada and Zoe Saldana in Givenchy, 2010
Rachel McAdams in Elie Saab, 2011
Kristen Stewart in Monique Lhuillier, 2010
Amanda Seyfried in Armani Prive, 2010
However, not all so rosy as it seems at first glance. Everyone knows that celebrities, girls - the ladies are very naughty and they are not so easy to please. Actresses often require exclusive fashion houses, that is, if Kate Winslet chose a dress Valentino, then the other stars outfit from this fashion house did not get it, no matter how much they do not cry, do not pray, and not to pay extra.
Marion Cotillard in Jean Paul Gaultier, 2008
Reese Witherspoon in Nina Ricci, 2007
Miley Cyrus in Zuhair Murad, 2009
Vera Farmiga in Marchesa, 2010
Designers often receive orders for individual tailoring of evening dress for some stars. And then it starts all the worst - outfit has to alter and reshape hundreds of times before you get the option, they dream actress. For example, this dress Marchesa, which last year appeared on his first "Oscar" young Haley Staynfeld was made for the actress individually. "At first fitting it brought a bunch of photos for inspiration and strict instructions about what should not be on the dress," - shared their memories of the brand designers.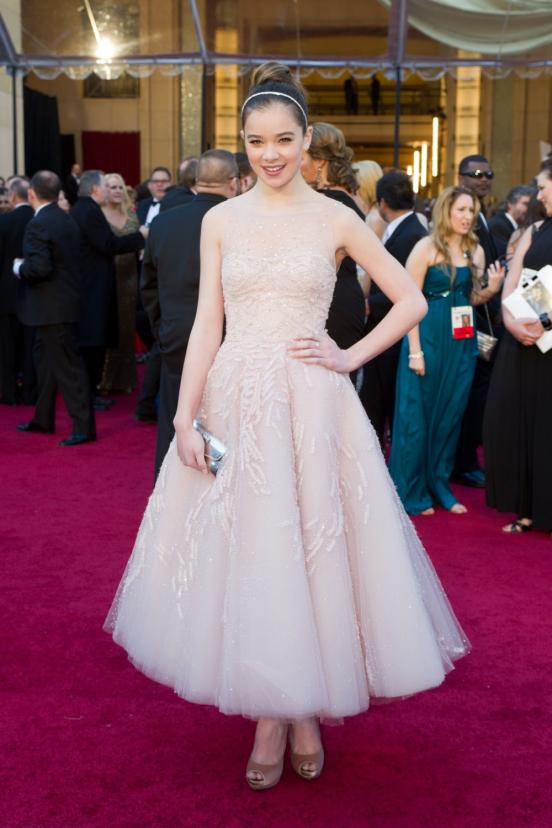 Sometimes vice versa. Rumor has it that some designers offer stylists celebrities bribes (the price reaches $ 200 000), give them the right to free dress in clothes of the brand throughout the year and provide a place for them in the front row of fashion shows, if only their dress appeared on the red carpet ceremony .
Penelope Cruz in Atelier Versace, 2007
Marion Cotillard in Dior Couture and Sophia Loren in Armani Prive, 2009
Charlize Theron in Christien Dior, 2005
Most in this situation nominatkam lucky, because it is they tend to put their creations fashion houses, or the stars of the first tier, such as Meryl Streep, Penelope Cruz and Angelina Jolie. Special treatment is often sought and promising starlet - rising stars, which are aimed at all the cameras of the paparazzi. This year, one of them was Rooney Mara.
Angelina Jolie in Elie Saab, 2009
Sarah Jessica Parker in Christian Dior Haute Couture, 2009
Halle Berry in Marchesa, 2011
Often, the essence of the question is not who you are and how you look. Designers much easier to create a couture outfit for a girl with a perfect figure and proportions, but not for young ladies with custom figure as, for example, Gabourey Sidibe. In 2010, she appeared at the ceremony in a dress Marchesa, of course, made-to-order.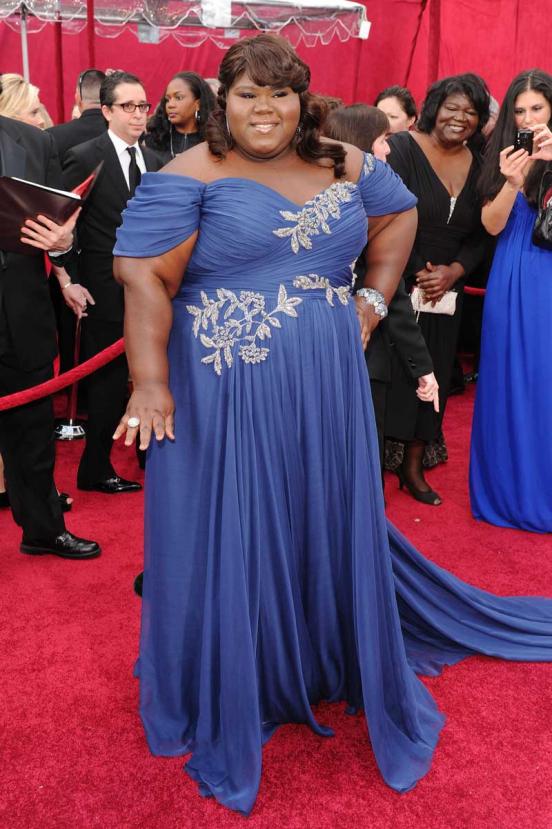 However, there are exceptions to the rule. In 2006, Michelle Williams, which is far from the model looks, blew up the red carpet for his appearance in the dress Vera Wang - dress was not only the best at the ceremony that year, but also entered the list of the most spectacular images of the history of the "Oscar". Since then, Michel no end of offers designers choose their creations for the appearance at the ceremony.
Happens is that the actress is changing his opinion about the dress is not the better for a few days before the ceremony, and then have to urgently look for a replacement. It happened with Scarlett Johannson in the past year: 4 days before the event, the actress lose one's attraction her outfit and she opted for lace Dolce & Gabbana worth $ 8325 (incidentally, quite modest price by "Academy Award" standards).
Over their long history ceremony "Oscar" celebrities have appeared and their signs. So, according to statistics, winner of the gold statuettes often become an actress, whose choice fell on the dress Valentino, Armani and Versace (Italians know a lot about high fashion, it has long been proven). In addition, if you desperately want to become the winner of the "Oscar", you should choose an evening dress straight cut. According to statistics, it is in such style dresses often climbed onto the stage for the trophy Hollywood fashionista.
Cameron Diaz in Oscar de la Renta, 2010
Eva Green in Givenchy, 2007
Cate Blanchett Dress in Givenchy Haute Couture, weighing 8 kg, 2011.